Vietnam enjoys US$3.27 billion trade surplus in agro-forestry-fishery
Vietnam posted a trade surplus of US$3.27 billion from agro-forestry-fishery trade in the first five months of 2021, down 28.3% year-on-year.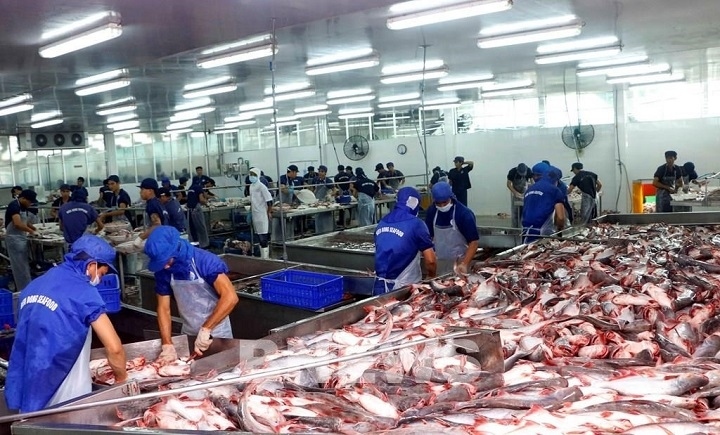 Processing tra fish for exports at Bien Dong Seafood Co., Ltd. in the Mekong Delta city of Can Tho. Photo: VNA
Vietnam posted a trade surplus of US$3.27 billion from agro-forestry-fishery trade in the first five months of 2021, down 28.3% from the same period last year, according to the Ministry of Agriculture and Rural Development (MARD).
Specifically, agro-forestry-fishery exports rose 30.3% to $22.83 billion between January and May, with the revenue from key agricultural products at $7.78 billion (up 13%), key wooden items at $7.06 billion (up 61.8%), aquatic products at $3.24 billion (up 12%), and husbandry at $166 million (up 43.9%), according to Nhan dan (People) newspaper.
Many export commodities registered an increase in both volume and value, such as rubber, tea, fruit and vegetables, cashew nuts, and cassava and cassava-based products. Despite a 15.6% fall in volume, pepper's export turnover still surged by 25.2% to $387 million thanks to rising average export prices. Meanwhile, two key items – coffee and rice – showed declines in both indicators.
The Asian market was the largest importer of Vietnamese agro-forestry-fishery products during the period with a market share of 46.5%, followed by Americas (27%), Europe (10.1%), Oceania (1.3%), and Africa (1.7%). The four major export markets of the US, China, Japan and the Republic of Korea reported good growth with respective market shares of 24.6%, 22.6%, 6.6% and 4.9%.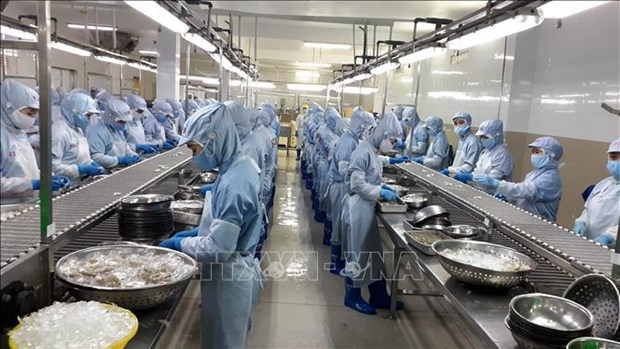 Processing frozen shrimp for export. Photo: VNA
Vietnam's agro-forestry-fishery imports in the first five months also reached approximately $19.57 billion, up 51% year-on-year, with key agricultural items reporting a value of $7.04 billion (up 126.9%), husbandry products $1.52 billion (up 23.2%), aquatic products $881.2 million (up 25.8%), key wooden items $1.34 billion (up 42.3%), and input materials $2.9 billion (up 36.5%).
In May alone, the sector's export revenue was estimated at $5.01 billion, an increase of 40.2% compared to May 2020 and up 1.3% from the previous month.
The MARD said that it is planning to hold seminars and forums to promote exports, open markets, and provide information on trade agreements for export enterprises, as well as guiding businesses and localities on the implementation of policies and regulations of export markets in accordance with the Covid-19 situation.
In addition, the ministry will closely coordinate with Vietnam's commercial counsellors abroad to support localities and enterprises in exporting their agricultural products in the context of the pandemic, while continuing to carry out bilateral cooperation activities with partners from China, Laos, Cambodia, Japan, the Republic of Korea, Indonesia, Israel, Norway, New Zealand, Russia, Hungary, and Cuba.
Export turnover grows 30.7% in five months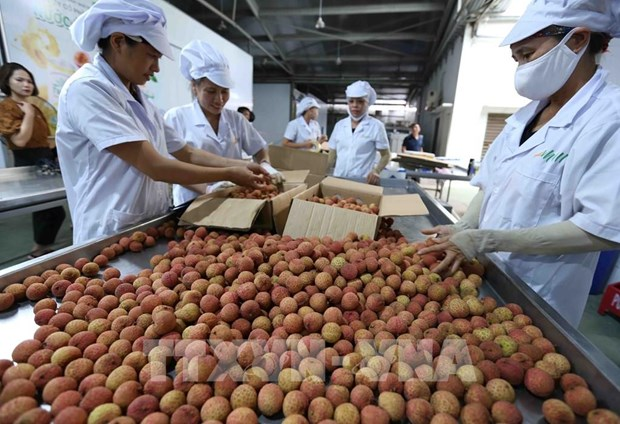 Processing fresh lychees for export. Photo: VNA
Export turnover grows 30.7% in five monthsVietnam shipped overseas $130.94 billion worth of goods in the first five months of 2021, up 30.7% annually, according to the General Statistics Office (GSO).
Of the sum, the domestic sector contributed $33.06 billion and the FDI sector (including crude oil) $97.88 billion, increasing 16.6 and 36.3% year on year, respectively.
During the period, 22 products recorded an export value of over $1 billion each and together they accounted for 87.3%of the nation's total export.
The export of the group of heavy industrial goods and minerals reeled in about $70.7 billion, up 33% from the same period last year. It was followed by the groups of light industrial goods and handicrafts at $47.32 billion (up 33%) and of agricultural and forestry products at $9.69 billion (up 13.5%).
The US remained the biggest export market of Vietnam, spending $37.6 billion on imports from the Southeast Asian country, a year-on-year rise of 49.8%. China came second with $20.1 billion, up 26%. The EU and ASEAN followed with $16.1 billion and $11.5 billion, increasing by 20.8 and 23.7%.
In May alone, Vietnam's exports valued at $26 billion, down 2.1% over the previous month and up 35.6% from the same period last year.
Meanwhile, the country's import in the five-month period hit $131.31 billion, an annual growth of 36.4%, with China named Vietnam's biggest import market, VietnamPlus reported./.
Economy
Vietnam is the biggest economic partner of Poland in Southeast Asia, and the potential for stronger cooperation remains huge.
June 09, 2023 | 18:45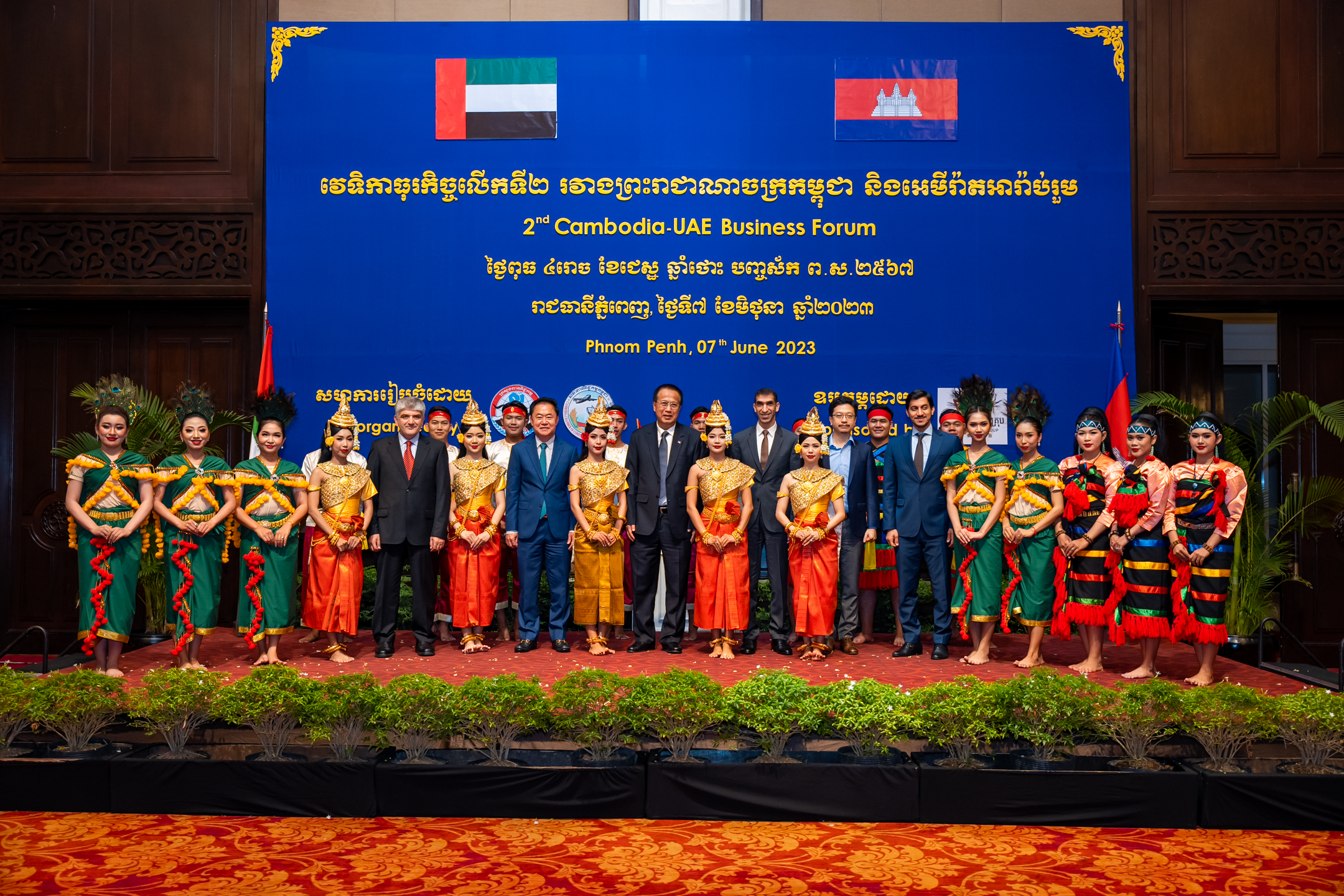 Economy
Prince Holding Group (PHG) recently participated in the 2nd Cambodia-UAE Business Forum, co-organized by the Ministry of Commerce Cambodia and the Cambodia Chamber of Commerce (CCC) at Sofitel Phnom Penh.
June 09, 2023 | 18:10
Economy
Born and raised in the HMT area of Srinagar in Jammu and Kashmir, Taha Mughal, a Cambridge alumnus and winner of the prestigious Fulbright scholarship for 2022-23, stands at the intersection of art, writing, and architecture.
June 09, 2023 | 07:00