Vietnam facing most dangerous Covid-19 wave
The country is struggling with the 4th Covid-19 wave – the most dangerous one since the pandemic broke out.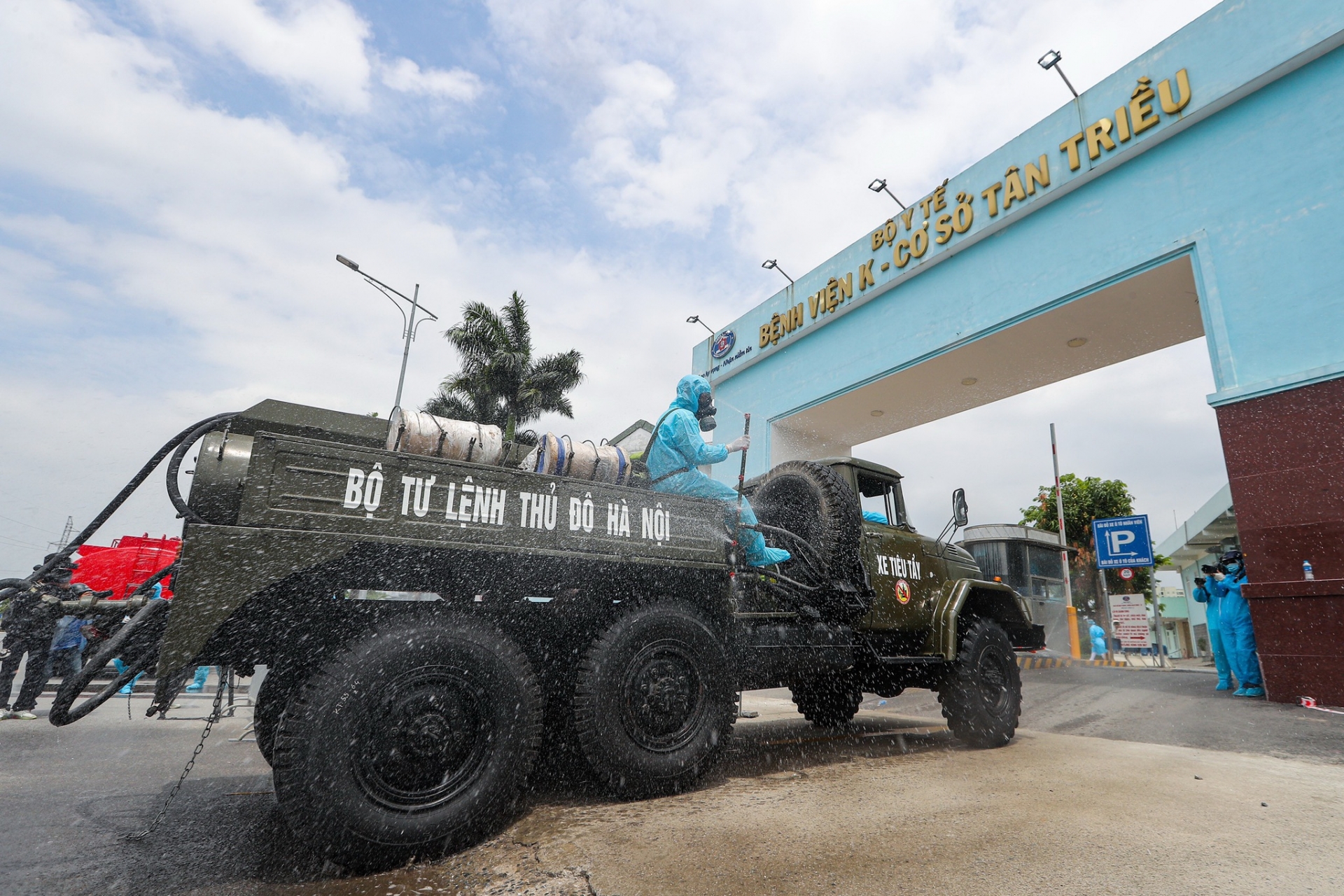 Disinfection at Tan Trieu-based K Hospital (Photo: VNE)
Statistics from the Health Ministry show the recurrence (started on April 27) has a higher infection rate, deadlier virus strains and takes a heavier toll on central hospitals.
Just 15 days into the new outbreak, health authorities report 486 community infections in 26 provinces and cities across the country. An average of 25.6 cases is reported per day.
Meanwhile, in the first wave (January – April 2020), 100 local cases scattering 13 localities were reported. The second wave stretched for over four months, confirmed nearly 550 cases during its peak in central city Da Nang (July – late August 2020). 15 provinces and cities affected. Community infections topped 910 cases within 57 days in the third wave, with Hai Duong province had 726 patients.
Genetic sequencing of patients' samples by the National Institute of Hygiene and Epidemiology reveals the Indian variant, known as the "double mutant" strain, is recorded for the first time in Vietnam in the 4th wave. The novel variant reportedly more transmissible, less susceptible to vaccines and has been found in at least 17 countries.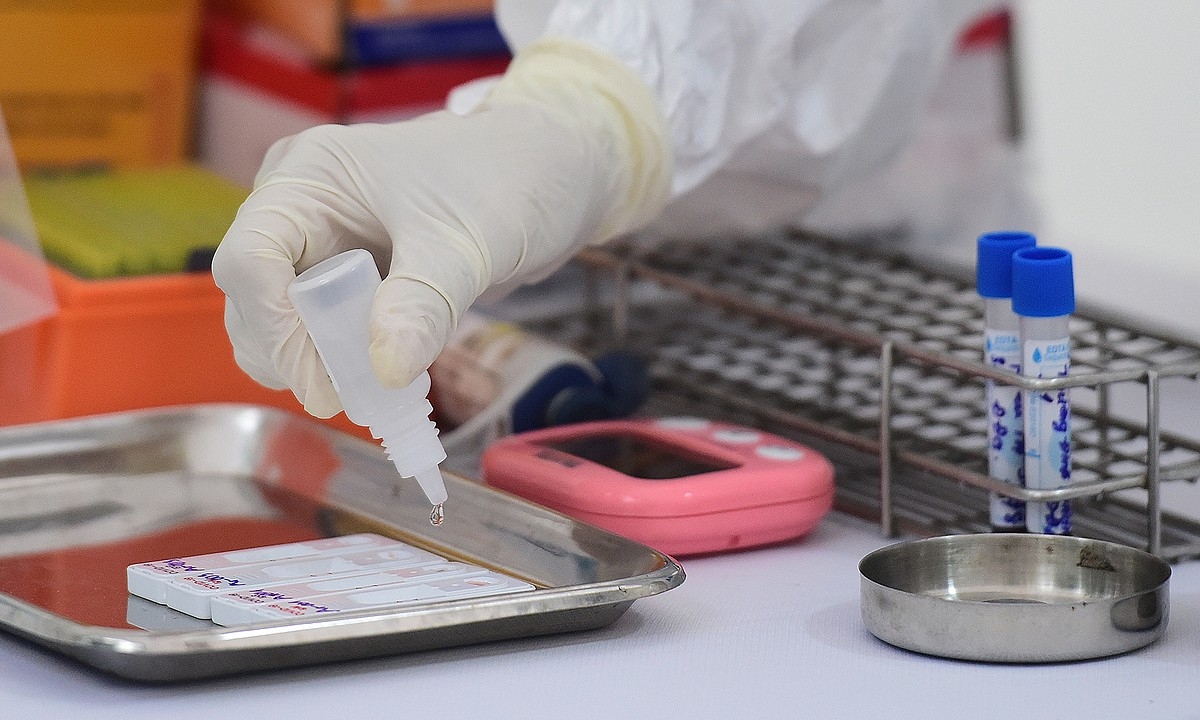 A medical staff tests samples for Covid-19 in Hanoi, March 31, 2021. (Photo: VNE)
Unlike previous outbreak whose infection source were mostly imported cases, the first cases triggered the 4th wave are health staff working at quarantine centers and entrants who have finished the mandatory two-week centralized isolation.
Notably, infection source at the National Hospital of Tropical Diseases, Vietnam's current biggest epicenter, goes undetected. The medical facility, which has been at the forefront of the Covid-19 fight and treated over 1,000 patients, was put under lockdown on May 5. Four other hospitals in Hanoi are taking it place to admit and treat Covid-19 patients.
Tan Trieu- based K Hospital (Vietnam National Cancer Hospital) last week was also blockaded following the detection of 6 inpatients and 4 patient's relatives. Experts evaluate infection risk at the establishment as very high, given its large number of cancer patients who are greatly vulnerable to the novel virus.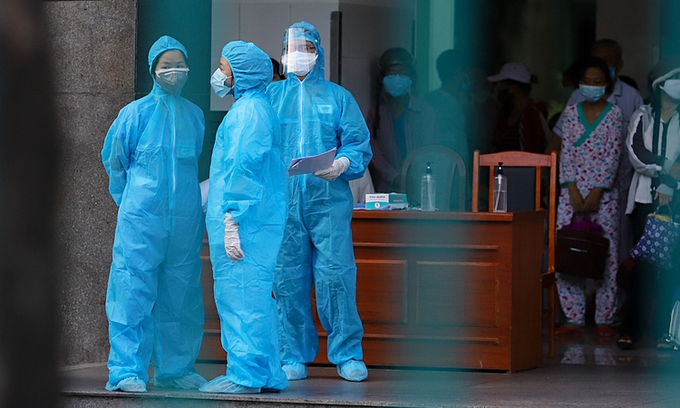 Medical staff preparing to transfer suspected patients to quarantine zone in Da Nang (Photo: VNE)
Earlier on May 7, Health Minister Nguyen Thanh Long warned that the 4th wave was more complicated and contagious than previous ones. A series of complex factors, including several outbreaks, multiple variants and people being lax, are contributing to Vietnam's fourth Covid wave being extremely difficult to contain.
"It will be harder to evaluate the extent of the pandemic and control it in the coming time. There might be more epicenters with undetected sources," Health Minister Nguyen Thanh Long said on May 7. "Localities should not drop their guard."
The minister tasked all localities with improving Covid-19 testing capacity and preparing human resources and logistics for all possible scenarios. Medical facilities must widen their screening among vulnerable individuals, especially those in emergency and hemodialysis departments.
He also called for residents to visit local instead of central hospitals where possible, citing the infection risk in central facilities as higher. The Ministry of Health has been using a tele-health system to give distant medical guidance to grassroots organizations.
In terms of quarantine, only those facilities that meet the health ministry's criteria are eligible for admission.
Vietnam will not complete mass vaccinations by the year's end, so it is necessary to strictly follow the 5K message, especially mask-wearing said Deputy Prime Minister Vu Duc Dam at a meeting of the National Steering Committee on Covid-19 Prevention and Control on May 10.
The 5K message comprises khau trang (face masks), khu khuan (disinfection), khoang cach (distancing), khong tu tap (no gatherings), and khai bao y te (health declarations).
"Once people are not fully vaccinated against COVID-19, they must strictly abide by the Ministry of Health's Covid-19 rules, including donning face masks, avoiding large gatherings and keeping a safe distance when going out," he said.
Deputy Prime Minister Dam, head of the committee, urged localities that are yet to report any COVID-19 cases to remain vigilant and maintain close supervision.
Dam called on people to raise their sense of responsibility in the pandemic fight, for the sake of the country and the community, VNA reported.
50 cases were found on May 10, including 47 locally transmitted cases, according to the Ministry of Health. The local transmissions were detected in Hanoi (23 cases, including 12 at the Kim Chung facility of the National Hospital for Tropical Diseases), northern Bac Giang province (10), northern Hoa Binh province (1), northern Hai Duong province (1), northern Hung Yen (6), northern Vinh Phuc (1) and central Da Nang city (5).
28 new cases found from 6pm May 10 to 6am May 11, all in blocked and isolated areas, including Central Hospital for Tropical Diseases (1), Bac Ninh (13), Vinh Phuc (7), Bac Giang (5), Lang Son (1), Hai Duong (1).