66 Vietnamese in Laos contract Covid-19
There have been 66 Vietnamese people in Laos contracting the novel coronavirus, according to the Vietnamese Embassy in Laos.
"The information was confirmed by Lao Ministry of Health. These cases are Vietnamese people living and doing business in Laos. They have been put under quarantine and treatment," Head of Consular Department under Vietnamese Embassy in Laos Nguyen Duy Quan told VnExpress.
Among 69 new infections announced by Lao Ministry of Health on May 9, there was a Vietnamese citizen, raising the tally of Vietnamese in Laos infected with SARS-CoV-2 to 66.
A 52-year-old Vietnamese woman who worked in a karaoke parlor in Vientiane has become Laos's first Covid-19 fatality.
The woman had moved to Laos last year and was working at the karaoke parlor linked to Laos's Patient 59, believed to be the source of the latest Covid-19 outbreak in the neighboring nation.
The Vietnamese woman tested positive for the novel coronavirus on April 28 and was admitted to a hospital in Vientiane on April 30. She suffered from other health conditions, reports said.
Her condition took a turn for the worse Saturday and the Vietnamese embassy in Laos had asked for online medical assistance from Vietnam's Ministry of Health.
But all the efforts proved in vain as the woman breathed her last at 1 p.m. Sunday.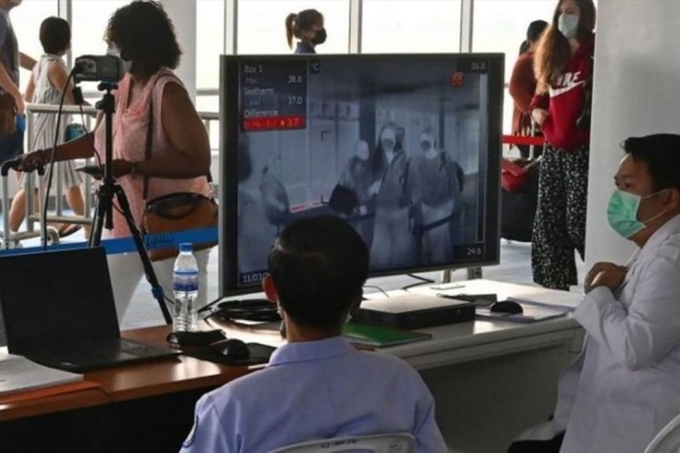 Passengers have their health checked at Wattay International Airport. Photo: AFP
Doan Tuan Quynh, Head of the Vietnamese student association at the National University of Laos said there had been two Vietnamese students being tested positive for the virus and put under quarantine.
"One person has been quarantined since May 4 and the other since May 7. Both of them have received enthusiastic support from medical workers and showed positive signs of recovery. Those coming into contact with them have been self-quarantined at the dormitory," Quynh said.
Representative from the Vietnamese Embassy in Laos said one of the two abovementioned cases had given birth for a month, adding that a doctor from Military Hospital 103 was sent to Laos to support them.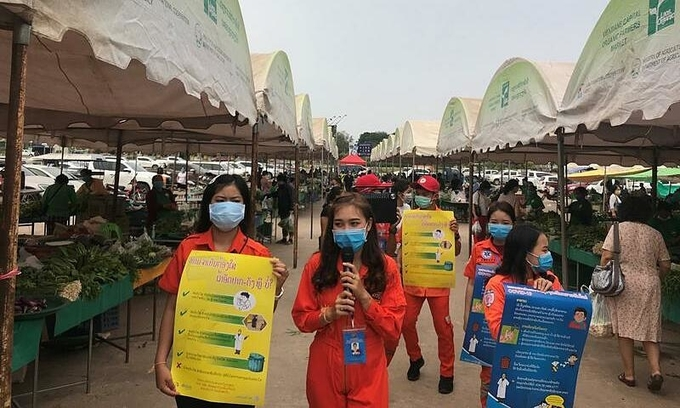 Laos Red Cross volunteers raise awareness on the symptoms of Covid-19 and the means to protect oneself from it, in a market in Vientiane, Laos, April 30, 2020. Photo by Laos Red Cross/Handout via Reuters.
As many as 200 Vietnamese students are studying at the National University of Laos, according to Quynh. She added that a group of Vietnamese students canceled to come to Laos given the complex development of Covid-19 in the country.
The National University of Laos earlier planned to coordinate with the Lao Ministry of Health to give the Covid-19 vaccine to overseas Vietnamese students this week. However, due to the resurgence of Covid-19, they must complete a 14-day quarantine before receiving the vaccine.
Laos is experiencing a surge in Covid-19 cases since its New Year Holiday on April 14.
As of Saturday the country had only recorded a total of 1,233 cases, of which 1,184 were reported in the last month, according to data from John Hopkins University. Of those, 28 cases were recorded Saturday.
Older people are contracting the virus and those who have underlying health conditions are more likely to experience severe symptoms, said the deputy director general of the country's health department, Bouathep Phoumin, at a press conference Sunday, according to Vientiane Times.
Laos has administered 184,387 Covid-19 vaccine doses to its roughly 7.28 million population, according to Oxford University's Our World in Data and CNN research.
Health authorities have reportedly linked the recent surge to a superspreader whose close contacts gave inaccurate information on their whereabouts and condition, said the Vientiane Times.