Vietnam has big plans for infrastructure: Barron's
barrons.com, an US-based newswire, has recently run an article annalysing positive impact of the infrastructure development plan, adopted at the 13th National Congress of Communist Party of Vietnam, on the Southeast Asian country's financial market.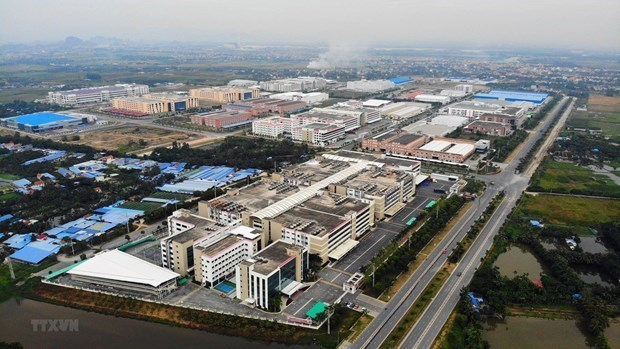 Vietnam has earmarked $119 billion for infrastructure by 2025. Photo: AFP/VNA
The article said Party leaders committed to increasing the private sector's contribution to gross domestic product from 42% to 55% by 2025. They earmarked $119 billion for infrastructure over the same four years.
Investors apparently liked the message, it said, citing an example of the VanEck Vectors Vietnam exchange-traded fund that is up 9% since the Congress wrapped on February 2.
Pouring cash into improvements should enable the government to achieve its 6.5% to 7% annual growth targets while boosting profits for appropriately positioned companies, said Bill Stoops, chief investment officer at Dragon Capital in Ho Chi Minh City, as quoted by the article.
Dragon's United Kingdom–listed Vietnam Enterprise Investments fund has gained 17% this year, twice the rise of the VanEck ETF, largely thanks to an overweight in steelmaker Hoa Phat Group. "This may be the only exciting steel company in the world," Stoops says. "They can add capacity without spending much money."
Nick Niziolek, head of global strategies at Calamos Investments, was quoted as saying that "New household formation in Vietnam is running at 80,000 to 90,000 a year, and supply at 60,000 to 70,000." "That's an exciting long-term opportunity," he added.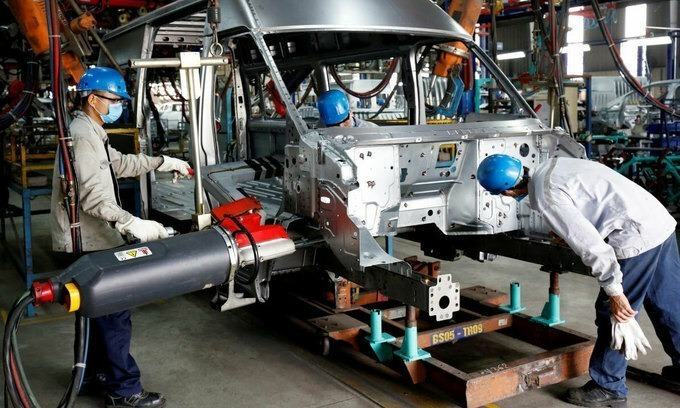 A foreign automobile factory in northern Hai Duong province. Photo: Reuters
Commercial and digital infrastructure isn't lagging in the well-educated nation of 100 million. FPT Vietnam, a diversified IT provider with a burgeoning outsourcing business in Japan, saw its shares jumping by a third this year and can run further.
"Vietnamese engineers cost less than in India, and thousands of them are learning Japanese," says Sean Fieler, chief investment officer at Equinox Partner.
Shares in retail champion Mobile World Investment are up 20% year to date and still have upside, says Andrew Brudenell, lead frontier markets manager at Ashmore Group. The chain is expanding from cellphones and electronics to groceries. "A nice thing about Vietnam is you can make great money in more understood and proven ideas," he says.
Market infrastructure also took a leap forward last year. That, and a decline in bank interest rates, pushed some three million retail investors into stocks, Stoops says. They have buoyed the market even as foreigners withdraw funds.
With all the country's positives, US investors might have reason to edge back into Vietnam anyway, the article concluded.
Vietnam attracts over $12 billion in FDI in four months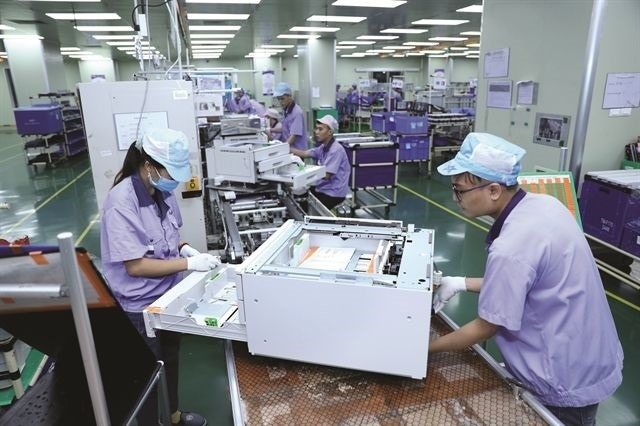 The Hong Kong-invested EVA Hai Phong Precision Co Ltd's factory at the VSIP Hai Phong Industrial Park. Photo: VNA
As of April 20, Vietnam attracted $12.25 billion in foreign direct investment (FDI), equivalent to 99.3% compared to the same period last year, according to the Ministry of Planning and Investment's Foreign Investment Agency (FIA).
The four-month figure shows the FDI inflow was slowing down, said the FIA.
However, the agency noted the average size of newly-licensed projects and those registering to adjust their capital increased by less than $7 million per project in comparison with the same period last year, according to Viet Nam News.
The four-month period saw FDI projects disburse $5.5 billion, up 6.8% over the same period last year, thanks to the recovery of production and business operations.
Currently, Vietnam has 33,463 valid foreign investment projects with total registered capital of $394.9 billion. These projects disbursed $238.36 billion, or 60.4% of the total valid registered investment capital, FIA reported.
FDI inflows to the country expanded by 18.5% to $10.13 billion in the first three months of this year, the FIA said.
Of the figure, newly-registered capital reached $7.2 billion, up 30.6% year-on-year, while adjusted capital increased by 97.4% to $2.1 billion.
Meanwhile, capital contributions and share purchases by foreign investors stood at more than $1 billion, down 57.8% from the same period last year.
The capital inflows cover 17 sectors, in which processing and manufacturing took the lead with $5.2 billion, accounting for 42.4% of the combined investment, followed by electricity generation and distribution with $5.1 billion. Property and retail sectors accounted for $778 million and $464 million, respectively.
Among 67 countries and regions with newly licensed investment projects in Vietnam during the period, Singapore was the largest source of registered capital with $4.8 billion, accounting for 39.6% of the total registered capital, followed by Japan with $2.5 billion, accounting for 20.5% of the total registered capital and the Republic of Korea (RoK) with nearly $1.5 billion, accounting for 12.1% of the total registered capital.
Foreign investors have invested in 53 provinces and cities nationwide, in which Long An province took the lead with total registered investment capital of nearly $3.3 billion. Can Tho and HCM City were second and third with over $1.3 billion and $1.1 billion, respectively./.
Focus
Brazil is Vietnam's largest trading partner in Latin America and in the top three of Vietnam's largest markets in the Americas.
June 07, 2023 | 14:29
Economy
The deputy chief minister praised the literary contributions of Dai and stressed the importance of promoting literature and education in the state. He also highlighted the achievements of individuals from various sectors, including sports, education, and business, who brought laurels to the state.
June 07, 2023 | 07:00