Vietnam lacks cold storage for food, medicine
The trend in online shopping is driving demand for cold storage, a segment that is experiencing severe supply shortages in many countries around the world
The supply of cold storage in Vietnam and many countries around the world is in short supply due to the growing demand of e-commerce. Photo: Zing
The rise in online shopping has led to many countries, including Vietnam, facing a severe lack of cold storage.
About 30-50% of seafood export orders in Vietnam were canceled, leading to an increase in inventories, forcing cold storages to operate at maximum capacity.
Lack of cold storage globally
Cold storage is classified into three main types: deep frozen storage (from minus 30 to minus 28 degrees Celsius), frozen storage (from minus 20 to minus 16 degrees Celsius) and cool storage (from 2 to 4 degrees Celsius). Cold storage for seafood will operate most effectively when located within a distance of 50 kilometers to ports. Commodities such as fruit and vegetables should be located near urban areas. In Vietnam the seafood export sector, which is the third largest in the world, is typically the industry that occupies the most cold storage.
"During the peak period of the pandemic, 30-50% of seafood export orders were canceled, leading to escalating inventories and cold storages having to operate at maximum capacity," said Trang Bui, senior director of Vietnam market at JLL.
Trang Bui said that with a decentralized cold supply chain mostly run by small and medium-sized suppliers, cold storage centers were a great investment opportunity for operators.
Cold storage supply is mainly concentrated in the southern region due to great demand, of which, about 60% of the market share is held by foreign investors.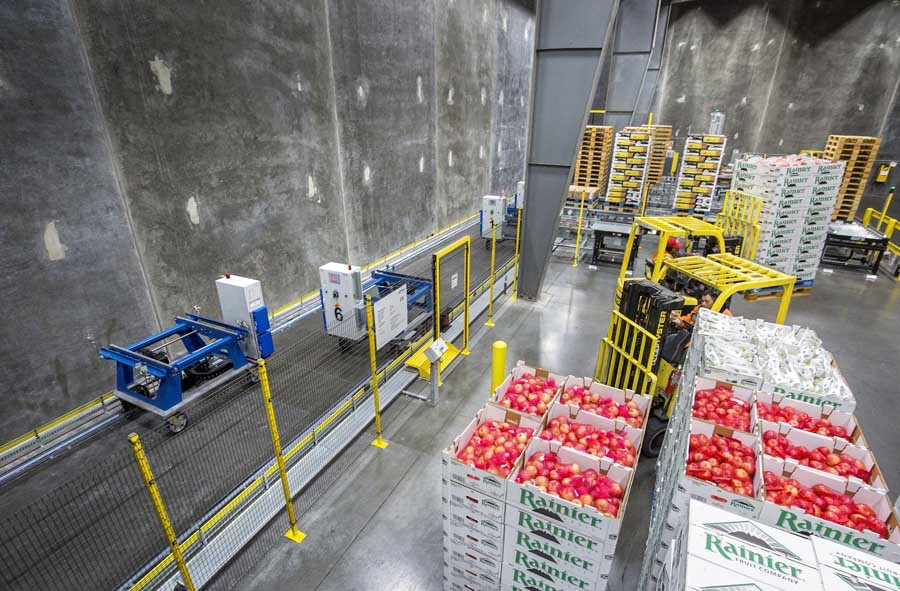 Cold storage in Vietnam. Photo: Vietnamnet
Supply is constrained in part because cold storage facilities take longer to build than other types of logistics properties. The construction of cold storage warehouses is more complicated and expensive than standard warehouses.
"The investment cost of cold storage is two to three times higher than with conventional warehouses, and the construction process can take up to six months. Besides, the lease term usually lasts 15 to 20 years, making the already scarce supply even more scarce," Trang said.
Michael Ignatiadis, head of Supply Chain & Logistics Solutions - Asia Pacific at JLL sees the rapidly growing population and middle class in Asia increasing the demand for fresh food, as a main reason driving the demand for cold storage.
The huge demand caused developers to respond, leading to a construction boom. According to consulting firm Emergen, cold storage construction volume is predicted to reach 18.6 billion U.S. dollaes by 2027, an increase of 13.8% year on year.
However, Ignatiadis said that even at this rate of construction, cold storage shortage was likely to continue due to strong demand for fresh food. Research firm Forrester forecasts online shopping in Asia Pacific will grow by 30% annually through 2024, doubling its online market share to 10.6%
Bright spot in real estate investment
The potential of cold storage has attracted the attention of real estate investors, both venture capital funds and lenders. Investors are also considering cold storage as an alternative investment to traditional industrial real estate. With the globalization of the food industries, logistics companies are also looking to expand into new markets.
To achieve future growth goals, JLL experts said Vietnam's logistics industry needed to overcome many challenges. First of all, for Vietnam must move to the next stage in the development of industrial logistics, becoming more competitive; it is necessary to continue to maintain a reasonable level of investment in infrastructure. Vietnam needs to focus on developing both the expressway system and the utility network, including renewable energy.
Vietnam's cross-border trade process, including time and cost, also still needs significant improvement. Cross-border transaction costs, such as compliance costs, as well as import and export costs, are less competitive in Vietnam than in most countries in the region.