Vietnam leads countries most supportive of Government effort in COVID-19 combat
Vietnam tops the list of the countries which saw the most supportive of their governments' efforts in COVID-19 crisis response, according to the latest polling data from YouGov, a British international market research and data analytics firm. 
A man wearing a face mask walks past an empty open public area, amid Vietnam's nationwide social isolation effort as a preventive measure against the spread of the COVID-19 novel coronavirus, in Hanoi on April 22, 2020. (Photo by Manan VATSYAYANA / AFP)
The article on Forbes magazine cited the poll's result saying that "95% of Vietnamese people think their government is handling the pandemic "very" or "somewhat" well."
In reality, despite a population of 95 million and close proximity to the source of the outbreak, Vietnam has yet to report a single COVID-19 death, the article stressed.
Of the 26 countries measured by the YouGov researchers, others that are handling the crisis well in the eyes of citizens include India, Australia, Denmark, Norway, Canada, and Finland.
The three countries where citizens show the weakest support of their governments' handling of the pandemic are Spain, France, and Japan. In each of these countries, less than 40% of people are supportive of their governments' handling of the crisis.
And then there's the case of Sweden. Interestingly, the data show a significant increase in Swedish citizens' support of the way their government has handled the crisis. Currently, 57% of Swedes think their government is handling the pandemic "very" or "somewhat" well compared to 41% a month ago. Unlike most of the developed world, Sweden decided not to close businesses and schools.
International praise of Vietnam's efforts to curb the Covid-19 outbreak
Meanwhile, France's daily Le Monde published an article with the titled "Vietnam's successful 'spring offensive' against COVID-19", which spoke highly of Vietnam's efforts in the fight against COVID-19, noting that the country is "an exception".
It quoted World Health Organization Representative to Viet Nam Kidong Park as saying that risk assessment was done in early January, shortly after China announced the first infections.
"Viet Nam has obtained prodigious results," former French Ambassador to Vietnam Jean-Noël Poirier wrote to Causeur magazine while staying at a Hanoi hospital after contracting COVID-19, according to VNS.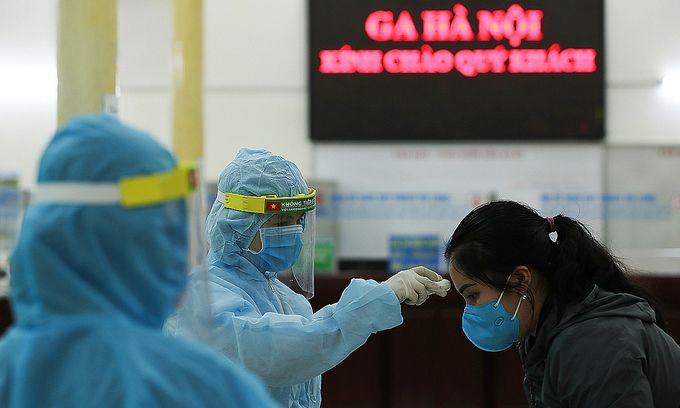 A passenger (R) has her body temperature checked at a railway station in Hanoi, April 6, 2020. Photo by VnExpress/Giang Huy.
He also confirmed the transparency of the Vietnamese Government in publishing new COVID-19 infections and fatalities, stressing that the hospitals are not overwhelmed and the flow of patients, inbound and outbound, is under control.
Earlier, on April 23, The Telegraph ran an article "Viet Nam lifts lockdown: How a country of 95m bordering China recorded zero coronavirus deaths," according to VGP.
According to the newspaper, the Vietnamese strategy focused on a combination of targeted, rigorous contact-tracing and testing to swiftly contain small clusters of Covid-19 before they spread further.
This is a result of careful and extensive monitoring of public travel and regular temperature checking at airports, border gates, and public places, as well managing centralized quarantine areas, it said.
According to Bloomberg, Vietnam adopted some drastic preventive measures to "flattened its coronavirus infection curve" and after some early success, the country is now starting to open up its economy again.
"The crackdown appears to have paid off. With just 270 infections and no official virus-related deaths," the New York-based news agency cited.
"There's some scepticism over the low infection numbers, given the limited testing in the population. By April 21, Vietnam had tested about 1,881 per million people, compared with about 14,500 in Singapore. Still, Vietnam's approach has won praise from bodies such as the US Centres for Disease Control and Prevention and the World Health Organisation, and its outbreak stands in contrast to nearby Singapore and Indonesia, where restrictions are being extended as cases continue to spike."
Besides many widely epidemic prevention and control measures such as hand washing, wearing masks, environmental hygiene, among others, Vietnam also encourages Covid-19 prevention among people by releasing the "Ghen Co Vi" handwashing dance which helps spread a positive effect in the community.
This dance then became more trending as it was broadcasted in series of foreign media such as the United States, France, and Germany, which was shared by the United Nations Children's Fund (UNICEF).