Vietnam News Today (Feb. 8): Vietnam Aims To Become Attractive Investment Destination in SEA
Despite complicated developments relating to the pandemic, the financial source of investment for innovative start-ups domestically increased in an unprecedented manner.
Vietnam News Today (Feb. 8) notable headlines
Vietnam climbs 28 notches in latest Covid-19 recovery index
All students in HCM City to go back to school by Feb. 14 at the latest
Single-day visitors to Hanoi airport highest in two years
Vietnam aims to become attractive investment destination in SEA
Vietnamese economy to recover fast in 2022: Fitch Ratings
Covid-19: Additional 16,815 cases confirmed on Feb 7
Vietnam Airlines Group adds nearly 200 flights after Tet holiday
Government acts to achieve rapid economic recovery, development
Festival to highlight spring colors across all regions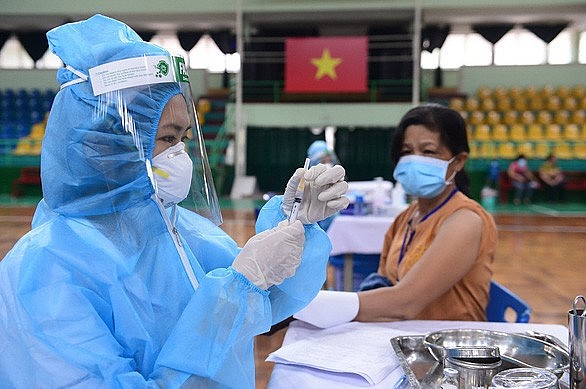 A resident in HCM City is inoculated against Covid-19. Photo: Tuoi Tre
Vietnam climbs 28 notches in latest Covid-19 recovery index
The nation has risen a total of 28 places to reach 90th position in the latest edition of Nikkei's COVID-19 Recovery Index which was issued in early February.
The latest rise comes due to the high vaccine coverage rate and initial signs of tourism recovery in the country.
According to Nikkei, the nation is beginning to make a comeback, despite continuing to face high levels of infections.
"It too is moving toward coexisting with the virus, having eased reentry rules for overseas nationals and foreign workers late last month," the website outlined.
Taiwan (China) climbed to top position, while Cambodia rose to second place after the neighboring Southeast Asian nation declared roughly three months ago that it would start to live alongside the pandemic.
Elsewhere, China edged up one place to fourth as it gears up for the Beijing Winter Olympics.
Furthermore, the Philippines slipped 45 places to 104th after the Omicron variant caused an explosion in cases, while Japan tumbled 55 places down to 67th, cited VOV.
Other ASEAN member states also enjoyed higher positions in the index, including Malaysia at 10th, along with Singapore and Thailand at 19th.
The Nikkei Covid-19 Recovery Index ranks more than 120 countries and territories for their infection management, vaccine rollouts, and social mobility.
A higher ranking indicates that a country or region is closer to recovery with low numbers of Covid-19 cases, better vaccination rates, or less strict social distancing measures being put in place.
All students in HCM City to go back to school by Feb. 14 at the latest
About 1.7 million students of all grades in Ho Chi Minh City are expected to return to school by February 14 at the latest, according to the municipal Department of Education and Training.
On February 7, the first day after the Lunar New Year holiday, students from the 7th to 12th grades in the southern hub continue in-person learning, which has been resumed for them since early January.
Meanwhile, kindergartens and primary schools will reopen on February 14.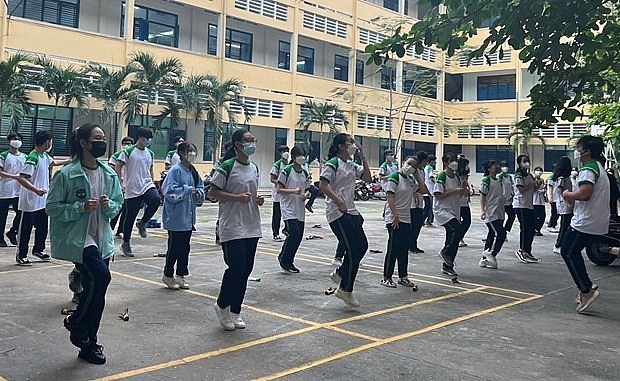 Students with face masks on during a physical education lesson in HCM City. Photo: VNA
Notably, primary school students are allowed to directly attend school on a voluntary basis, and schools were told to organize educational activities in a way that matches the pandemic situation in the places they are located in, according to VNA.
HCM City has been classified as a "green" zone, equivalent to Level 1 - the lowest in the four-level pandemic scale, for five consecutive weeks, the municipal People's Committee announced on February 5.
Single-day visitors to Hanoi airport highest in two years
Hanoi's Noi Bai International Airport received its highest single-day number of visitors in the last two years at around 63,000 on 400 flights this Lunar New Year holiday (Tet).
On Monday, the airport expected to receive 52,000 visitors, with peak hours from 7 a.m. to 8 a.m. The peak travel demand period at the airport post-Tet is expected to last until Feb. 14.
The number of passengers coming to the airport on peak days has significantly increased this Tet compared to the same period last year, according to a Noi Bai representative. Factors for the increase include the lifting of several medical restrictions and the fact local authorities provided more opportunities for people to return home during the holiday.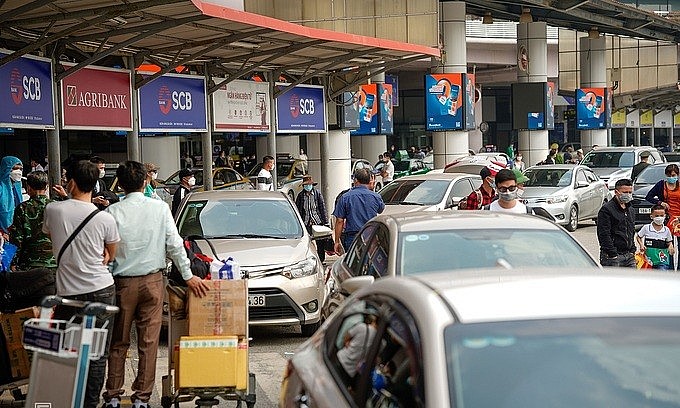 Passengers gather at Hanoi's Noi Bai Airport before the Lunar New Year holiday. Photo: VnExpress
Last year, even during peak days at Noi Bai, there were only around 383 flights with 29,000 passengers. In the pre-Covid era, during Tet 2020, Noi Bai received 620 flights a day, amounting for 91,000 passengers.
Despite the increase in the number of visitors this Tet, Noi Bai is still well-equipped to handle them all. There has been no congestion when passengers gathered to perform necessary procedures for flying. The 102 check-in booths and 22 security clearance checks in T1 terminal could handle around 4,000 passengers in an hour.
Airports throughout Vietnam have all seen an increase of 20 percent in the number of flights, 73 percent in the number of passengers and 4 percent in the amount of goods this Tet compared to last year, according to the Civil Aviation Authority of Vietnam, reported VnExpress.
Airlines planned to increase their numbers of flights by over 100 from Feb. 6 to 12, mainly on the Hanoi-Ho Chi Minh City route. Authorities have requested airlines to increase the number of flights at night as daytime slots grow crowded.
This year's Tet, Vietnam's most important holiday, lasted from Jan. 29 to Feb. 6.
Vietnam aims to become attractive investment destination in SEA
The COVID-19 pandemic has negatively impacted all aspects of life, although the spirit of innovative start-ups over the years has greatly contributed to economic development and the nation's further recovery.
Last year, despite complicated developments relating to the pandemic, the financial source of investment for innovative start-ups domestically increased in an unprecedented manner, with more than US$1.3 billion being invested in Vietnamese innovative start-ups, the highest ever figure ever recorded.
Promoting innovative start-up activities in the nation can be attributable to the efforts of the Government, relevant ministries and sectors, along with media agencies, especially the National Innovation Center (NIC) under the Ministry of Planning and Investment.
The centre typically attracts major domestic and foreign technology enterprises and groups, thereby providing an optimal infrastructure system for the research and development of technology ideas and startups. It also supports connection and investment promotion as a way of accelerating the commercialization of technology products.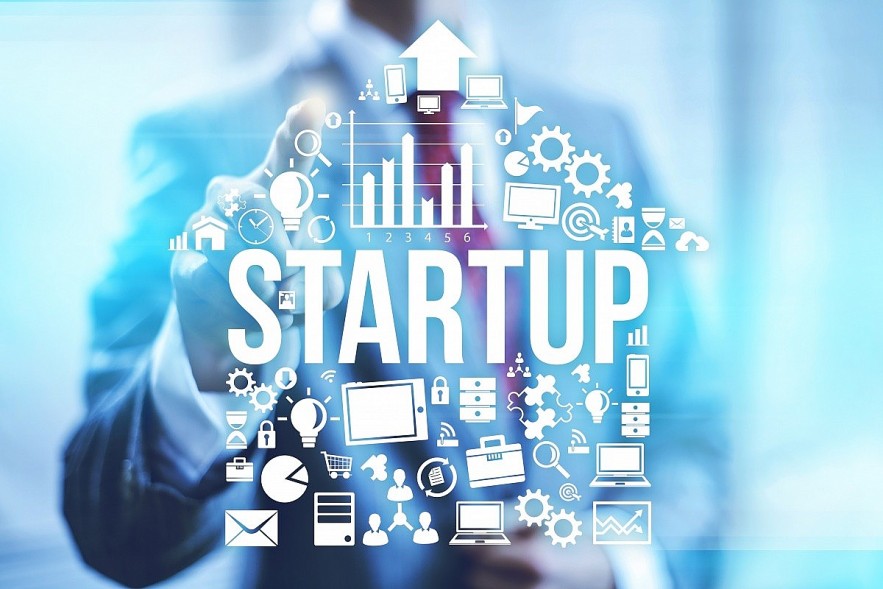 Photo: VOV
According to Nguyen Thi Ngoc Dung, a representative of the NIC, Vietnamese businesses are becoming increasingly conscious of the need for innovation, especially after a period of responding to the global Covid-19 pandemic.
However, many domestic firms remain confused by the need to adapt, change, and face difficulties in innovating from capital and human resources to an actual vision.
Currently, the NIC has gathered more than 1,000 Vietnamese experts who are working at an array of famous universities and research institutes around the world in order to share their knowledge and experience with the domestic innovative start-ups community, VOV reported.
Furthermore, it also connected approximately 100 venture capital funds across the world with startups in the local innovation ecosystem.
Dung took Genetica, a medtech startup based in the United States that primarily provides its services in Southeast Asia, as an example. The firm announced in October, 2021, that it would develop the largest gene sequencing centre in the region, located at the NIC and with an annual capacity of 500,000 genomes.
Genetica's founders graduated from several leading US universities, said Dung, who has worked hard to persuade the firm to set up its Southeast Asian headquarters in Vietnam.
Moreover, Cao Anh Tuan, co-founder and CEO of Genetica, said his firm initially picked Singapore to open its centre in, but later selected Vietnam instead after his first meeting in the US with Minister of Planning and Investment Nguyen Chi Dung. This occasion saw Tuan given assurances that the Vietnamese Government will create the best possible conditions for scientists returning home from the US.
The Genetica centre located in the NIC building is designed to the standard of US-based labs, the most rigorous for genetic testing in the world. Accordingly, the nation will be one of very few Southeast Asian countries running CAP (College of American Pathologists) and CLIA (Clinical Laboratory Improvement Amendments) standard genetic testing laboratories.
More importantly, Genetica's gene sequencing results are accepted worldwide, thereby allowing users to decode results once and subsequently apply it for a lifetime.
Last year witnessed the nation rank 44th on the global innovation index, whilst the local startup ecosystem also claimed the 59th position out of the 100 countries. The nation has been ranked third by international organizations in the group of the three most dynamic innovative startup ecosystems in Southeast Asia, only behind Indonesia and Singapore.
Dung therefore suggested changes in the mindset of policymaking and the adaptation of new business models and fresh technologies as innovation as a means of creating breakthroughs that can influence wider society.
Moreover, Tuan also underscored three factors to development, innovation, and creation of startups, namely human resources, connectivity with mentors and partnerships with support networks, such as peer coaching.
Despite initial encouraging results, the Vietnamese innovation environment still must be consolidated. Co-operation between stakeholders will therefore continue to create opportunities for domestic businesses to connect, utilize, and boost their financial strength, improve knowledge and human resources, whilst also creating products, services, and useful development platforms for the community as a whole.
Vietnamese economy to recover fast in 2022: Fitch Ratings
Vietnam's recovery is set to gather momentum in 2022, as domestic demand rebounds and export performance remains strong, according to Fitch Ratings.
In its recent report, Fitch said that improving levels of vaccination in the country should reduce the risk that the recovery is set back by further Covid-19 outbreaks. However, the evolution of the pandemic remains subject to uncertainties, in particular as daily cases have trended higher in recent months.
Economic growth in 2021, at 2.6 percent, was much weaker than the 7 percent that Fitch had expected in April 2021, when it affirmed Vietnam's rating at 'BB' and revised the Outlook to Positive, from Stable.
According to Fitch, this partly reflected a 6 percent year on year contraction in real GDP in the third quarter last year as the authorities moved to control a surge in Covid-19 cases. Further pandemic-related shocks, while possible, are unlikely to be so severe, because the government has shifted from a "zero Covid" approach to one of flexible adaptation as vaccination rates have increased, it said.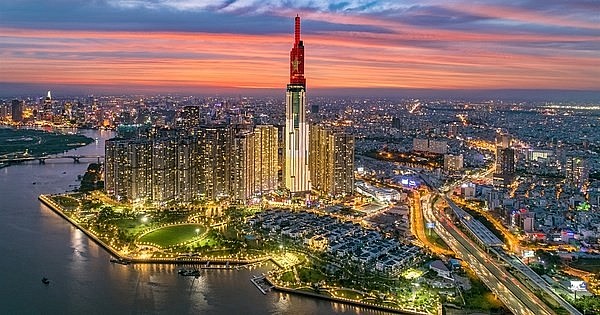 A view of Ho Chi Minh City. Photo: VNA
Growth will be led by exports, which rose by 19 percent in 2021, it said, adding that it expects goods demand growth to decelerate in the developed world in 2022 as activity normalizes and services demand picks up. Inward investment remained strong in 2021, at US$19.7 billion, down only slightly from US$20 billion in 2020. The strong export performance that Fitch expects in 2022-2023 will catalyze domestic investment and consumption, through positive spill-overs, for example from job creation.
Fitch's current forecasts see Vietnam's public debt/GDP ratio broadly stable over 2022-2023, at around 41 percent of GDP. Since this forecast, the government has approved a fiscal stimulus package covering the period, worth around US$15.3 billion (roughly 4 percent of 2021 GDP), but Vietnam's debt/GDP level will remain below the peer median of 56.6 percent in 2022 and 56 percent in 2023, it noted. The package continues certain tax breaks and exemptions, which will weigh on the revenue base, but these may be rolled back as the recovery strengthens. It also contains additional infrastructure spending that could help to underpin medium-term growth prospects, Fitch commented.
Non-performing loans in Vietnam's banking sector rose in 2021 amid disruption to economic activity associated with efforts to control Covid-19 outbreaks, it said, adding that a return to strong economic growth should reduce risks to asset quality. It believed the pace of bank capital accrual will remain modest in 2022-2023, as much of the internal capital generated is likely to be consumed by rapid balance-sheet growth. Last April, Fitch held that a material reduction in risks posed to the sovereign balance sheet from weaknesses in the banking sector could lead to a rating upgrade.