Vietnam News Today (May 25): Indian Firms Seek Investment Opportunities in Southern Vietnam
Vietnam News Today (May 25): Indian firms seek investment opportunities in southern Vietnam; Vietnam shows significant improvement in business environment: EIU; Door wide open for Vietnamese lychee to enter overseas markets; Vietnam will continue to be prime destination for FDI: VinaCapital.
Vietnam News Today (May 25) notable headlines
Indian firms seek investment opportunities in southern Vietnam
Vietnam shows significant improvement in business environment: EIU
Door wide open for Vietnamese lychee to enter overseas markets
Vietnam will continue to be prime destination for FDI: VinaCapital
High-end brands looking to invest in Vietnam
Vietnam-Asia DX Summit 2023 promotes digital transformation
Bad weather cause flight diversions at Tan Son Nhat International Airport
Dangerous levels of UV rays reported across country
Vietnamese fried spring rolls among world's 100 most popular appetizers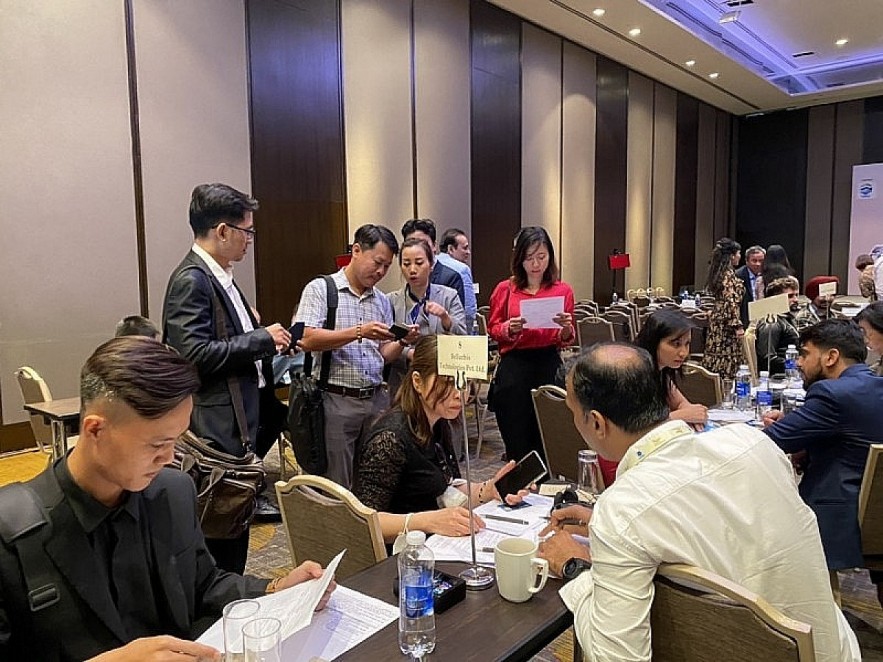 Indian businesses are keen to seek investment opportunities in the southern provinces of Vietnam.
Indian firms seek investment opportunities in southern Vietnam
Seventeen Indian businesses have arrived in Ho Chi Minh City in order to seek greater investment opportunities across multiple fields in southern provinces of Vietnam.
They aim to enhance cooperation opportunities with Vietnamese enterprises in the fields of agriculture, garments and textiles, education, fisheries, food processing, railway infrastructure, health, and energy.
At a recent trade exchange held to learn more about the Vietnamese market, Madan Mohan Sethi, consul general of India in Ho Chi Minh City, pointed out that India is currently the country's seventh largest trading partner, with key areas including agricultural and aquatic products and pharmaceuticals.
The Indian diplomat expressed a keen desire to act as a bridge for future ties between the two countries to promote trade, investment, healthcare, and tourism cooperation, cited VOV.
With regard to the potential for further investment attraction, Nguyen Thi Diem Quynh, deputy director of the Long An provincial Department of Planning and Investment, revealed that as many as 1,200 FDI projects capitalised at about US$10.3 billion have been implementing in the province. Of the total, seven projects valued at US$215 million are invested by Indian firms specializing in food processing, agricultural products, animal feed, garments and textiles.
Long An will prioritise attracting more investment in supporting industries, processing and manufacturing, automation, manufacturing components - electronic equipment and software, industrial semiconductor, artificial intelligence, and urban development, said Quynh.
A representative of the southern province of Dong Nai stressed that there remains plenty of room for further co-operation opportunities between the two countries moving forward.
In fact, import and export turnover between Dong Nai and the Indian market has witnessed a trade surplus over recent years with the province's key export items to India including plastic raw materials, curtain fabrics, technical fabrics, machinery, equipment, tools and spare parts, fibers, and textile yarns of all kinds.
Meanwhile, Indian businesses also boast strengths in fields such as information technology, biotechnology, education, and health, all of which are areas of interest for the southern province.
Vietnam shows significant improvement in business environment: EIU
Vietnam jumped 12 places in the Economist Intelligence Unit (EIU)'s latest business environment rankings which measure the attractiveness of doing business in 82 countries with 91 crucial indicators.
The report highlights that Vietnam, along with Thailand and India, is considered the Asian country that has made the most progress in terms of business environment development.
Thailand leaped 10 places and India six. Meanwhile, Singapore topped the rankings.
In the first four months of this year, FDI channeled into Vietnam neared 8.9 billion USD, with new capital surging after a slight decrease in the first three months.
According to the Ministry of Planning and Investment's Foreign Investment Agency (FIA), there were 750 new projects granted with investment licences worth over 4.1 billion USD, up 65.2% and 11.1% annually, respectively.
A total of 386 projects had their capital added for a total of 1.66 billion USD, a 19.5% increase in quantity and reduction of 68.6% in value against the same period last year. The growth, despite the associated decrease, reflected investors' confidence in Vietnam's business climate and decisions to expand their existing projects, according to VNA.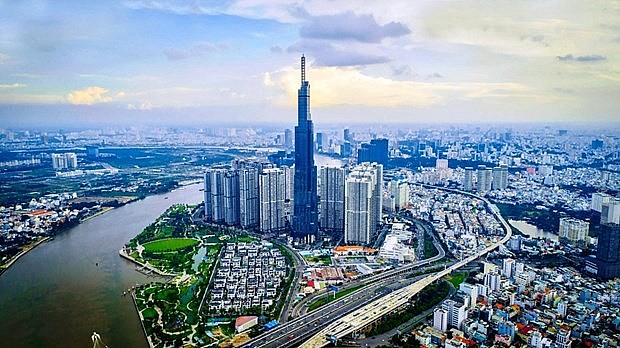 Vietnam shows significant improvement in the business environment. (Photo: VNA)
Also in the four months, foreign investors did 1,044 transactions of capital contribution and share purchases, with their contributed capital exceeding 3.1 billion USD, up 70.4% year-on-year. They invested in 18 economic sectors, mostly in processing and manufacturing with over 5.1 billion USD or 57.8% of their total investment.
The number of countries and territories investing in Vietnam in the period amounted to 77. Singapore took the lead by pouring close to 2.2 billion USD into the market, followed by Japan with nearly 2 billion USD and China with 752 million USD.
Door wide open for Vietnamese lychee to enter overseas markets
Vietnam is putting the finishing touches to the export of its lychee, one of the country's key fruits for export, to overseas markets, hoping to make a huge profit this year.
The lychee harvesting crop for this year is anticipated to record good growth in terms of both output and export prices.
This year sees Bac Giang province, which is dubbed the capital of Vietnamese lychee, have 29,700 ha of land under lychee cultivation, an increase of 1,600ha compared to last year. It is expected to yield between 180,000 and 200,000 tonnes of the fruit.
Of the total, 15,682ha of land is used for growing lychees according to VietGAP and GlobalGAP standards, with an estimated output of over 100,000 tonnes.
Bac Giang is poised to export 96,000 tonnes, making up 53% of the total output and representing an increase of 15% year on year. So far, more than 200 Chinese dealers have registered to enter and purchase the juicy fruit in the locality.
Currently, the province has been granted dozens of planting area codes for lychee export to China, Thailand, Australia. Japan, and the United States.
Meanwhile, Hai Duong province, which is also one of the country's main lychee producers, is expected to yield 40,000 tonnes grown according to VietGAP and GlobalGAP standards.
Along with local consumption, Hai Duong is ramping up trade promotion as it seeks to export lychee to traditional markets such as China, the United States, the EU, Australia, and Japan, and to expand into new and potential markets in South America and Africa.
So far, more than 100 planting area codes have been given to export Hai Duong's lychee to China, Australia, Japan, the US, and Thailand, reported VOV.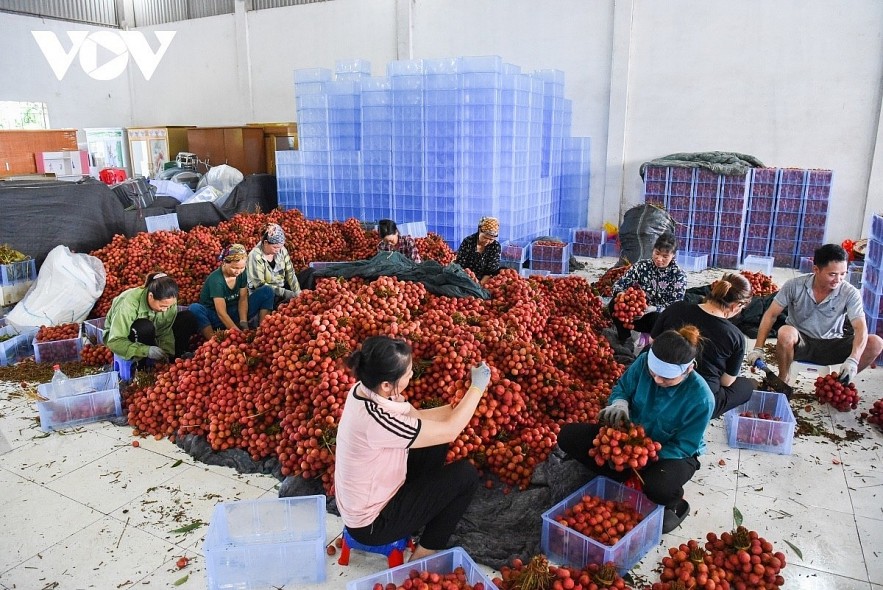 Sorting out lychee for local consumption and export.
According to the Import-Export Department under the Ministry of Industry and Trade, Vietnamese lychees are mainly exported to China some EU countries, the US, Australia, the Republic of Korea, Singapore, Thailand, and the Middle East.
"This year, we will continue to maintain our traditional export markets on the one hand, and we will, on the other hand, diversify markets to minimise the risk of dependence on a single market, and at the same time increase export value," says Le Hoang Tai, deputy director of the Trade Promotion Department.
Ngo Thi Thu Hong, general director of Ameii Vietnam Joint Stock Company which specializes in exporting agricultural products to highly demanding markets, says there are positive signs ahead for lychee sales overseas this year.
"Currently, the company has received a lot of orders from markets, including its traditional markets such as Japan, the EU, and Australia and some new markets in the Middle East, Singapore, and Malaysia," reveals the executive.
In order to ensure sufficient output as well as quality, Hong says that Ameii has signed consumption contracts with co-operatives and farmers in Hai Duong, with the purchase price about 20% higher than the market price.
For China, To Ngoc Son, deputy director of the Asia-Africa Market Department under the Ministry of Industry and Trade, points out that although the export market signal remains very favourable, the Chinese market is increasingly demanding strict standards and directions towards high-quality products. He therefore suggests that lychee farmers focus on producing quality products in a bid to meet this market's demands.
Vietnam will continue to be prime destination for FDI: VinaCapital
The global corporate minimum tax is unlikely to impede Vietnam's FDI inflows given the fact that tax incentives are not the primary attraction for setting up a factory in Vietnam, said Michael Kokalari, chief economist at investment fund VinaCapital.
In his latest analysis, he said FDI had been one of Vietnam's most important economic growth drivers over the last decade. The country had significantly outperformed its regional peers in attracting FDI since the US-China trade war emerged, but there were two potential risks to its future FDI inflows.
Firstly, Vietnam could be losing its competitiveness as an FDI destination versus India, Malaysia and/or Indonesia, and secondly, a new global corporate minimum tax scheme would reduce Vietnam's relative attractiveness as an FDI destination by limiting the tax incentives offered to prospective investors.
According to Kokalari, FDI companies that invest in Vietnam typically enjoy tax breaks that may include a zero % tax rate during the initial years of their operations, followed by a gradual increase up to a full 20% corporate income tax rate over a period as long as 10 years.
In 2021, over 100 countries (including Vietnam) agreed to an OECD proposal for a global corporate minimum tax (GMT) that would impose a 15% minimum corporate tax rate on income for companies with consolidated incomes above circa 850 million USD starting from 2023. The implementation of this agreement was subsequently delayed to 2024, and it is not clear yet whether the US, China, and India will participate in the scheme.
Vietnam has been preparing for the implementation of the new GMT system next year, and it has been reported that around 70 companies in the country could see their tax rates rise if it is imposed. Some of Vietnam's regional emerging market peers are reportedly investigating alternative schemes in which some of the additional tax revenues would be channelled into a "business support fund" that would effectively offset companies' higher tax burdens by subsidising some of those firms' production costs (for example, with subsidized electricity prices, spending on the construction of a new factory, worker housing, etc.).
Photo: VNS
More importantly, low tax rates are far from the most important factor in a company's decision about where to establish a new factory, according to surveys from the World Bank and others. Considerations such as political stability, ease-of-doing-business, workforce (quality and wages), and physical infrastructure are all more important factors, cited VNS.
"The new GMT is unlikely to impede Vietnam's FDI inflows given the fact that tax incentives are not the primary attraction for setting up a factory in Vietnam, and it seems likely that workarounds to the GMT are likely to be put in place, if-and-when the scheme is actually implemented," he said.
Regarding concern about Vietnam's continued competitive advantage amid growing interest in India from firms such as search Apple and others, he said: "We are not overly concerned that India will affect FDI that would have otherwise poured into Vietnam for any number of reasons."
"Tim Cook's visit to India in April spawned a plethora of articles on the intentions of search Apple and others to build new factories in the country. But it is important to note that most of the products produced in those factories will be sold into the Indian market. In short, new investments to India are not being motivated by the "China 1" investment strategy that drove FDI inflows into Vietnam over the last decade, particularly at an accelerated pace since the start of the US-China trade war," he said.
Some observers have also noted that planned FDI into Malaysia and Indonesia surged during the last two years, while Vietnam's registered FDI was essentially flat. However, investments into Malaysia and Indonesia were largely channelled into the production of goods Vietnam does not make, including electric vehicle batteries.
Kokalari said Vietnam had attracted far more than its "fair" share of FDI since the US-China trade war emerged in 2018, so some of its regional competitors for FDI inflows are now experiencing some "catch up" investments after having lagged Vietnam in recent years.
"We fully believe that Vietnam will continue to be a prime destination for FDI, particularly from multinationals looking to produce for export and seeking an alternative and/or additional manufacturing base to China, for the foreseeable future," he said.
High-end brands looking to invest in Vietnam
Revenue in the luxury goods market in Vietnam will amount to 957.2 million USD in 2023, and grow annually by 3.23% in the 2023-2028 period, according to Statista, a statistics portal for market data.
Increasing consumer demand is said to be a motivation for many brands to pour their investment in Vietnam. Luxury brands like Dior, Louis Vuitton, Tiffany & Co., and Berluti have opened shops in Hanoi - where the number of brands is not big but the demand is increasing, Statista reported.
Hoang Dieu Trang, Senior Leasing Manager for Savills Vietnam in Hanoi, said the capital is about to welcome luxury hotels such as Four Seasons, Fairmont, Waldorf Astoria or Ritz Carton, which are expected to create a new luxury shopping complex in the city, thus attracting many high-end brands to join the potential market.
Trang Tien Plaza - the first and only luxury shopping centre in Vietnam (Photo: VNA)
According to Nick Bradstreet, Head of Asia Pacific Retail at Savills, Vietnam is seen as one of the prominent markets for luxury brands along with Singapore and Thailand.
Vietnam's economy is forecast to grow by 6.3% in 2023 despite the global difficult situation, according to a report by the World Bank.
Under the national master plan for 2021 – 2030, Vietnam is targeting an annual average GDP growth of 7% during the period.
By 2050, GDP per capita at current prices will reach about 27,000 –32,000 USD, cited VNA.
Data from the General Statistics Office show that domestic consumption has gradually rebounded with the nation's total revenue from retail sales of goods and services in the last four months, increasing by 26.7% compared to the same period of 2019 - the time before the outbreak of COVID-19.