Vietnam News Today (Nov. 10): Vietnam-Philippines Strategic Partnership Records Sound Growth
Vietnam News Today (Nov. 10): Vietnam reports 468 new Covid-19 cases on November 9; Vietnam-Philippines strategic partnership records sound growth; Vietnam persists with strong climate commitments at COP27; Vietnam's major air traffic markets predicted to rebound in 2023: VNDIRECT.
Vietnam News Today (Nov. 10) notable headlines
Vietnam reports 468 new Covid-19 cases on November 9
Vietnam-Philippines strategic partnership records sound growth
Vietnam persists with strong climate commitments at COP27
Vietnam's major air traffic markets predicted to rebound in 2023: VNDIRECT
Vietnamese exports enjoy advantages in UK market
Vietnam, Cambodia boost digital transformation cooperation
Vietnam, Australia to benefit from closer ties: Ambassador
Hanoi among most-searched-for places by international tourists
Hanoi's air pollution has negative impact on children's health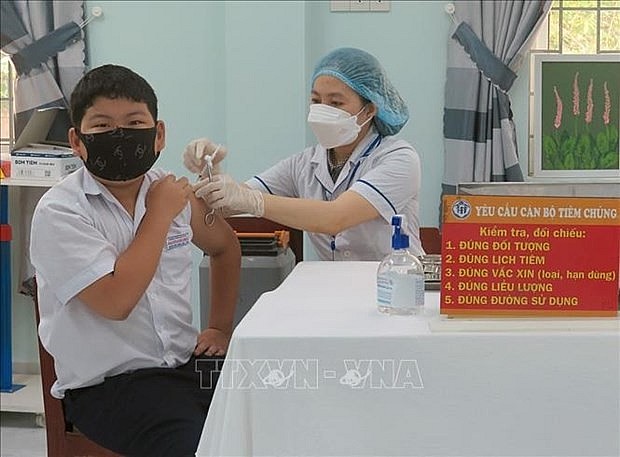 A student gets vaccinated against COVID-19 in Phu Yen province. Photo: VNA
Vietnam reports 468 new Covid-19 cases on November 9
The national Covid-19 caseload rose to 11,507,124 with 468 new cases recorded on November 9, according to the Ministry of Health.
With 307 patients given the all clear during the day, the number of recoveries rose to 10,605,315.
Meanwhile, there are 66 patients needing breathing support, cited VNA.
No death from Covid-19 was recorded in the past 24 hours. The total fatalities stood at 43,166.
More than 262.45 million doses of Covid-19 vaccines have been administered so far.
Vietnam-Philippines strategic partnership records sound growth: ministers
Vietnamese Minister of Foreign Affairs Bui Thanh Son and his Philippine counterpart Enrique Manalo expressed their delight at the progress made in the countries' strategic partnership at their meeting in Cambodia on November 9 within the framework of the 40th and 41st ASEAN Summits and related summits.
They agreed on a number of measures to deepen relations towards practical outcomes in the near future with a focus on increasing exchanges of delegations, particularly high-ranking ones.
At the event. Photo: VNA
The ministers emphasized the need to resume existing cooperation mechanisms between the two sides, which were interrupted recently due to the Covid-19 pandemic.
They said Vietnam and the Philippines should convene the 10th meeting of their joint committee on bilateral cooperation; make efforts to effectively implement bilateral agreements, including the 2019-2024 action plan for the countries' strategic partnership; step up bilateral trade-investment and restrict the imposition of trade barriers.
Son said Vietnam is willing to continue supplying rice to the Philippines in its Government's efforts to ensure food security.
The two sides agreed that maritime cooperation needs to be strengthened, reported VNA.
They also concurred on the need to expand cooperation in fields such as climate change response, green growth, digital transformation, e-commerce, tourism, education and training.
Regarding multilateral cooperation, the ministers said given many complicated and unpredictable changes facing the region and the world, it is necessary to strengthen exchanges and consultations in a bid to beef up ASEAN's solidarity, strength and centrality.
Vietnam persists with strong climate commitments at COP27
The nation will reiterate its strong commitments to climate change response at the 27th UN Climate Change Conference (COP27), which is taking place from November 6 to November 18 in Egypt.
Minister of Natural Resources and Environment Tran Hong Ha, who is leading the Vietnamese delegation at the event, said Vietnam and other countries at the conference will strive to perfect mechanisms and policies to mobilise resources from developed nations for the implementation of the commitments.
Resources should therefore be allocated transparently and equally to developing and underdeveloped nations that are making great efforts to reduce greenhouse gas emissions and adapt to climate change, the Minister noted.
He highlighted energy transition as a solution to the impact of climate change, of which Vietnam has set out a specific roadmap to follow.
The Vietnamese Government has issued a strategy relating to climate change and assigned specific tasks to ministries, agencies, and localities, Minister Ha added.
Vietnam is in the process of working hard to materialize the commitments using its internal resources, as well as support from the international community, especially through mechanisms of the COP26 agreement reached in the UK last year, reported VOV.
He noted that the Vietnamese delegation came to COP27 with three major tasks, one of which is to join other UNFCCC members as they seek ways to realize these commitments and mechanisms, along with raising new initiatives, mechanisms, and policies to conduct energy transition.
The second task will be to uphold the country's pioneering role in energy transition, green transition, and digital transformation, with the third being to mobilise resources and learn from developed partners' experience, as well as joining more initiatives, especially those on financial mobilization and energy transition.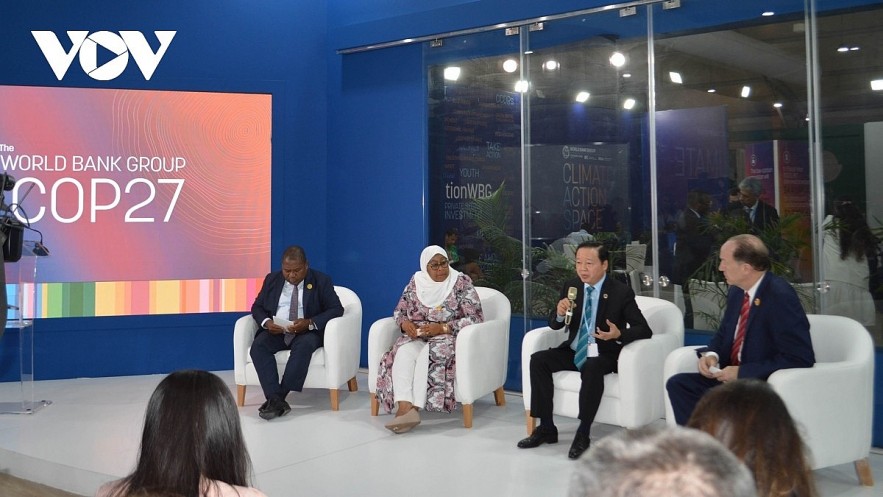 Minister Tran Hong Ha (second from right) attends an event organized by the World Bank group at COP27. Photo: VOV
Moving forward, the delegation is scheduled to carry out a range of bilateral activities with international organizations and businesses relating to energy transition, in addition to holding meetings with major financial institutions such as the World Bank.
He described COP27 as an opportunity in which the Vietnamese delegation can meet with leading international organizations and financial institutions to discuss financial mechanisms and policies, as well as assessing how to mobilize resources for Vietnam.
Within the framework of COP27, the country will continue to hold discussions with partners from the G7 relating to energy transition, as well as helping the country to utilize opportunities in preferential financing and technology transfer to fulfill its net-zero commitments.
According to details given by the Minister, the country is engaging in negotiations regarding issues in which the nation requires international support, such as financing and technical assistance to draft plans in energy transition and assess renewable energy potential.
Minister Ha stressed that besides meeting domestic demand, renewable energy could help to turn the nation into an energy exporter in Southeast Asia, Asia, and the world in the time ahead.
Vietnam's major air traffic markets predicted to rebound in 2023: VNDIRECT
The international aviation sector is predicted to grow strongly in 2023, motivated by the recovery in the number of international tourists, according to analysts.
In its recent research, securities firm VNDIRECT held that most of countries have removed the restriction for tourists, and this will boost both outbound and inbound travel demand.
It noted that international arrival throughput jumped 35 times year on year in the third quarter of 2022, recovering to 49.8% of pre-pandemic level.
In the base case scenario, the firm expected China to gradually relax the travel restriction from the second quarter of 2023. Thus, the international inflow recovery rate might reach 84% in the second quarter of 2023 and 100% in the fourth quarter to help the total international volume to grow 195% year on year in 2023.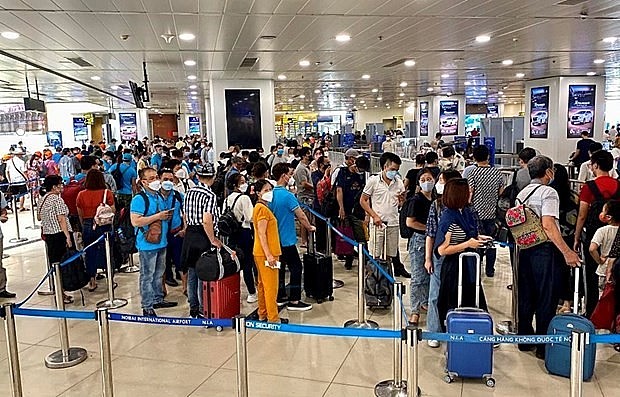 Vietnam's major air traffic markets predicted to rebound in 2023. Photo: VNA
Having high revenue exposure to international air travel, airport retailers will be the most beneficiaries of the recovery of international arrivals, according to the report.
For airport, VNDIRECT held that the growth is crystal clear but might be dented since 2024 onwards due to the capacity constraints. The recovery prospect of airlines is overshadowed by high fuel price, exchange rate volatility, and rising interest rates.
VNDIRECT experts also give forecast on the recovery of major air traffic markets of Vietnam, cited WVR.
It noted that Vietnam's major air traffic markets in Southeast Asia including Singapore, Thailand and Malaysia have all fully reopened and developed bilateral tourism with the country. It expects international visits from SEA to recover to the pre-pandemic level by the first quarter of 2023.
VNDIRECT also predicted that international arrivals from Europe will recover to the pre-pandemic level by the second quarter of 2023, and those from Russia by the third quarter of 2023.
India is considered a potential new market for Vietnam's tourism. Vietjet Air, Vietnam Airlines, and India's IndiGo and Spice Jet have launched new routes between the two countries. In particular, Vietjet Air has been granted the right to operate more than 20 new routes from Hanoi, Ho Chi Minh City, Da Nang, and Phu Quoc to new destinations in India such as Bangalore, Hyderabad, Ahmedabad, Chennai, Kolkata, Gaya as well as increase the flight frequency to Delhi and Mumbai from July 2022.
VNDIRECT predicted that international visitors on this route will reach 5% of the total recorded in the whole market before the pandemic broke by the second quarter of 2023.
Vietnamese exports enjoy advantages in UK market
The nation boasts plenty of advantages in the UK market, with Vietnamese exporters striving to capitalize on these advantages, according to Nguyen Canh Cuong, Trade Counselor of the Vietnam Trade Office in the UK.
Cuong said that the country is one of few places to have signed a free trade agreement (FTA) with the UK ( The UK-Vietnam Free Trade Agreement (UKVFTA). Indeed, only Singapore and Vietnam have so far signed an FTA with the UK.
Vietnam makes up a large commodity-producing economy in the region as it boasts a great advantage compared to ASEAN member states that have yet to sign an FTA with the UK when exporting goods to this market, largely thanks to preferential tax exemptions and reduction under the terms of the agreement.
The Vietnamese national brand value over recent years has increased dramatically throughout the world thanks to a range of outstanding achievements, not only in socio-economic development, but also in political stability, security, social order, and Covid-19 containment efforts, Cuong said.
He went on to affirm that these national brand values are creating very positive effects in the psychology of British businesses and consumers.
The UK may join the Comprehensive and Progressive Agreement for Trans-Pacific Partnership (CPTPP) in 2023 and is in the process of doing. The UK has also expressed goodwill to make more commitments to open markets for some of Vietnamese products, thereby creating favorable conditions for local businesses to better compete in this market and boost local exports to the UK in the coming time.
The trade official emphasized that Vietnamese firms are making good use of these advantages, particularly with Vietnamese exports to the UK increasing significantly this year.
The past nine months of the year witnessed the total bilateral trade turnover reach more than US$5.22 billion, of which Vietnamese trade surplus and total export turnover to the UK hit US$4.07 billion and nearly US$4.65 billion, up 8.1% on-year.
The remaining months of the year will likely see exports to the UK continue to witness an upward trend, especially rice, including ST25 rice, which may increase sharply in the fourth quarter of the year and during the first two months of 2023.
Since the beginning of the year, the Vietnam Trade Office in the UK has organized many consultation sessions relating to trade connections in order to provide market information and give advice to Vietnamese enterprises on business practices in the UK. This is part of efforts to build trust and establish initial partnerships with British businesses, with this being viewed as a step to prepare for future export contracts.
The consultation sessions largely focus on the market for furniture, agricultural products, clothing, and some educational products, especially those that local businesses can benefit from the UKVFTA and those that the UK has high consumption demand. This is along with some traditional UK supplies from Ukraine, Russia, China, and some EU member states being disrupted.
The Trade Office has therefore organized a wide range of trade promotion events, such as supporting Vietnamese businesses in attending e-commerce fairs. In the coming year, the Trade Office will continue to promote the country's trade and exports to the UK, including participating in the largest furniture fair in the UK January Furniture Show slated to take place in Birmingham in early 2023.
It will also participate in several events held to celebrate the 50th anniversary of Vietnam-UK relations, especially activities to promote national brands.
Photo: VOV
With regard to challenges facing the UK market, Cuong outlined that the geographical distance between the two countries makes transportation costs from Vietnam to the UK high, accounting for a significant proportion of the cost faced by Vietnamese exported products.
In addition, high fuel prices are also increasing the cost of shipping and marine insurance. Another challenge is the difference in business methods and practices between the two countries, he added.
Cuong stated that Vietnamese businesses must fully grasp and adjust their business methods and practices in order to suit the UK market and build up trust with British partners to sign contracts with major enterprises and distributors that have capable distribution systems throughout the UK.
Regarding these opportunities, Cuong affirmed that the UKVFTA continues to be a factor in creating competitive advantages for many Vietnamese products in the UK market, cited VOV.
Despite facing recent major political and economic upheavals, the UK remains a significant market with stable purchasing power. In the long run, British businesses have the trust of both customers and Vietnamese firms, thereby allowing them to build long-term co-operation ties, he added.