Vietnam ranked 2nd in public opinion survey on govt response to COVID-19
Vietnam has been ranked second in a global survey on public approval of their government's response to the COVID-19 pandemic, according to a new report.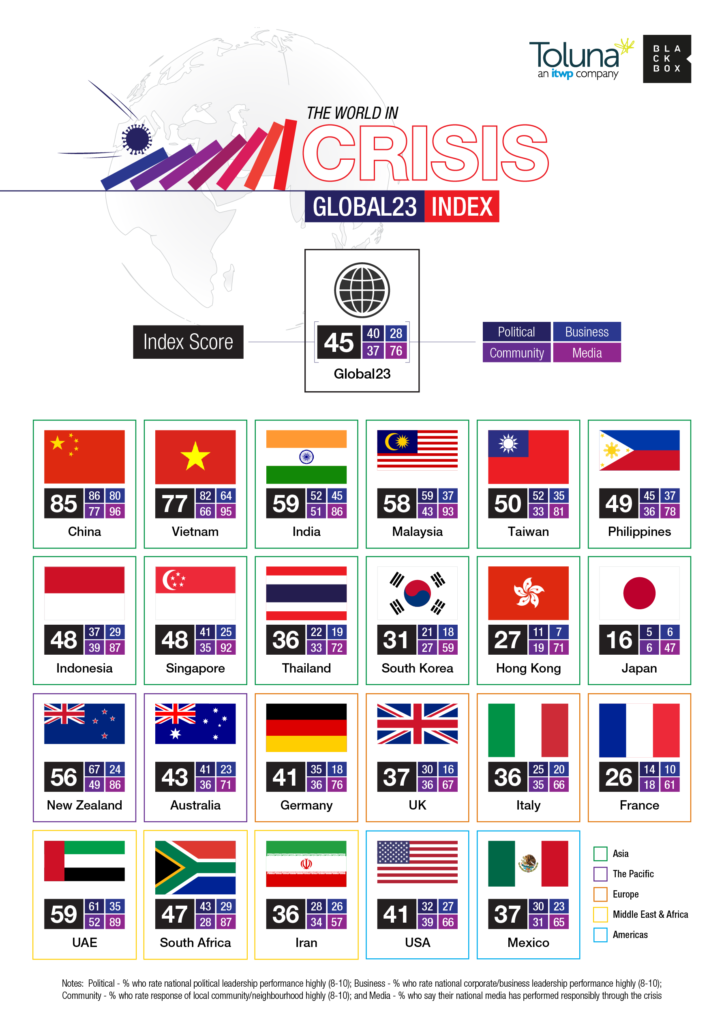 Vietnam has been ranked second in a global survey on public approval of their government's response to the COVID-19 pandemic,

according to a new report.
Citizens from just seven out of 23 countries and territories rate their governments' coronavirus containment measures as broadly positive, based on the "Global Crisis Perceptions" index released recently by Singapore's leading social research agency Blackbox Research and international online panel specialist Toluna.
Vietnam was second with a score of 77, with China (85) topping the list, with the most citizens rating its performance favourably across all four key indicators: national political leadership, corporate leadership, community and media.
Vietnam was followed by the United Arab Emirates (59) and India (59), in a list which saw Asian countries take the top spots.
New Zealand (56) is the only Western country with an index score higher than the global average of 45. Australia (43), the US (41), and all four western European countries surveyed - Germany (41), the UK (37), Italy (36) and France (26) - all ranked below the global average.
Blackbox Research says "a significant part of Asia has had their leadership shaped by past epidemics, such as SARS and MERS." It also says Western governments are still coming to terms with an unprecedented crisis, and public confidence suffered as a result.
In terms of the business response to the pandemic, citizens of China and Vietnam were alone in giving their countries' corporations a response rating of over 50. Meanwhile, respondents in France (10) and Japan (6), rated their business response as the poorest.
The report also found a disparity in major economies' ability to emerge from the crisis. The majority (85%) of Chinese people said they believe their country will come out of the crisis stronger, compared to less than half (41%) of Americans.
Efforts by the Vietnamese government and people to fight COVID-19 have earned praise from international media, who have said that although Vietnam is not the richest country in the region, it has become a role model for fighting the epidemic and other countries should learn from its experience.
World Bank Country Director Ousmane Dione hailed Vietnam's health response to COVID-19 pandemic as "exceptional".
The country of 95 million has been an under-reported success story of the pandemic, which has had just under 300 coronavirus cases and no deaths, the UK daily newspaper Telegraph said.
Later in March, Vietnamese people have the most confidence of 45 countries in their Government's response to the COVID-19 pandemic, according to a survey, VNA cited a survey by Dalia, a company specializing in research tech solutions later as saying.
About 62 percent of Vietnamese surveyed in the single largest global public opinion study on COVID-19 think the Government is doing the 'right amount' in response to the situation.
Between March 24 and 26, survey respondents were asked "Think about your government's reaction to COVID-19 right now. Do you believe measures taken are too much or too little?"
Answer options ranged from "Far too little" to "Far too much". Respondents were also permitted to choose "I don't know".
The survey received answers from 32,631 people in 45 countries. Each country had at least 500 respondents.
According to Dalia, two-fifths of the global population (40 percent) believe their government is doing the right amount to combat the pandemic. This is most notable in Việt Nam and Argentina.