Vietnam to produce COVID-19 vaccines
Vietnamese medical and scientific experts assigned to research and produce vaccine against COVID-19 believe in positive directions.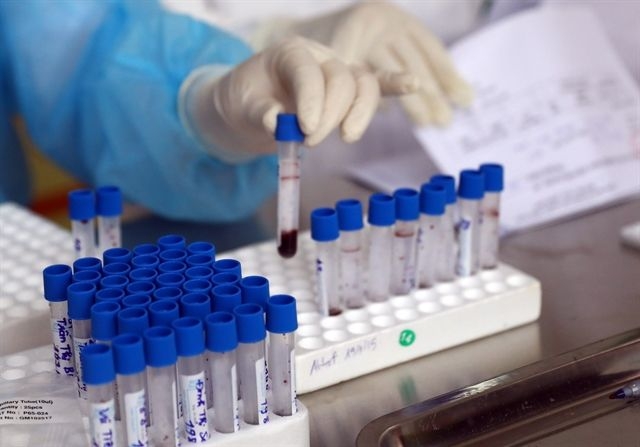 Blood samples collected from workers and traders at Ngã Tư Sở wholesale market in Hanoi on April 18 as part of the city's efforts to widen Covid-19 testing in the community. (Photo: VNA)
Deputy Prime Minister Vu Duc Dam on Wednesday assigned the Ministry of Health, Ministry of Science and Technology, and related agencies to develop vaccines against nCoV after Vietnam controlled the two main coronavirus testing methods.
Local research units and scientists have started to isolate, culture and identify the virus, produce biological products for testing, gradually complete treatment regime since the initial phase of the COVID-19 outbreak in Vietnam, reports from ministries and institutes prove showed, according to VNE.
Results of research on coronavirus and its vaccine were also put under discussion.
Accordingly, experts are confident in their research directions even though the development and production of COVID-19 vaccine require multi-sectoral, long-term cooperation.
Vietnam has currently effectively controlled two main methods of coronavirus testing, using the Real-Time-PCR and antibody diagnosis.
COVID-19 vaccines are widely studied around the world. At least 7 candidates are under clinical trials by the US and China. The UK also joined the race with a clinical trial over 800 volunteers on April 23. There is currently no approved vaccine or special treatment for the deadly disease.
Available vaccines against tuberculosis, measles, or polio are also tested to see if they could be effective against nCoV.
Vietnam Central Lung Hospital has completed a pilot protocol to use BCG tuberculosis vaccine in preventing COVID-19, pending approval by the Ministry of Health. If approved, the trial will be conducted on 800 frontline health workers at two tropical disease hospitals in Hanoi and Ho Chi Minh City.
As of April 30 morning, Vietnam recorded 270 cumulative cases, of which 219 have been discharged from hospitals and the remaining 51 are being treated.