Vietnamese Boxer Make History by Advancing to World Championship Finals
Vietnamese female boxer Nguyen Thi Tam advances to world championship finals for the first time.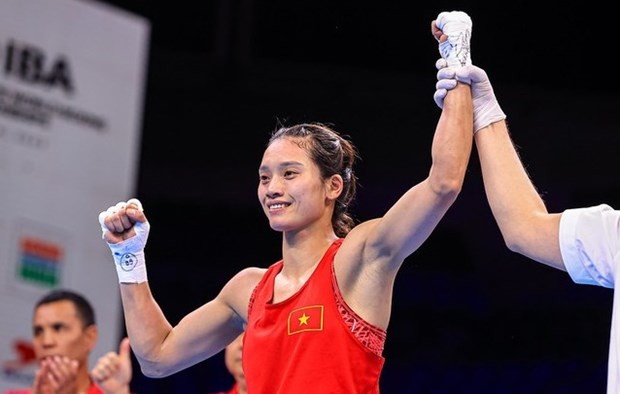 With a ticket to the final, boxer Nguyen Thi Tam secured her a ticket to the upcoming Olympic Games. Photo: thanhnien.vn
Vietnamese boxer Nguyen Thi Tam, born in 1994, made history by entering the finals of the International Boxing Association (IBA) Women's World Boxing Championships after winning French opponent Lkhadiri Wassila with an overall score of 4-1 in New Delhi, India on March 23, VNA reported.
Tam's winning marks a milestone in Vietnamese boxing history as she has become the first Vietnamese boxer to enter a world championship final.
Tam, 28, is currently No.1 among 178 athletes in her flyweight division by BoxRec with a 5-star rating.
Notably, Tam's opponent Wassila in the semifinals won the French National Champion seven times and won two bronze medals in European boxing.
Before the victory, Tam also won convincingly the Spanish boxer ranked 9th in Europe Fuertes Fernandez Laura in the quarterfinals and the two-time world champion Nazym Kyzaibay in the knockout stage.
In the final, Tam will play Zareen Nikhat of India, who won the championship in the 52 kg category last year.
With a ticket to the final, Tam also secured her a ticket to the upcoming Olympic Games, making her the first Vietnamese athlete to the Paris Olympics and also the first Vietnamese boxer to attend two consecutive Olympic Games.
Tam is the last Vietnamese boxer remaining at the tournament after her eight teammates were beaten.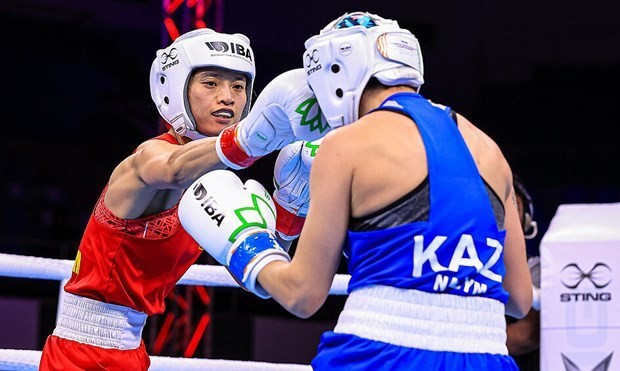 Vietnamese boxer Nguyen Thi Tam has trounced two-time world champion Kyzaibay Nazym of Kazakhstan 5-0 at the IBA Women's World Boxing Championships in New Delhi. Photo: IBA
Vietnam's best result at the world championships so far was a bronze medal by Nguyen Thi Huong at the 2019 championship in Russia.
At the same tournament, Tam was denied of a bronze after a controversial decision.
Tam, from the northern province of Ninh Binh, has won the Asian gold twice, in 2017 and 2022, and an Asian Games bronze in 2018. She also won two SEA Games gold medals.
Advancing to the Women's World Boxing Championships guarantees her at least a silver medal and USD 50,000 in prize while a gold medal can go with USD 100,000.
The featuring 12 weight categories ranging from 48kg to over 81kg, takes place at the Indira Gandhi Sports Complex from March 15 to 26. It features more than 350 boxers, a record number, from more than 70 countries. It offers participants a lucrative prize fund of USD 2.4 million.
The world championships are not a qualification event for the Paris Olympics 2024, as declared by the International Olympic Committee (IOC). The IBA, however, has still declared itself as a main qualification event.
The Vietnamese team participated with the largest force ever, including the top nine athletes included Nguyen Thi Tam (50kg), Nguyen Thi Hoi (48kg), Nguyen Thi Ngoc Tran (52kg), Vo Thi Kim Anh (54kg), Ha Thi Linh (66kg), Luu Diem Quynh (75kg), Nguyen Thi Huong (81kg), Nguyen Thi Phuong Hoai (81kg), Nguyen Thi Thanh Hao (57kg).
Immediately after the World Championships, Vietnamese women's boxing will continue to prepare for two important events, the 32nd SEA Games in Cambodia in mid-May and the 19th ASIAD in Hangzhou, China in September as well as international tournaments to accumulate points and earn a place to attend the 2024 Paris Olympics.