Vietnam Eyes Cooperation with RoK in Football Development
Vietnam and the Republic of Korea (RoK) eyes to expand opportunities for youth football exchanges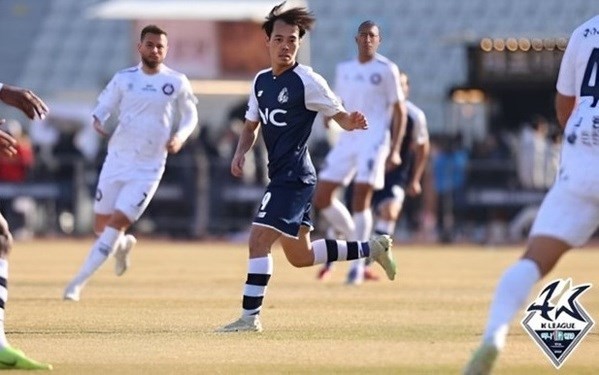 Van Toan at the Seoul E-Land-Cheongju match on March 1. Photo: VNA
The K.League 2 footbal tournament in the Republic of Korea (RoK) has freshly started with the participation of Vietnamese young players – Van Toan in the jersey of Seoul E-Land FC, and Vu Minh Hieu and Nguyen Canh Anh both in Cheonan City FC.
Speaking to VNA in the RoK, Chairman of Cheonan City FC Ahn Byung-mo said that thanks to coach Park Hang-seo's connections, Vietnamese football has become close to the RoK.
This is the first time Cheonan City FC has recruited two young Vietnamese players, he said, expressing his hope that Hieu and Anh will integrate themselves into the team well and grow with their Korean peers.
Ahn said that the presence of Vietnamese young footballers in the club is expected to bring about positive impacts on not only Vietnamese players but also Korean teammates, creating a chance for them to adapt to and learn from each other, thus completing themselves together.
Commenting on the skills of Vietnamese players, Ahn said that they have demonstrated high quality, and hardworking and discipline attitude, so having a new playing environment will help them perfect their skills.
On March 1, coach Park Hang-seo came to the stadium of Cheonan city to encourage Hieu and Anh, who have arrived in the RoK following their one-year contracts, and then to Mokdong stadium in Seoul to watch Toan's game in the jersey of Seoul E-Land.
Striker Hieu and defender Canh Anh, both 21, are highly valued by experts and Coach Park Hang Seo. Hieu was picked to the national U23 team when he was 20. Meanwhile, Park chose Anh for Vietnam's U22 team in 2020.
Speaking to the local media, Hieu said that the coach and his teammates have offered great help to him. He expressed hope for a successful tournament.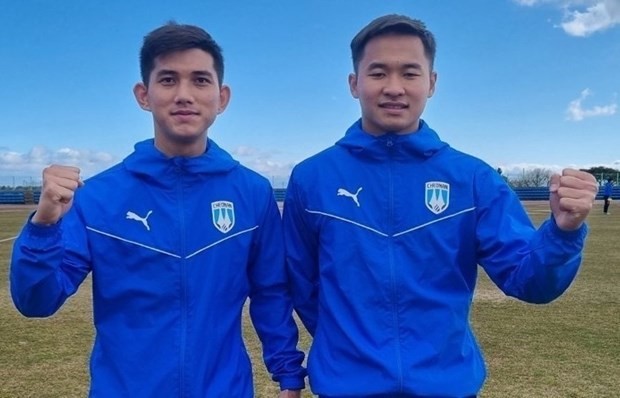 Two young football talents from Hoang Anh Gia Lai (HAGL) FC - striker Vu Minh Hieu and defender Nguyen Canh Anh - officially debut in the Republic of Korea (RoK) on March 1 during a game at Cheonan Stadium in the blue jersey of Cheonan City FC. Source: Naver Sports
CEO of Hoang Anh Gia Lai FC Nguyen Tan Anh, who was present at Cheonan stadium the same day, said that over the past 13 years, the club has sent many players abroad, including Xuan Truong, Tuan Anh, Cong Phuong, Van Toan and, most recently, Canh Anh and Minh Hieu.
He said he hopes the young players will be successful abroad, sharpening the skills and bringing highly qualified football from leading Asian countries like the RoK and Japan and other countries to the national team, thus narrowing the gap between the football of Vietnam and these countries.
Anh also underlined the high potential of football cooperation and exchange between Vietnam and the RoK. Vietnamese players' participation in Korean national football tournaments will give them great chances to learn and improve their capacity in a high-class environment, he added.
After five years of working as the head coach of the national men's football team of Vietnam with an array of successes, Korean coach Park Hang-seo said goodbye to the squad on January 31, 2023.
Park said that ever since becoming national coach in 2017, he wanted to be a bridge between Vietnam and the RoK in all fields of life, including football.
He will keep carrying out his duty and try harder to enhance the excellent friendship between the two countries.