Vietnamese businesses among most optimistic globally amidst COVID-19: HSBC
More than half (55 percent) of Vietnamese companies remain optimistic about growth, well above the global average (29 percent).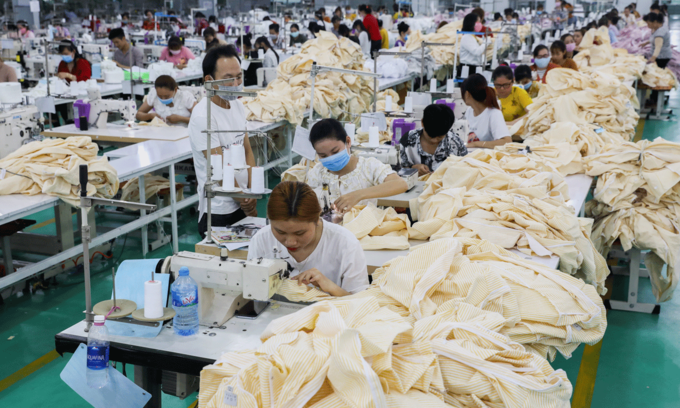 Workers manufacture garment products at a factory in southern Long An Province. Photo: VnExpress
Vietnamese firms remain more optimistic regarding positive growth and international trade in comparison to their global peers despite the challenges caused by the COVID-19 pandemic, according to the latest HSBC Navigator: Now, Next and How report.
The global survey polled over 10,000 companies in 39 countries and territories globally, including 200 companies in the nation, according to VOV.
According to the poll's results, 55 percent of Vietnamese businesses remain optimistic about growth moving forward, compared to 56 percent last year, well above the global average of 29 percent, the report revealed.
Most notably, 59 percent of domestic firms are predicted to return to pre-COVID-19 levels of profitability by the end of 2021, while 86 percent of local businesses anticipate that sales will grow next year, far higher than the global and the Asia-Pacific region average growth of 64 percent and 60 percent, respectively.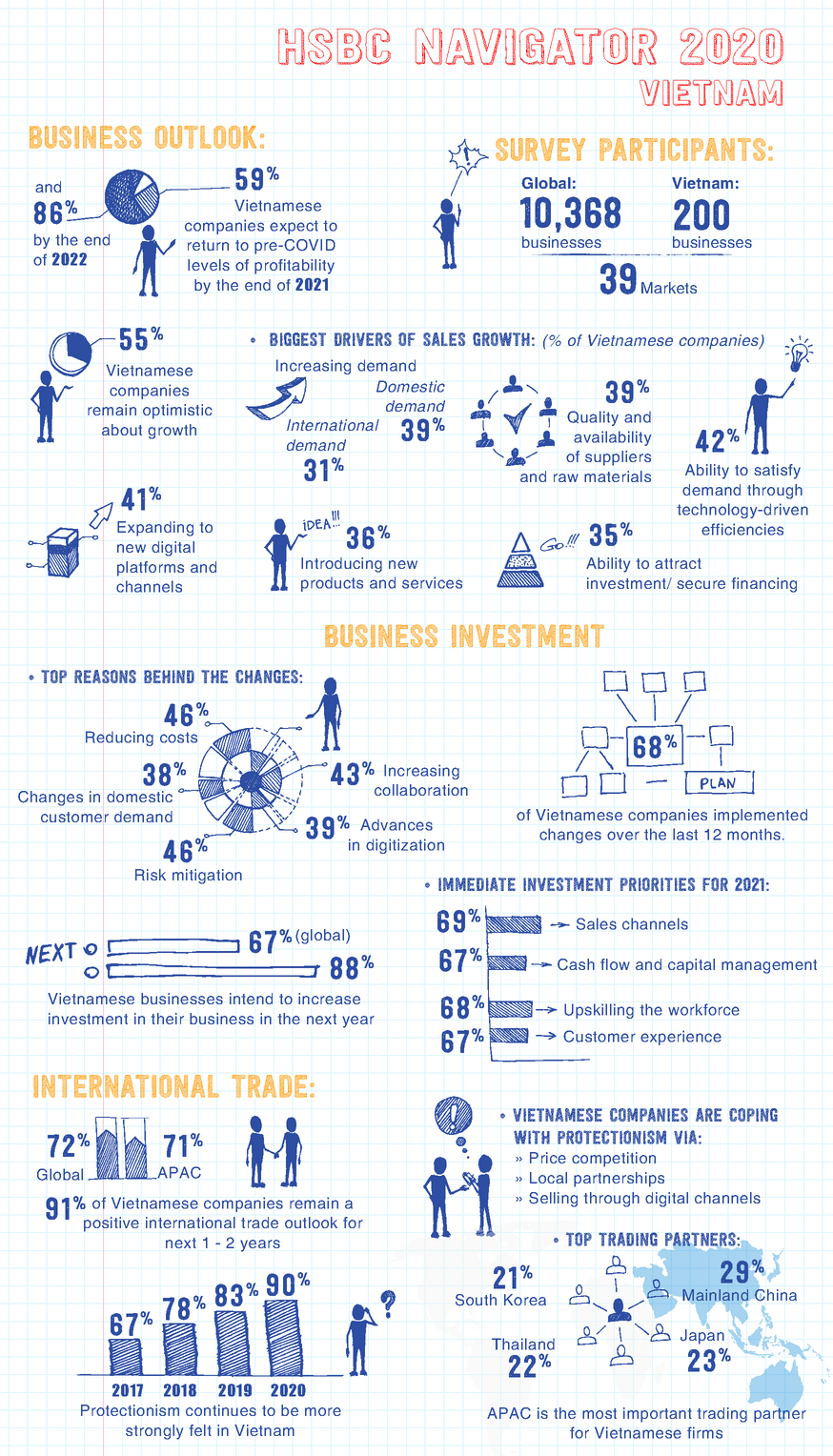 Photo: HSBC
"Vietnam's remarkable resilience and effective response to the pandemic has been a major contributor to increased optimism. Unlike many other countries, from a purely domestic economy perspective, in the second half of the year, the country is broadly back to a 'business as usual' environment," said Tim Evans, chief executive officer of HSBC Vietnam.
Furthermore, 91 percent of Vietnamese enterprises also remain positive about increases in international trade in comparison to their global peers. This is despite the majority of local businesses feeling that international trade has become increasingly difficult over the course of the previous year.
Optimism among the domestic business community will also have been further fueled by the signing of the Regional Comprehensive Economic Partnership (RCEP) on November 15.
"RCEP has brought 15 Asian nations together to help drive the agenda around increased cross border trade. As one of the region's fastest growing and most dynamic economies, Vietnam has much to gain from this far-reaching free trade agreement (FTA)," Evans said.
"Offering faster, more efficient and tariff-free access to a market of some 2.3 billion people, the RCEP can help local firms in Vietnam increase exports and attract high-quality goods for their consumers. This time next year, we all hope that levels of optimism have returned to the global economy," he added.
Moreover, protectionism continues to be strongly felt, with 90 percent of Vietnamese companies believing that it is increasing. As a result, price competitiveness, local partnerships, and selling through digital channels represent key strategies to combat it, according to the report./.
Vietnam achieved a trade surplus of $20.1 billion in the first 11 months of 2020, according to the General Statistics Office.
Exports grew by 5.4 percent to $254.6 billion and imports by 1.5 percent to $234.5 billion. Exports to the EU, Southeast Asia, the Republic of Korea (RoK), and Japan decreased by 3-10 percent. But exports to the US, which remained Vietnam's largest customer, rose 25.7 percent to $70 billion, and to China by 16 percent to $43 billion.
Imports of computer-electronics, smartphones and smartphone parts, plastic products, and chemicals rose, while those of textile-garments, iron and steel, cars, and base metals fell.
Vietnam has been achieving a trade surplus for the last four years, including a record $9.9 billion in 2019.
Focus
Brazil is Vietnam's largest trading partner in Latin America and in the top three of Vietnam's largest markets in the Americas.
June 07, 2023 | 14:29
Economy
The deputy chief minister praised the literary contributions of Dai and stressed the importance of promoting literature and education in the state. He also highlighted the achievements of individuals from various sectors, including sports, education, and business, who brought laurels to the state.
June 07, 2023 | 07:00