Vietnamese student's impressive sketches of hometown in Anime style
Do Minh Hai, 23, has turned his passion for Japanese's anime art to impressive animation sequences and anime pictures. Simply depicting the scene his hometown, the young artist's artwork has taken Vietnamese netizens by storm.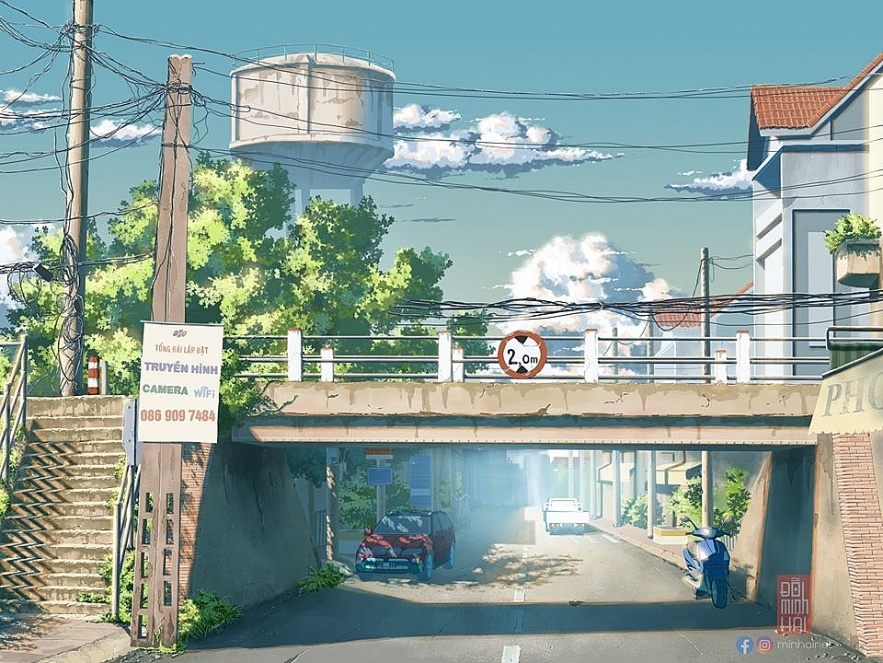 (Photo courtesy of Do Minh Hai)
Hai is currently studying at the Faculty of Architecture, Western University of Civil Engineering. In an interview with Dan Tri, Hai said he was into the art of Japanese animation since small.
He started to study drawing in this style in 2017 but as there were not so many learning materials and teaching forums, he had to self-taught and draw on experiences day by day.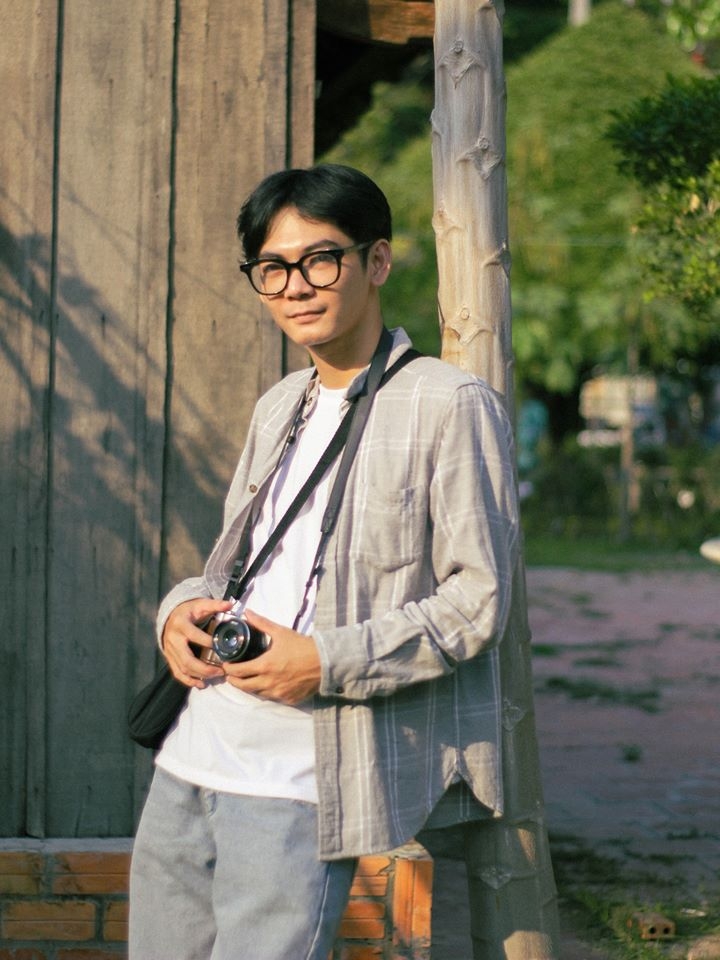 Do Minh Hai (Photo courtesy of Do Minh Hai)
Hai began drawing the series of "the places I pass by every day" in 2019. "Each picture takes me around 8 hours to finish", he told Dan Tri.
Hai is also learning on how to make cartoons to pursue his dream of becoming a professional filmmaker.
A short animation sequence, titled "Mưa," that Hai created using inspiration from rural Vietnam. It took him a week to refine the idea, paint the background art, animate and edit the video.
(Video: Do Minh Hai)
His artworks are simply landscapes of where he lives in the city of Cao Lanh in Dong Thap Province, but what earned the praise of numerous passing netizens was the way Hai rendered those seemingly run-of-the-mill snapshots under the radiant, dreamy style of Japanese anime, particularly that of Makoto Shinkai and Studio Ghibli.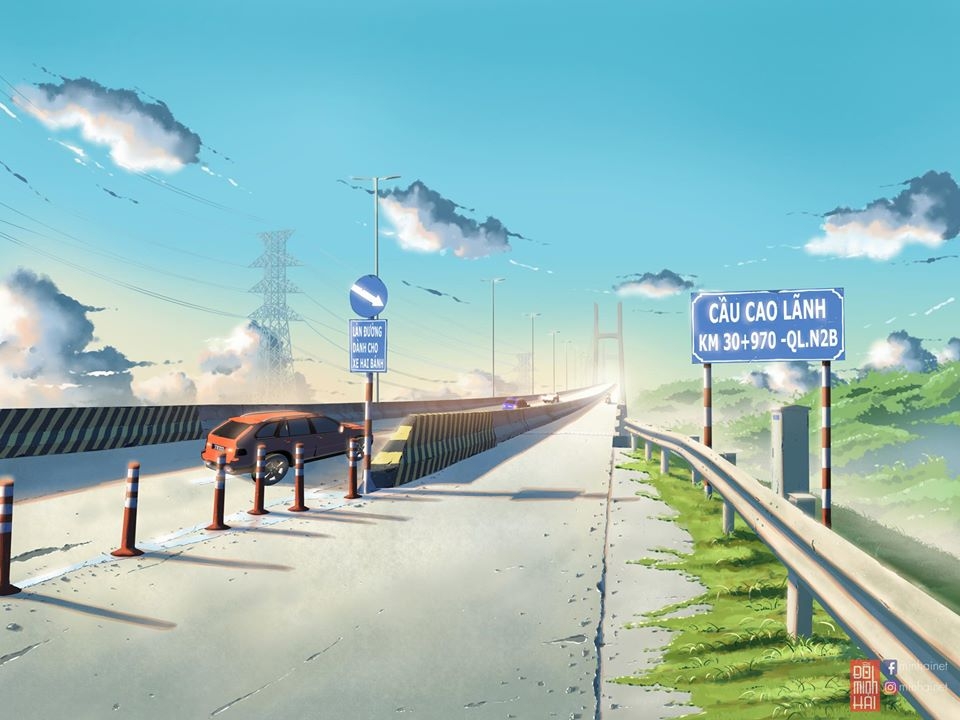 Under the skillful hands of Hai, Cao Lanh Bridge looks dreamy with fluffy white clouds on the blue sky (Photo courtesy of Do Minh Hai)
"My anime-styled pictures quickly went viral on the Internet after being published. I'd never thought it would go this far. I'm very happy", he recalled.
Hai chose this anime-style for his drawing as not so many Vietnamese artists sketch out Vietnam landscapes and everyday life in this style. The young student, therefore, wants to depict his hometown in a different angel.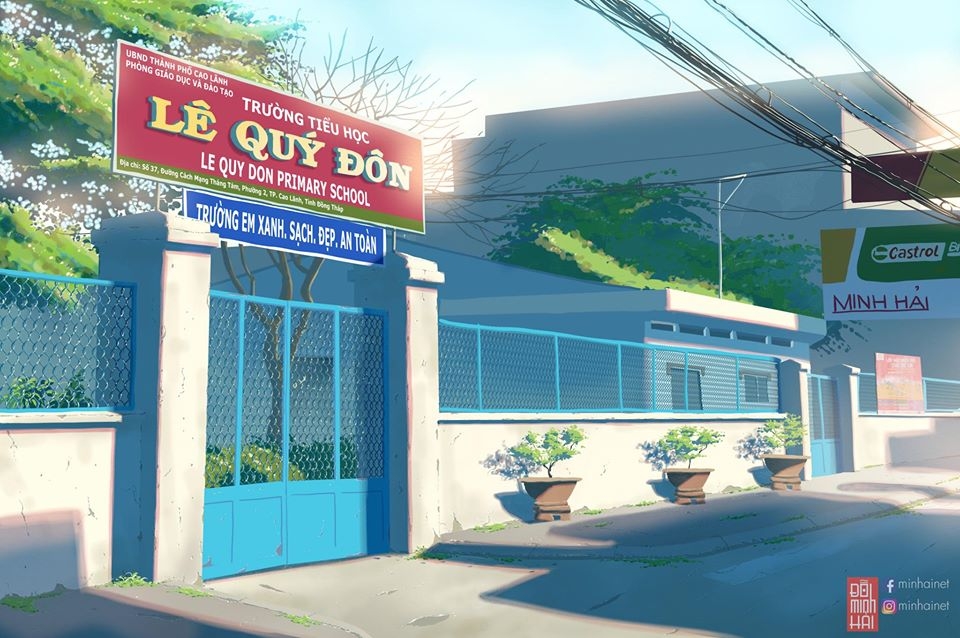 (Photo courtesy of Do Minh Hai)
Le Quy Don Primary School, based in central Cao Lanh, was the venue for a painting competition he took part in during fourth grade. He was picked to represent his school, but couldn't afford a new set of colors, so his art teacher at the time gifted him a box of oil pastels. "I still keep that pastel box because it represents the affection and memory of my art teacher in elementary school," Hai reminisces.
Le Quy Don's dormitory (Photo courtesy of Do Minh Hai)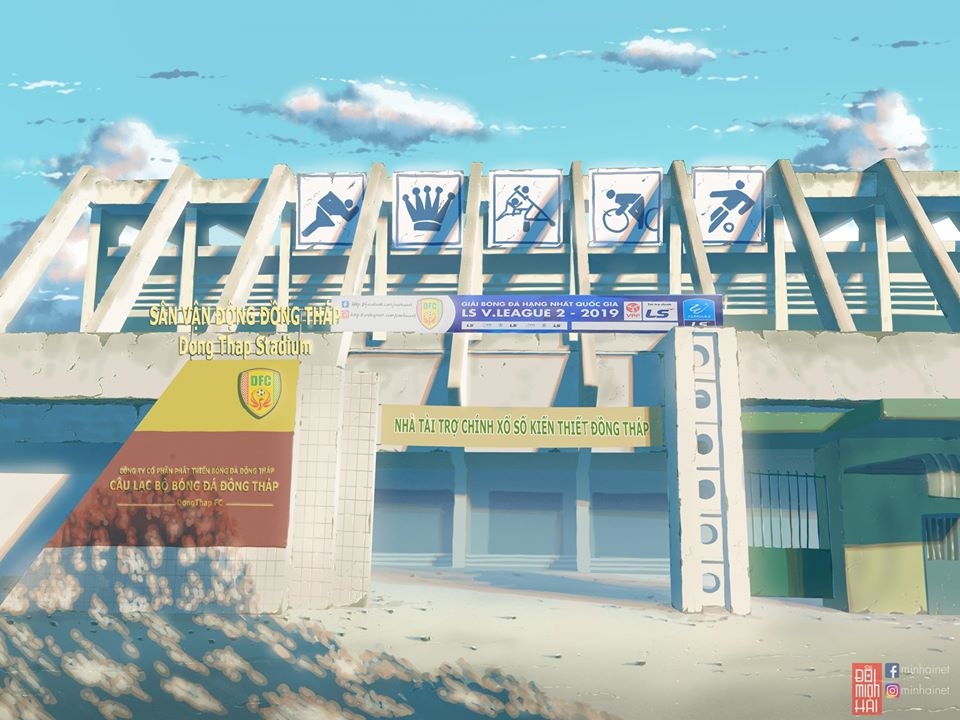 Dong Thap Stadium (Photo courtesy of Do Minh Hai)
Cao Lanh Stadium used to be the home turf of the Dong Thap Rubber Corporation Football Club, according to the artist. The sports venue anchors many an exhilarating memory of local residents watching their home team compete. Although the team has been disbanded, with a new club in place, the stadium remains an important landmark in the mind of many Cao Lanh denizens, Saigoneer reported.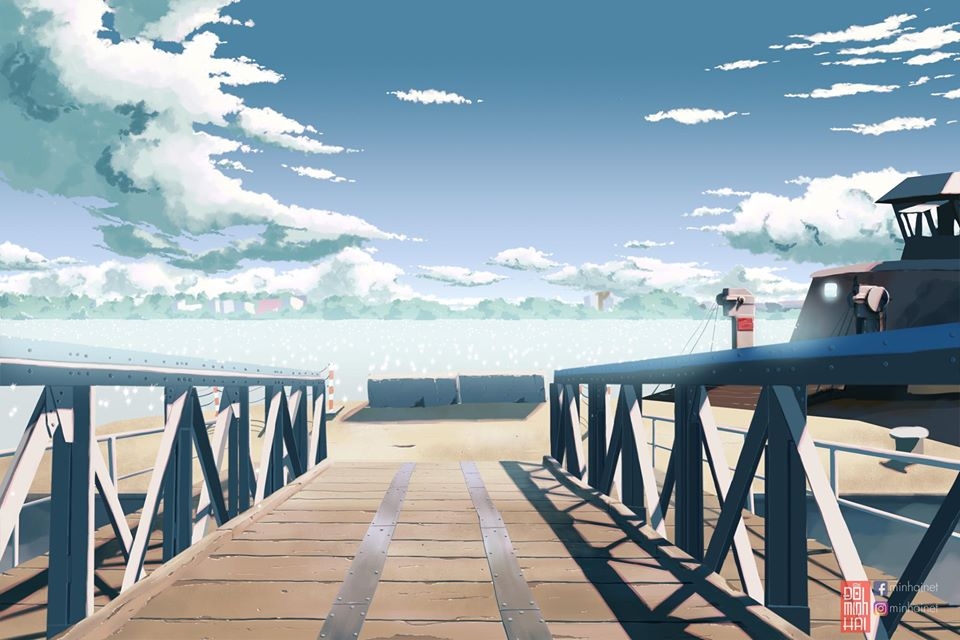 Cao Lanh Ferry Terminal (Photo courtesy of Do Minh Hai)
His childhood home is just a stone's throw from the Cao Lanh Ferry Terminal, so seeing the ferries, to Hai, is a sign of home whenever he heads back from college, Saigoneer reported.
After the success of the Cao Lanh photo serries, Hai continues to draw about Sa Dec city – another big city of Dong Thap province.
A humble primary school, a ferry terminal, a local sports complex: they are all part of his personal routine and memory, according to Hai.
Photo courtesy of Do Minh Hai)
A street corner with houses lining up, plastic stools and tables on the pavement, is a familiar scene in Sa Dec city which, by extension, can be easily spotted anywhere else in Vietnam. Hai has turned this normal background into his artwork.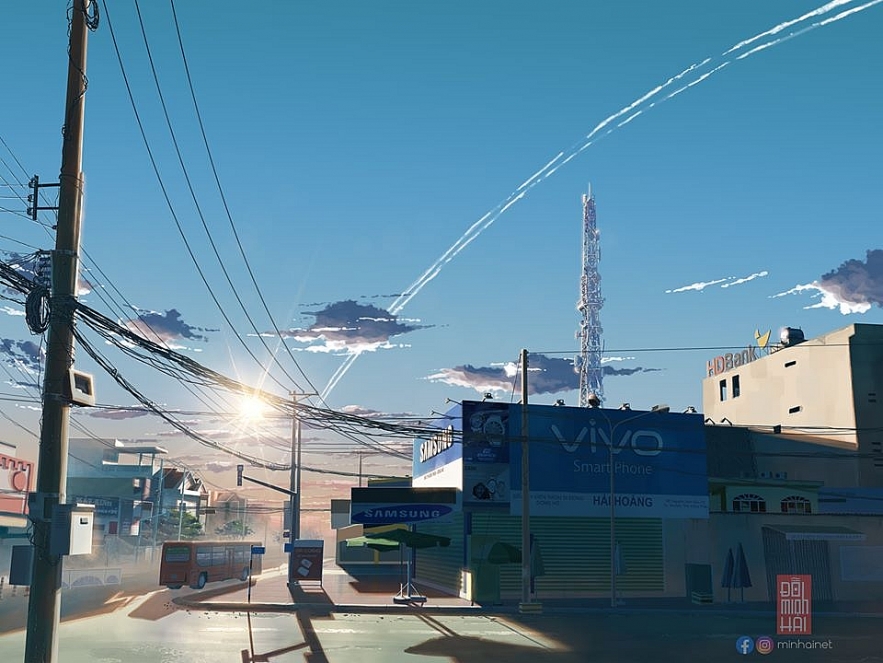 (Photo courtesy of Do Minh Hai)
The pictures, with interlaced electric wires and the bright sun afar is an artful combination of the Vietnamese and the Japanese drawing materials.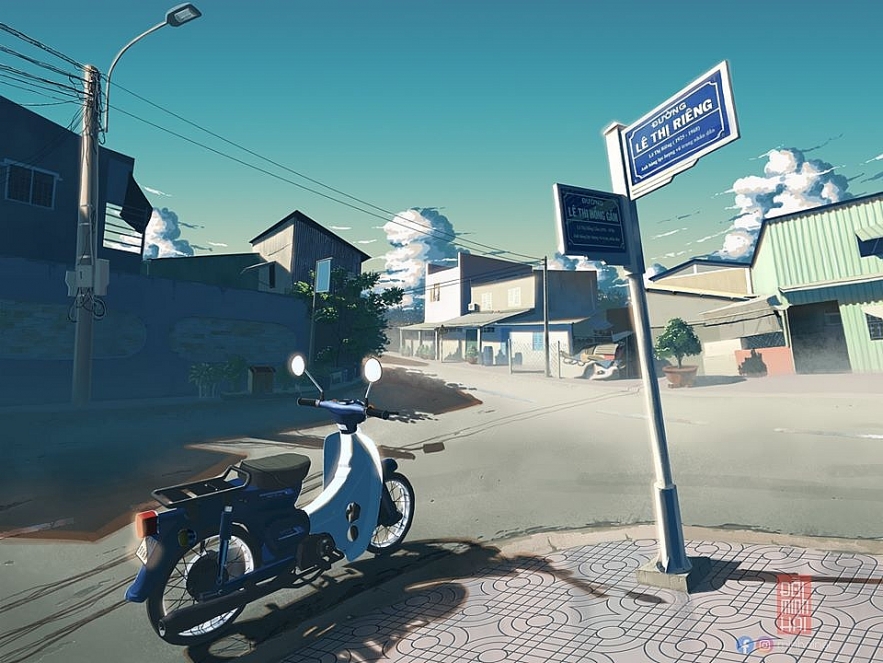 (Photo courtesy of Do Minh Hai)
A cub motorbike standing at Le Thi Rieng T-junction also captured in Hai's artwork.
Hai's drawings still retain the simple, idyllic lifestyle and the charming beauty of Vietnam's landscapes, everything is associated with his daily life and activities, though they are inspired by the Japanese anime background style. This might be the key to making his artwork such a success.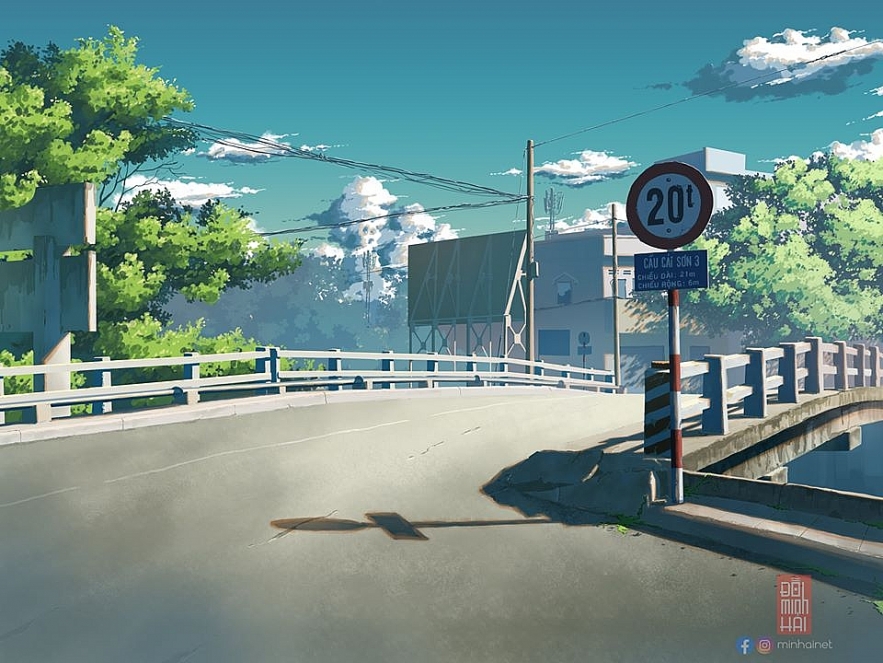 (Photo courtesy of Do Minh Hai)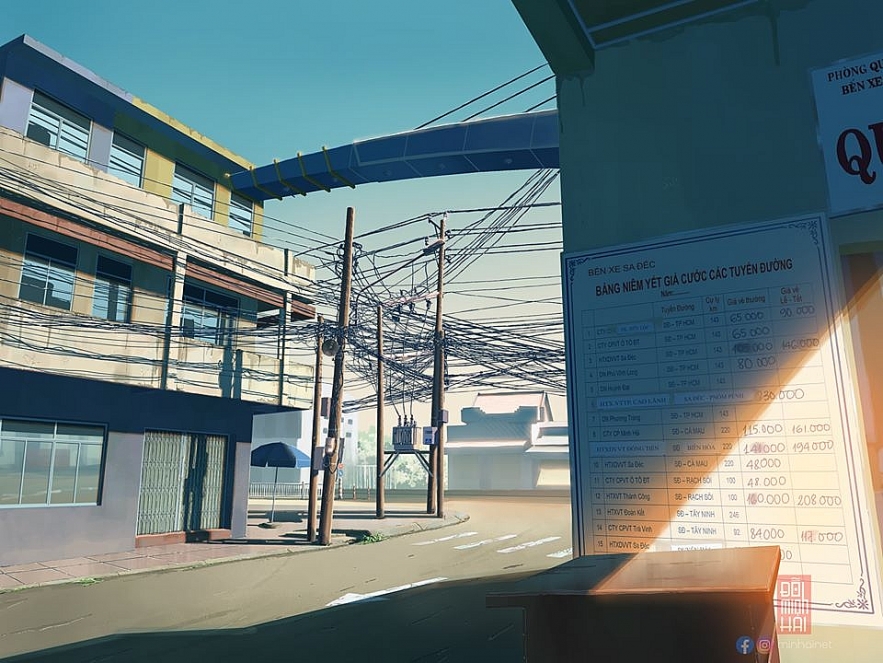 (Photo courtesy of Do Minh Hai)