Vietnam's Agricultural Export Strengthen Despite Covid-19 Outbreaks
Trade promotion and market expansion for Vietnam's agricultural products have achieved significant results despite disruption in transportation and logistics due to the Covid-19 pandemic.
Achievements made during Covid
Although the Covid-19 pandemic creates challenges in transportation, Vietnam's agricultural industry has been effectively promoting trade, expanding the markets and addressing export issues for agricultural products. In the last 7 months, Vietnam's agricultural export achieved a value of US$ 3.9 billion.
Notably, Vietnam has successfully exported lychees to the Japanese market. As a result of Vietnam's efforts to negotiate and comply with the regulations and standards set by Japan, Vietnam has been entrusted to monitor phytosanitary facilities and approve lychee processing establishments.
AMEII Vietnam Joint Stock Company CEO Ngo Thi Thu Hong appreciated Vietnam's proactiveness in quality control. In 2021, the monitoring of lychee processing facilities was done by the Plant Protection Department under the Ministry of Agriculture and Rural Development (MARD) while in 2020, this was performed by officials from Japan, which hindered the export of lychee due to strict Covid control regulations.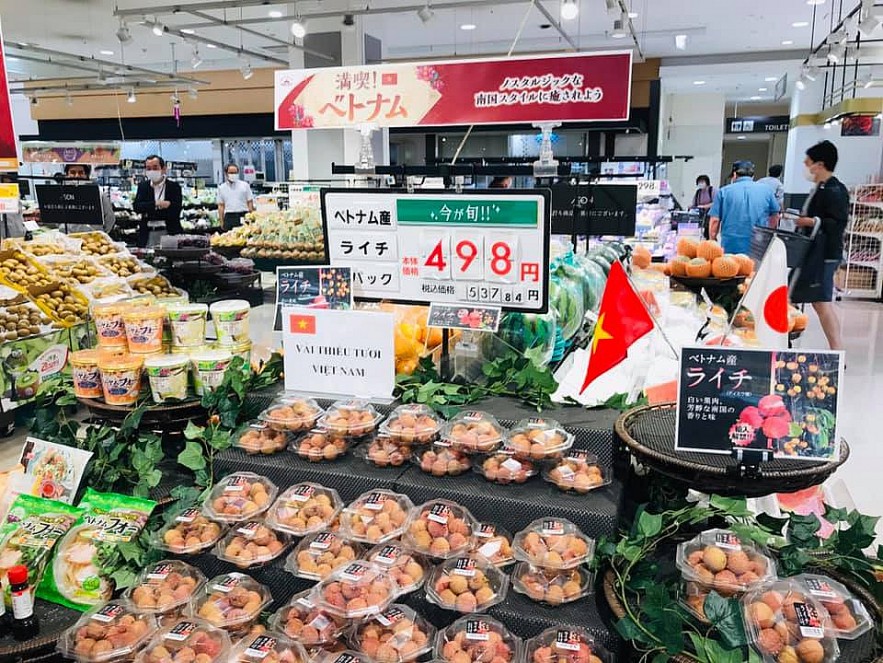 Vietnam's lychees exported to Japan. Photo: Vietnam Insider
In addition to addressing lychee export issues, the Department also negotiated with Malaysia on insecticide residue regulations and resumed the export of chilly and worked with China to boost export of lychee and sweet potato to this market.
With animal husbandry products, MARD's Department of Animal Health provided support to increase the number of facilities approved for exporting milk, feather, fish powder and oil to China, promote export of edible swiftlet's nests and gain approval for exporting processed chicken to Russia. The department also conducted negotiation to export other animal products to the U.S., China, and Russia.
According to MARD's Agro Processing and Market Development Authority, Vietnam's authorities have been proactively negotiating to expand the markets and boost export of agricultural, forestry and aquaculture products. The authorities have also worked closely with Embassies and Trade Offices abroad to design information channels on key markets such as Japan, Korea, the U.S., E.U. and China to analyze, evaluate and predict for agricultural product markets during and after Covid to timely proposed solutions.
At the same time, Vietnam's authorities have been focusing on lifting food safety barriers and strengthen international collaboration to address issues with agricultural product export. As a result, in the first six months of 2021, the authorities successfully conducted online inspection, helping 13 businesses to continue exporting catfish to the U.S., adding 18 businesses eligible for exporting aquaculture products to Russia and 13 facilities eligible for exporting to the Korean market and addressing challenges.
Foreseeing and addressing challenges ahead
The impacts from the Covid-19 pandemic will continue to affect agricultural production and export. For the agricultural sector in Vietnam, the solutions for boosting agricultural trade are identified to be opening the market and applying safe and quality production processes.
The sector will prioritize expanding the market to economies with augmented product mechanisms with Vietnam such as Japan, Korea, India, the EU or Middle East and select suitable products to export to potential markets such as Russia, Africa and ASEAN.
For China, the relevant agricultural agencies will accelerate negotiations on export quota for potential products such as sweet potato, durian, chilly, passion fruit, pomelo and coconut. Additionally, Vietnam's authorities will cooperate with the Chinese counterparts to address trade and quality control challenges and increase the number of businesses approved to export products to China, maintaining ties with the Chinese market.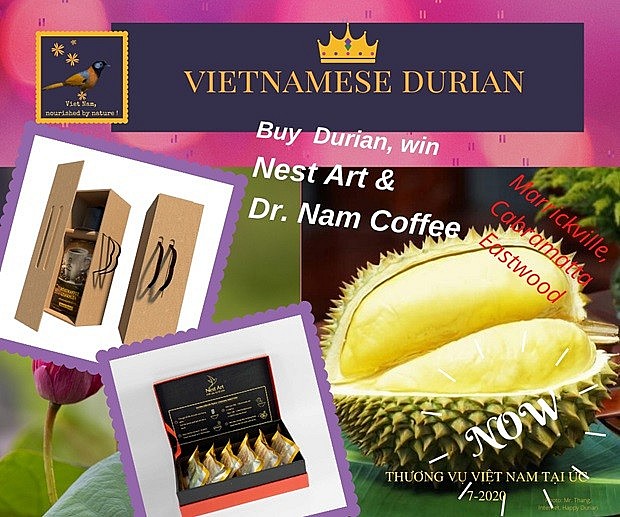 Vietnam durian week in Australia, co-organized by the Vietnam Trade Office in Australia and ASEAN Company. Photo: Vietnam+
MARD's Department of Animal Health will continue to request the World Organization for Animal Health (OIE) to support Vietnam in building the national program on preventing foot-and-mouth disease and develop OIE-standard production zones to boost animal product export and ensuring sanitary and phytosanitary measures for aquaculture products exporting to Saudi Arabia and Brazil.
To enhance consumption of agricultural and aquaculture products, MARD's Directorate of Fisheries and Plant Protection Department have worked with localities to develop planting area codes to facilitate product origin tracking. The initiative is also applied well to catfish farming.
Other than providing technical solutions, the agricultural sector in Vietnam will continue to encourage and guide farmers to adhere to agricultural product standards such as GlobalGAP, VietGAP and ASC and provide timely update on trade challenges and market regulations and trends to boost export despite the pandemic.
Strengthen
Economy
Vietnam is the biggest economic partner of Poland in Southeast Asia, and the potential for stronger cooperation remains huge.
June 09, 2023 | 18:45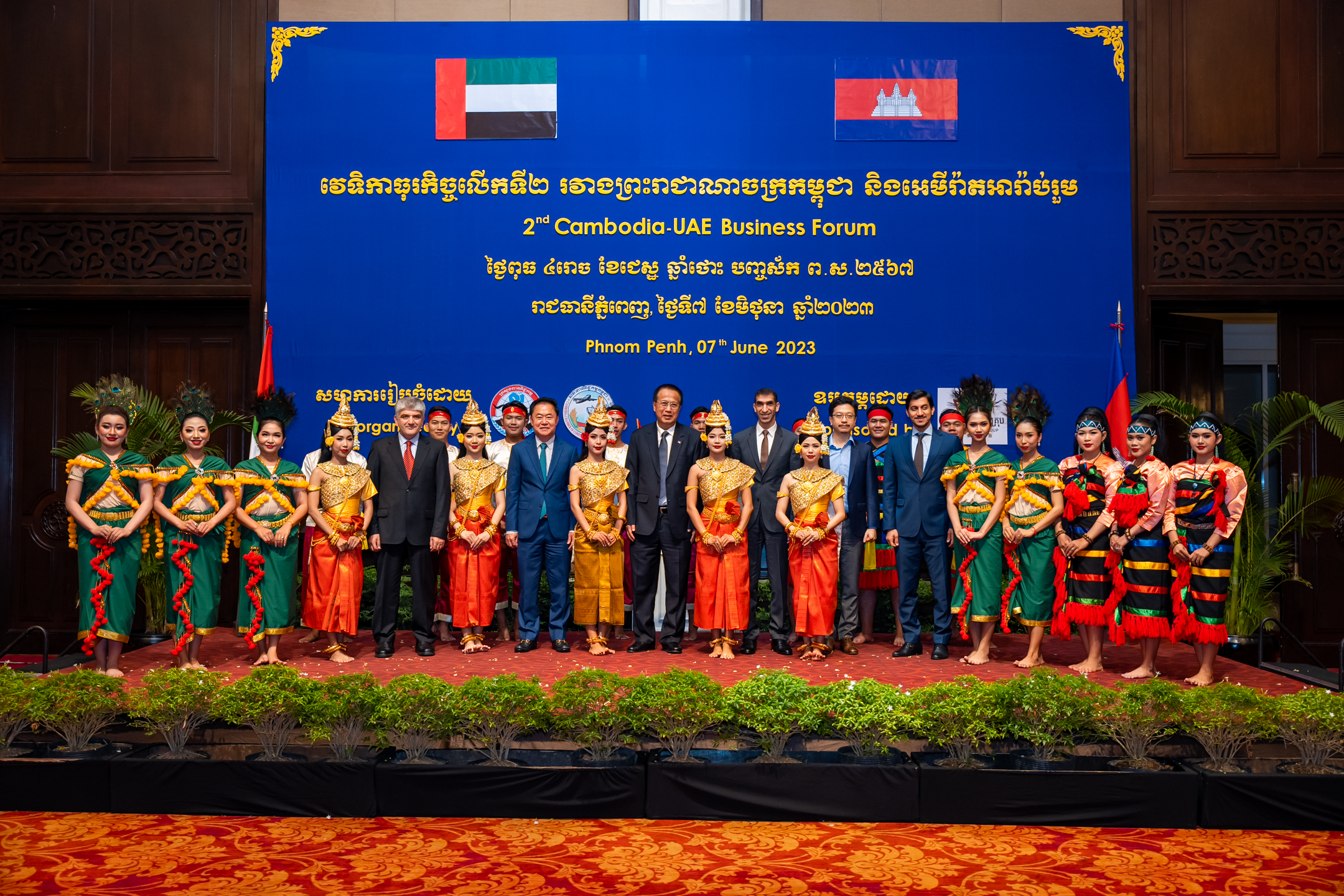 Economy
Prince Holding Group (PHG) recently participated in the 2nd Cambodia-UAE Business Forum, co-organized by the Ministry of Commerce Cambodia and the Cambodia Chamber of Commerce (CCC) at Sofitel Phnom Penh.
June 09, 2023 | 18:10
Economy
Born and raised in the HMT area of Srinagar in Jammu and Kashmir, Taha Mughal, a Cambridge alumnus and winner of the prestigious Fulbright scholarship for 2022-23, stands at the intersection of art, writing, and architecture.
June 09, 2023 | 07:00