Vietnam's export turnover grows over 30% in five months
Vietnam shipped overseas $130.94 billion worth of goods in the first five months of 2021, up 30.7 percent annually, according to the General Statistics Office (GSO).
Of the sum, the domestic sector contributed $33.06 billion and the FDI sector (including crude oil) $97.88 billion, increasing 16.6 and 36.3 percent year on year, respectively.
During the period, 22 products recorded an export value of over $1 billion each and together they accounted for 87.3 percent of the nation's total export.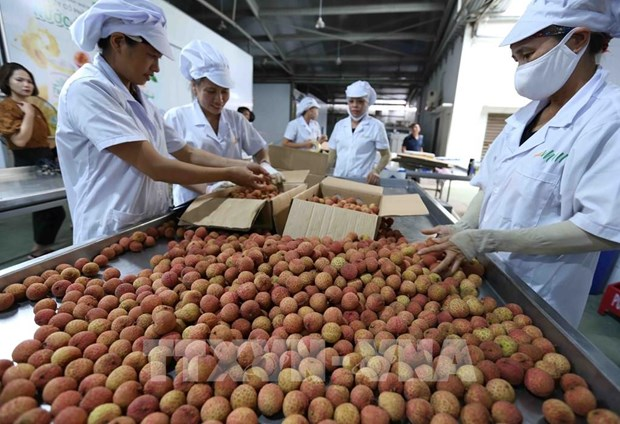 Processing fresh lychees for export. Photo: VNA
The export of the group of heavy industrial goods and minerals reeled in about $70.7 billion, up 33 percent from the same period last year. It was followed by the groups of light industrial goods and handicrafts at $47.32 billion (up 33 percent) and of agricultural and forestry products at $9.69 billion (up 13.5 percent). The group of aquatic products posted 3.24 billion in export revenue, an annual increase of 12 percent, Vietnamplus reported.
The US remained the biggest export market of Vietnam, spending $37.6 billion on imports from the Southeast Asian country, a year-on-year rise of 49.8 percent. China came second with $20.1 billion, up 26 percent. The EU and ASEAN followed with $16.1 billion and $11.5 billion, increasing by 20.8 and 23.7 percent.
In May alone, Vietnam's exports valued at $26 billion, down 2.1 percent over the previous month and up 35.6 percent from the same period last year.
Meanwhile, the country's import in the five-month period hit $131.31 billion, an annual growth of 36.4 percent, with China named Vietnam's biggest import market.
Vietnam eyes $600 billion in export turnover in 2021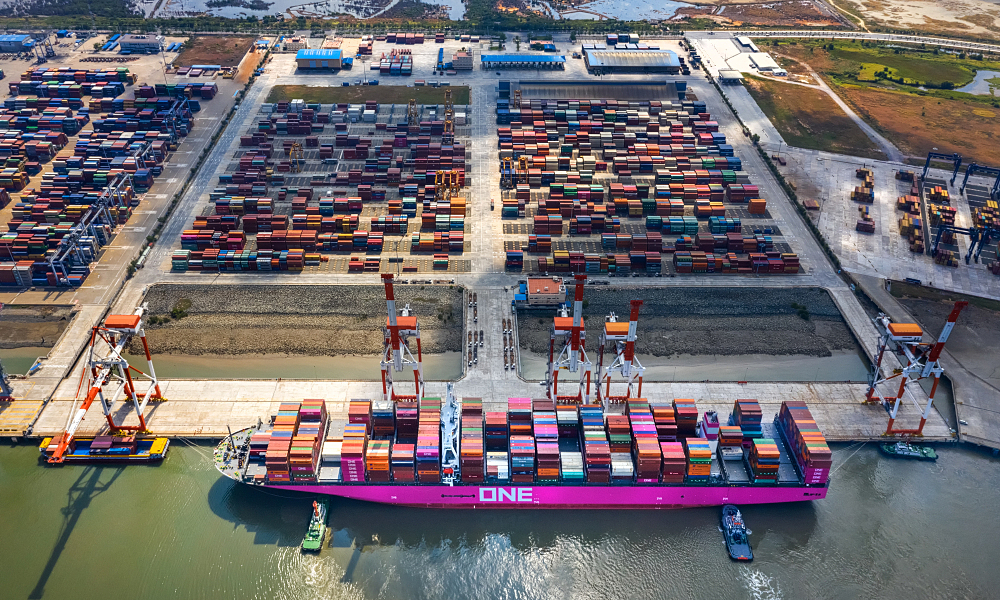 Tan Cang - Cai Mep International Terminal in the southern Ba Ria-Vung Tau Province. Photo: Shutterstock/Hien Phung Thu
Vietnam posted solid export performance in the first quarter of 2021, and at such a growth speed, its export turnover is likely to hit $600 billion for the whole year, experts have said.
Tran Thanh Hai, Deputy General Director of the Agency of Foreign Trade under the Ministry of Industry and Trade (MoIT), attributed the positive results to Vietnam's success in fighting the COVID-19 pandemic.
It is necessary to continue paying special attention to responding to the pandemic, he stressed, noting that this will be the foundation and most important factor in sustaining export growth in the time to come.
Free trade agreements (FTAs) Vietnam has signed, especially the Comprehensive and Progressive Agreement for Trans-Pacific Partnership (CPTPP) and the EU-Vietnam FTA (EVFTA), have benefited local exporters and helped them expand to new markets.
To maintain export growth, the MoIT has promoted online trade promotions and trade fairs as well as e-commerce, to support enterprises in maintaining trade links with partners, Hai said.
The ministry will also focus on accelerating institutional and administrative reform relating to exports, and providing information to exporters to address the difficulties they face.
Of the six ASEAN nations, only Vietnam posted an increase in exports for 2020, up 7 percent to $282.66 billion, according to the Straits Times.
The Malaysian newspaper quoted data from the Japan External Trade Organization (JETRO) as saying that exports from six ASEAN countries, including Indonesia, Malaysia, Singapore, Thailand, the Philippines and Vietnam, fell 2.2 percent last year compared with 2019, with total exports of $1.35 trillion.
JETRO said Vietnam's exports to Japan dropped by 5.2 percent, but exports to the United States rose by 25.7 percent and to China by 18 percent.
Among the other ASEAN nations mentioned in the report, the Philippines logged a 10.1 percent fall in exports, followed by a contraction of 6.0 percent in Thailand, 4.1 percent in Singapore and 2.6 percent each in Malaysia and Indonesia.
It said the combined trade surplus of the six countries tripled to $133.66 billion, as easing energy prices and shrinking domestic demand led to steeper declines in imports than exports.
Singapore accounted for 27.4 percent of the six countries' total trade by value last year, followed by Vietnam at 21.3 percent, Thailand 17.1 percent, Malaysia 16.5 percent, Indonesia 11.9 percent and the Philippines 5.8 percent.