Vingroup rebuts after rumor of selling Vinschool, Vinmec makes international headlines
As the news of its plan to sell controlling stakes of the medical and education units circulates on international news outlets, including Reuters, CNA, Vietnam's biggest conglomerate Vingroup on Friday afternoon confirmed: "there's no such decision".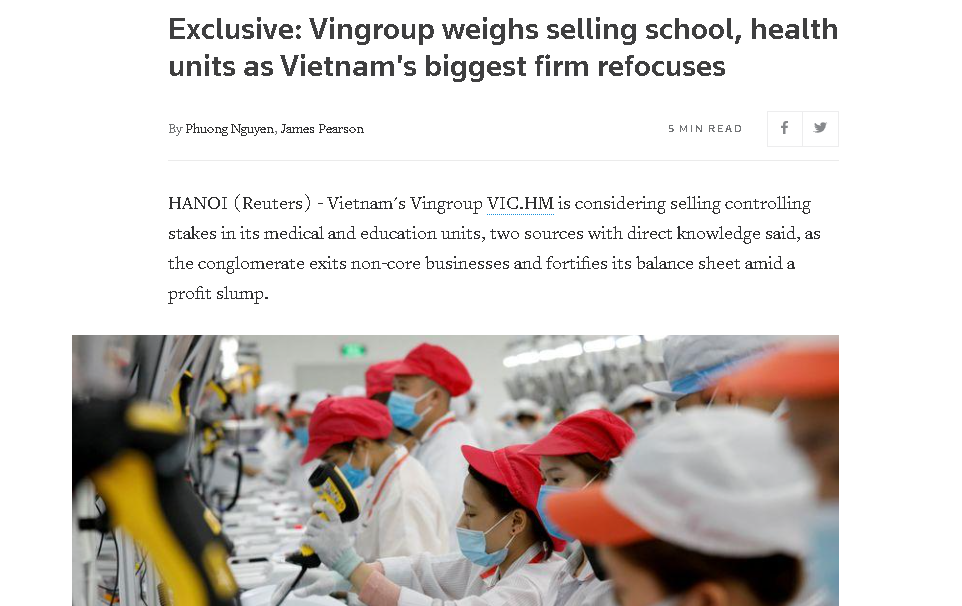 US-based news outlet Reuters runs an article about the news
A handful of prestigious news outlets worldwide, including Reuters, CNA, Financial Post, etc., are reporting the plan to sell controlling stakes of the medical and education units of Vingroup.
In the article named "Vingroup weighs selling school, health units as Vietnam's biggest firm refocuses" published on Friday afternoon, Reuters reported that the conglomerate could look for buyers for its private school business Vinschool and private hospital chain Vinmec. Though so far there has been no advisers appointed for the stake sales, two buyers are reportedly have shown interest in the two businesses in its informal talks.
"A third source aware of the matter said Vingroup has received preliminary interest, and the controlling stakes could fetch roughly $1.5 billion. The source said the interest was rejected", Reuters wrote. "It is also planning to raise as much as $1.1 billion in debt before the year-end for refinancing existing debt, one of the sources said".
The plans, according to CNA, are part of moves by Vingroups to stem losses in some of its units that have been compounded by the COVID-19 pandemic.
The article also mentioned the selling of Vinmart in 2019, saying "with the potential stake sales of Vinschool and Vinmec, Vingroup is quickly scaling back its ambitions", adding that just a year ago, one could be born in a Vinmec hospital, go to Vinschool, live in a Vinhomes apartment and drive to Vinmart in a Vinfast car.
"The expansion over the years, though, has pushed up Vingroup's debt, and the losses at some of the ventures have squeezed its cash flow", the news outlet reported.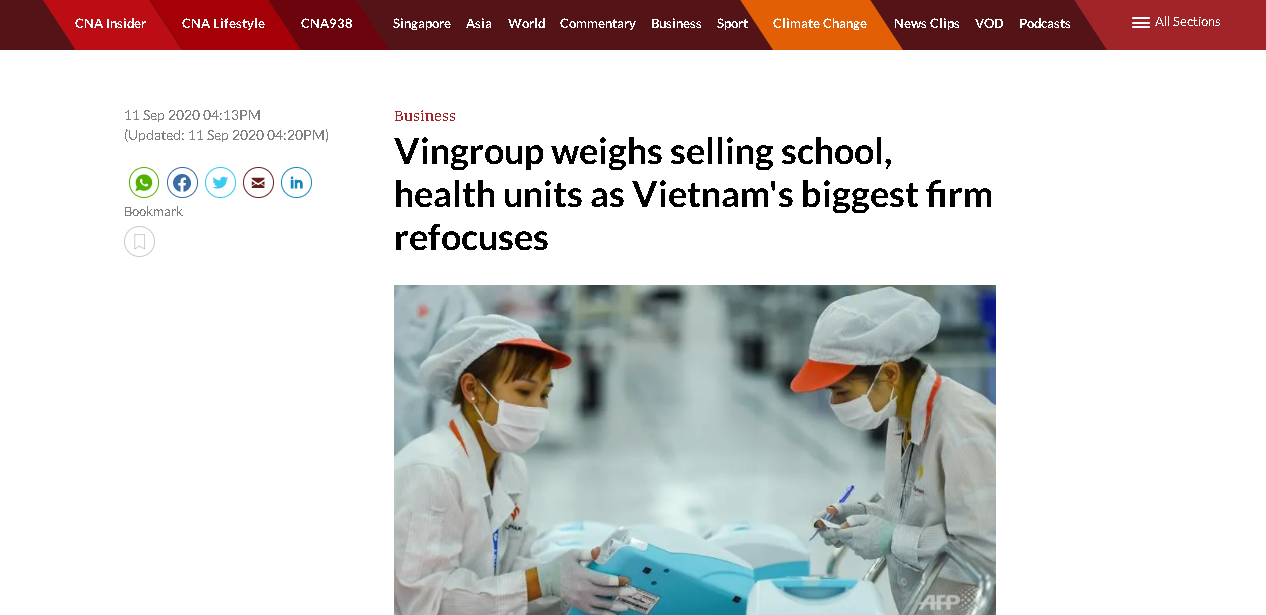 The news appeared on CNA
A search on Google gives a bunch of result
In an official response to the unfounded news, as reported by Tri Thuc Tre, Vingroup on September 11 rebutted "We confirmed there is no such plan to sell controlling stakes of Vinmec and Vinschool".
"Vinmec and Vinschool play crucial parts in Vingroup's ecosystem and we are still committed to developing a better and more comprehensive system", a representative of Vingroup clarified. "Regarding Vinmec, we are constantly searching for opportunities to partner with prestigious domestic and foreign partners, in a bid to develop and raise Vinmec's standard to international level. With Vinschool, we have no plans to expand it internationally, therefore, there is no cooperation plan".
Vingroup, founded by Vietnam's richest man, billionaire Pham Nhat Vuong, is an omnipresent conglomerate in Vietnam. It has a market value of $13 billion and posted half-year revenue of $1.7 billion. Vinschool runs 27 educational facilities and Vinmec operates seven hospitals in Vietnam.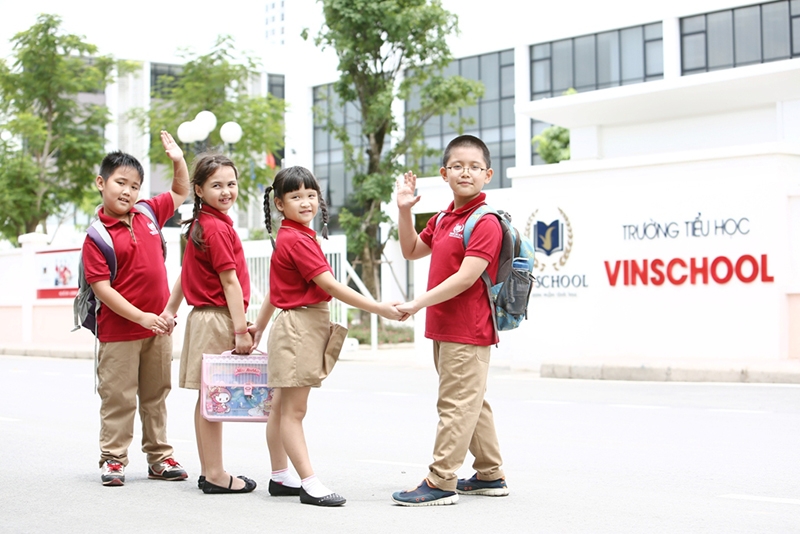 A group of primary students standing in front of Vinshool (Photo: VHS Group)