Who Shot Haitian President: Two Americans Among 15 Detained Over The Assassination
Two US citizens are among more than a dozen arrested in Haiti in connection with the assassination of President Jovenel Moise.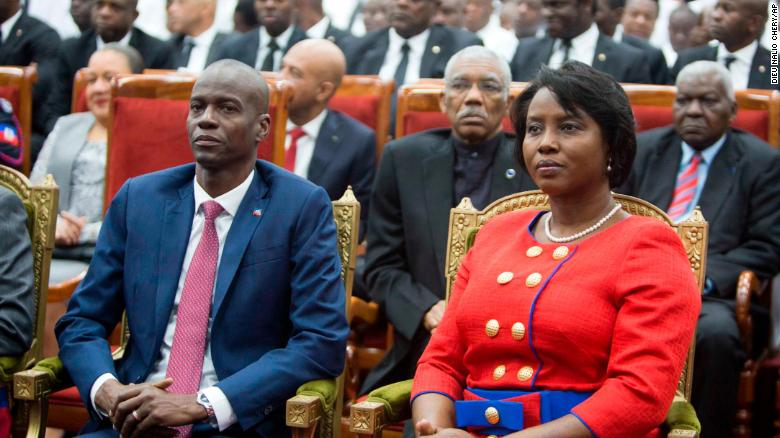 Moise sits with his wife, Martine, during his swearing-in ceremony in Port-au-Prince, Haiti, on February 7, 2017. Photo: CNN
A heavily armed commando unit that assassinated Haiti's president, Jovenel Moïse, was composed of 26 Colombians and two Haitian Americans, authorities have said, as the hunt goes on for the masterminds of the killing.
Moïse, 53, was fatally shot early on Wednesday at his home by what officials said was a group of foreign, trained killers, pitching the poorest country in the Americas deeper into turmoil amid political divisions, hunger and widespread gang violence.
The 53-year-old former banana exporter who took office in 2017, was murdered at his family home in the hills above Port-au-Prince about 1am local time on Wednesday. The first lady, Martine Moïse, was also wounded and later evacuated to Miami, where she is reportedly in a stable condition.
Elections Minister Mathias Pierre told that two US citizens were allegedly linked to Wednesday's attack. Pierre identified the men as James Solages and Joseph Vincent, both naturalized citizens from Haiti, according to the CNN.
In a press conference in the capital Port-au-Prince on Thursday, Haiti Chief of Police Leon Charles said 28 people were involved in the assassination, including 26 Colombians, in addition to the two Haitian-Americans.
Seventeen people have been "caught," Charles said. Haitian police are looking for at least eight more people.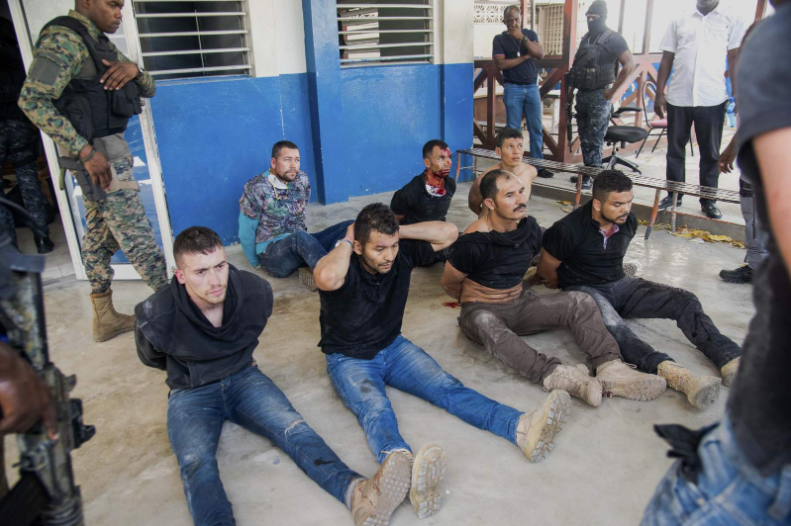 Suspects in the assassination of Haiti's President Jovenel Moise sit on the floor after being detained, at the General Direction of the police in Port-au-Prince, Haiti, Thursday, July 8, 2021. A Haitian judge involved in the murder investigation said that President Moise was shot a dozen times and that his office and bedroom were ransacked. (AP Photo/Jean Marc Herv Ablard) (Copyright 2021 The Associated Press. All rights reserved)
Separately on Thursday, Colombia's Defense Ministry announced at least six alleged attackers were retired members of the Colombian Army.
In a video statement, Defense Minister Diego Molano said Interpol requested information from the Colombian government and the National Police about the alleged perpetrators.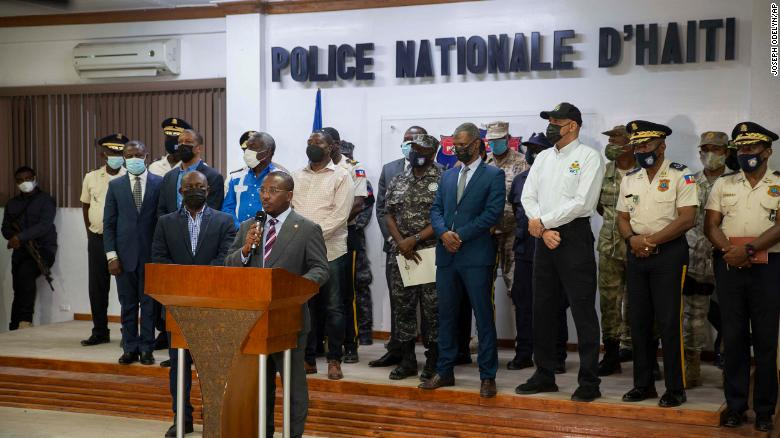 Interim President Claude Joseph, center, speaks to journalists during a press conference in Port-au-Prince, Haiti, on July 8
Eleven of the suspects were arrested after breaking into the embassy of Taiwan in Port-au-Prince, which sits near the residence where Moïse was killed, a statement from Taiwan's ministry of foreign affairs said.
Early on Thursday morning embassy security discovered the "group of armed suspects", described as "mercenaries" in the ministry's statement, and notified the Haitian government. Taiwan agreed "without hesitation" to allow Haitian police access, a spokeswoman said.
"The Haitian police launched an operation at about 4pm … and successfully arrested 11 suspected armed criminals. The process was smooth and the suspects did not resist." The spokeswoman did not provide the nationalities of the arrested men.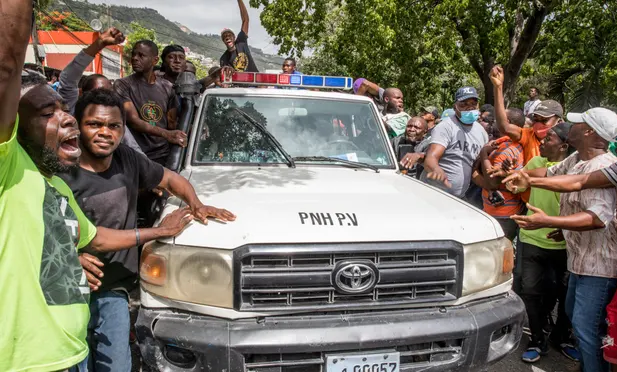 People cheer as a police car drives past the police station where men, accused of being involved in the assassination of President Jovenel Moise, are being held in Port au Prince Photograph: AFP/Getty Images
The Taiwan embassy had been closed on Wednesday as a safety measure in response to the assassination and staff had been working from home.
Colombia's defence minister, Diego Molano, said in a statement that preliminary information indicated that Colombians involved in the attack were retired members of the country's military. He said Bogotá would cooperate in the investigation.
Haiti's minister of elections and interparty relations, Mathias Pierre, identified the Haitian-American suspects as James Solages, 35, and Joseph Vincent, 55, the guardian reported.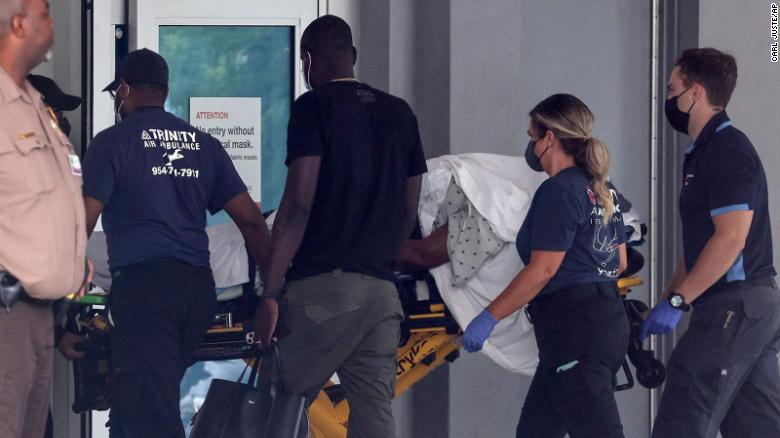 First lady Martine Moise arrives at Jackson Health System's Ryder Trauma Center in Miami on July 7.
A state department spokesperson could not confirm if any US citizens were among those detained, but US authorities were in regular contact with Haitian officials, including investigative authorities, to discuss how the US could provide assistance.
Officials in the mostly French- and Creole-speaking Caribbean nation had said on Wednesday the assassins appeared to have spoken in English and Spanish.
"It was a full, well-equipped commando, with more than six cars and a lot of equipment," Pierre said.
Officials have not yet given a motive for the killing.
"The United States offers condolences to the people of Haiti, and we stand ready to assist as we continue to work for a safe and secure Haiti," President Joe Biden said in a statement Wednesday.
U.S. Rep. Frederica Wilson and Miami-Dade County Commissioner Jean Monestime both said Thursday in Miami that Haiti needs help from the U.S. She met with reporters at the Little Haiti Cultural Center and said she is "fully committed" to working with the Biden administration to help Haitians.