The Assasination of President Jovenel Moise: Who Are The Killers, The Political Reason Behind
Early on Wednesday, Haiti's President Jovenel Moise was assasinated in his own resident by a group of killers, which caused distress and chaos in the community with the threat of violence breaking out.
Haiti's President Jovenel Moise was killed during an attack on his private residence early on Wednesday, according to the country's acting Prime Minister Claude Joseph, who has declared a state of seige in the country.
The attackers stormed Moise's home at around 1 a.m. and fatally wounded the head of state, according to the acting prime minister, who described the assassination as a "heinous, inhumane and barbaric act."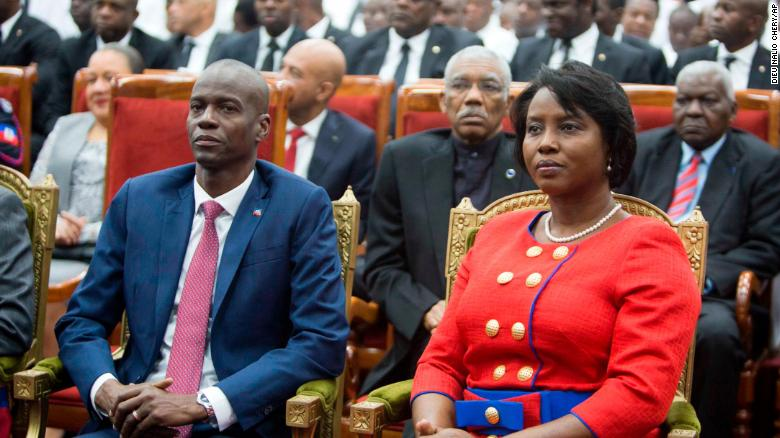 Moise sits with his wife Martine during his swearing-in ceremony in Port-au-Prince, Haiti, on February 7, 2017. Photo: CNN
Haiti's first lady, Martine Moise, was shot in the attack and is being evacuated to a hospital in Miami for treatment, said Haiti's ambassador to the US.
Her condition is stable but critical, Ambassador Bocchit Edmond said in a press briefing.
Interim Prime Minister Claude Joseph said the police and military were in control of security in Haiti, the poorest country in the Americas where a history of dictatorship and political upheaval have long stymied the consolidation of democratic rule.
Who are the killers, and what we need to know
Haitian National Police have detained two suspects and killed four others connected to the assassination, Edmond told CNN en Español late Wednesday.
"We are trying to move forward and see how we can identify more of those who participated in this horrible act," he said.
Edmond added that the suspects who were arrested and killed were foreigners, and police are in the process of determining their nationalities, according to CNN.
He believes the suspects received assistance from Haitian nationals due to vehicles they used to get to the presidential residence where Moise was killed.
Earlier, Edmond said in the press briefing that the attackers are believed to be "mercenaries" and referred to them as "well-trained killers."
Video from the scene showed them speaking Spanish and they presented themselves as Drug and Enforcement Administration (DEA) Agents, he said.
"I believe they are fake DEA agents," he told reporters Wednesday.
"We don't know how they came in," Edmond said, adding that they did not know if the attackers were still in the country. He said if they have left, it would be via a land border with the Dominican Republic because Haiti would have detected a plane leaving and the airport has been closed since the attack. He said the airport would reopen "once we have this situation under control."
Succession unclear
Moise, 53, was a former banana exporter and divisive figure in Haitian politics. He spent most of the past year waging a political war with the opposition over the terms of his presidency.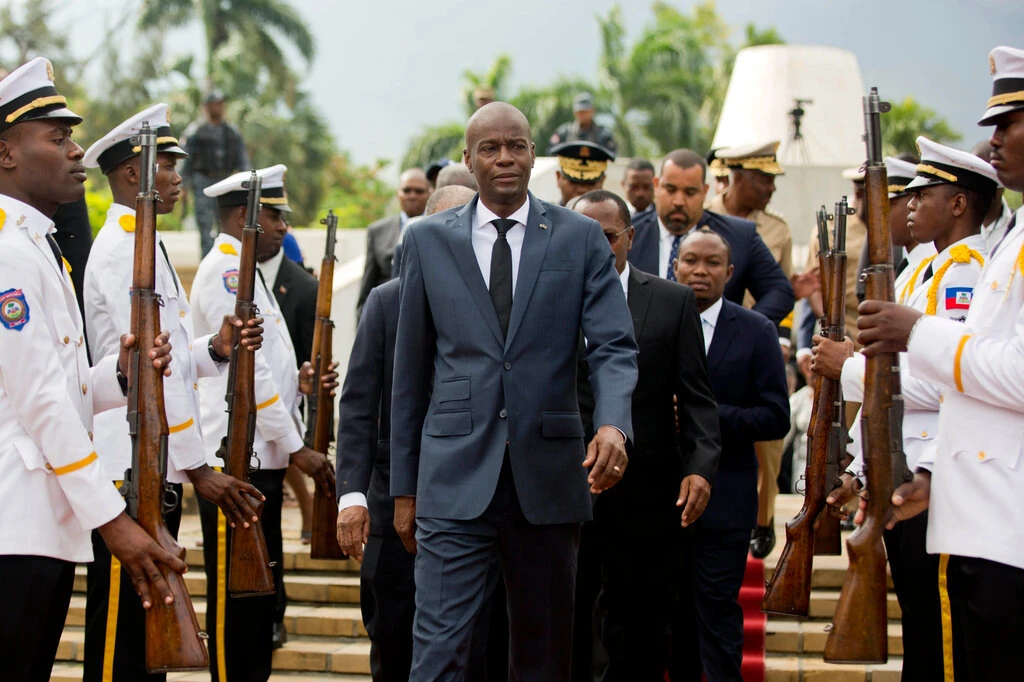 President Jovenel Moïse of Haiti in Port-au-Prince in 2018. He was assassinated on Wednesday.Credit...Dieu Nalio Chery/Associated Press
For now, it isn't immediately clear who will replace him. Judge Jean Wilner Morin, President of the National Association of Haitian Judges, told CNN that the line of presidential succession in the country is now murky.
Haiti's President of the Supreme Court would normally be next in line, but he recently died of Covid-19. For the acting Prime Minister Joseph to formally replace the President, he would have to be approved by Haiti's parliament, said Morin. But without recent elections, the parliament is effectively defunct.
Throughout his presidency, Moise had repeatedly failed to hold elections at local and national levels, leaving much of the country's governing infrastructure empty. A constitutional referendum is set to be held in September, alongside the presidential and legislative elections. Municipal and local elections have been scheduled for January 16, 2022, the official electoral calendar also showed.
Many in the country had disputed Moise' right to continue serving in the presidency this year.
Nou Pap Dòmi, one of Haiti's main opposition groups, has condemned the assassination. The group, which has previously been extremely critical of Moise and corruption in the country, said in a statement it was shocked by the news and called for unity and de-escalation.
"We cannot continue to count corpses on a daily basis ... all of the victims of massacres and assassinations must find justice and those responsible for these acts must be brought to justice," the group said.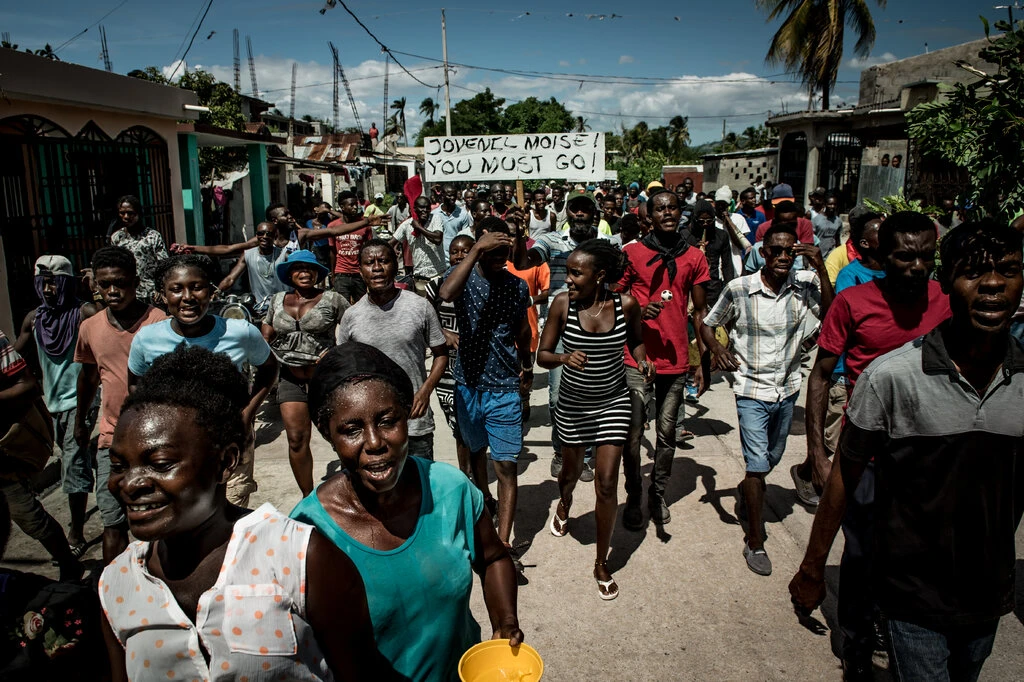 Protestors demonstrating against Mr. Moïse in Les Cayes, Haiti, in 2019.Credit...Meridith Kohut for The New York Times
How has the world reacted?
President Biden said in a statement Wednesday that he was "shocked and saddened to hear of the horrific assassination."
"We condemn this heinous act," the statement said, adding that the United States stands "ready to assist as we continue to work for a safe and secure Haiti."
Biden later told journalists that "we need a lot more information" about the incident.
In an appearance on CNN, White House press secretary Jen Psaki said that the United States stands by Haiti to provide any assistance needed, and that the U.S. Embassy and State Department would be in close touch with counterparts.
The United States is Haiti's top foreign donor, and the opposition in Haiti has accused the United States of leniency toward Moïse as he has sought to remain in power, amid dispute over the end of his term.
The Dominican Republic closed border crossings with neighboring Haiti on Wednesday morning. Colombian President Iván Duque called on the Organization of American States for an "urgent mission" to protect democratic order.
Other leaders expressed their condolences, including British Prime Minister Boris Johnson, who called the killing an "abhorrent act," and Spanish Prime Minister Pedro Sánchez, who called for unity of the political forces to "find a way out" of the serious crisis.
What could happen next?
There are still many unknowns about what Wednesday's attack will mean for Haiti.
One pressing question is who will lead the country: Joseph was supposed to step down on Monday from his position as interim prime minister, with Ariel Henry, a neurosurgeon, to be appointed as the new prime minister, Washington Post reported.
Amid the political crises, Haiti has also struggled to roll out its coronavirus vaccination program. So far, it is one of only a handful of countries, part of the World Health Organization-backed Covax vaccine-sharing initiative, to have yet to administer any vaccine doses.
Moïse's assassination also raised fears that street and gang violence could escalate with impunity.
"The president was assassinated in his own house!" Pierre Espérance, director of Haiti's National Human Rights Defense Network, told The Washington Post. "Do you see our situation? It is terrible! We are not safe."