Women who have 2 children before age 35 to be rewarded with cash
Women in 21 provinces and cities in Vietnam who have 2 children before the age of 35 will be rewarded with cash or in kind support, according to a circular issued recently by the Ministry of Health.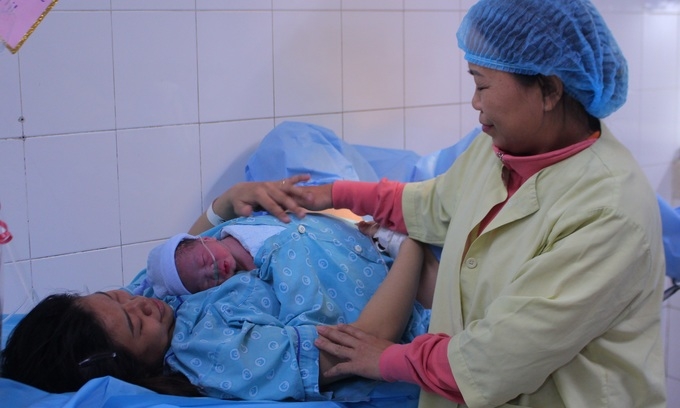 A family member helps a woman hold her new-born son at Tu Du Hospital in HCMC, January 2020. (Photo: VNE)
The circular guides localities in promulgating policies to reward and support collectives and individuals that implement the family and population policy.
According to this document, the reward aims to encourage steady maintenance of replacement fertility in 21 provinces that have low birth rates.
The provinces and cities with low birth rates include: HCM City, Dong Thap, Hau Giang, Ba Ria - Vung Tau, Binh Duong, Khanh Hoa, Long An, Bac Lieu, Tay Ninh, Soc Trang, Ca Mau, Dong Nai, Binh Thuan, Tien Giang, Can Tho, Vinh Long, An Giang, Ben Tre, Da Nang, Quang Ngai and Kien Giang, according to Vietnamnet.
The average birth rate in these provinces and cities is 1.5 - 1.6 children per woman of reproductive age. The birth rate in HCM City once fell to 1.24 children/woman, the lowest in the country.
The circular also proposes rewards and support in cash or in kind to communes and wards in the provinces and cities with low birth rates where at least 60% of couples of reproductive age give birth to two children over three consecutive years.
In the provinces with high birth rates, women of reproductive age who already have two children and voluntarily use long-term contraception methods will also be rewarded in cash or in kind.
The circular takes effect on March 10. It is considered one of the measures to help Vietnam reduce the large birth-rate gap between regions.
(Photo: Thanh Nien)
Vietnam is among the most rapidly aging countries in the world. It entered the aging phase in 2011 when the number of people over 60 made up 10 percent of the population. That rate climbed to 12 last year out of a population of 95 million, and is expected to rise to 17.9 percent in 2025 and to more than 20 percent in 2038, as reported by VNE.
So it will take Vietnam just 30 years to transform from the aging phase to an aging country, compared to 115 years in France, 69 in the U.S. and 85 in Sweden.
A decision issued in April by Prime Minister Nguyen Xuan Phuc encourages people to marry before they are 30 and bear children early.
Women should have their second child before 35, it suggested.