World breaking news today (December 30): Biden picks Hicks to be first female deputy defense secretary
World breaking news today (December 30): Biden picks Hicks to be first female deputy defense secretary. Meanwhile, EU leaders sign post-Brexit UK trade deal, Germany faces 'difficult times' with COVID-19, Deadly explosion in Yemeni airport and gold prices also make headlines today.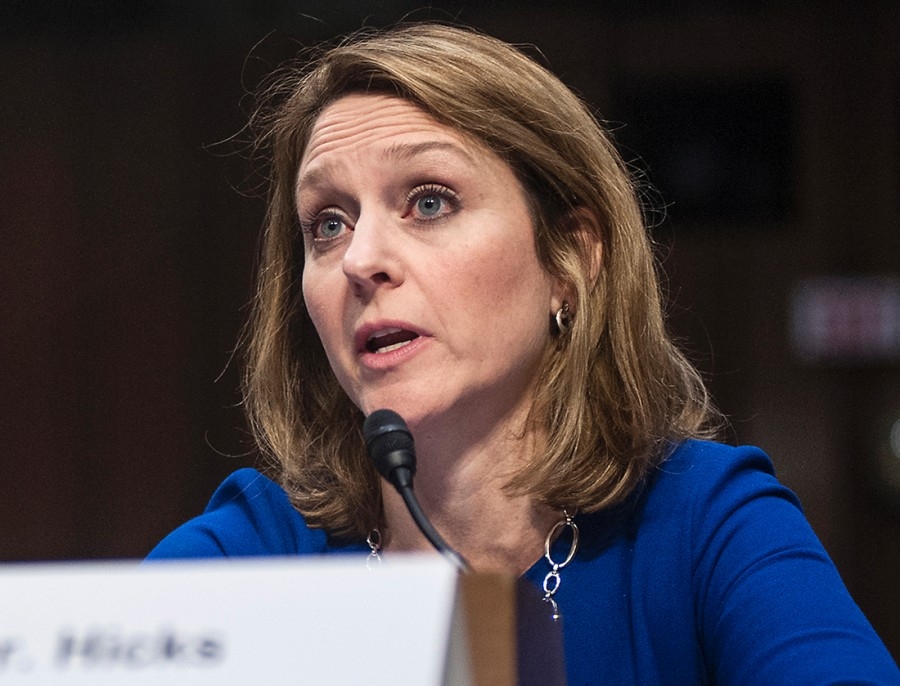 Kathleen Hicks (Photo: Stars and Stripes)
Biden picks Hicks to be first female deputy defense secretary
President-elect Joe Biden on Wednesday nominated Kathleen Hicks to be his deputy defense secretary, making her the first woman to hold the position if she is confirmed by the Senate, according to Reuters.
Hicks, who is leading the Biden's transition team at the Defense Department, is a former senior Pentagon official most recently at the Center for Strategic and International Studies think tank in Washington.
Earlier this month, Biden announced that he had picked retired General Lloyd Austin, who oversaw U.S. forces in the Middle East under President Barack Obama, to be his defense secretary.
Austin, who would be the first Black U.S. secretary of defense, was a surprise pick over Michele Flournoy, a former top Defense Department official who was considered the leading contender for the job. Flournoy would have been the first woman defense secretary.
In a statement, Biden announced Hicks as his nominee for the No. 2 Pentagon position and Colin Kahl, his former national security advisor, for the No. 3 post.
"These respected, accomplished civilian leaders will help lead the Department of Defense with integrity and resolve, safeguard the lives and interests of the American people," Biden said.
European Union leaders formally sign post-Brexit UK trade deal
EU leaders Ursula von der Leyen and Charles Michel signed the post-Brexit trade deal agreed with Britain in a brief ceremony on Wednesday.
The texts were then to be flown to London in a British Royal Air Force jet for the signature of UK Prime Minister Boris Johnson, on the eve of Britain's departure from the EU single market.
Speaking in parliament on Wednesday, Johnson vowed that Britain would work closely with the European Union after this Brexit deal takes full effect from January 1, as MPs debated the two sides' mammoth trade pact.
"With this bill we are going to be a friendly neighbour, the best friend and ally the EU could have," he told parliament.
The government intends to ram all stages of the 85-page European Union (Future Relationship) Bill through the Commons and the House of Lords in one day, before the EU trade deal takes effect at 11pm GMT on Thursday.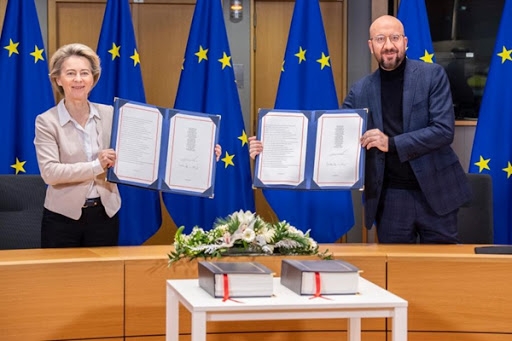 (Photo: France 24)
At that hour – midnight in Brussels – the UK will be entirely out of the EU, following an 11-month transition period in place since Brexit took legal effect and more than four years after Britons voted to leave in a divisive referendum.
The agreement averted the prospect of a cliff-edge separation that would have seen quotas and tariffs slapped on all cross-Channel trade, exacerbating strains in the middle of the coronavirus pandemic, which has hit Britain harder than most, France 24 reported.
Germany faces 'difficult times' with COVID-19 in 2021: Merkel
Germany's "historic" coronavirus crisis will extend into 2021 even if the vaccines bring some hope, German Chancellor Angela Merkel said on Thursday (Dec 31) in her New Year's greetings. And Merkel denounced the conspiracy theories advanced by virus sceptics as not just "false and dangerous" but "cynical and cruel" towards those who had suffered during the pandemic.
"These days and these weeks ... are difficult times for our country," Merkel warned. "And that is going to last for a good while yet."
Speaking in what will be her final New Year's address as chancellor after four terms in office, Merkel's message was characteristically sober.
"Winter remains difficult," she said. "The challenges that the pandemic pose remain immense."
German Chancellor Angela Merkel (Photo: Reuters)
Merkel thanked what she said was the vast majority of Germans who had abided by the safety restrictions imposed by the authorities to try to check the spread of the virus.
But she had harsh words for the virus sceptics, many of whom have taken their protests to the streets, some of them ignoring safety measures such as wearing masks.
"For some days, hope has a new face: That of the first vaccinated people" in retirement homes and among health workers, said Merkel.
In her 15 years in power, she added, "Never have we, despite the worries, been in such a hurry to enter a new year."
More than 32,000 people have now died from the virus in Germany, and on Wednesday the daily death toll passed 1,000 for the first time - although officials say this was partly due to late reporting of earlier figures.
The country is under a partial lockdown until Jan 10, with most shops closed along with schools, restaurants, cultural and leisure facilities.
New Year's Eve festivities will be muted, with a ban on the sale of fireworks and tight restrictions on the number of people who can gather in public, AFP reported.
Deadly explosion rocks Yemeni airport just as new Government members land
A large explosion rocked the airport in Aden, Yemen, on Wednesday shortly after a jet landed carrying officials of the country's Saudi-backed government. Dozens of casualties were reported. Video from the scene shows hundreds of people were gathered on the tarmac when the blast struck.
People were still disembarking from the plane carrying members of Yemen's new government when the explosion hit, causing the crowd to scatter as they rushed for cover. At least 22 people were dead, The Associated Press reported.
According to NPR, news crew were filming the politicians' long-anticipated arrival — heralded as an important step in bringing stability to Yemen, where Saudi Arabia and Iran are locked in a proxy war. Aden has been adopted as Yemen's temporary capital because Iranian-backed Houthi rebels control the capital city, Sanaa.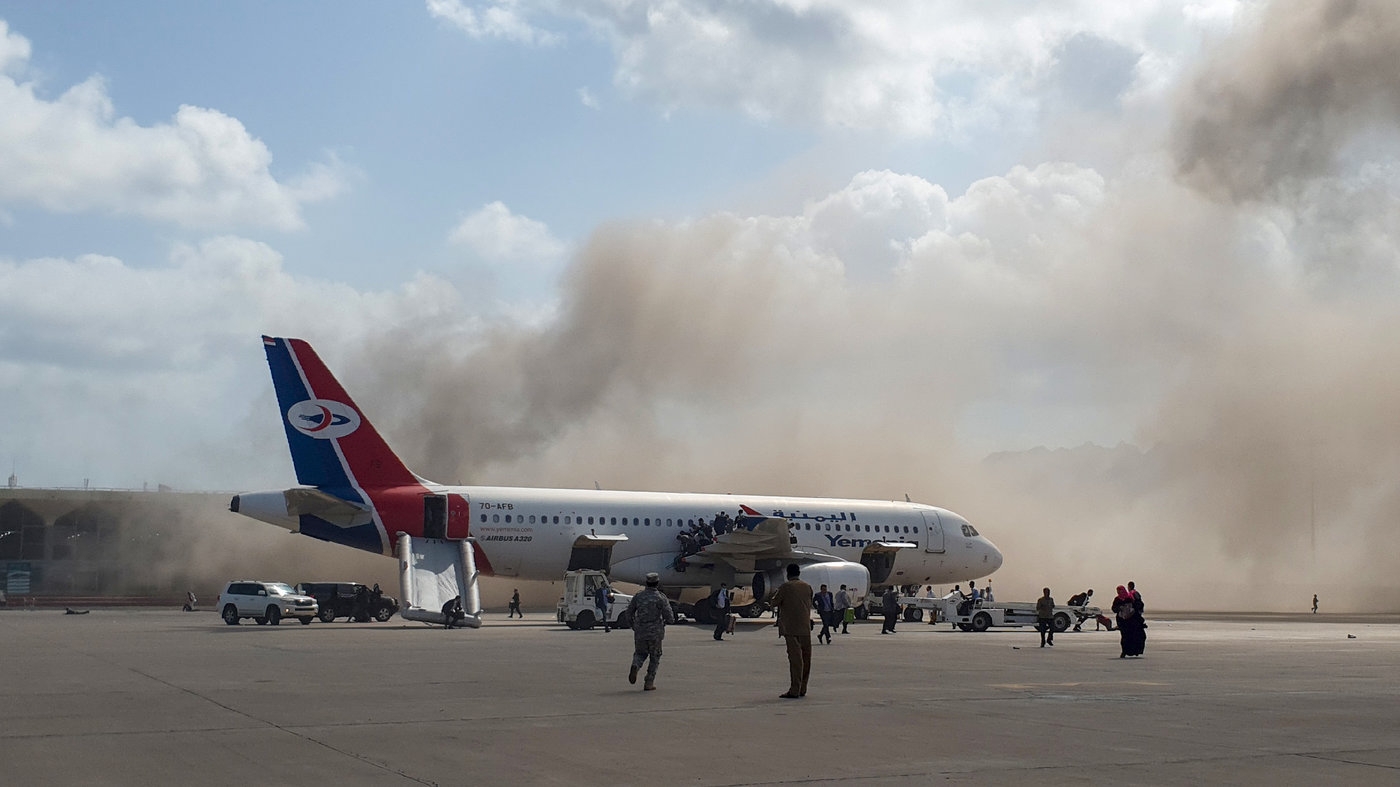 Smoke billows behind a plane that brought Yemen's new government to Aden International Airport on Wednesday. Explosions rocked the airport shortly after the plane arrived. (Photo: AFP)
There has been no claim of responsibility for the blast.
Prime Minister Maeen Abdulmalik Saeed — a holdover from a recent Cabinet shake-up — condemned what he called a cowardly terrorist act, saying that he and other members of the government remain in Aden and are unscathed. But local news outlet Aden al-Ghad later reported that at least one junior official was killed and several officials were wounded.
Doctors Without Borders said its hospital in Aden has received 17 people who were wounded in the attack, adding that another local hospital referred the cases.
Gold price prediction – prices rise led as the Dollar eases
Gold prices moved higher as the dollar headed lower and U.S. yields moved sideways. Traders remain concerned about the coronavirus's spread as the lack of distribution of vaccines in the U.S. On Wednesday, the U.K. government approved the Astrazeneca vaccine, which helped buoy riskier assets. The trend in gold prices continues to look favorable.
Gold prices moved higher and are trading in a relatively tight range. Support is near the 10-day moving average near 1,876, with resistance seen near the December highs at 1,906. The 10-day moving average crossed above the 50-day moving average, which means a medium-term uptrend is now in place. Short-term momentum has turned positive as the fast stochastic generated a crossover buy signal. Medium-term momentum is positive to neutral as the MACD (moving average convergence divergence) histogram prints in the black with a flattening trajectory, which points to consolidation.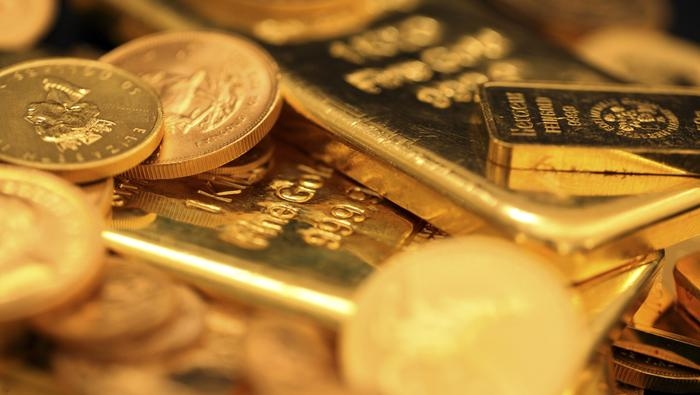 (Photo: Daily FX)
U.S. home prices jumped in October to a 6-year high as a pandemic-fueled buying rush drives the number of available properties for sale to record lows. That combination of strong demand and limited supply pushed home prices up 7.9% in October compared with 12 months ago, according to Tuesday's S&P CoreLogic Case-Shiller 20-city home price index. That's the largest annual increase since June 2014, as reported by FX Empire.