World breaking news today (May 16): Fresh rocket barrage targets central Israel after Hamas threat
World breaking news today (May 16): Fresh rocket barrage targets central Israel after Hamas threat. Meanwhile, thousands rally across Europe to back Palestinians, tornadoes hits central China and gold price also make headlines today.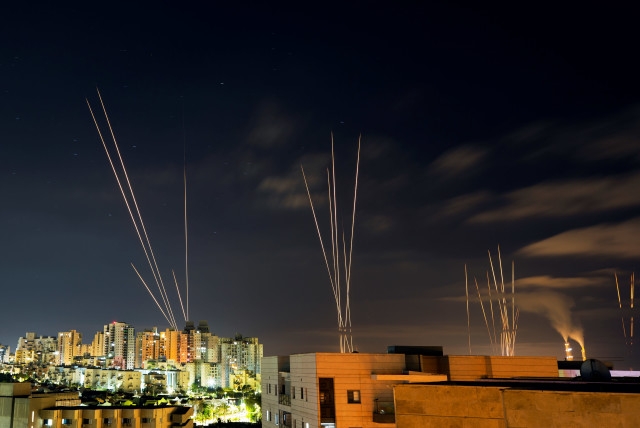 Streaks of light are seen as rockets are launched from the Gaza Strip towards central Israel as seen from Ashkelon, Israel May 16, 2021. (Photo: Reuters)
Fresh rocket barrage targets central Israel after Hamas threat
A man was killed in the central city of Ramat Gan after Hamas fired a volley of close to 30 rockets at central Israel in a large barrage on Saturday afternoon.
Hamas rocket barrages on southern and central Israel continued throughout the day on Saturday with almost 300 projectiles flying toward Israel. Rocket sirens sounded in parts of the West Bank, in central and southern Israel and near Netanya on Saturday night, after Hamas threatened earlier in the night to put Tel Aviv in a "curfew" at midnight.
No injuries were reported due to direct hits or shrapnel in the barrage on Saturday night, although 10 people were injured while running to bomb shelters.
Shortly after the barrage of rockets, the IDF began a wave of airstrikes in the Gaza Strip, hitting over 150 targets, including the home and office of Hamas leader Yahya Sinwar, with a number of deaths and injuries reported, according to Palestinian media.
A man was killed in the central city of Ramat Gan after Hamas fired a volley of close to 30 rockets at central Israel in a large afternoon barrage on the sixth day of fighting between the Israeli military and Hamas.
Hamas said it launched the barrage towards Tel Aviv in response to "the massacre of women and children at the Shati refugee camp."
The airstrike on the Shati refugee camp killed ten people including eight children. The IDF said that the strike was against an apartment that "serves as terror infrastructure" for Hamas. "The IDF takes precautions to minimize possible harm to civilians during its military activities," the statement added.
Thousands rally across Europe to back Palestinians
Thousands of protesters marched in support of Palestinians on Saturday in major European cities including London, Berlin, Madrid and Paris, as the worst violence in years raged between Israel and militants in Gaza.
In London, several thousand protesters carrying placards reading "Stop Bombing Gaza" and chanting "Free Palestine" converged on Marble Arch, near the British capital's Hyde Park, to march towards the Israeli embassy.
Packed crowds stretched all along Kensington's High Street where the embassy is located.
Organisers claimed as many as 100,000 people had gathered for the demonstration though London police said they were unable to confirm any figure.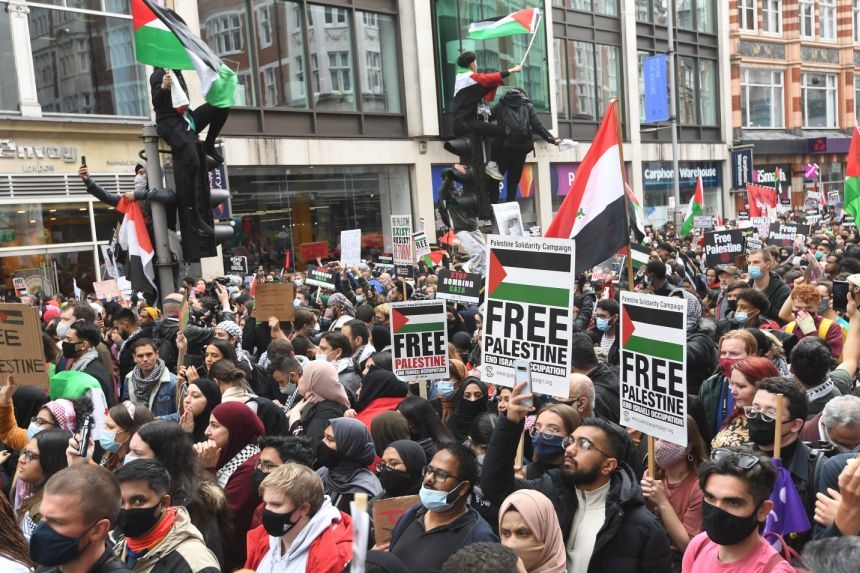 (Photo: Straits Times)
"The group is spread across a large area which makes it impossible to count them," a Metropolitan Police spokesman said.
"Officers are engaging with a group of people who have gathered for a demonstration in central London this afternoon," the police said in a separate statement, adding that a plan was in place to curb the spread of Covid-19.
"This time is different. This time we will not be denied any more. We are united. We have had enough of oppression," Palestinian Ambassador Husam Zomlot told the demonstrators.
Other protests were held in Frankfurt, Leipzig and Hamburg.
On Tuesday, Israeli flags were burnt in front of two synagogues in Bonn and Muenster.
Police officers used tear gas and water cannon in Paris to try and disperse a pro-Palestinian rally held despite a ban by authorities.
Some threw stones or tried to set up roadblocks with construction barriers, but for the most part police pursued groups across the district while preventing any march toward the Place de la Bastille as planned, according to AFP.
12 dead, hundreds injured as tornadoes hit central, eastern China
Ten people died and hundreds more were injured as tornadoes swept through two Chinese cities on Friday night, according to Chinese media reports.
Serious damage occurred in the central city of Wuhan, where high winds caused the deaths of eight people and wounded 280, the local government said during a press conference Saturday.
Separately, gusts in the eastern city of Suzhou killed four people and injured 149, according to national broadcaster CCTV.
In Wuhan, winds collapsed 85 homes, damaged a further 400, and brought down two large construction cranes, Changjiang Daily reported.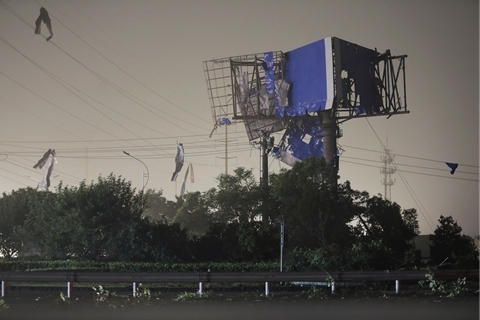 (Photo: CaiXing Global)
Rescue workers and local officials have arrived on the scene, and temporary shelters covering some 8,000 square meters have been set up, the newspaper added.
In Suzhou, rescue work finished at 5 a.m. Saturday morning. Of the four people who died, one was killed at the scene, two died in hospital after sustaining severe injuries, and one who had initially gone missing died in hospital after being found, CCTV said.
Some 19 people in the eastern city had "light" injuries and 130 were "very lightly" wounded, the broadcaster said, adding that the winds damaged 84 rural homes and 17 businesses.
Taiwan raises coronavirus alert level
Taiwan limited gatherings and ordered entertainment businesses closed as it raised its coronavirus alert in the capital to the second highest level to contain a new surge in locally transmitted covid-19 cases.
Taiwan's Health Minister Chen Shih-chung said in a briefing on Saturday that Taipei and the surrounding city, New Taipei City, accounting for a total population of about 6.5 million people, was now placed under coronavirus alert level three, one stage short of a full lockdown.
Authorities on Saturday reported 180 new local infections, the largest single-day increase of community transmission since the pandemic began.
(Photo: Taiwan News)
The measures, which will be in place for two weeks, limit indoor gatherings to five people and outdoor ones to 10 people. Residents, urged to avoid unnecessary travel and gatherings, must wear face masks at all times when outside of their homes.
Night clubs, bars, karaoke bars and other entertainment venues were ordered to shut while restaurants were required to register customers and implement social distancing. Businesses were encouraged to offer remote working and flexible hours. Schools would be closed to the public but classes were not suspended, Washington Post reported.
Gold price forecast – gold markets reach towards downtrend line
The gold markets have shown themselves to be resilient after initially pulling back during the day. In fact, we find ourselves testing a significant downtrend line that could open up a huge move higher.
Gold markets have initially pulled back during the trading session on Friday, but then rallied to reach towards the downtrend line. That being said, if we can break above the $1850 level, then it is likely that we will continue to go much higher, perhaps reaching towards the $1950 level. However, we need to see a daily close above $1850 for me to put significant money into the market. In fact, I plan on being very patient because it is obvious to me that if we do get a move to the upside, it could be rather big, as reported by FX Empire.
(Photo: Latam Mining)