Young people in Hanoi try paddle boarding on Red river
Young people in Hanoi are challenging themselves with Standup Paddle Boarding (SUP), an outdoor sports activity that helps them entertain at the weekend and still ensures safety protocols during the pandemic.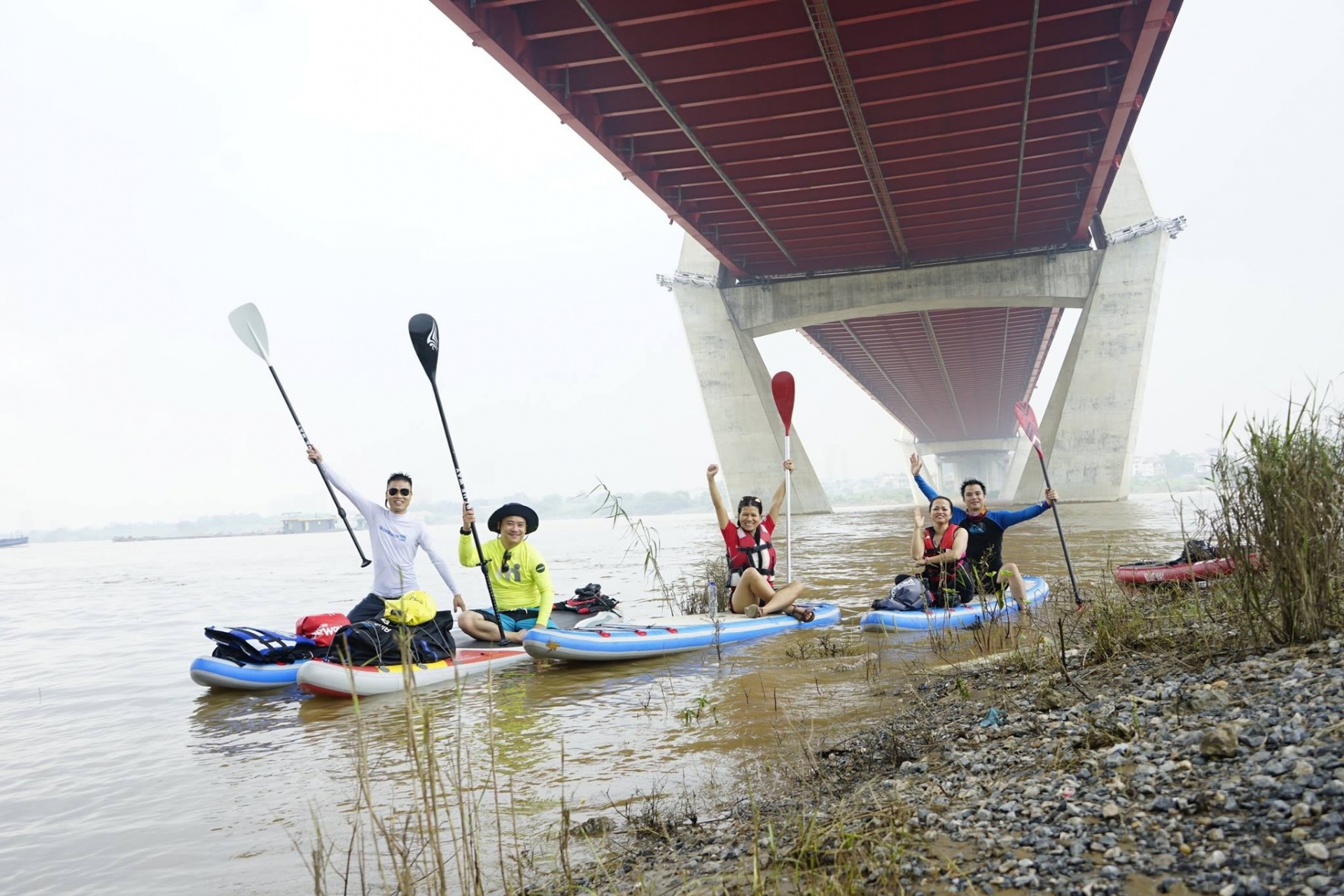 Standup Paddle Boarding has become a popular sport activity in Hanoi. Photo Umove SUP Club
As many localities including Hanoi have suspended sports activities and closed parks to crack down on Covid-19, many young people in the capital city have turned to SUP on Red river.
Dieu Ky, 22 years old, is a non-professional paddler so she booked a service at the price of 650,000 VND in half a day including hiring standup paddle board, food for camping on the way, car pickup service at the starting and finishing points, and travel insurance.
A travel guide accompanied the group all the time to ensure safety for paddlers. Everyone in the group must wear face masks and disinfect their hands to prevent Covid-19.
Ky started a 10km distance from Bac station in Phu Thuong ward, Tay Ho district to a river bank in Ngoc Thuy ward, Long Bien district.
To complete the distance, she had to start at 7am and arrived at the final point five hours later.
On the way of paddling on the river, she and her SUP group stopped at some banks or safe areas to take a rest or swim.
They stopped at some banks or safety areas to take a rest or swim. Photo Umove SUP Club
A group of SUP riders take a rest and have lunch on the river bank. Photo VnExpress
This was the third time Ky has challenged herself with SUP. Her first two times were in West Lake.
She said paddling with standup boards was interesting. It is safe because the paddlers wear life jackets and the boards are very stable.
"We can sit or stand up to paddle the board," she told VnExpress.
During the pandemic, besides running, SUP is suitable for those who love extreme sports, she said. At the end of the trip, Ky and her group rested on a small island at the foot of Long Bien bridge, where there was no contact with strangers.
A man balances on the paddle board. Photo VnExpress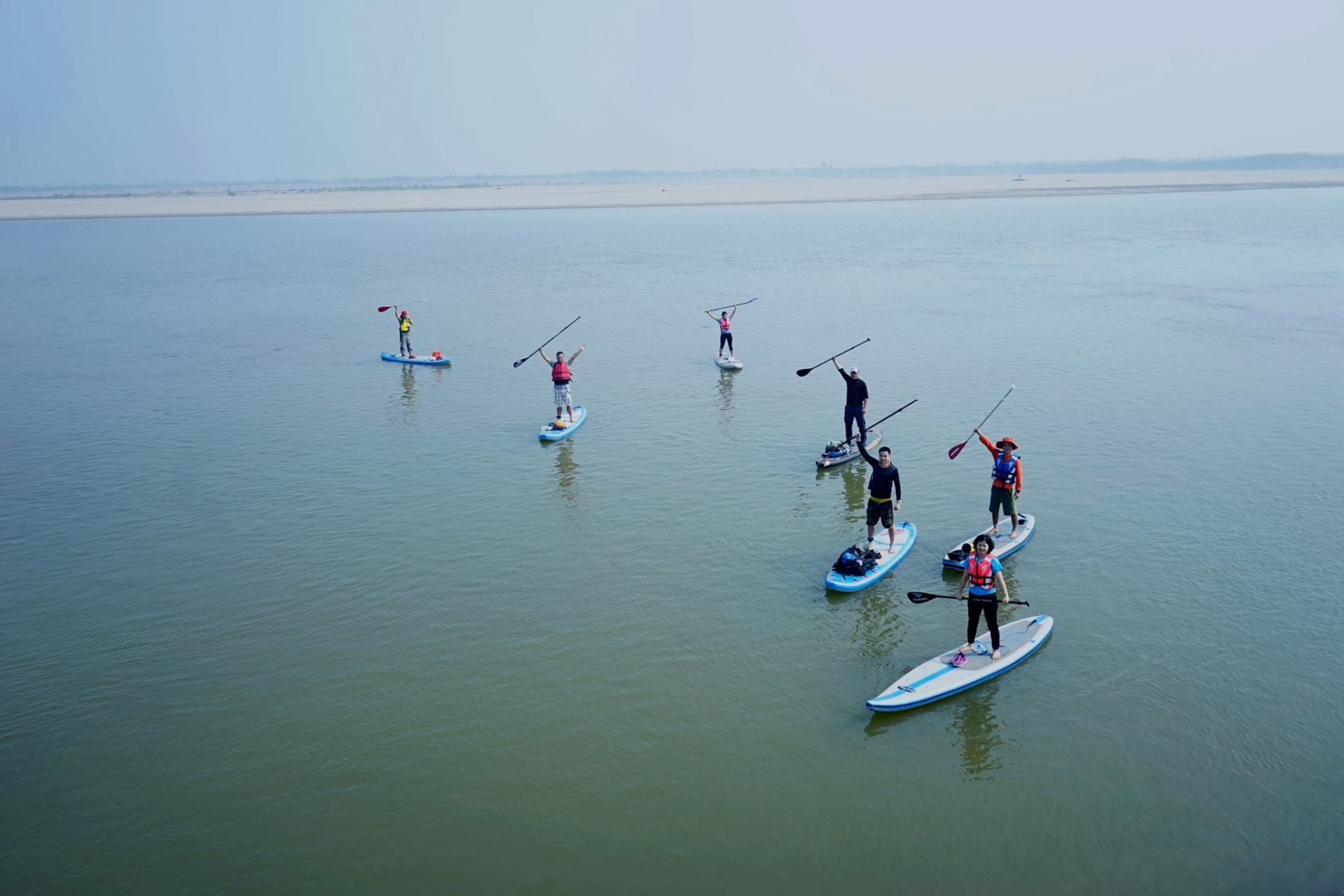 Paddlers are instructed how to use the paddle and how to get on the SUP if they fall. Photo Umove SUP Club
Bui Vinh, who experienced SUP for the first time, said he did not have many difficulties at his first try. Before starting, the travel guide instructed him how to use the paddle, how to move while standing, basic paddling tips and how to get on the SUP if you fall.
He was asked to wear life jackets and put on a leg rope connecting his leg with the SUP. In case of falling and losing balance, the board will come to his aid.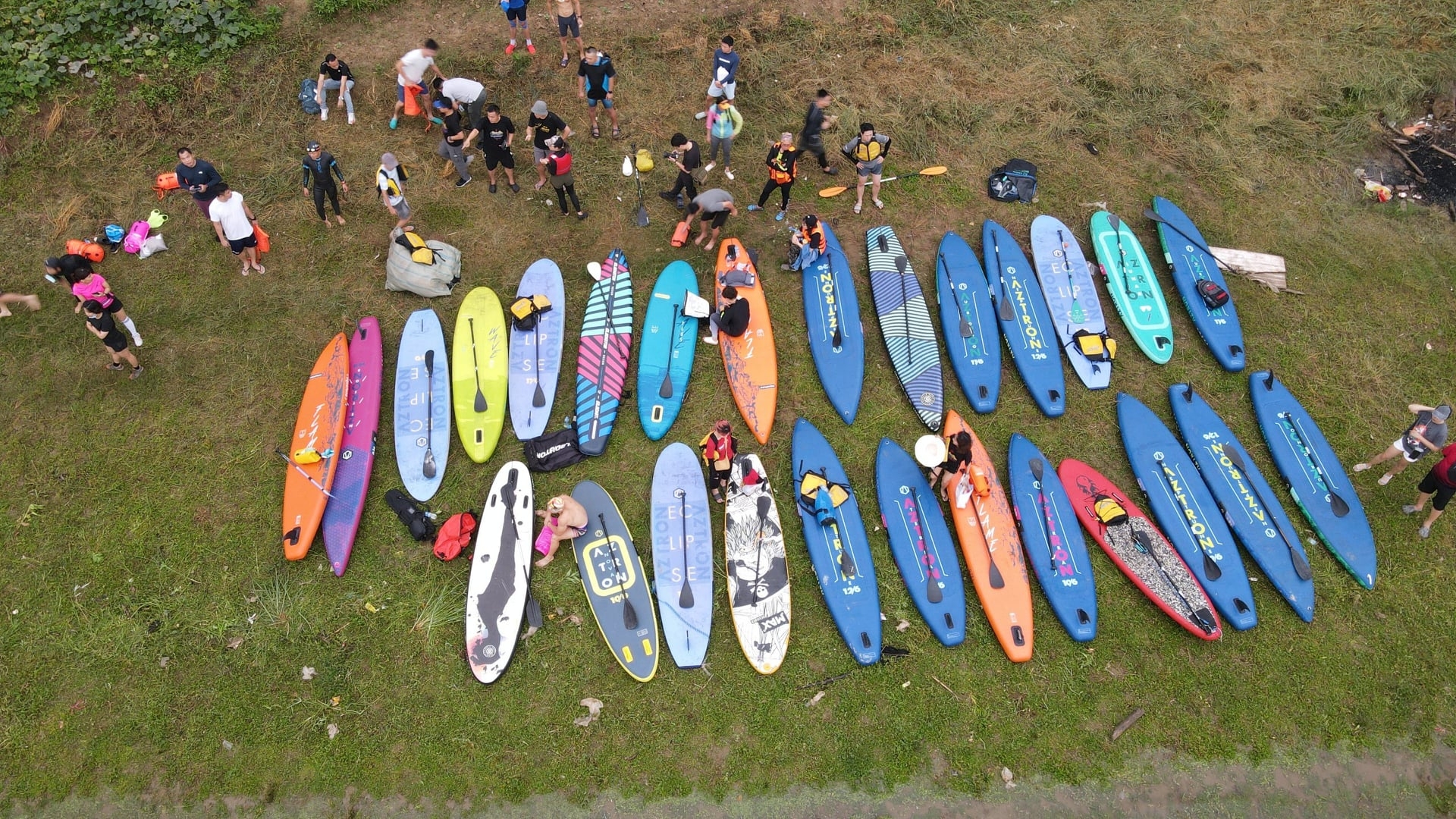 Playing SUP is such an interesting experience to many people. how to use the paddle. Photo Umove SUP Club
After the experience, Binh said it was such an exciting and surprising time because in Hanoi, he could not believe there was a water sport for him to try and a place to enjoy such beautiful scenery.
"Playing SUP on Red river in calm waters is easy and safe, even for beginners, because the paddlers can be self-balanced. However, the paddlers must be in a good health and dare to take risks because in the process of rowing, they can fall into the water due to balance loss," he said.
SUP is a plastic or inflatable sports equipment with paddle board which can be played on many different water surfaces such as lakes, bays, rivers, waterfalls. In Hanoi there are several spots for SUP rent like 29 Nguyen Dinh Thi street, 45 Ve Ho street. The rental prices range from 150,000 to 200,000 VND for half a day.
Tran Trung Kien, founder of Umove SUP Club with nearly 10 years of experience, said SUP was not too strange for young people in Hanoi. Groups and individuals often organize SUP trips on the Red river with a distance of their choices because there are many water wharfs around the area.
In order to ensure safety, players need to paddle in shallow water areas with no boats traveling. The sign to identify the stream is separate floats, he said.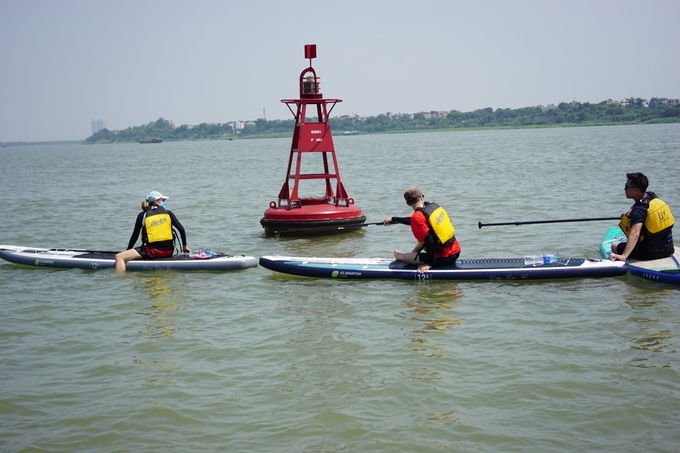 Paddlers can sit or stand on the board as long as they can balance. Photo VnExpress
When the weather is bad such as rain, storm, thunderstorm, it is absolutely not recommended to do the sport. SUP is a personal sport, so it is best for only one person to be on the board. They must wear standard life jackets, he said.
In case of more than one person, the total player weight must be within the manufacturer's recommendations, he added.
Kien noted that paddlers should go in groups of two to three people to ensure safety. For beginners, it is recommended to follow the tour of the club or other travel agencies to have experts guide and prevent unexpected accidents.
In hot weather, players should prepare hats, gloves, sunscreen, in addition, if carrying wallets, phones, you need to prepare a waterproof bag, he said./.