11 Best Travel Experience in Vietnam For First-Time Travellers
There are so many activities that tourists can experience when they travel to Vietnam, which will help them understand this country better and fully enjoy a multicolour Vietnam. Here is 11 best experience for first time travellers.
Each region in Vietnam has its own culture and history, which can make tourists confused since if they merely have a certain amount of time, it would be difficult to totally discover this beautiful country's signature. To find out solutions for this problem, tourists can check out these 11 suggestions of the best Vietnam experiences to try a multicolor Vietnam below!
1. Cai Rang Floating Market
Photo: Viet Fun Travel
Cai Rang Floating Market is the most famous and biggest floating market in the Mekong Delta. The market is unique culture of local people living along this mighty river. Instead of shopping in the town, they shop and barter on the river that is more convenient to access by waterways.
The floating market is located on Can Tho River (part of Hau River), Cai Rang District – about 6 km away from the center of Can Tho City in the direction of Soc Trang, or around 45 minutes away from Ninh Kieu Quay by boat. In 2016, Cai Rang Floating Market was recognized as a national intangible cultural heritage. The market was also elected as one of the most impressive markets in the world by UK's Rough Guide. Once you visit Mekong, floating market is a kind of things should not miss in your travel plan. To experience Cai Rang at its best, get up early and take a boat trip, it is really worth for your day visit.
When it is still dark, local merchants bring their farm products and things to market. The buyers also want to shop early when the weather is still cool then go home to start their normal day. That is why you should get up early for the most exciting moment of the market. The ideal time is from 5 A.M to 7 A.M when hundreds of boats gathers to buy and sell goods in crowds. The most distinctive feature of the floating market is probably the bamboo pole called "Cay Beo" with a length of 3m – 5m. This is a unique way to advertise when all kinds of goods that they sell are hang on the top so buyers could see from distance.
Cai Rang Floating Market does not open in lunar festive days, such as the first and second days of the first lunar month, Doan Ngo Festival (the fifth day of the fifth lunar month).
2. Trying the Hill Tribe Family's Life in Sapa
Going to Vietnam, tourists are way too similar to its popularity of various historical destinations, traditional food or breathtaking beaches as well as limestones. However, when it comes to Vietnam, it would be imperfect, not to mention the North West mountainous areas (especially Sapa), where travelers can enjoy a less touristy Vietnam, a Vietnam with basic life, simple people and colorful stuff.
Photo: Sapa Tours
Sapa is home to various Vietnamese ethnic minorities (most commonly you will find Hmong people, Jarai, Bahnar, Dzao or Thai peoples), each of which has its own language, signature handwoven costume (all of them are absolutely incredible!) as well as specific custom. Visiting hill tribe families in Sapa, travelers can not only observe their living areas (mostly stilted houses but in different architectures and structures, depending on specific ethnicity) but also immerse in their daily life.
Sapa can satisfy roughly all kinds of travelers, ranging from cultural-minded ones to adventurous ones. If you are the type of person who pays more attention to discover cultural differences, the specific lifestyle of various ethnicities here would undeniably satisfy you.
By meeting rice farmers who work on high terraces, you learn about their agriculture lifestyle; by visiting weavers and silversmiths, you know about their customs and costume; by listening to their traditional poetry, songs, and music, you discover their history and culture; and by simply trekking through majestic mountains, you enjoy the scenery of the places they call home.
Even if you are an adventure-addicted person, the experience of visiting hill tribes in Sapa can also meet your expectations. As the traffic system here is just in its infancy, the two only ways to get to the villages as well as to go sightseeing around are by bike and on foot. Adventurous tourists can enjoy the hiking experience, together with the risky feelings whenever having to transport from villages to villages of locals here. Surely, it will be an unforgettable experience!
For ones who want to book a homestay so that you can have the most genuine insight into the tribes' lives, there would be women friendly accosting you after you reach Sapa for helping you do that. However, there are also some things to note for homestay. You have to keep in mind that: going on a homestay with ethnic people sometimes means you will have to eat simple or even local food (most of them have strange taste), use an outdoor bathroom with cold water or sleep on such a thin mattress. But, this is how most ethnic people live for years and only by trying those experiences you can totally immerse in their lives.
3. Halong Bay Kayaking
Kayaking through Halong Bay is a must-do bucket list activity and by far the best way to explore all that the bay has to offer. Sliding through the water in a nifty kayak gives travelers more independence, and allows them to reach places that cannot be reached in cruise ships. Kayaking tours are offered by most Halong Bay cruises. Before embarking on a kayaking adventure there are a few things you should know.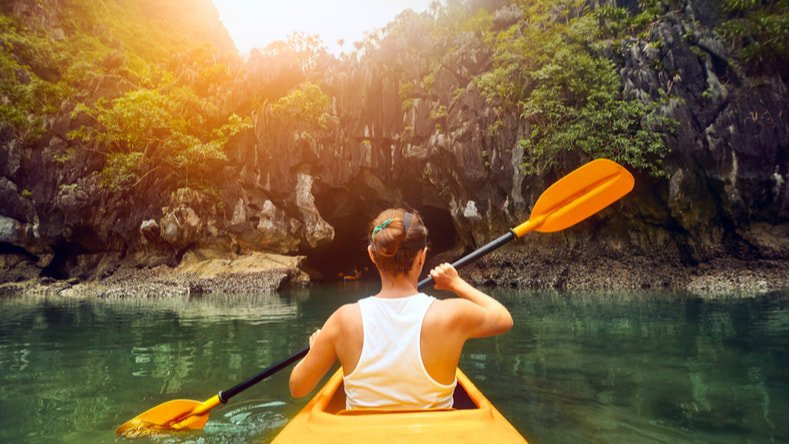 Photo: Halong Bay
Follow these safety tips and be well-prepared for a kayaking trip:
Before kayaking warm your body up with a bit of movement beforehand - the last thing anyone wants is a cramp while in a kayak.
Listen carefully to the tour guide and remember details of the route, timings and rules.
Wear a life-vest.
Be aware of the weather, tides and currents and the wind strength.
Stay well away from cliffs, caves and rocks.
Never, ever go kayaking whilst intoxicated. It's dangerous and not worth the risk.
Ensure you hold the oar with your arms about the same width as your shoulders, with the concave sides of the oar facing behind you.
The key to success is good preparation. Make sure to include the following things on your kayaking adventure:
One life-vest per person.
Water bottles for each person.
Sunscreen in a high factor.
Insect repellent.
Camera.
Swimsuit (in the summer months, March to August)
Good, comfortable shoes.
4. Riding on a Cyclo in Hanoi
You can't walk far in Hoan Kiem, particularly around the old streets and the lake, without seeing a cyclo. You can't even walk far without being accosted by a cyclo driver, offering to take you on a ride around the area. In other words, the answer to the question, "Where can I get a cyclo in Hanoi?" is easy: "Anywhere there are tourists."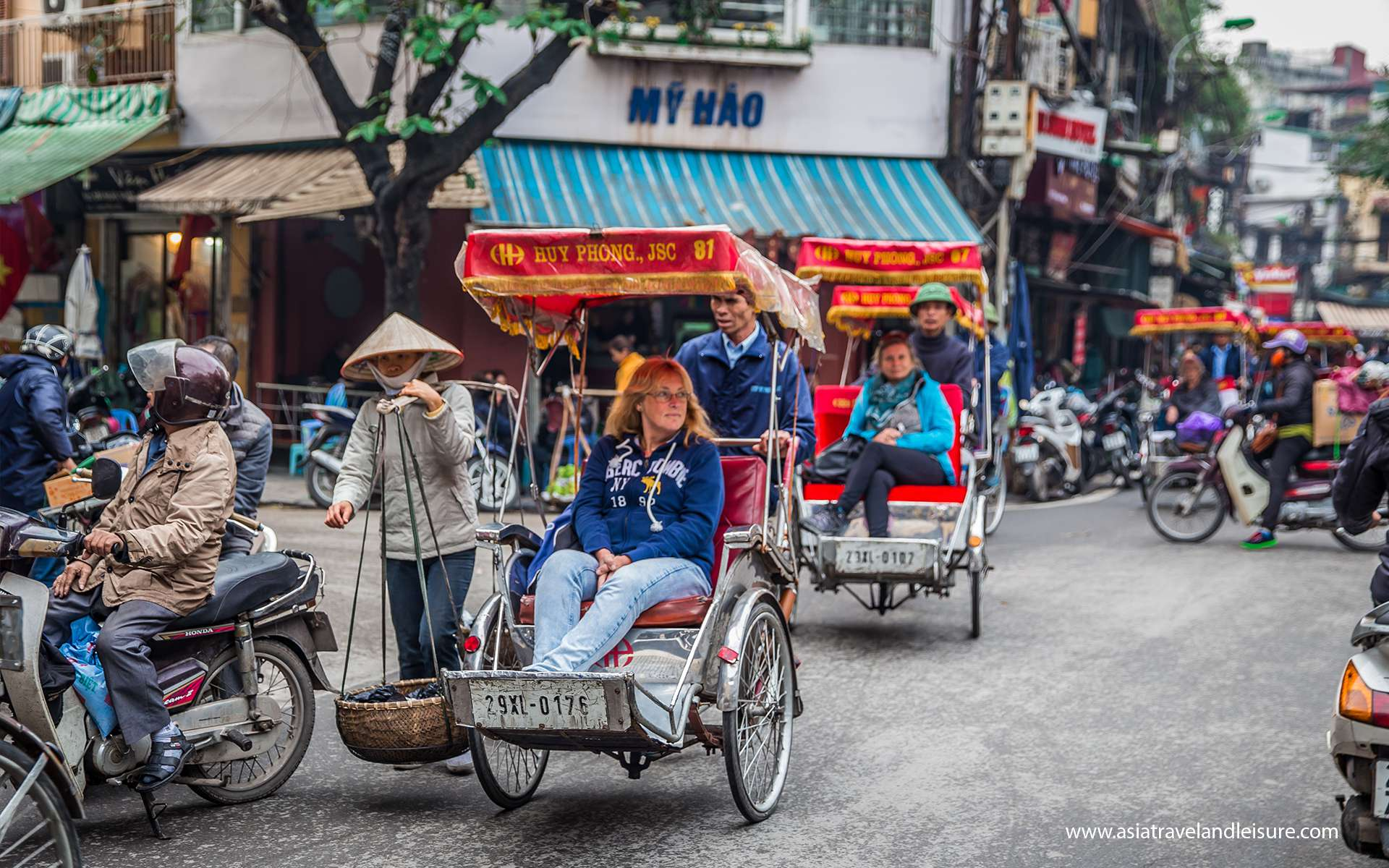 Photo: Asia Travel And Leisure
That said, if you do manage to pick a time when there are none about, head to the north of the lake; quite a few usually cluster near the tourist office opposite KFC or around by Ngoc Son pagoda. If it's a sunny day, many can be found in the shade along the southern end of Hang Dau, behind the soldiers' monument. Further south, the area around the Opera House — next to the park opposite the Hilton Opera Hotel or towards the History Museum — is a popular waiting spot.
The standard offer is a one-hour trip around the Old Quarter streets: expect to visit Hang Bac, Ma May, Hang Ma and the other usual suspects. To get a bit more variety ask to include a ride around Hoan Kiem Lake and over to the Opera House and past the Sofitel Metropole — that should be feasible in an hour.
As well as the sightseeing tours you can also take a cyclo instead of a taxi or motorbike. I'd only really recommend this if you're going somewhere reasonably close to the centre, and would combine it with the Old Quarter tour. For example, the ride out to Quan Thanh temple or Tran Quoc pagoda, near West Lake, is pleasant enough, and if you don't want to stop and go in you could just stick with the cyclo for a ride around Truc Bach lake. Alternatively, you could take a cyclo over to the Mausoleum, as you should get to pass Lenin Park and the flag tower.
Now to prices. A reasonable price is 100,000 VND for one person for one hour. If two of you want to share then expect to pay a bit more. You might be able to haggle down a bit lower — 100,000 VND was the first asking price of one driver I talked to yesterday, which suggests he would have dropped it had I asked, the next started at 150,000 VND — but remember, these guys are cycling your weight around for an hour in the heat and probably only get one or two passengers a day, so don't be too hard on them.
5. Explore Cu Chi Tunnels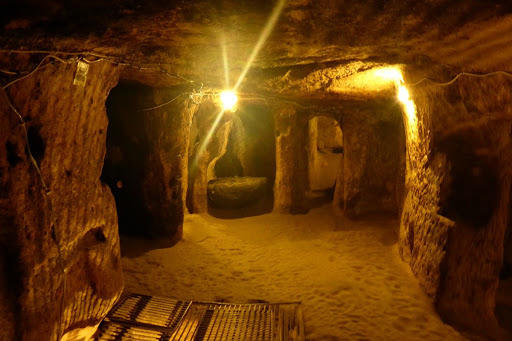 Photo: The Asia Budget Travel
The Chu Chi Tunnels are part of a massive war museum in Ho Chi Minh. They offer visitors a sneak-peek at the underground life of Vietnamese soldiers back in 1948. The site has over 120km of underground tunnels, with trapdoors, living areas, kitchens, storage facilities, armoury, hospitals, and command centres. After the war against the French, Vietnamese soldiers expanded the tunnels and included effective air filtration systems, which helped them survive the Chu Chi carpet-bombings.
It is now one of Ho Chi Minh's most iconic attractions. You can enjoy plenty of activities during your visit. A popular option is following the narrow routes of the underground tunnel. Before entering the underground tunnels, visitors watch a short film of Chu Chi Tunnels so that they understand how the tunnel system works. Parts of Chu Chi Tunnels are also cemented and widened, so that the crawl is less harrowing than it would have been in the past.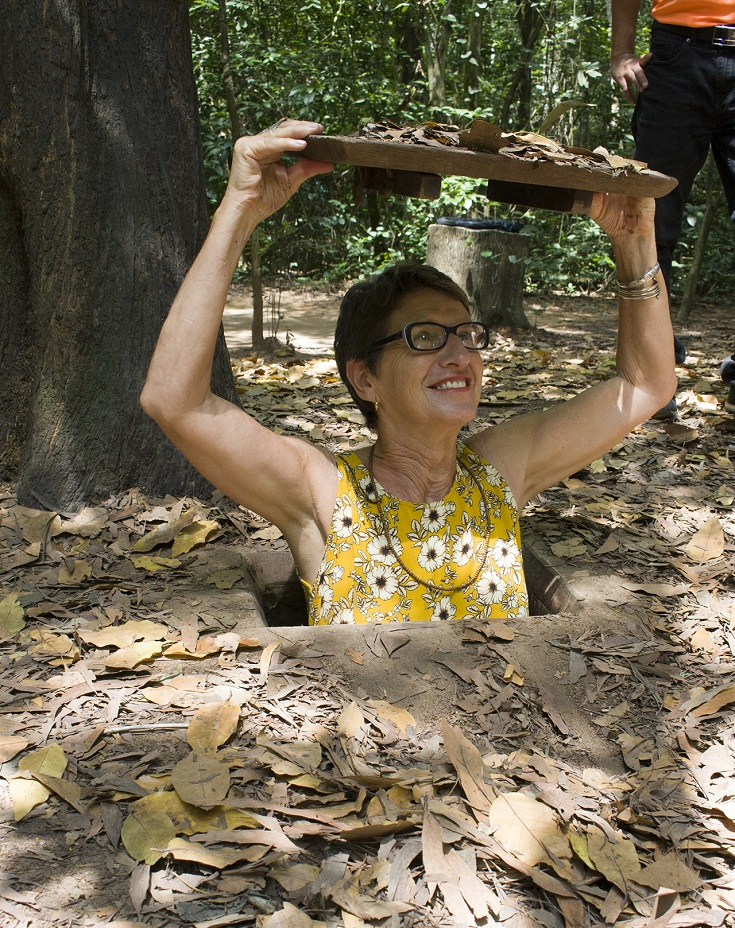 Source: hanatourist
There are emergency exit points every 10 metres for safety.. Do note that the 100-metre crawl through the underground tunnels may be unsuitable if you have breathing difficulties.
The Chu Chi Tunnels also host a shooting range. The cost for firing an M16 rifleis priced at VND 35,000 per bullet, with a minimum of 10 bullets. There's a restaurant serving meals that the underground soldiers had to live with years ago. The Chu Chi Tunnels are an hour's drive from Ho Chi Minh City. There are tour operators that can arrange for a half-day tour for 825,000 VND upwards.
6. Checking out Bui Vien Street / Beers at Bia Hoi Junction in Hanoi
Bui Vien Street is the main street of the so called 'backpackers area' of Ho Chi Minh City. Here you find a wide variety of inexpensive restaurants, bars, souvenir shops and hotels/hostels. While being seated at one of the places you can soak up the local lifestyle and culture. You can shop, dine and party on Bui Vien Street.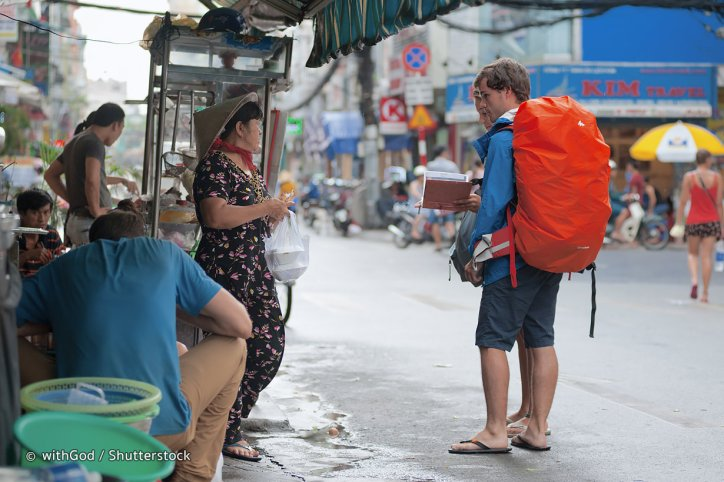 Photo: Shutterstock
The total 'backpackers area' consist of roughly four streets and some small interconnecting alleys. To have dinner here is very affordable and will cost you around 100-200.000 VND, for this amount you will have a decent meal including a drink. The options vary from Vietnamese, Indian, Italian to Chinese and Western.
On Bui Vien street you also find many bars that offer drinks with a view of the busy city life. Depending on the location you can have a beer for 10.000 VND to 80.000 VND. Besides this there are many souvenir shops that sell affordable gifts ranging from paintings, statues to clothing and bags. As this is the heart of the city centre it can easily be reached by foot or taxi and almost all locals in here speak English. It gets busiest from early evening, around 18:00, with the many bars and pubs popular until 2am or even later.
Going to Bui Vien (or Vietnam on a large scale), Bia Hoi (fresh beer) is a must-try for tourists. In Vietnam, you can try the most inexpensive Bia Hoi in the world with the highest quality. Bia Hoi Junction has been widely considered as a quintessential spot for nightlife people, where everyone can have a pint of Bia Hoi from a mere 5,000 VND. Buying some snacks from a number of makeshift stalls nearby and then you can freely chit-chat or even make new friends.
7. Crossing the Street
Trying to avoid crossing the street in the peak hours, honestly, but if you have already gone out, then please do not worry, you are just going to enjoy Vietnam's one of the most chaotic (sadly) and unique specialty.
In Vietnam, people's most common means of transportation is the motorbike; therefore, sometimes crossing the street (or getting around Vietnam cities) would also mean you will have to cope with hundreds (yeah, you are right, HUNDREDS) motorbikes coming closer and closer to you. In this case, tourists had better find a group of locals to stick to, try to go at a gradual pace, and pray!
8. Cycle around the Mekong Delta
Hearing this for the first time, many people would be surprised but honestly, this experience would offer you numerous other experiences that are unforgettable, too. Mekong Delta Region contains a tremendous number of quiet roads, peaceful paddy fields as well as friendly native people, which are truly all the core factors of forming a perfect cycling area.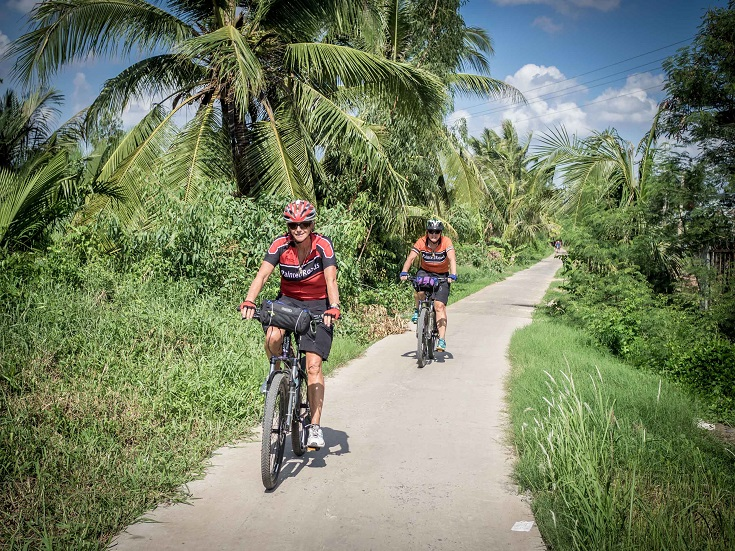 Experience rich local traditions, picturesque scenery and tasty specialties on the back of a bike (source: excursionvietnam)
The Mekong Delta is a network of tributaries in southwest Vietnam, between Ho Chi Minh City and Cambodia. The river itself starts in the Himalayas and passes through China, Myanmar, Thailand and Cambodia before reaching Vietnam, which partly explains why the waters are so murky.
More than half of Vietnam's rice and fish comes from the delta region, so you can see how vital it is to the Vietnamese economy and diet. Life in the area revolves around water, from the famous floating markets to the vast agricultural industries; a variety of fruits, flowers and livestock grow in the region.
Hundreds, if not thousands, of tour groups come to this city every day, making it the most visited city in the Mekong Delta. Besides their famous floating market, there are also impressive pagodas and local orchards to visit at this city, just two hours from Ho Chi Minh City by bus. Don't expect to find much off-the-beaten track kinds of experiences here, as the destinations are all designed for day trippers; most of the tourism in this city is packaged by the local tourism bureau.
Moreover, by traveling on your own and following your own schedule, visitors can have a closer view of locals' daily working life. Also, this type of traveling allows tourists to stop by and try the freshest fruits being harvested from the nearby gardens. Therefore, if you a peace-hunter, this experience is undeniably suitable for you.
9. Explore Hanoi Old Quarter
Hanoi, Vietnam's capital lies in the North of the country and is one of the country's top tourist hot spots. It offers French-colonial architecture, a rich food culture and a long history (the city celebrated its millennium in 2010.) The most well known and important districts in Hanoi are Ba Dinh District (aka the French Quarter) where the government offices are located and Hoan Kiem District (aka the Old Quarter) which is considered the city's business hub and main tourist destination.
Photo: Guide Vietnam
One of Hanoi's most common sights is that of streets packed with scooters, bicycles and cars swarming around pedestrians like a school of fish. Then there are the many sidewalk vendors and people simply out for a stroll and the popular Old Quarter is no exception so walking around this district is distinct from a leisurely stroll in the park. Visitors have no choice but to face the traffic in the local style but the experience of exploring the historical area is a must-do and truly well worth it.
In Vietnam, French baguettes and coffee have something very much in common with pho rice noodles as the locals consume them in massive amounts daily, so they're sold everywhere. Food choices in general are good and dishes come at cheap to affordable prices no matter where you prefer to dine.
When in the mood for the real deal (cha ca, banh goi and pho are among the top of the list) try out one of the many street stalls around the Old Quarter. You will be surprised by how delicious simple dishes taste.
Other parts of Hanoi might quiet down at night but the Old Quarter is where night owls head to. Live music, discos, clubs and bars as well as decent karaoke joints are the norm here.
Though the numbers might be limited compared to other large Asian cities, what's on offer here is well enough to keep people from all walks of life happy and university students, office staff and expats are among the friendly crowds.
10. Experiencing the Mystical Magic of Ninh Binh Landscape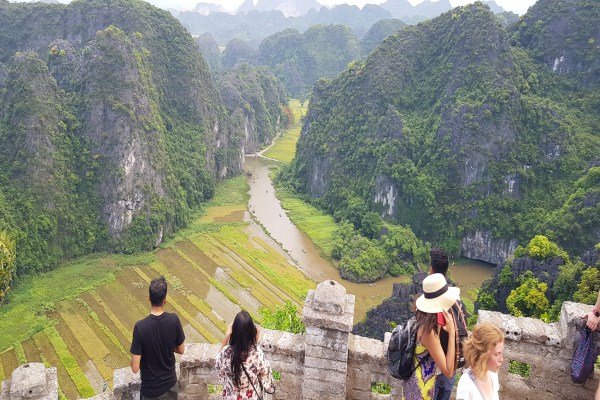 Photo: Vivutravel
Far too few travellers make it to Ninh Bình, a mesmerizing area known locally as 'Ha Long Bay on Land' thanks to its magical riverine landscape, with sheer limestone mountains rising up from the paddies. The best way to get a sense of this UNESCO-protected site is by taking a paddleboat tour along its shimmering rivers, and climbing to the top of its fabled peaks.
See the view from Hang Múa
Get a bird's-eye view of Ninh Bình at Hang Múa, where 500 steps have been dramatically carved into the steep face of a mountain. At the top, a lookout point offers a surreal vista of the river winding lazily among paddies and limestone outcrops.
Take a sampan tour
At the Tam Cốc and Tràng An boat docks, each sampan is guided by a boat person who rows with their feet, not their hands. You'll be expertly guided along gentle waterways, past towering karsts, and into dripping grottoes.
Visit the ancient capital
Today the capital of Vietnam is Hanoi, but in the 10th and 11th centuries that honour was held by Hoa Lư. This small ancient city was naturally protected from invasions by karsts and rivers. Today, it's a good place to get a history fix.
Go in search of wildlife
An exotic row boat experience is a must-do at the Vân Long Nature Reserve. Keep your eyes open for exotic friends, such as the black-faced spoonbill and the Delacour's Langur, one of the world's most endangered primates.
Pay a visit to the Bai Dinh Temple
The largest complex of Buddhist temples in the country, Bái Đính is a mix of old and new styles. Ancient temples are housed in caves you can only reach via a pretty climb of 300 steps, while the new temple area covers an area of 500 hectares.