4 hospitals in Hanoi treat Covid-19 patients
Four hospitals including Bac Thang Long, Duc Giang, Thanh Nhan and Ha Dong will receive and treat Covid-19 patients due to a difficult pandemic situation at the National Hospital for Tropical Diseases in Dong Anh District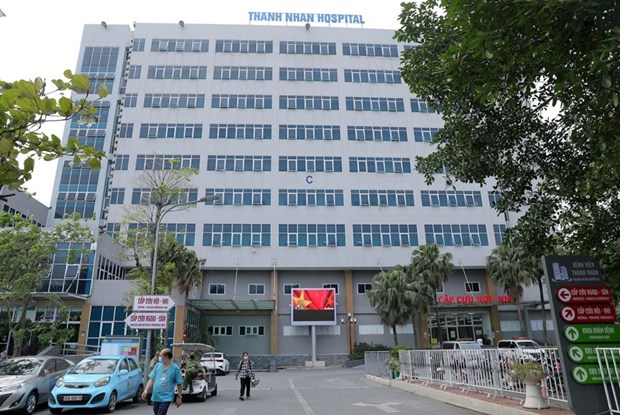 Thanh Nhan Hospital in Hanoi. Photo: Vietnamplus
Hanoi Department of Health on May 16 issued an urgent document directing four hospitals, in Bac Thang Long, Duc Giang, Thanh Nhan and Ha Dong, to receive and treat Covid-19 patients, Vietnamplus reported.
The National Hospital for Tropical Diseases in Dong Anh District has been placed under lockdown and no longer receives Covid-19 patients, except critically ill ones as it has grappled with a new coronavirus outbreak.
As of May 16, the hospital has reported 89 infections.
Previously, the Municipal Health Department provided medical equipment for four hospitals to treat Covid-19 cases.
These hospitals have been requested to ensure human resources, medical equipment and the necessary conditions to receive and treat Covid-19 patients in accordance with the health ministry's regulations and to arrange separate living areas for medical workers to avoid cross-transmission.
Vietnam recorded 30 new Covid-19 infections, including two imported cases and 28 in quarantine facilities, in the last six hours to 12 p.m. on May 17, according to the Ministry of Health.
Among the domestic cases, 14 were detected in Bac Giang, seven in Dien Bien, five in Ha Nam, and two in Lang Son.
The new cases have lifted the national tally to 4,242. A total of 1,078 cases have been counted since the fourth Covid-19 wave hit the country on April 27.
The health ministry's Medical Examination Administration reported that among the active patients undergoing treatment, 46 tested negative to the coronavirus once, 26 twice, and 28 three times.
As many as 2,668 patients have been given the all-clear from the virus, while the death toll now stands at 37.