8 Kinds of Banh Mi in Saigon
Being in lockdown during Covid-19 pandemic can be a dreadful time, these 8 Banh Mi dishes becomes a "nostalgic" memory for Saigonese who love street food. Check them out when things are safe again
Photo: Tam Linh
Sauteed bread with salted eggs is attractive for its fatty, soft pork, topped with delicious salted egg yolks. The ingredients also include a thick piece of hot roast beef, crispy pig skin, and spicy dipping sauce. This vendor is located on Ho Xuan Huong Street, Binh Thanh District.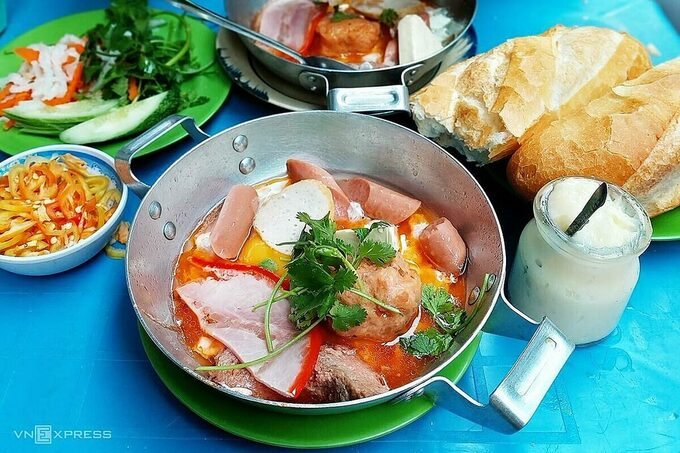 Photo: Tam Linh
Pan bread with fried eggs, pate, spring rolls, hams, sausages, cheeses and sauteed balls is a high energy breakfast dish for the guests. Crispy loaf of bread is cut into small pieces dipped in rich flavoured sauce in a hot pan, serving with pickles, coliander, thinly cut cucumber and spices. The restaurant is located on Dang Tran Con street, District 1.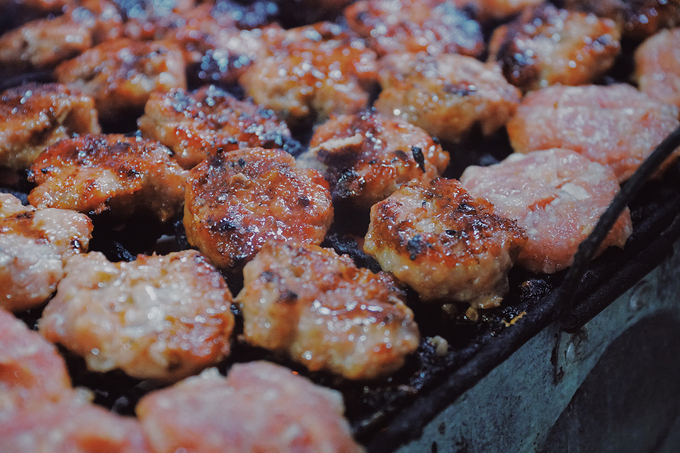 Photo: Di Vy
Bread with barbecued meat has the highlight of minced pork mixed with special sauce, shaped into small meatballs and grilled on chacoal fire until the meat has a lovely golden brown colour. The topping includes cucumber, sauce, minxed spices, cilantro and we have a delicious banh mi dish for tourists to eat in the afternoon. The restaurant is located inside an alley on Nguyen Trai street, District 1.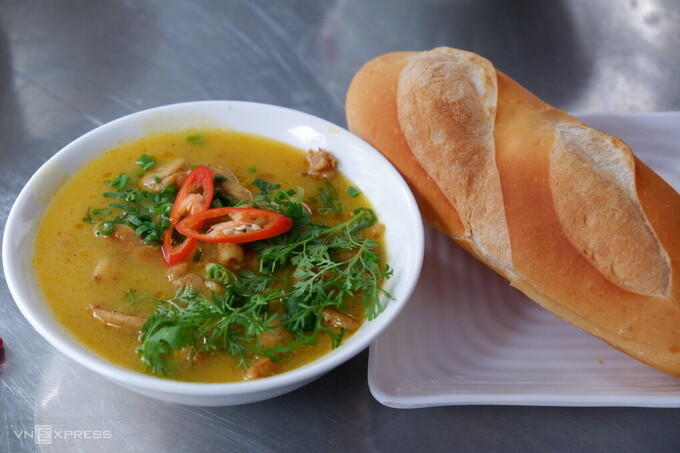 Photo: Di Vy
Offal with bread is a light afternoon snack in Saigon, with the hot pot restaurants in District 4 always crowded with guests. The dish is made with offal (pork, chicken, duck, or cow) that's marinated in a mixture of soy sauce, garlic, pepper, salt, sugar, white wine, cinnamon, star anise and five-spice powder. It is also important to have a cup of sweet and sour fish sauce for dipping the beef instestines, as this is the soul of the dish.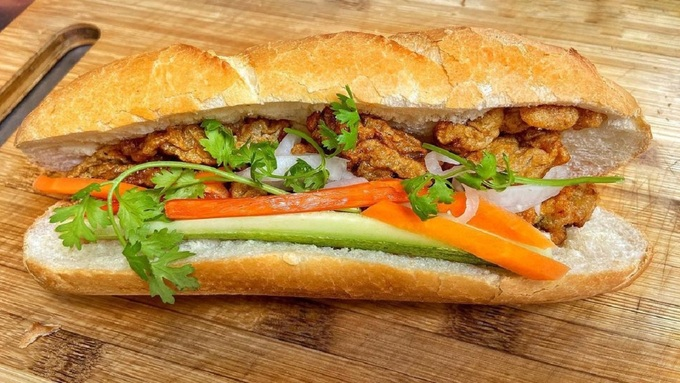 Photo: @banhmichihai/Instagram.
Walking along Saigon streets in the morning before Covid-19 outbreak, tourists could see several street vendors that sell banh mi with grilled fish (Cha ca), with the price ranging from VND 10,000 dong to 15,000. Fresh cha ca is fried in pan and eaten with crispy bread, with cucumber, cilantro or coriander, depending on each person's taste that the owners of the vendors will add chili sauce, soy sauce or pepper in the banh mi.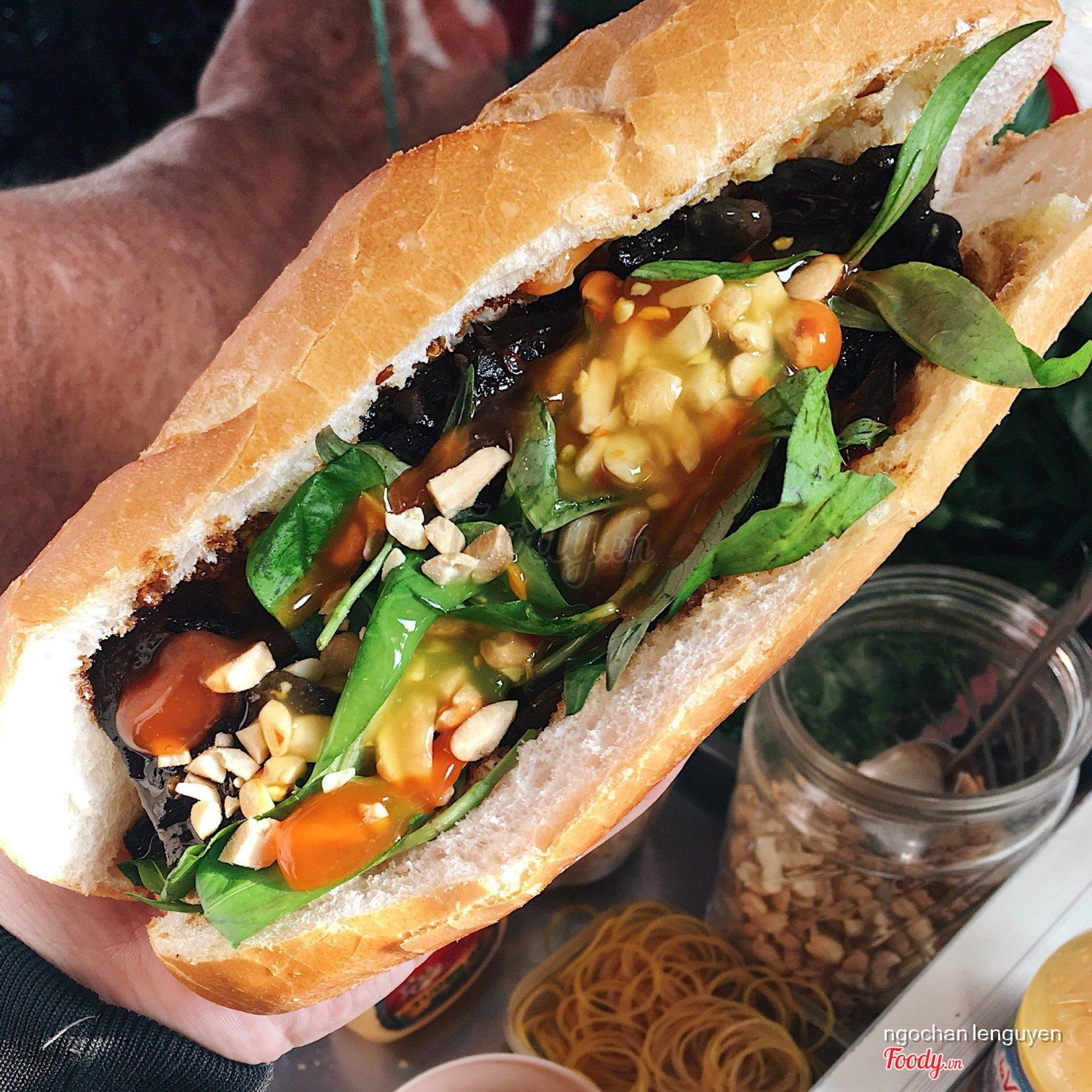 Photo: foody
Unique beef jerky bread with the crispy and delicious cut jerky, topped with coriander, chili sauce, and the fatty peanuts create a unique flavour. The restaurant also serves seperated beef jerky for the diners who request for more, as this dish has been famous for more than 20 years at Da Kao Supermarket, District 1.
Photo: @awiratedja/Instagram
Roasted pork bread is also a perfect choice for a quick and convenient, nutritious breakfast. The roasted meat is crispy and is soaked in different spices. Crispy bread on the outside, rich and fatty pork inside, blended with the fresh taste of cucumber, cilantro, spicy red chili, salty sauce to revive the morning taste of any diners.
Photo: Thai Bao.
Bread with anchovy fish sauce attracts diners with boneless cooked fish that is delicious and fragrant. The fish are chosen very carefully, cleaned and then stewed for hours with coconut milk and seasoning. Cooked fish is kept in a charcoal pot to keep warm, and the owners will bring the fish out, grinding and spread the meat on bread, adding pickles, cucumber, fish sauce and chili sauce. This strange, unique food is loved by many tourists from different places.