81 Countries, Territories Now Accept Vietnam's Vaccine Passport
Vietnam's vaccine passport can now be used across 81 countries and territories globally
Vaccine passport form displayed on the PC COVID-19 App. Photo: the Ministry of Health
Vietnam has achieved mutual recognition for Covid-19 vaccination certificates, known as "vaccine passports", with 20 countries so far.
Deputy Spokesman of the Ministry of Foreign Affairs Doan Khac Viet revealed the information at the ministry's regular press briefing on May 12, reported VOV.
The nation has reached agreements with Japan, the US, the UK, Australia, India, Belarus, Cambodia, the Philippines, Malaysia, the Maldives, New Zealand, Sri Lanka, Egypt, Turkey, Singapore, Saint Lucia, the Republic of Korea, Iran, Palestine and the Dominican Republic.
On May 11, the European Commission decided to recognize Vietnam's e-vaccine passport. Accordingly, the Vietnamese passport will be recognized by 27 EU member countries, and its QR code will also be certified and checked in the territories of 39 partners of the EU's e-vaccine passport system, he added.
As a result, Vietnam's vaccine passport can now be used across 81 countries and territories globally, the spokesman said, while putting down this achievement to coordination among the Ministry of Foreign Affairs, the Ministry of Health and the Ministry of Information and Communications to negotiate with partner countries.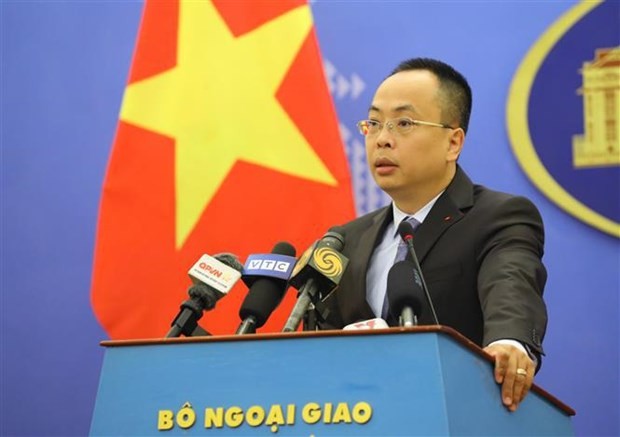 Vice Spokesman of the Ministry of Foreign Affairs Doan Khac Viet. Photo: VNA
Vietnam's vaccine passport follows standards issued by WHO and the EU. The passport will be available on the PC Covid-19 or Digital Health (So suc khoe dien tu) apps. If people don't have the apps, they can get their passports by accessing the health ministry's portal and filling in the necessary information. They will then receive the passports by email.
The passport template was revealed by the Ministry of Health in December last year, which has 11 fields of information: name, date of birth, nationality, targeted disease, doses of vaccines received, date of vaccination, lot number of the vaccine batch, type of vaccine, vaccine product received, the vaccine manufacturer, and a code for the certification.
By May 11, the country had injected 216,326,254 doses of Covid-19 vaccines, including 2,118,136 first shots for children from 5 to 11 years old.
More than 10 million people have been granted vaccine passports.