9.1 million Vietnamese workers impacted by Covid-19 in first quarter of 2021
As many as 9.1 million Vietnamese people aged 15 and above were affected by the COVID-19 pandemic in the first quarter of this year, Director of the Department of Population and Labour Statistics under the General Statistics Office (GSO) Pham Hoai Nam told a press conference on April 16.
Nam said that of those affected, 540,000 people lost their jobs and 2.8 million had to temporarily cease business and production activities.
Meanwhile, 3.1 million people said they had their hours cut or were forced to take time off from work, while 6.5 million workers reported reductions in their income, Vietnamplus reported.
Workers in urban areas were more severely affected than those in rural areas, with 15.6 percent of those in urban areas still affected, compared to 10.4 percent in rural areas.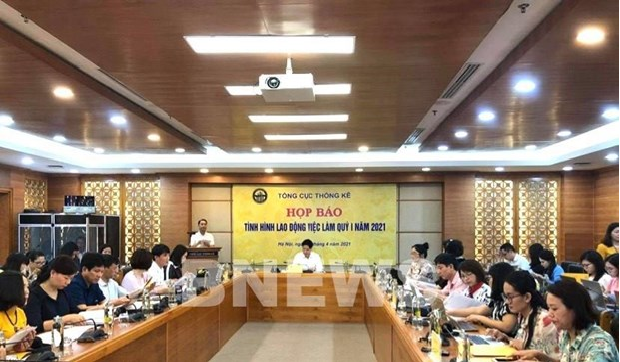 Participants at the press conference. Photo: VNA
Nguyen Minh Huy, deputy director of the department, said Vietnam recorded fewer workers in the first quarter of 2021 both quarter-on-quarter and year-on-year. Vietnam has long posted rising numbers of workers each year.
The workforce totaled 51 million people in the quarter, down 1.1 million quarter-on-quarter and nearly 181,000 year-on-year.
The GSO said the third wave of COVID-19 in Vietnam affected the recovery of the country's labor market, pushing a lot of people, especially women, into the informal economy.
The number of employed workers aged 15 and over in the first quarter was 49.9 million, down more than 959,000 against the previous quarter and nearly 178.000 against the same period last year.
32.1 million Vietnamese workers hurt by Covid-19 in 2020
The unprecedented impacts of the Covid-19 pandemic have forced 32.1 million Vietnamese workers aged 15 or above to either lose their jobs or have their working hours reduced in 2020.
As a result, the nation's labor force shrunk by 1.3 million workers to 53.4 million last year in what the government called unprecedented in the past decade, Vu Thi Thu Thuy, director of General Statistics Office (GSO), told the press.
Among the unemployed, 51.6 percent were women, according to Vnexpress.
The service sector was hit hardest by the crisis with 71.6 percent of workers affected, followed by the processing and manufacturing industries (64.7 percent) and agriculture (26.4 percent).
The average monthly income in 2020 was VND5.5 million ($236.52), down 2.3 percent over the previous year.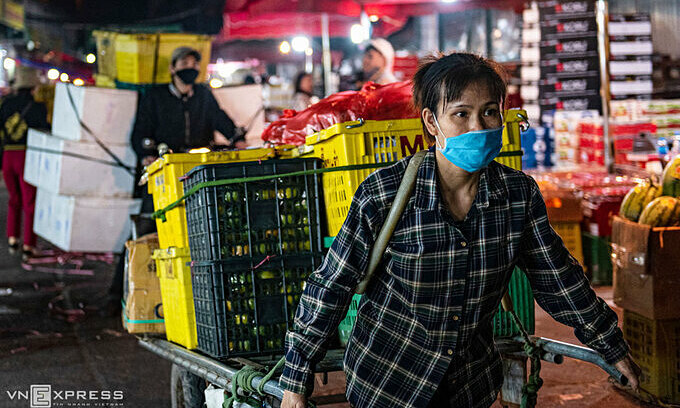 Workers at Long Bien Market in Hanoi. Photo by VnExpress/Thanh Hue.
Vietnam saw a 10-year record high unemployment rate of 2.48 percent, up 0.31 percentage points against the previous year. The urban employment rate was 3.88 percent, up 0.77 percentage points.
The severe Covid-19 impacts have seen as many as 101,700 businesses in Vietnam close up shop in 2020, up 13.9 percent year-on-year.
Businesses of all sizes and sectors have closed during the social distancing period the government imposed in April to contain the spread of the virus, while factories had to reduce staff working hours or let workers go.
The Vietnamese economy, unlike most others, was able to escape contraction in 2020 thanks to competent handling of the Covid-19 crisis. It grew at 2.91 percent last year.
Vietnam has set a GDP growth target of 6.5 percent for 2021 as it seeks to revive the economy following Covid-19 impacts.