A gift of bread: How Vietnamese border guards help local children
For many years, soldiers at La Lay border station (Dakrong District, Quang Tri Province) have made weekly bread deliveries to various schools (there are 14 in total) around the border. The border guards are far from their own families and helping feed the local children provides a source of comfort, and for some it even quells their homesickness.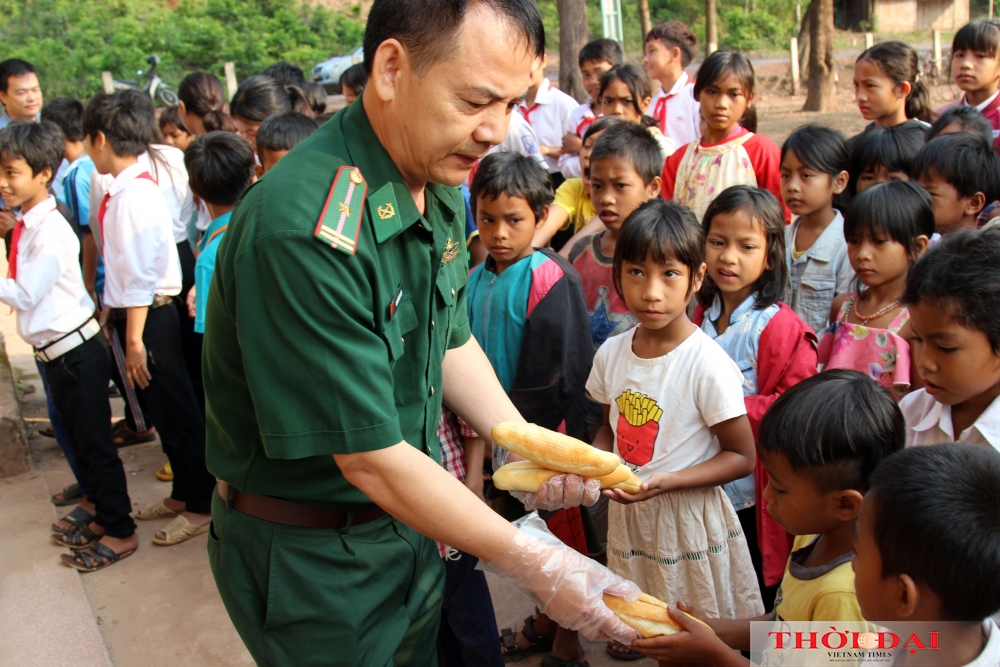 Children are really happy when receiving bread from border guards. Photo: Thoi Dai
Marching to the village laden with bread
On a quiet morning at the end of spring beside the Truong Son mountain range, the entire barracks are awakened by the alarm bell at La Lay border station. After washing and doing exercises, Captain Ho Van Thu and Deputy Political Officer Le Xuan Truong jump into a pickup truck, and rush back to A Deng village in Dakrong. They stop at the region's sole bakery and quickly put a batch of freshly made bread into bags before loading them onto the truck and heading off to a couple of local schools.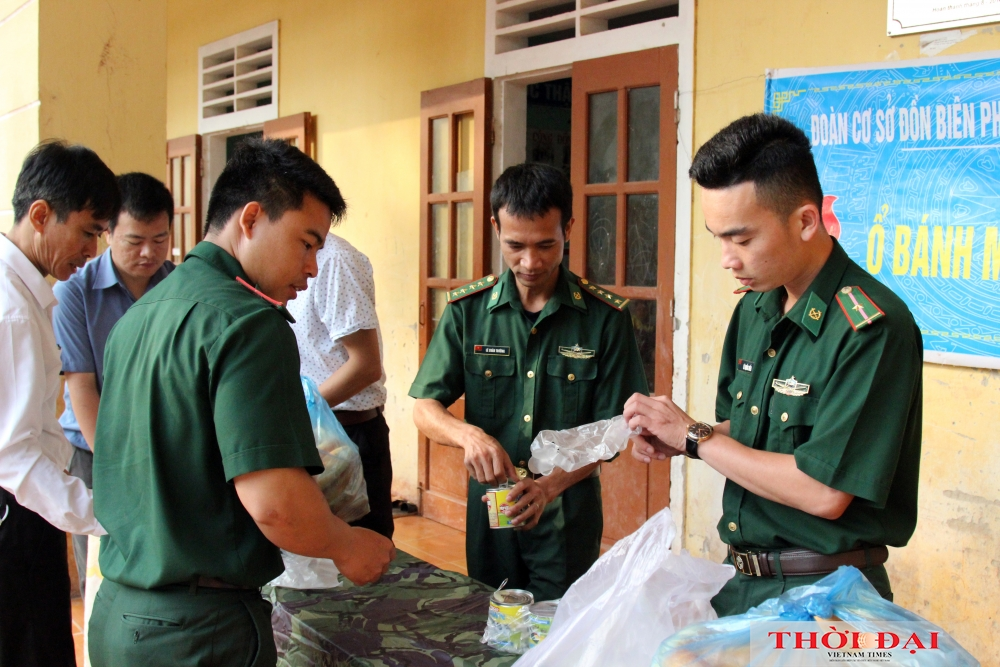 Border guards and teachers prepare bread for students. Photo: Thoi Dai
On arrival, the soldiers along with teachers arrange tables and chairs. After the bread is brought out, people begin cutting the loaves while others start to open cans of condensed milk.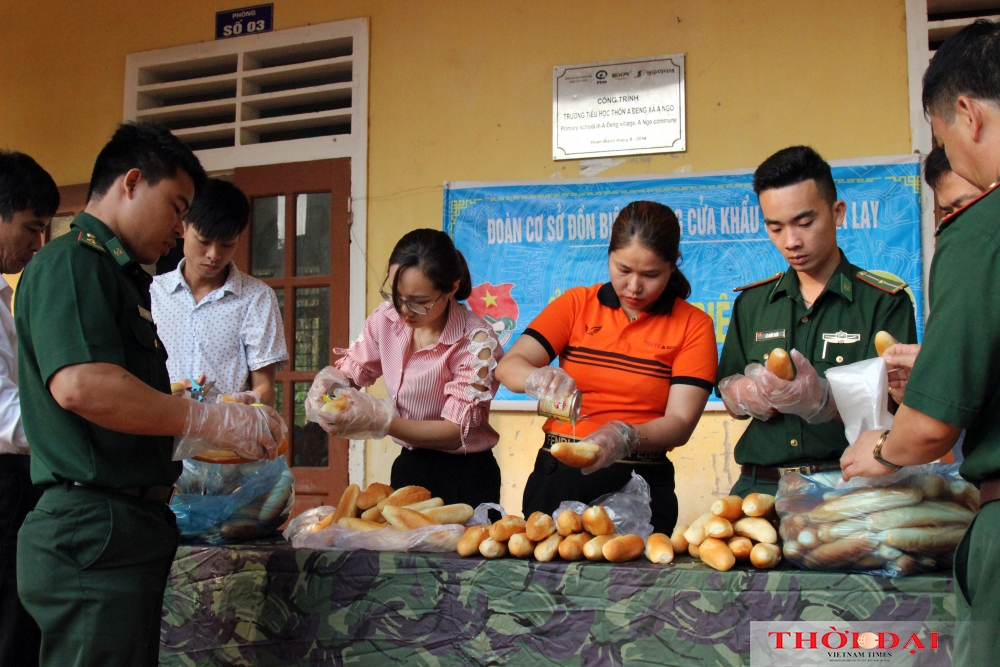 Photo: Thoi Dai
Outside in the yard, children of all ages wait to receive the fresh bread. Headmaster Hoang Quang Can and teachers instruct the students to stand in line. While waiting, teachers and students sing a song called "Lớp chúng mình" (My class). Headmaster Can urges a group of students who have just cleaned up the classroom to wash their hands before eating.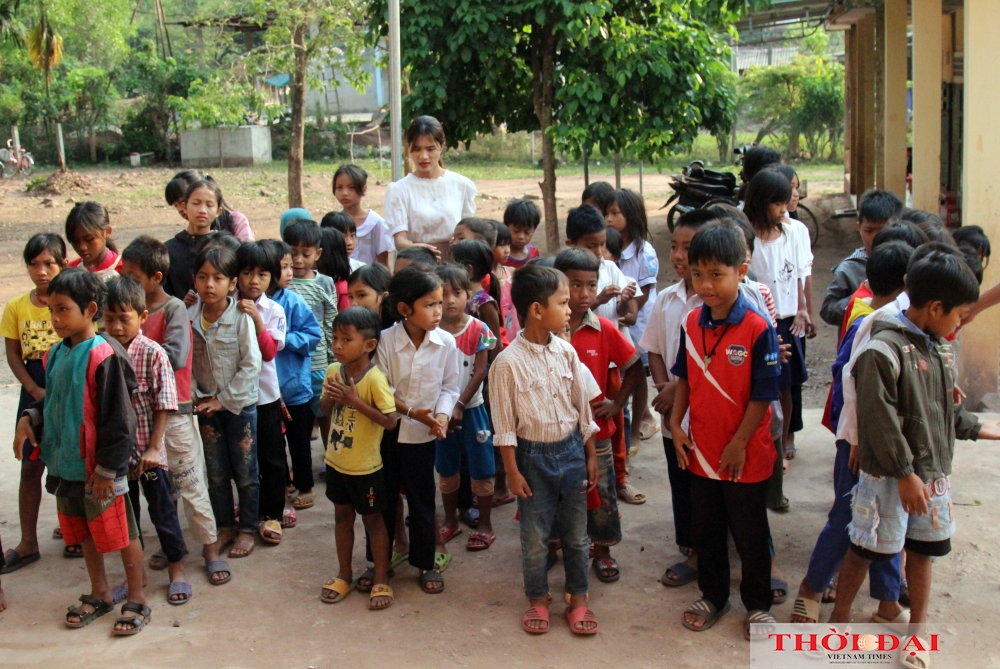 Students wait for their turns to receive bread. Photo: Thoi Dai
A total of 200 loaves, already cut and soaked in the milk has already been arranged neatly on the table. The border guards and teachers rapidly distribute the food to the students. In just a few minutes, every single loaf is gone. Groups of three to five students gather, the more gluttonous quickly eat their portions and ask for more, like modern day Oliver Twists.
Deputy Political Officer Le Xuan Truong says that due to a limited budget, each student receives only one loaf of bread. Nevertheless, the soldiers often buy a few dozen extra because some students seem more ravenous than others. Giving bread to the students is just one of the regular activities of La Lay border station soldiers.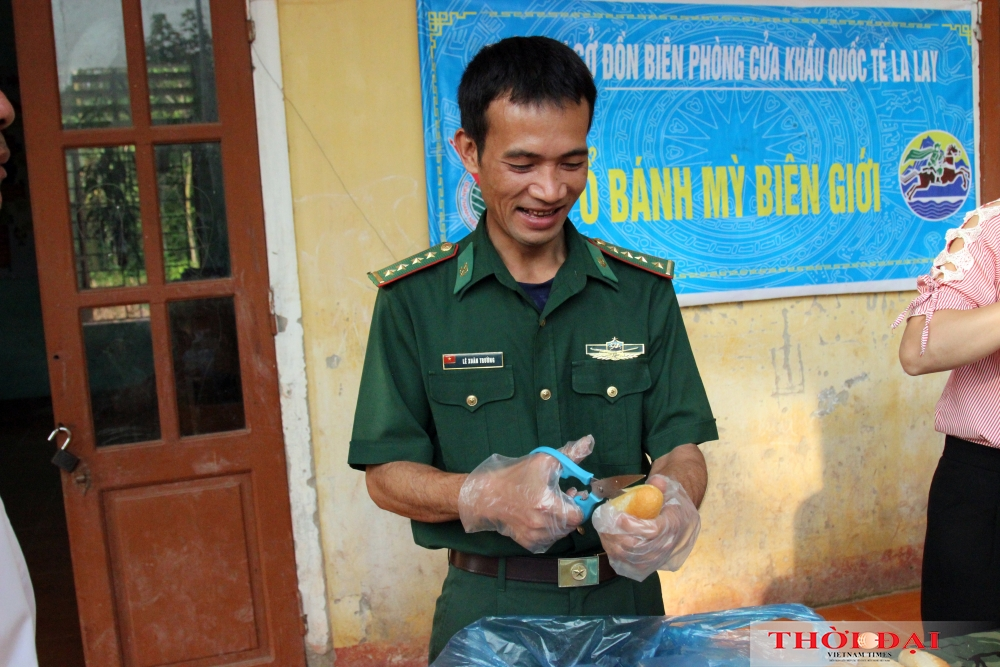 Deputy Political Officer Le Xuan Truong
"I feel both happy and sorry when seeing children eating bread. I remember at one school, a boy devoured a loaf of bread in less than a minute. He ate a total of four loaves," says Deputy Political Officer Le Xuan Truong.
Delicious and happy
Headmaster Can says that the local Ngo commune is home to 95% of Pa Co ethnic people. They only eat two main meals in a day. The first is at 8 a.m. after students arrive at school. The border loaves of bread partly help disadvantaged ethnic children.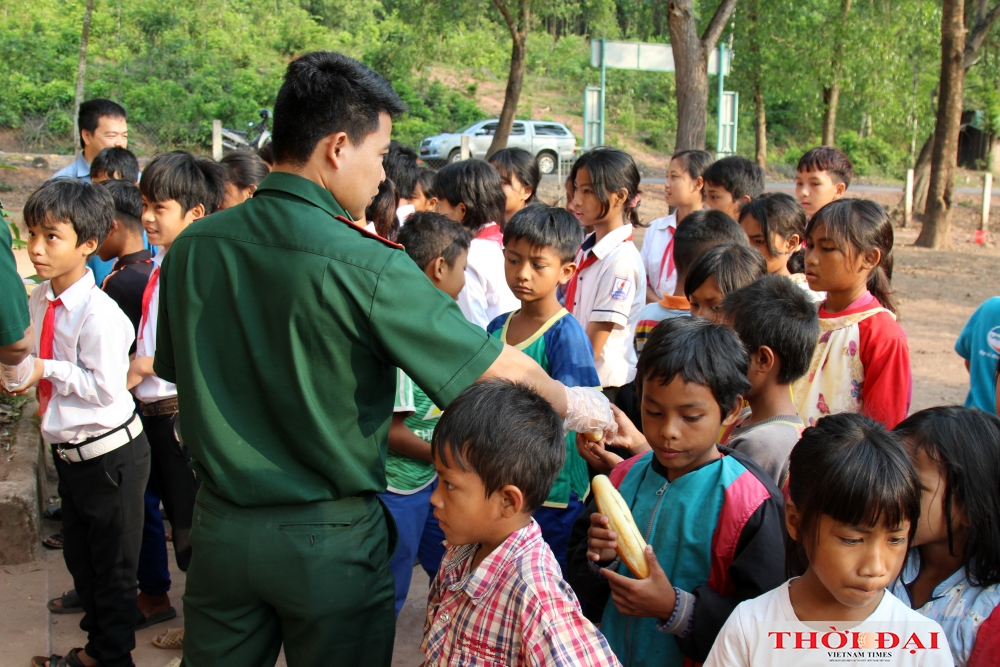 Photo: Thoi Dai
Ho Van Hung, from 3C class, says the first time that he ever ate bread was when it was given to him by the guards, and that he always looks forward to when the soldiers visit as not only does he get the chance to gorge on the baked goods, but loves to listen to the soldier's exciting stories.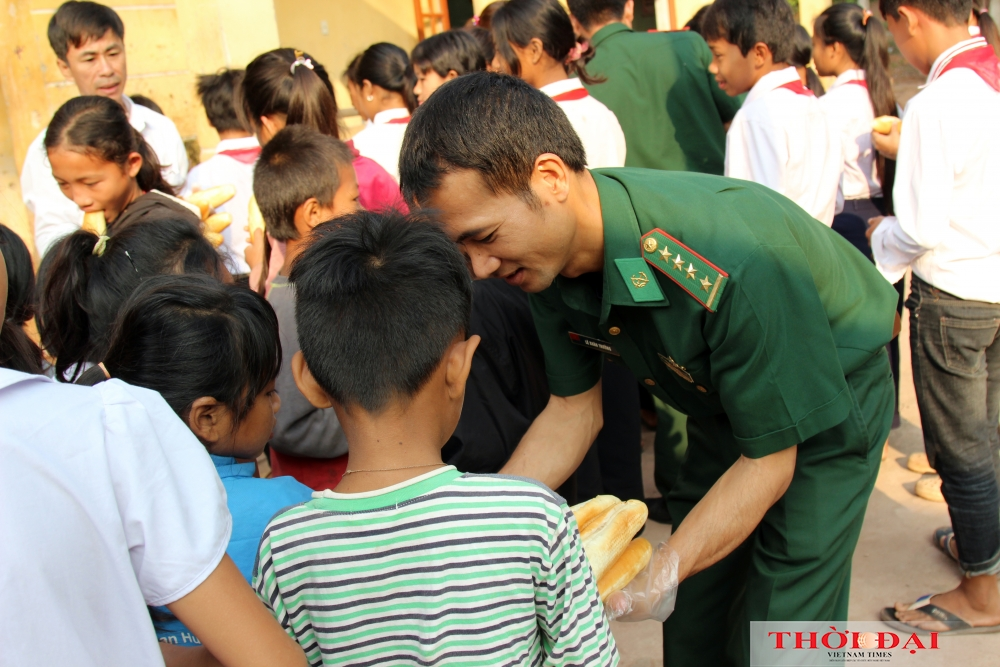 Border Guards distribute bread to children. Photo: Thoi Dai
One morning a touching moment occurs. A girl is standing alone, shyly, not eating. The young girl, Ho Thi Nhat, from 5C class, blushes and says that as soon as she receives the bread, she puts it in her bag to take it back home for her sister. She is worried if this is ok. "My sister is one-year-old and has never eaten bread brought by the border guards, so I will save my portion for her," she says quietly.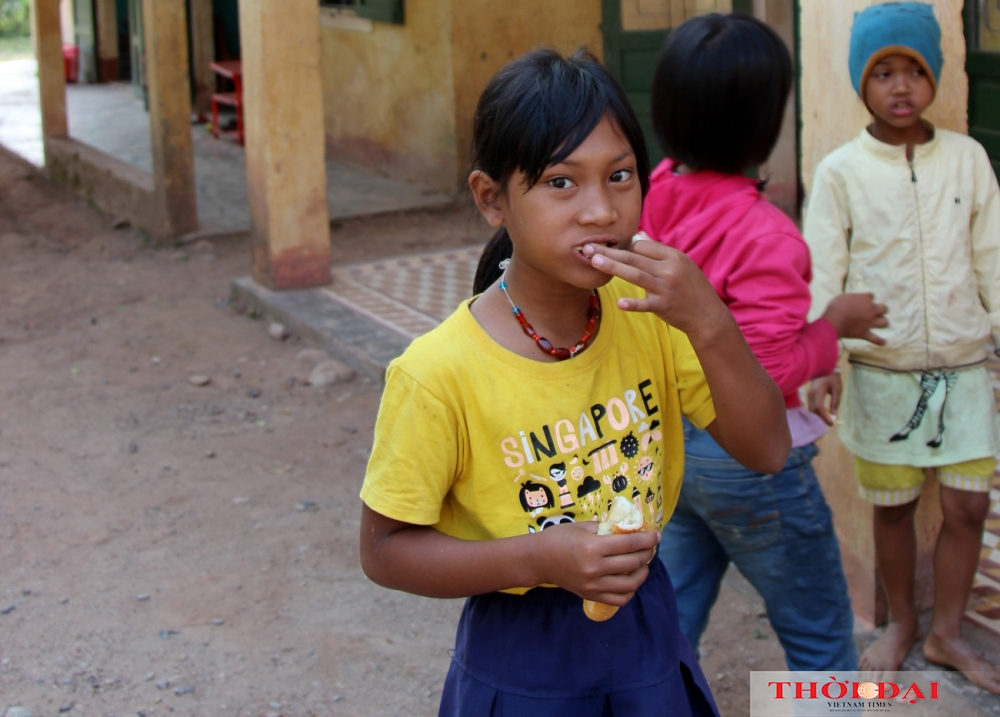 Ho Thi Nhat, from 5C class, lives in A Deng village. Photo: Thoi Dai
Lieutenant Ho Van Thu quickly gives the girl another loaf and says: "You caring for your sister and saving bread for her is really good. Don't worry about it. Here's some more."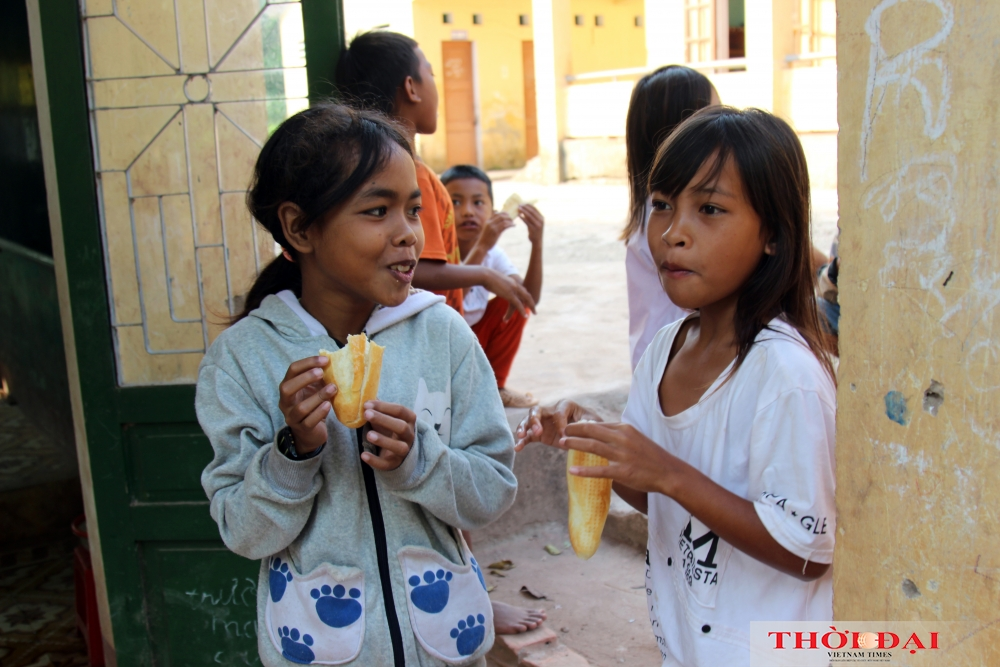 Photo: Thoi Dai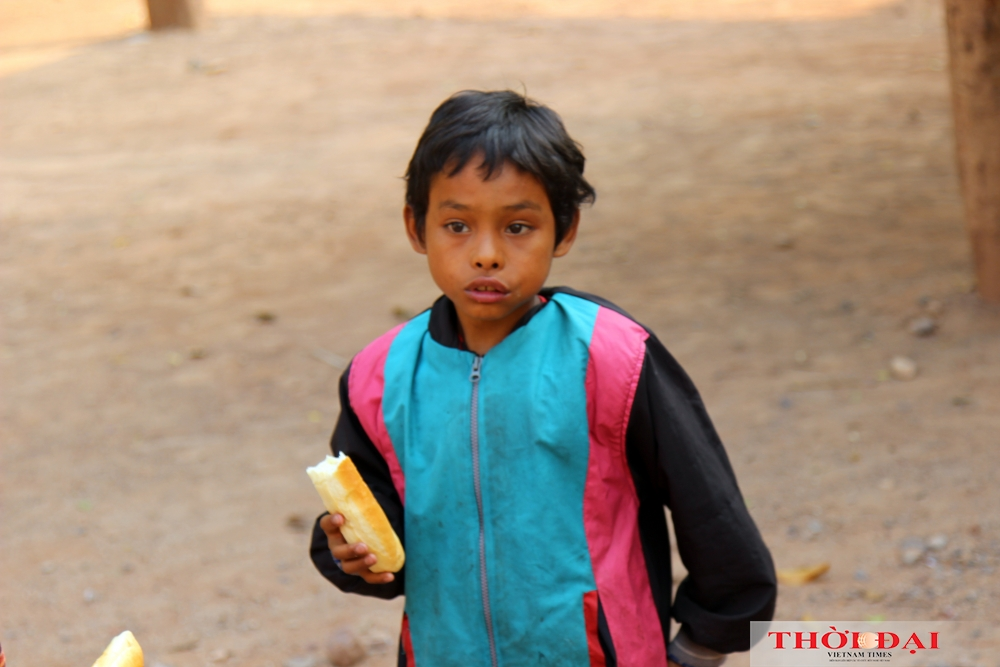 Photo: Thoi Dai
Hoang Quang Can, headmaster of A Ngo Primary and Secondary School.
Border guards in the region have long-held activities to support students. Most of the students here don't usually have breakfast, and due to only receiving bread once every few weeks, they are extremely eager.
"This is also an occasion for us to teach students about the border guards and the national border," says Hoang Quang Can, headmaster of A Ngo Primary and Secondary School.