Agent Orange Victim Dedicated to Helping the Disabled
Born a second-generation victim of Agent Orange, Tu Thi Nhat Linh has been facing health setbacks since she was a young child. Never giving up, Linh has been striving to overcome life challenges and support other Agent Orange victims to achieve a better life.
Despite her struggles, Tu Thi Nhat Linh has dedicated her life to helping others. She born in Dong Hoi city, Quang Binh province, in 1994, and is a second-generation Agent Orange victim. Linh's mother was exposed to dioxin during the Vietnam War.
Linh had a complex about her appearance as she was born with a red mole covering her right face down to the neck and right shoulder. Understanding what her daughter was going through, Linh's mother knocked on the doors of many doctors and hospitals, but to no avail.
The defect in appearance did not deter her. Linh achieved excellent academic results for 12 straight years and won prizes at various provincial-level student contests. In 2011, she was awarded the full scholarship to study IT at the Niilm University in Haryana, India, with support from the Vietnam Association for Victims of Agent Orange (VAVA).
During a health check in 2014 when she returned to Vietnam for a summer vacation, Linh was diagnosed with angioma, benign tumors derived from cells of the lymphatic vessel walls. The disease distorted Linh's face due to abnormal blood vessels. In addition to undergoing treatment, she had to endure surgeries to fix the deformed parts of her face. Linh's doctor informed her that the irregular blood vessels might leave seriously impact her health.
Tu Thi Nhat Linh (right) at an event to support people with disabilities. Photo:

Vietnam Times
"I was devastated when I learned of my disease. I knew that the chances I could return to normal were grim, but I decided to get treatment anyway. After 3 V-beam sessions and 1 surgery, I went back to India to continue my study. For six months, I fell into serious depression because I had not come to terms with my disease yet, and I was physically unwell due to the pain from the treatment," Linh said.
"During this time, I learned photography and visited the slums in Delhi with my friends. I talked to homeless people, who told me stories about their lives, dreams and worldviews. I felt I was so much luckier than them. Gradually, my thoughts changed. I realized it did not matter how long I could live. What was important was how I lived and what I could bring to the people around me and the society."
When Linh first came to India, it took her a while to get used to the new environment due to her health and harsh climate. The greatest challenge, however, was the language barrier. Linh could not understand lectures at the beginning, so she invested time and effort to study English. She slept for only 3 hours each day.
"Before I flew to India and throughout my time there, the staff at VAVA encouraged me to work hard because I was the first batch to receive the scholarship. If I gave up, VAVA might not be able to help other Agent Orange victims secure scholarships," Linh said.
"I wanted to repay the support I received from VAVA and inspire other dioxin victims to overcome the challenges they had been facing. I graduated in July 2016 as an IT engineer. I could choose to stay in India or work in other countries. In the end, I decided to return to Quang Binh."
In January 2020, Linh halted her job at an English center for a year to focus on social work. Photo:

Vietnam Times
Linh said "many children who are vulnerable, disabled or victims of Agent Orange did not have much access to English; this might hinder their chances to gain a better education. I came back to Quang Binh hoping that I could help them learn foreign languages. This could be a gateway to the better educational environment and change their lives."
After coming back home, Linh tutored other students, opened classes at her home and worked as an online lecturer on international platforms to enrich her experiences and income. Linh also took classes and acquired professional teaching qualifications. At the end of 2018, Linh was recruited as a permanent staff member. Gradually, she gained a stable income.
When she volunteered as an interpreter for a Canadian photographer coming to interview 21 households with disabled people in Quang Binh province, Linh met a paralyzed child whose greatest dream was to go to school. The fateful meeting helped Linh understand that her wish upon returning to Quang Binh was to help disabled people and Agent Orange victims.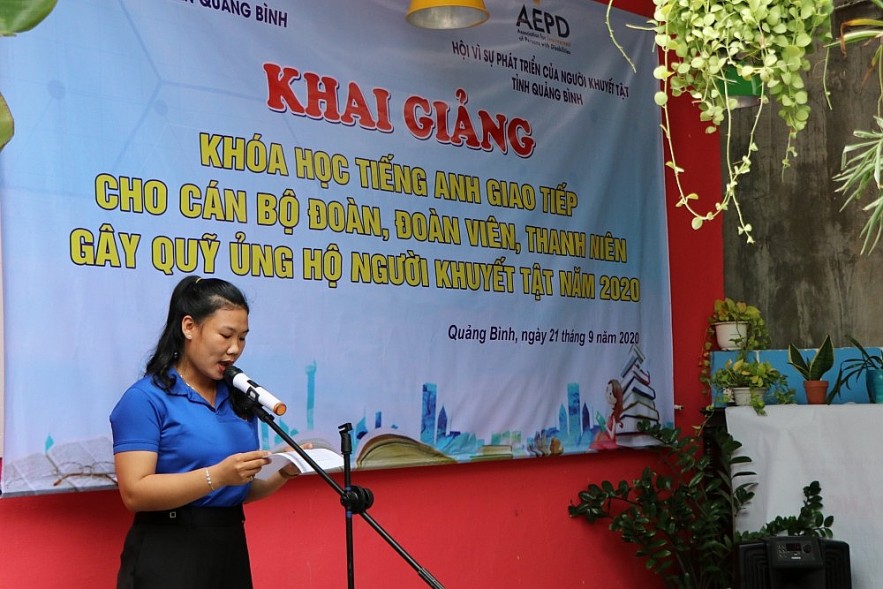 The Association for Empowerment of Persons with Disabilities in Quang Binh Province also works with other organizations to open English classes and raise funds for disabled people. Photo:

Vietnam Times
Linh applied to be a monitoring, evaluation and communications officer at the Association for Empowerment of Persons with Disabilities in Quang Binh Province. The association's mission is to provide livelihoods, health and educational support to disabled people.
In her new position, Linh met with thousands of vulnerable people in Quang Binh, including victims of Agent Orange. Together with other staff members of the association, Linh helped to improve the economy and health for disabled people across Quang Binh.
After a year doing social work, Linh returned to her original job as an English teacher. Linh is currently a deputy director for an IT and language center in Quang Binh and attends a training course on studying abroad held by the School Education Management Officer Ho Chi Minh City to prepare for her new venture: opening a studying abroad consultancy company at the end of this year.
Linh believes that "there are no individuals that are alike. We are all special in our own way, so we should accept ourselves and love our uniqueness. The best things will come if we live kindly and positively, always work hard and have dreams."