American Defies Covid, Proposes to Girlfriend in Ho Chi Minh City
Despite Covid ravaging the world, Evan Farfan flew to Ho Chi Minh City to propose to the Vietnamese girlfriend he met on the internet
When asked "what made you fall in love with Thuy Tien?" Evan Farfan could not answer.
"I could not choose when it comes to love. It came and turned my life upside down," he said.
The love story of 27-year-old Evan Farfan and the Vietnamese Thuy Tien began in February 2020, when Covid started to spread, forcing many people to stay home.
In Brooklyn, New York), Farfan was learning Vietnamese to prepare for his journey through seven European and Asian countries in the summer.
He joined a language exchange website, where he met Thuy Tien, a 23-year-old from Saigon, who was learning English to support her family's company.
Farfan sent her a simple greeting: "Xin chào! Tôi muốn học tiếng Việt" (Hi! I want to learn Vietnamese). With a similar purpose, their conversations flowed naturally. A few days later, they decided to call each other, so they could learn more effectively.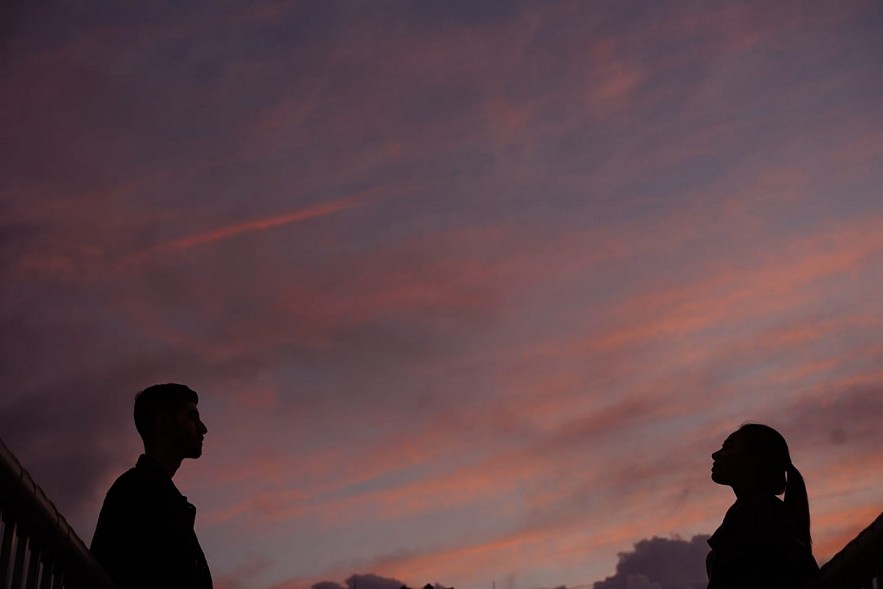 Evan and Tien met on the Internet. Photo: Evan Farfan's Facebook page
Farfan and Thuy Tien talked about their families, homeland and hobbies. The more they conversed, the more similarities they found between them. Every word and action of Thuy Tien attracted Farfan. He knew she was kind as she rescued and helped strayed animals.
Four months later, Farfan confessed to Thuy Tien but was rejected, because Thuy Tien believed their relationship would go nowhere. Farfan said his mind was filled with thoughts about Thuy Tien. "I have never had such strong feelings before. I knew she is my soulmate, my other half," he said.
On June 13, Farfan confessed his love again. He spoke Vietnamese at first, then switched to English. When languages were no longer enough, he cried.
"He treated me as though I was his everything. I accepted his proposal because he was so sincere," Thuy Tien said.
Evan Farfan embarked on the longest journey of his life to propose to Thuy Tien. Photo: Evan Farfan.
Farfan began to think about their future together. He canceled his travel plan. To save money and come to Vietnam, he took a part-time job aside from his work for his family's company.
He worked 12 hours a day. He messaged his girlfriend whenever he could. Every 10 days, he sent her a letter. They often turned on the camera and talked to each other all day long.
In early July 2020, Farfan booked a ticket to Vietnam the moment he heard the country was going to open the border. His tickets were canceled time and again. "Every time my ticket was canceled, I felt desperate. I packed my luggage already and kept them there because I believe I would meet Tien," he said.
When Vietnam resumed flights with some countries and foreign experts allowed to enter in October, Farfan found a job in a company in Ho Chi Minh City. The young American man was elated.
Evan said his love for Tien was incomparable. Photo: Evan Farfan.
As Americans of Colombian origin, Farfan's family shares the same family tradition with many Vietnamese families; his parents were worried when he was determined to go to Vietnam.
Their limited understanding of Vietnam also caused them to worry about his safety, especially as Covid had taken the lives of many young people.
Knowing they could not prevent him, Farfan's mother said she wished that he could find the girl of his dream. Before he boarded, he told his parents "I love and trust her. Please trust in me."
He underwent more than 20 hours of flight and many rounds of Covid test before he could leave Tan Son Nhat Airport and arrive at his quarantine hotel. He met Thuy Tien in person for the first time on November 20.
Looking down from the third floor, he could see Thuy Tien standing with two boxes of food in hand, wearing a helmet and facemask. Even though they could not see each other's faces clearly, he knew they were extremely happy.
Minutes after Thuy Tien had left, his doorbell rang; Farfan received the food Thuy Tien had prepared for him. He did not eat until Thuy Tien had made it home. Over the phone, he said, "No matter how much money, no matter how difficult it takes, being by your side is priceless."
When he was released from quarantine, Farfan woke up at 7 a.m. to prepare. He did not forget to double-check the engagement ring he bought in August. But life was not easy for the young man. As new cases were found in Ho Chi Minh City, he could not get out until night. At 8 p.m., Farfan stood in front of the hotel, seeing his girlfriend approaching from afar. They embraced each other without hesitation.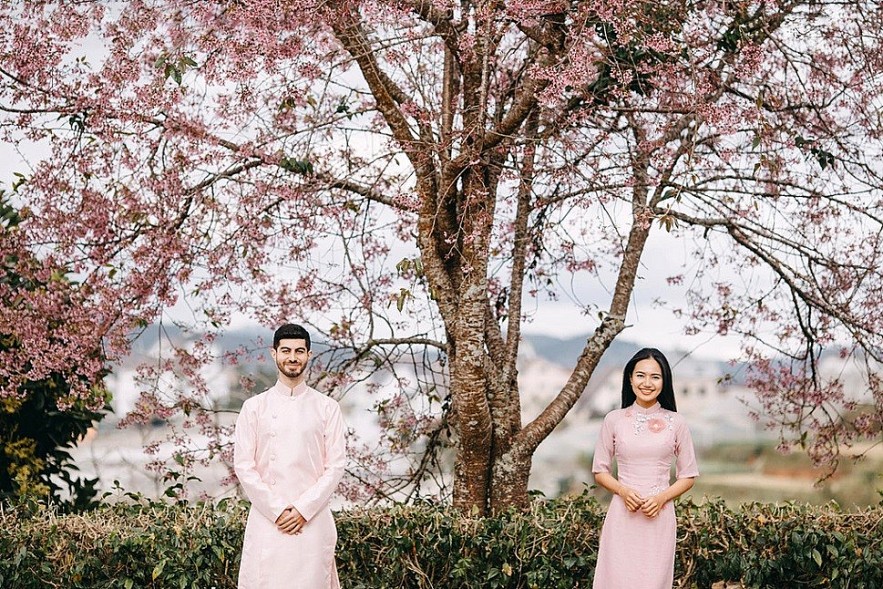 Evan and Thuy Tien got engaged in late 2020. When Covid is over, the young couple plans to hold a wedding with the attendance of both families. He can now converse in Vietnamese with his wife's family. Photo: Evan Farfan.
Arriving at Tien's house, Farfan got down on his knee and proposed to Tien. The day after, he asked for her grandmother and mother's permission in Vietnamese "Cho con được cưới Tiên" (please let me marry her).
Since they completed the marriage certificate in early 2021, Farfan has been living with Tien's family in Binh Thanh district. His good nature has charmed Tien's large family.
Outside his working hours, the young couple takes care of over 20 abandoned dogs and cats. As Ho Chi Minh City struggles with the latest outbreak, Farfan helps his mother-in-law and wife to cook 35 meals every day to give to people in need.
"I have no regrets even though New York has opened and people have more freedom now, while Ho Chi Minh City has entered social distancing for 3 months now. Nothing is better than staying by Tien's side and eating the food she prepares every day," he said.