ASEAN Holds Dialogues to Promote Human Rights
In a press release issued on May 3, Indonesian Foreign Ministry spokesman Teuku Faizasyah emphasized that the 2023 ASEAN Human Rights Dialogue is an Indonesian initiative supported by ASEAN member states.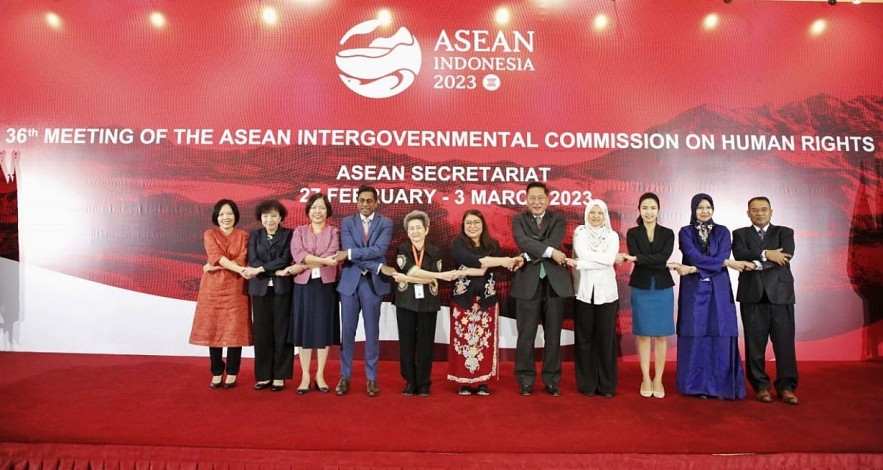 Delegates at the 36th ASEAN Intergovernmental Commission on Human Rights Meeting in Indonesia (Photo: Indonesian Ministry of Foreign Affairs)
The forum is as an open and transparent dialogue platform to discuss human rights issues in the region, said the diplomat.
Teuku Faizasyah said the initiative aimed to create a fair working environment for migrant workers, protect victims of extremism, and eliminate human trafficking and violence against women and children.
Earlier, at the ASEAN Intergovernmental Commission on Human Rights (AICHR), Indonesia's representative Yuyun Wahyuningrum said that Indonesia's initiative would cover ASEAN member states' interests of in promoting human rights in the region.
Through Indonesia's leadership, AICHR will conduct a Country Learning Visit for the first time. The representatives of ASEAN member states have visited the city of Bogor, and the Mulyaharja agro-edu-tourism village to witness first-hand the success of regional governments in the promotion, advancement, and protection of human rights.
In addition, interface meetings were also held between AICHR and a number of sectoral bodies, namely the ASEAN Commission on the Promotion and Protection of the Rights of Women and Children (ACWC), the ASEAN Committee to Implement the Declaration on the Protection and Promotion of the Rights of Migrant Workers (ACMW), the ASEAN Committee on Women (ACW), the Committee of Permanent Representatives to ASEAN (CPR), as well as counterparts the European Union and Australia.a
ASEAN Human Rights Dialogue was first held in 2013 by Indonesia. In 2022, Cambodia and Indonesia co-chaired a ASEAN Human Rights Dialogue, in which the parties talked about their national programs and activities for the promotion and protection of human rights, including the rights of women and children.