Beloved Vietnamese 'People's Artisan' turns 100 yet continues to sing
Mo Thi Kit, a traditional 'Then singer,' has just turned 100 years old, but her lust for life shows no sign of stopping
A diamond forged through fire
People's Artisan Mo Thi Kit has just received birthday present from the President of Vietnam as she celebrated her 100th birthday. Despite her age, she keeps herself busy singing 'Then songs' to pray for peace, health and happiness for her family and others.
Mo Thi Kit was born in Phai Danh hamlet in Binh Gia district of Lang Son province. Her father was Do Van Tam, of the Nung ethnic group, and her mother was Nguyen Thi Thao, of the Tay ethnic group. They passed away when she was just seven or eight years old. The young orphan had to live with her brother, who went missing a year later after encountering robbers on a business trip. Facing loss and pain as she grew up, the young girl became strong, as strong as the ancient trees in the local forests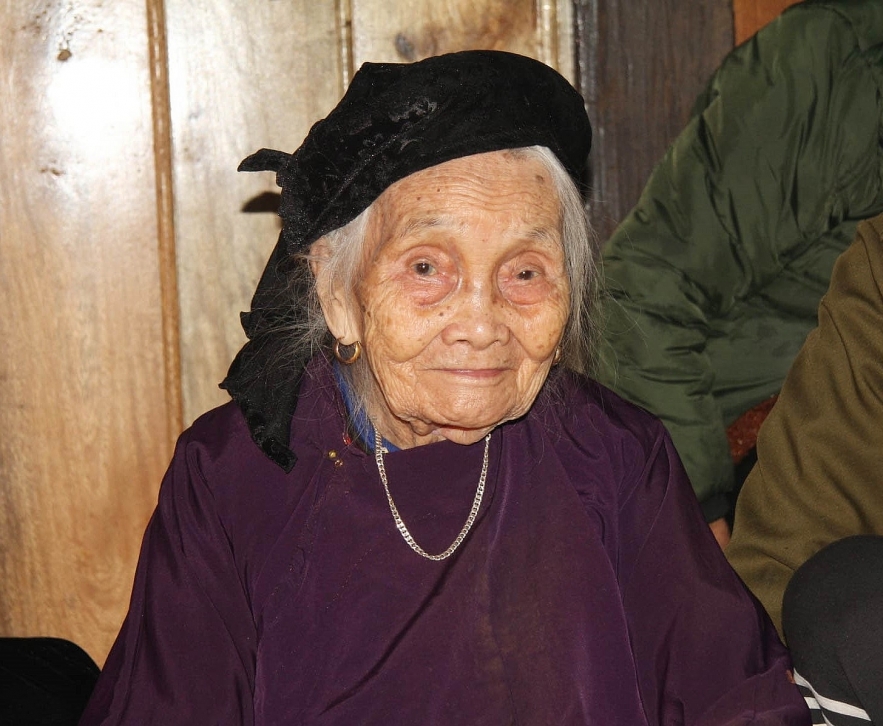 Photo: People's Artisan Mo Thi Kit / Thanh Ha
After getting married, she gave birth eight times but only six of her children survived. Her husband worked far from home, leaving her taking care of the household. There were many challenges facing her, and she told her children: "We are poor, so you have to study to have a better life."
Bearing her words in mind, her children strived hard. and became successful, with their own children and grandchildren. Mo Thi Kit now lives each day in a simple state of happiness, surrounded by her family.
Passion and success
Young Mo Thi Kit spent her days quietly, until the Then melodies caught her interest. She began to attend more exchange sessions, listening to the stories of the elderly, and practiced singing her very first Then songs.
Young Mo Thi Kit sought after Then master Trieu Thi Thu in To Hieu district, to become her apprentice. Beautiful, well-mannered and smart, she quickly became a beloved student and was taught the deepest secrets of Then singing.
Then practice is part of the spiritual life of the Tay and Nung poeople and is believed to reflecting the relationship between man, woman, the natural world and the universe. It is highly importnce to these ethnic groups and reflects their cultural identity – from the music to instruments and the dance that accompanies the singing.
After studying with Trieu Thi Thu for 10 years, Mo Thi Kit became her master's daughter-in-law. Three years later, she became the successor and the next master of Then singing after Trieu Thi Thu passed away.
About 77 years have passed since, and she cannot remember how many competitions or performances she has been to, or how many ancient Then songs she has collected and brought back. At the age of 100, Mo Thi Kit lives a simple live and still sews her students' performance costumes. The list of students who wish to become her foster children keeps getting longer, including those who come from France. A cultural space for Then singing is honored and shown at the Vietnam Museum of Ethnology.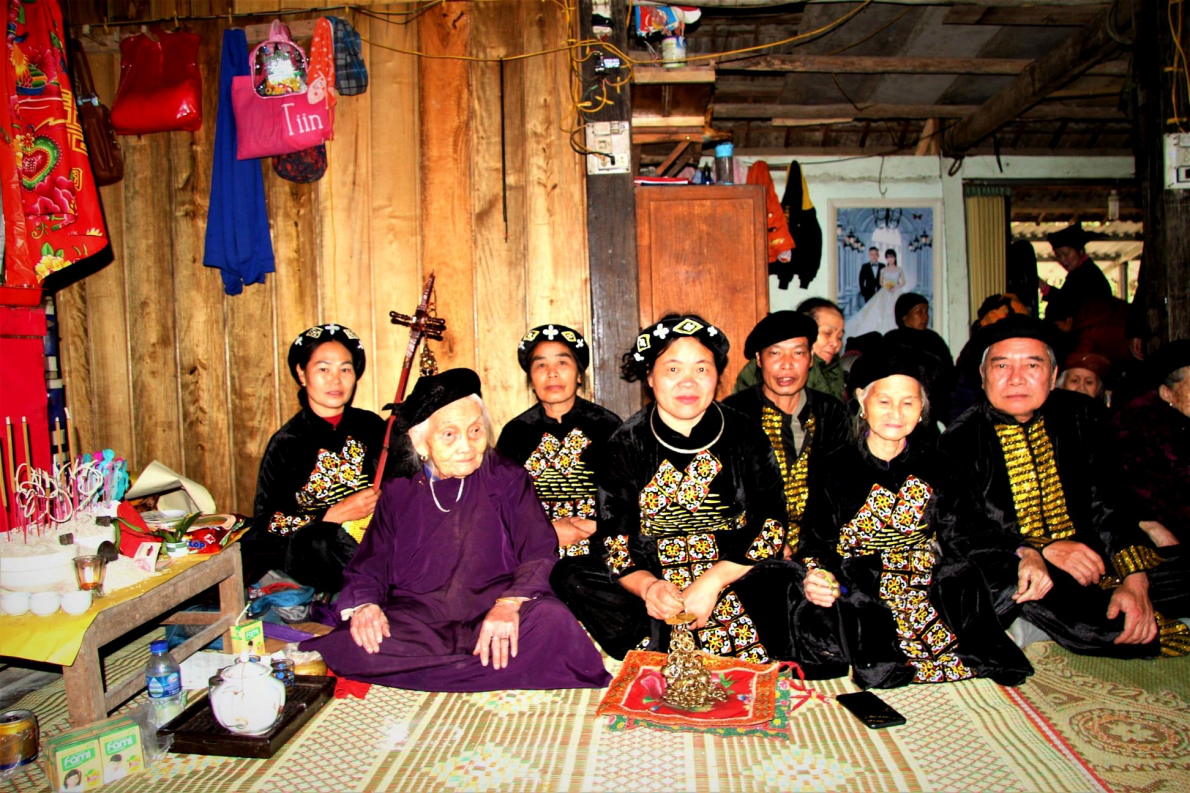 Photo: People's Artisan Mo Thi Kit performing Then / Ngay moi Online
Mrs. Mo Thi Kit has received many prestigious titles. In 2015, she was conferred the title Meritorious Artisan by Former President of Vietnam Truong Tan Sang. In 2019, she was conferred the title People's Artisan by Former President of Vietnam Nguyen Phu Trong, for her contributions to preserve and promote Vietnam's intangible cultural heritage.
Just by observing her fingers deftly gliding on musical instruments, one can appreciate the cultural values of Then singing in the daily life of the Tay communities in Lang Son. Her melodies harmonize with the melodies of the forest, sometimes a whisper of the streams that pass by, and sometimes the thundering sounds from the horses' hooves.
There are over 20,000 lines written in a mixture of Tay Nom and Vietnamese, she can sing each and every word clearly, without repeat or mistake. Her singing ebbs and flows like the eventful life she has lived. Her achievements have been forged by her perseverance and unwavering determination to her art. She is Vietnam's true master of Then.