Best SIM cards for Tourists
Here are some of the most convenient telecom packages at the airport and at public transaction points you can use while enjoying your stays in Vietnam.
Foreigners' need to connect with loved ones, to update on social networks is higher than ever while aboard now that international tourism is fully recovered.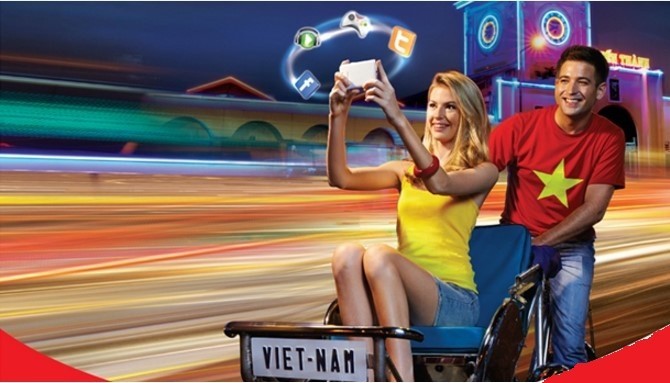 Photo: Mobifone
Here are some of the best Vietnamese telecom packages for international visitors at transaction counters at the airport of arrival terminal as well as at stores of telecommunications providers.
SIM Tour (Viettel)
SIM Tour is provided by Viettel, the biggest telecom carrier in Vietnam. To register for the package, you need a valid passport and a valid visa in Vietnam. Once arrived, go to Viettel Telecom's transaction centers nationwide to complete procedures.
SIM Tour comes with a phone number, whick will be automatically revoked after 60 days from the time of first activation or use. Its call charges is VND 690 VND/minute (both domestic and international). The international calling destinations are: China, Korea, the US, Hong Kong, Russia and 10 ASEAN countries.
There are 2 packages for you to choose. The first one is TR60 package ( VND 60.000/15 days) with 5GB of high-speed data. The second on is TR100 package with 10GB of high-speed data, which costs VND 100.000, which is still at an afforable price of less than US $8 for 30 days.
Happy Tourist - HP2 (MobiFone)
Another option is MobiFone's Happy Tourist - HP2 package, which has been launched since 2013.
You can enjoy 8GB of data, 40 minutes of domestic and international voice, used for a period of 30 days (not automatically renewed). All for only VND 109.000.
Many tourists use HP2 because they can can text and make calls to both domestic and international phone numbers with no geographical restrictions.
To get this package, go to MobiFone's transaction locations nationwide to carry out procedures for SIM issuance and register.
Vietnam travel eSIM
If you are looking for package that doesn't require face-to-face sign-up, getting Vietnam travel eSIM is the best option. This is an electronic SIM card built into the smartphone instead of having to be "removed and inserted" like a physical SIM.
Currently, there are quite a lot of eSIM data Vietnam packages, including travel eSIM packages provided by Vietnam-visa.com, for both short-term tourists and long-term business visitors to Vietnam.
Also, eSIM comes with phone number that has a term of up to 1 year and can be extended, which makes it suitable for both short-term and long-term visitors.
You can get your eSIM in Vietnam via website: https://www.vietnam-visa.com/en/esim-viet-nam. After registering, you will receive a QRcode on how to install eSIM on your mobile devices.