Bulgaria Aids Infant Mortality Reduction Project in Lai Chau
Foreign Affairs Ministry of Bulgaria and Vinacapital Foundation support Lai Chau reduce infant mortality
A grant agreement was signed between Bulgarian Ambassador to Vietnam Marinela Petkova, on behalf of the Ministry of Foreign Affairs of Bulgaria, and Rad Kivette, on behalf of the VinaCapital Foundation, to implement the "Survive to Thrive" project to provide essential neonatal equipment and training for two hospitals in the northwestern mountainous province of Lai Chau.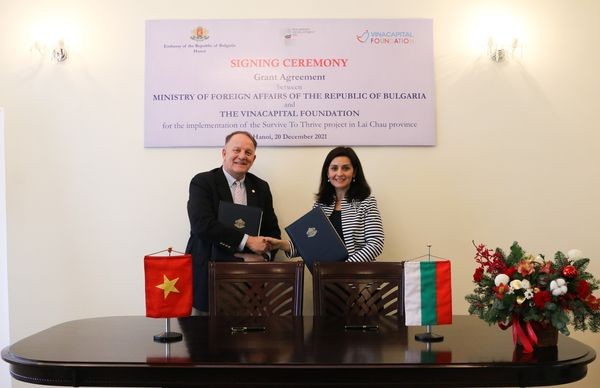 Ministry of Foreign Affairs of Bulgaria and VinaCapital Foundation (VCF) sign a Grant Agreement to implement the "Survive to Thrive" project to provide essential neonatal equipment and training for two hospitals in Lai Chau province. Source: VCF
The signing ceremony was held on Dec. 20 at the embassy of Bulgaria in Hanoi.
This Grant Agreement to VCF's Survive to Thrive program totals BGN 62,572 (USD 36,000), which is funded by Bulgarian Official Development Aid.
The project will provide 16 pieces of neonatal equipment for two remote hospitals in Lai Chau in a three-month implementation period.
The medical equipment includes two continuous positive airway pressure (CPAP) machines to treat acute respiratory failure, two phototherapy machines for neonatal jaundice, two SPO2 oximeters, two infant warmers, two intubation kits, four injection pumps and four infusion pumps.
Lai Chau, a rural province in the northwest region of Vietnam, has more than 20 ethnic minority groups. The infant mortality rate is 39.6 deaths per 1,000 live births, which remains the highest rate across the country. Lack of essential medical equipment in the hospitals is one of the leading causes of infant mortality, and also increases the rate of referrals to distant higher-level hospitals. Combined with geographical challenges, poverty and lack of access to quality care, mortality rates for infants and mothers will remain high.
Through the provision of essential neonatal equipment and training on the equipment, doctors and nurses in rural and remote areas like Lai Chau will be able to provide babies with basic neonatal care and emergency treatment from their very first breath.
According to the Vietnam National Children's Hospital, the utilization of neonatal medical equipment has a major clinical impact, including a 75% reduction in 24-hour mortality from respiratory distress syndrome achieved after the introduction of the CPAP machine.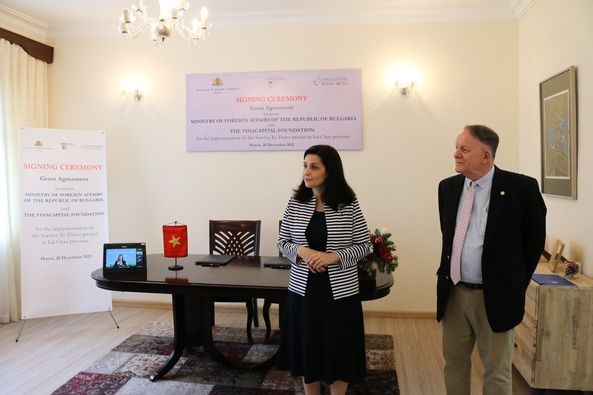 Bulgarian Ambassador to Vietnam Marinela Petkova states Vietnam speaks at the event. Source: VCF
"Survive to Thrive" was awarded for funding out of 37 competitive project proposals received under the Bulgarian Official Development Aid 2021 project cycle for Vietnam for its tangible and measurable positive impact on the communities in Lai Chau province, for directly contributing to the reduction of infant mortality by increasing the capacity and quality of neonatal care, which brings overarching improvement to the quality of life of the families in the targeted region.
"With the majority of our projects being implemented in Hanoi, we worked to expand the scope of the program towards the rural areas of Vietnam in support of the country's policies for the empowerment of vulnerable people, especially women and children, and for improving access to quality healthcare, education and business opportunities," shared Ambassador Petkova.
As a mother herself, Petkova is looking forward to visiting Lai Chau to meet in person the mothers, children, doctors, and nurses in the local hospitals and get acquainted with their needs and inspiring success stories.
Rad Kivette, CEO of VinaCapital Foundation, on behalf of the foundation expressed their honor to partner with the Ministry of Foreign Affairs of Bulgaria and Bulgarian Official Development Aid to provide quality healthcare improvements for vulnerable, disadvantaged, and underserved communities, adding that with the support of Bulgaria, this project will protect children and families from preventable deaths and provide additional benefits for healthier generations to come.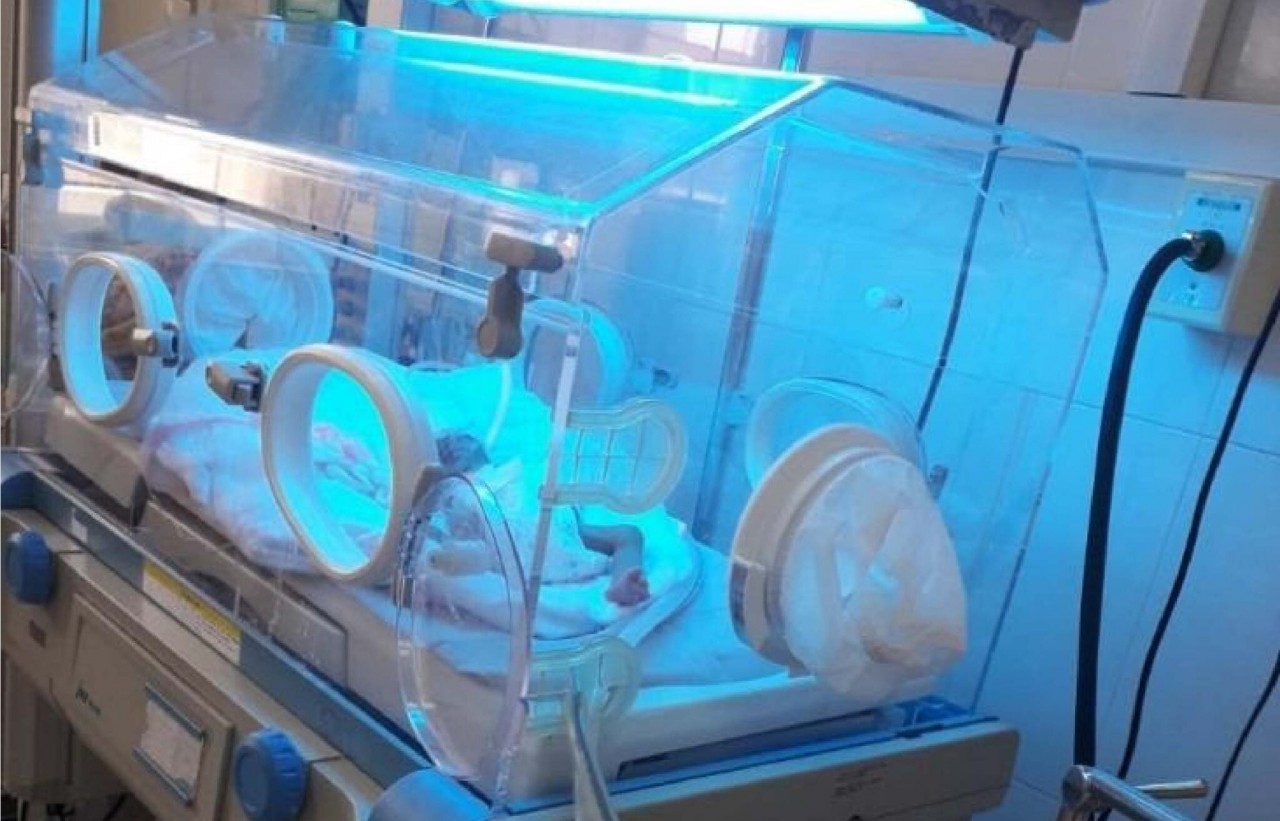 VCF's Survive to Thrive program improving neonatal care in Vietnam. Illustrative image: VCF
Change lives of disadvantaged children
VinaCapital Foundation is an American NGO working exclusively in Vietnam to help poor children. They have programs that aim to increase access to quality healthcare for poor children and to build capacity for pediatric and cardiac care in the health care system.
VCF's grassroots medical programs include Heartbeat Vietnam which funds heart surgeries, including pre- and post-operative care, as well as, Rural Outreach Clinics to screen children in remote areas. Medical capacity building programs include Critical Response – provides advanced emergency training courses for healthcare workers, emergency equipment, and clean water systems for healthcare centers and schools in remote areas; Survive to Thrive – improving Neonatal Care in Vietnam, and the International Symposium for Pediatric Care- educating doctors.
Its education initiative, A Brighter Path, is an empowerment and a scholarship program for disadvantaged but academically talented ethnic minority girls.
Since its inception, VCF's Survive Thrive program has donated 293 pieces of neonatal care equipment to neonatal intensive care units of 53 hospitals in HCM City, Da Nang City, Kon Tum, Cao Bang, Son La, Bac Kan, Ha Giang, Yen Bai, Khanh Hoa, Quang Nam, and Quang Ngai provinces.
In over 15 years, 122,646 babies were treated thanks to VCF's donations of equipment. In Lai Chau province, previously, VCF has organized three Advanced Pediatric Life Support training courses for 96 doctors and nurses; donated nine crash carts to seven district hospitals and one provincial hospital in 2017; provided free heart examination for 773 children, and diagnosed 19 cases with congenital heart defects that require medical intervention. VCF also sponsors an ethnic minority girl from Lai Chau with a seven-year scholarship for high school and university.