Concert Series: Blowing the Horn in Hanoi
A Japanese trumpeter hopes his love of brass instruments will be reciprocated in Vietnam.
Brass player Yuki Urushihara May 2021. Photo: VNP
Recently, the Goethe-Institut invited artists to participate in the "Music of the 20th Century" concert series. This project has connected Vietnamese and German artists to the public with timeless musical works that carry the message of connecting cultural friendship between people around the world to join hands to fight the Covid-19 pandemic.
Brass artist Yuki Urushihara and his colleagues have left a strong impression in the hearts of the capital's audience with meaningful music. The concert series gave him a lot of emotions, as Urushihara performed immortal love songs. All these experiences have helped Yuki gain a deeper insight into the various aspects and developments of the chamber music scene.
Urushihara, with all his talent and love of music, has been working hard and actively doing music in Vietnam. He is a trumpet player of the Sun Symphony Orchestra, a lecturer at Inspirito School of Music and a member of the Hanoi Brass Week group (Community of Vietnamese brass players).
Born and raised in an artistic family, Urushihara's father and mother are both famous cello and violinists in Japan. Carrying that artistic blood, Yuki started playing the trumpet at the age of 7 and with constant effort, Yuki graduated with a Bachelor's degree from Rostock University of Music and Theater (HMT Rostock), Germany.
From a very young age, his mother let him listen to many CDs of the Berlin orchestra. He grew up and studied with a German teacher, who would eventually awaken the musical instinct in him. Under his guidance and instruction, Yuki Urushihara went to Germany to study. His adoptive country gave him the opportunity to nurture his love of music.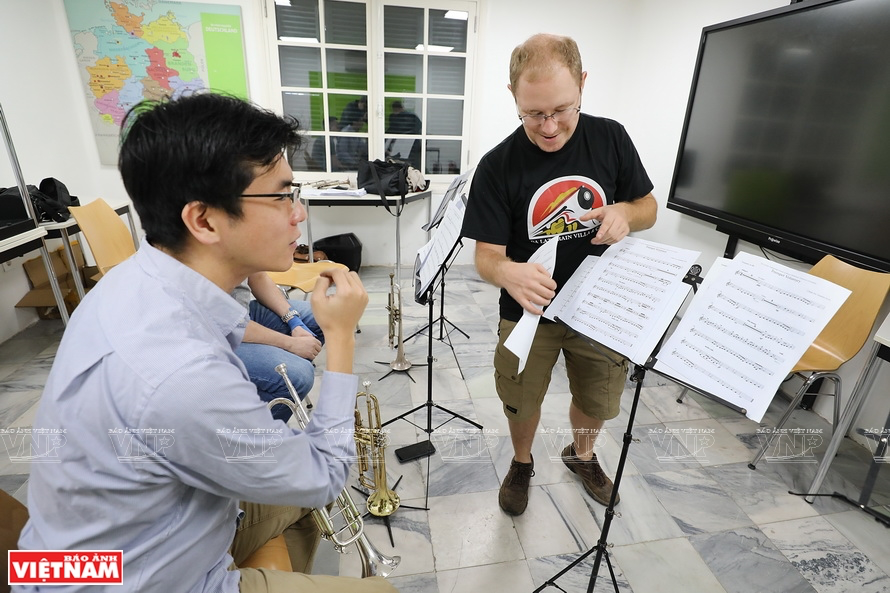 Brass artist Yuki Urushihara regularly discusses brass with enthusiasts living and working in Vietnam. Photo: VNP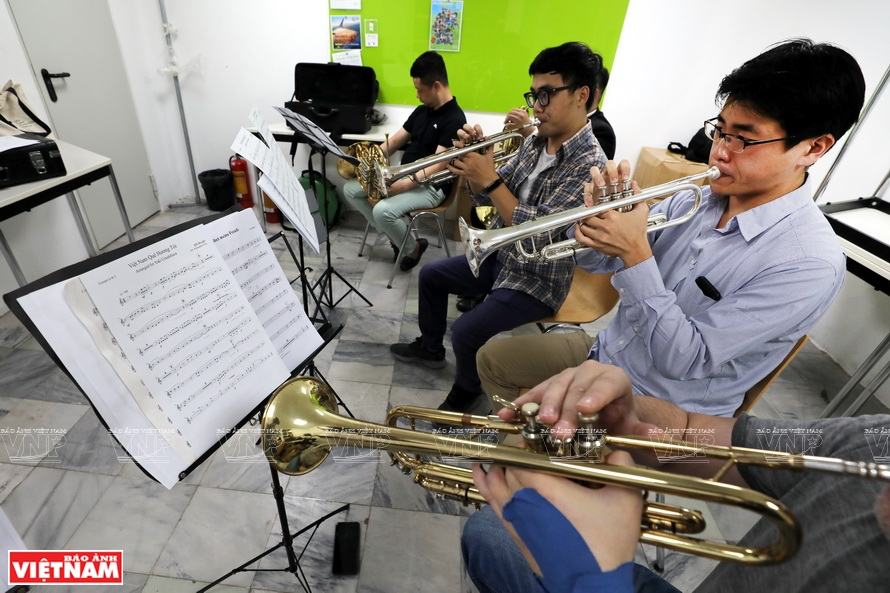 Brass player Yuki Urushihara with colleagues during a band practice session. Photo: VNP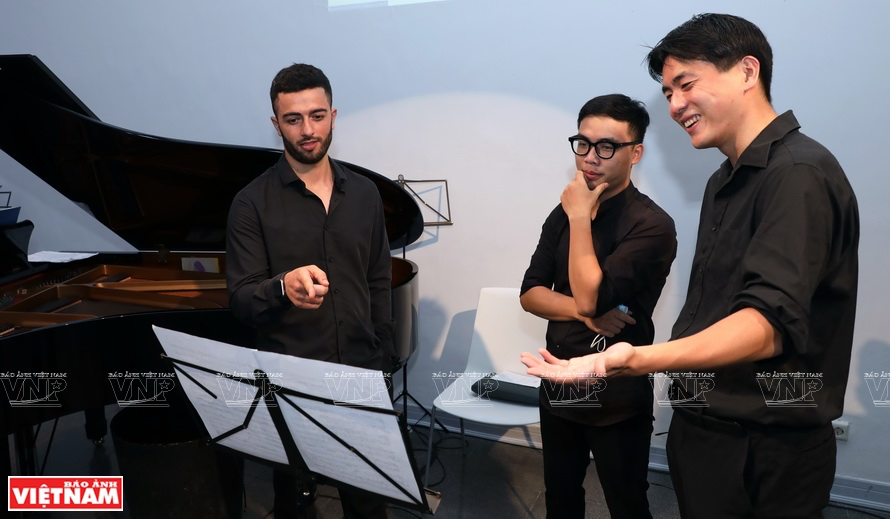 The members of Hanoi Brass Week group and Yuki discussed before the performance. Photo: VNP
Urushihara always remembers the feeling when coming to Vietnam to work. Most Vietnamese people do not know much about the trumpet and still confuse it with the saxophone. Brass is a musical genre used in military and religious ceremonies, so it is not easy to spread this genre to more people in big cities.
Since 2018, Urushihara moved to live and work in Hanoi, he aspires to create a community of brass players to spread this type of music to the public in big cities. He shares his technique of playing the brass and is a direct instructor for those who are passionate about playing this instrument. Therefore, he and his friends decided to form a brass band to create a lively new playground.
Hanoi Brass Week together with Urushihara organized free Masterclasses for Vietnamese and foreigners living and working in Vietnam. This is the place for inspired brass enthusiasts to learn about the latest trumpet techniques. Lecturers of each class are famous artists, members of famous Orchestras such as: Berlin State Opera, the Deutsche Oper, Lübeck Philharmonic Orchestra, Deutschlandradio Kultur, Chicago Symphony Orchestra and are seasoned lecturers of Rostock University of Music, Germany. Every day, there will be random short concerts so that learners have the opportunity to experience what it feels like to be a real artist on stage.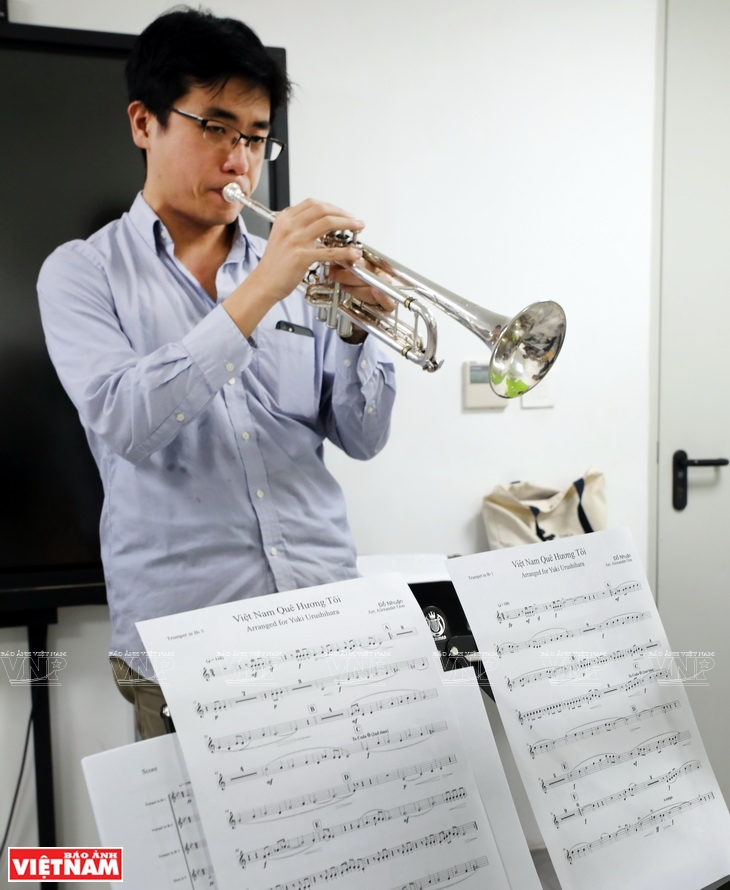 Yuki is performing the song "My homeland Vietnam" by musician Do Nhuan. Photo: VNP
Yuki and the brass band perform at an outdoor show. Photo: VNP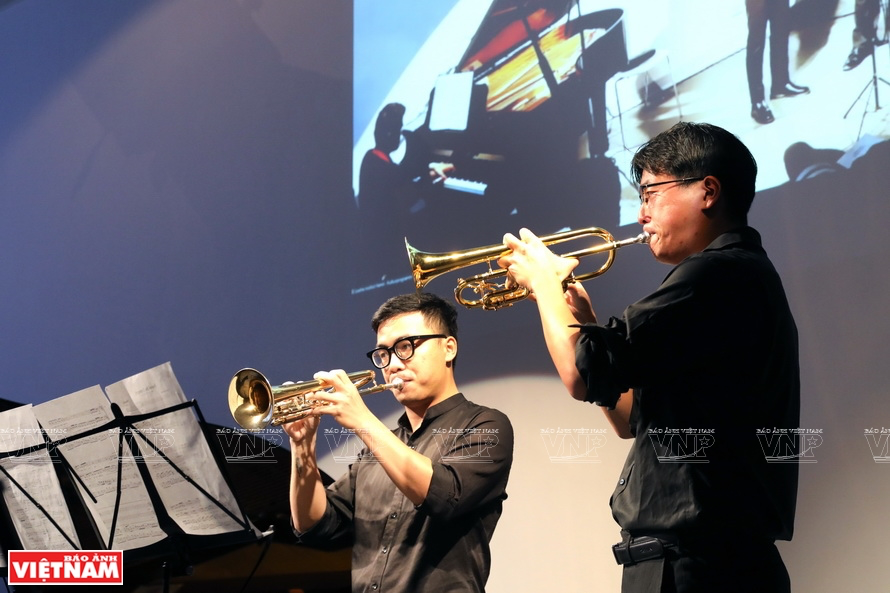 Performance by Yuki Urushihara in the concert series "Music of the 20th century". Photo: VNP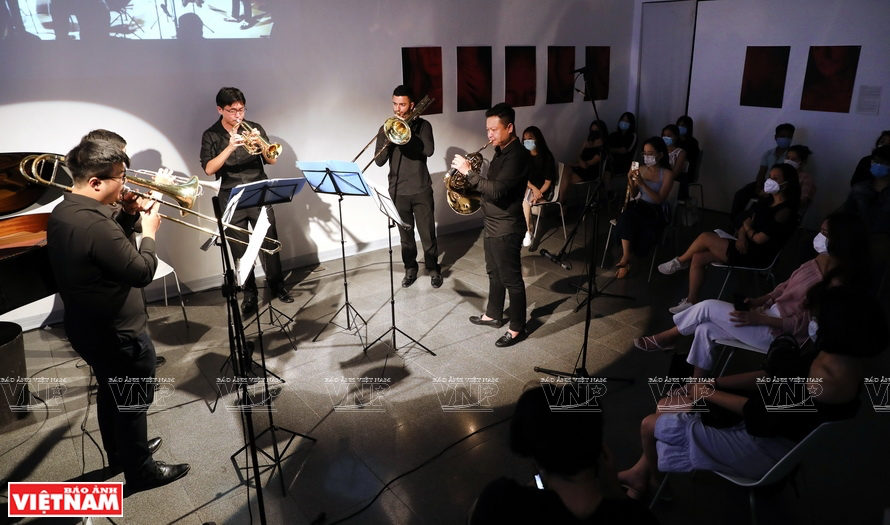 Members of the brass band perform together a piece in the concert series "Music of the 20th century". Photo: VNP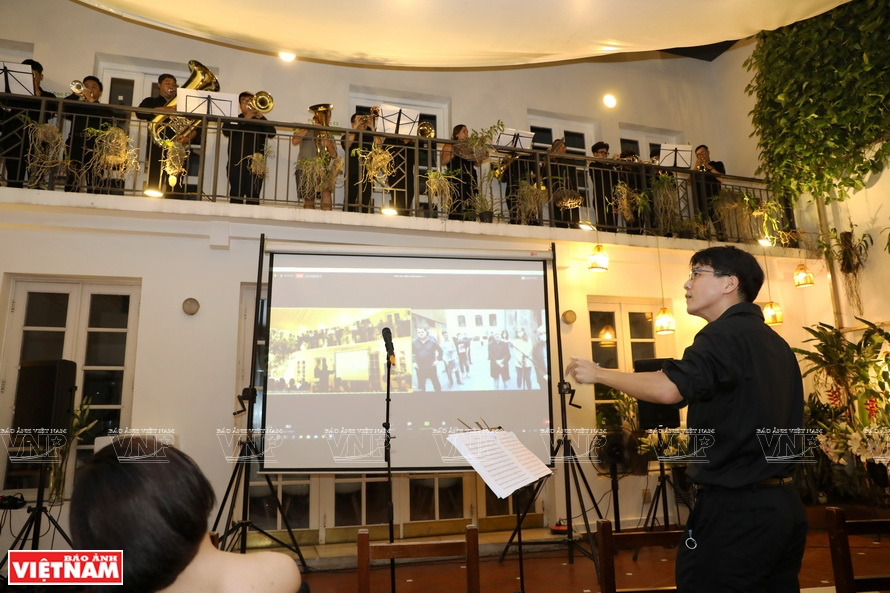 Yuki conducts the brass band to perform the song "My homeland Vietnam" by musician Do Nhuan in the concert series "Music of the 20th century". Photo: VNP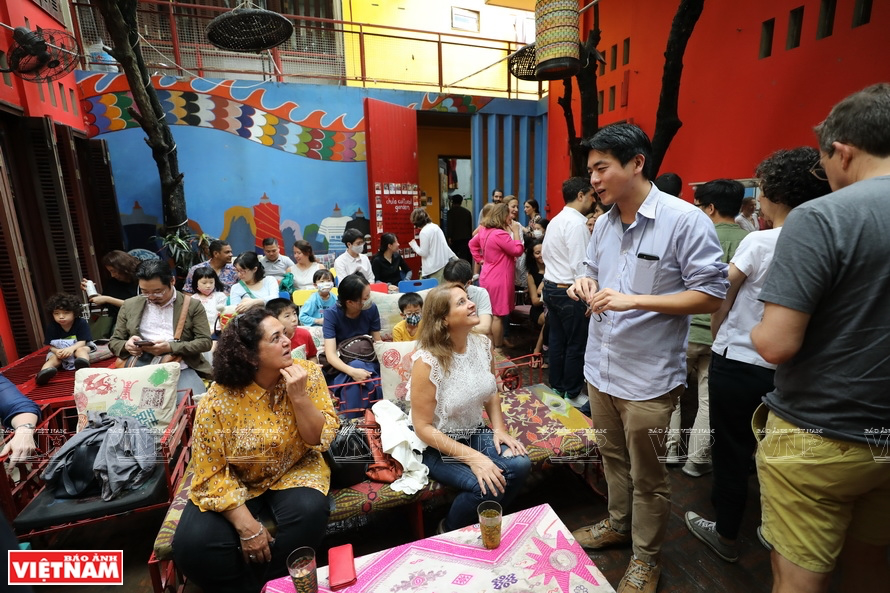 Yuki is always happy to interact with the audience in programs to help people better understand brass music. Photo: VNP
Urushihara's bigger aspiration is to spread brass music to the people of Vietnam so that everyone can find meaningful joy from this instrument and he wants to multiply this love with foreigners living and working in Vietnam.
He has been working with many Vietnamese artists to explore and perform traditional Vietnamese love songs with the brass instrument. With the trumpet, they sang songs connecting the love of life and the beauty of Vietnam.