Deputy PM: Vietnam determines to stamp out new Covid-19 outbreaks in next 8 days
With the spirit of "trying every hour and every minute", Deputy Prime Minister Vu Duc Dam sets the target of "zoning and stamping out the new Covid-19 outbreaks in the next 8 days".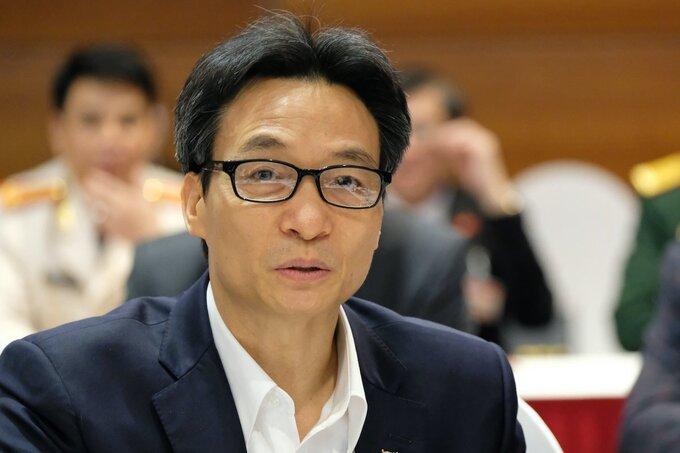 Deputy Prime Minister Vu Duc Dam at the meeting on the Covid-19 prevention and control on the afternoon of January 29. Photo: VNExpress
Deputy PM Vu Duc Dam expressed the determination at the meeting on the Covid-19 prevention and control on the afternoon of January 29. The meeting was presided by Prime Minister Nguyen Xuan Phuc at the National Convention Center where the 13th National Party Congress has taken place, according to VNExpress.
Right after detecting Covid-19 community cases, the functional forces have not "wasted any time" and taken prompt and strict measures to combat the epidemic, Deputy PM Dam said, adding that though the country reported 53 new Covid-19 community transmissions on January 29, the situation has still been controlled, people should not too anxious.
Deputy PM also affirmed that the country will spare no effort to put the outbreaks under control in the next 8 days.
Two experts from Hanoi's National Institute of Hygiene And Epidemiology arrives in Hai Duong Province to test workers at a factory for Covid-19, January 28, 2021. Photo: VNExpress.
The Ministry of Health also called on Hai Duong Province to set up field hospitals to deal with the surging number of Covid-19 cases. The biggest concern is quarantine. Hai Duong needs to establish civil facilities instead of using only military camps for isolation, Deputy PM stated.
"The military camps need dispatch personnel to assist the civil quarantine facilities", Deputy PM said, urging the Ministry of Health to accelerate the testing speed. The provinces of Quang Ninh and Hai Phong can give a hand to Hai Duong in conducting testing.
Since January 25, Vietnam has recorded 149 Covid-19 cases in 5 provinces and cities. On only January 29, the country documented 53 cases in 4 provinces, including Hai Duong (47), Quang Ninh (3), Hanoi (2), and Bac Ninh (1).
Two outbreaks in Hai Duong and Quang Ninh Provinces were discovered on the morning of January 28, with two patients 1552 and 1553. "Patient 1552", female, 34 years old, lives in Hung Dao Commune in Hai Duong's Chi Linh Town and works at Poyun Co., Ltd. She had come into close contact with a colleague who tested positive for the virus upon arriving in Japan last week. The colleague was later revealed to be infected by a coronavirus variant originating in the U.K., which is believed to be up to 70 percent more contagious than ordinary strains.
"Patient 1553", male, 31 years old, lives in Hong Ha ward, Ha Long city, Quang Ninh province, and works at the Van Don International Airport.
On the same day of January 28, the Ministry of Health announced additional 72 cases in Hai Duong and 10 in Quang Ninh, all linked to the two abovementioned patients.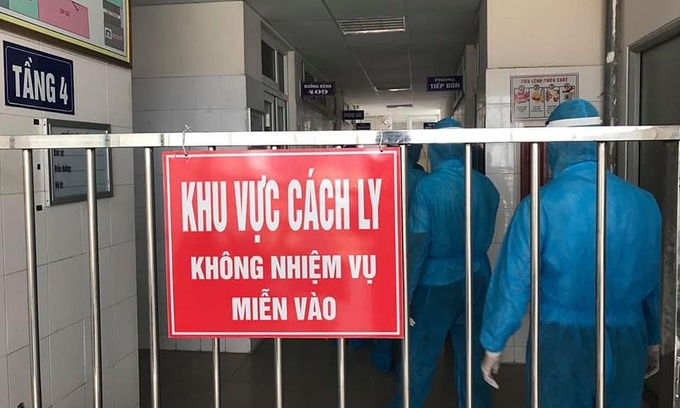 Medical workers visit a quarantine area for treating Covid-19 patients at Hai Duong Hospital for Tropical Diseases. Photo: VNExpress
Chi Linh Town, with around 220,000 inhabitants, has been placed under lockdown while other parts of Hai Duong have applied social distancing measures at different levels, depending on the seriousness of the situation.
Deputy Prime Minister Vu Duc Dam also said at a meeting on January 28 afternoon that he believed the infection must have been lurking in Chi Linh Town for at least 10 days.
Bac Ninh Province also suspended entertainment facilities like karaoke parlors, bars, dance clubs from January 29 while all cultural, sports, and crowded arts events were banned.
In Bac Giang, all festivals, cultural and sports events were suspended from January 29 while religious events and large gatherings of 50 people or more were prohibited. The authorities also called on residents to restrict visiting entertainment facilities as well as tourist destinations at this time.
Hai Phong authorities also suspended bars and dance clubs in the city and erected checkpoint stations around city entrances. Activities involving crowds of 30 or more people were barred, and students were asked to stay at home.