Disfigured Man in Kon Tum Runs Coffee Shop
A young man with a severe facial disfigurement runs his own coffee shop and bakery in the Central Highlands province of Kon Tum.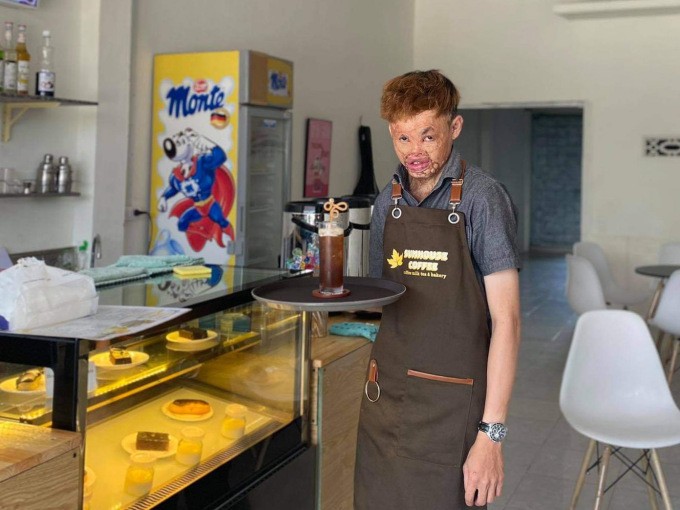 Not just an ordinary coffee shop; it also sells cakes made by Hai.
Ngo Quy Hai went to a shop to buy a cake to celebrate his deaf friend's birthday but was turned down because of his severely scarred face. Since then, he has struggled with his dream of having his own bakery ready for guests regardless of their social situation or appearance. It took 17 years for Hai's dream to come true in his hometown, on Hung Vuong Street, Ngoc Hoi District of Kon Tum City.
Hai, 27, was born healthy, but after being severely burned when he was less than a year old, his face was deformed. During his childhood, no children in the neighborhood would play with Hai. His only friend was a mute boy near. "We both shared the same sadness that no one would be friends with us," Hai said.
At the age of 6, Hai's parents enrolled him in a local school. After four months, the boy refused to go to classes because he was often teased and discriminated against by his friends. Hai spent his childhood around his mother's small grocery store, helping her with errands.
For the first time visiting the city at the age of 10, Hai and his best friend stood in front of a luxurious bakery and longed for the products. Hai saved money for many months and when he had enough money to buy a cake, he and his friends went happily to the shop.
"As soon as I entered the store, the staff did not listen to our request and told us to go home. At that time, I felt disappointed and sad. That day was also my friend's birthday," Quy said.
Having a dream of opening his own shop, Hai knew it would be difficult. The older he got, the more lonely he felt, unable to overcome the self-consciousness of his scarred face.
At the age of 15, Hai began to think about the future. He moved out of the house, looking for a job, but nowhere accepted him. "There was a time for more than two years, I would not step foot out of the house. I simply give myself up to fate," Hai said. By the age of 22, Hai's world was only encapsulated in a small house.
In 2016, Hai was sponsored by a charity organization to fly to Germany for reconstructive surgery to separate the skin under his chin that was attached to the skin on his chest. The trip not only changed Hai's appearance but changed his thinking. After 21 days in a coma, Hai woke up. Seeing that he was sad because of homesickness, German doctors and nurses played his hometown songs in his room. They also learned basic Vietnamese greetings to ask and encourage him. Knowing that Hai was hospitalized, the local Vietnamese community traveled to visit him. For the first time, the young man spent a warm birthday party with strangers.
"I didn't know there were so many good people, and not everyone discriminated and banished me. In the hospital, I saw many people with more severe burns than me, yet they were still optimistic. I consider myself very lucky that I still can go outside," he said.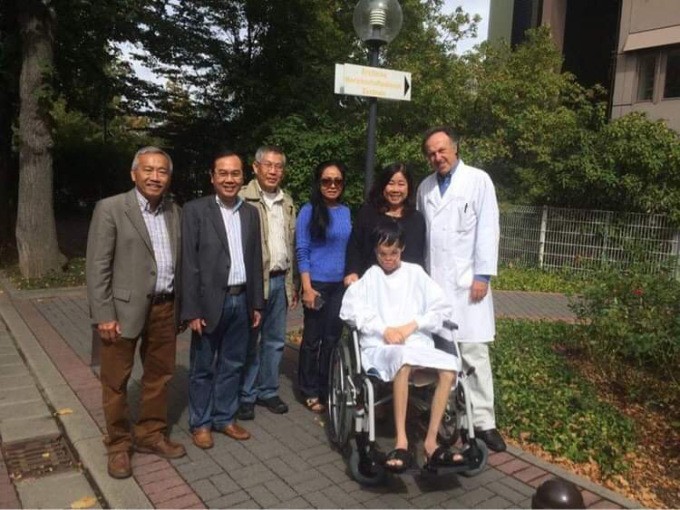 Quy Hai with a German doctor and the Vietnamese community took a commemorative photo after the successful surgery in 2016 in Germany. Photo provided by Hai
Returning to his hometown after the trip, Hai enrolled in a cooking apprenticeship in a center in Hanoi, determined to fulfill his childhood dream. Nguyen Thi Huong, a friend in Hai's class said: "Hai not only has the most challenging appearance compared to his classmates but the lowest starting point because he didn't know how to read or write. While taking class, Hai has to take advantage of the break to practice writing. While others work hard, Hai has to try 10 times harder."
After nearly two months studying day and night, Hai was able to write fluently. "At the vocational school, for the first time in my life, I met many people and had friends. They put their arms around me when taking souvenir photos, I felt accepted. Everyone here has a difficult situation of their own. We consider each other as brothers and sisters," Hai said.
Nguyen Thanh Thuy, a life skills teacher at the KOTO hospitality training center recalled, that Hai always had a pen and paper on hand to take notes.
"At that time, the young man had poor health, but worked hard in the class and was always worried whether he would get a job with his appearance. The day he graduated, I cried because his efforts has paid off," Thuy said.
KOTO is Vietnam's first social enterprise, a hospitality training centre in Hanoi giving disadvantaged youth a chance to break the cycle of poverty since 1999.
Although often confiding with teachers and classmates about his dream of opening a bakery, after graduating, Hai did not return to his hometown immediately but chose to find a job in restaurants to gain experience. "My world is still very small, I think I should go out to more," Hai said.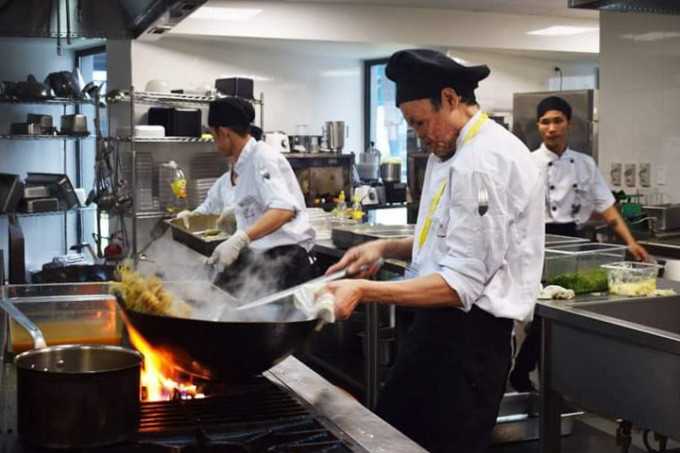 Quy Hai worked in a restaurant in Ho Chi Minh City after graduating from the training centre. Photo provided by Hai
Earlier this year, the 27-year-old returned to his hometown in Ngoc Hoi District of Kon Tum City. A coffee shop selling cakes and milk tea is his gift to local children.
The young man stands at the counter all day, happily chatting with customers with confidence. Seeing children wandering, selling lottery tickets, Hai often calls them in and offer them a piece of cake.
Hai is the epitome of a man who refuses to let life get him down, despite his disadvantages, and his positive attitude is an example to all.