Doctors burst into tears as last COVID-19 patient tests negative along with 11 recovered today
Today, Vietnam confimed 11 cases recovered after test negative, raising the recoveries to 105, Doctors in Binh Thuan province, Vietnam's South Central Coast, shed tears and hugged each other with joy as the last COVID-19 patient of the province won over the disease. 
Doctor hugs each other with joys and tears (Video courtesy of Ha Thi Thu Thuy)
Dr. Nguyen Van Thanh, director of Binh Thuan General Hospital told VnExpress in a statement that "patient 36" tested negative for nCoV for the first time on April 6 morning, according to test results from the Pasteur Institute of Nha Trang. The patient is one of the 9 nCoV patients in Binh Thuan.
"Patient 36" is the housekeeper of "patient 34" 's family. She has underlying hypertension and pulmonary fibrosis, making it more difficult for the doctors to treat than other patients hospitalizing on the same day. A 12-year-old boy, known as "patient 44" is another case has first-time negative result in the hospital.
"If things are going well, both of them are likely to be discharged this weekend", Thanh said.
Upon knowing the last patient in the facility tests negative for nCoV, medical staff, including doctors, nurses, and nurses' aids at the Infectious Diseases Department, all hugged each other, overwhelmed with joys and burst into tears as their mission to care and treat the total of 9 nCoV patients is coming to an end.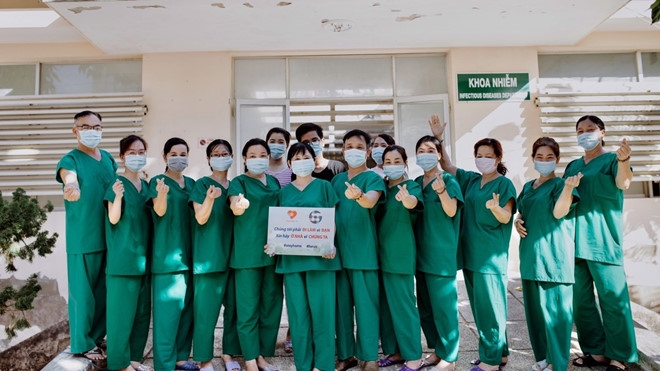 The doctors filled with joys on April 7 after the last COVID-19 patient tests negative (Photo: Thanh Nien)
"We heard the news as we were having dinner at around 8:30pm. Couldn't hold our emotions, we just hugged each other and cried. Those are the happy tears", Dr. Duong Thi Loi, head of the Infectious Diseases Department, shares.
A group of 17 medical staff treating COVID-19 patients at the Infectious Disease Department have been staying at the Department all days and nights without returning home since the first COVID-19 case detected in the province. They've been spending all days inside the quarantine area.
"Given the fact that facilities in the Department have been degraded for years, at first, we were all worried knowing we would be quarantined at the Department and treat COVID-19 patients in the meantime", Loi told VnExpress. "Every working shift stressed us out, espcially when the cross-infection rate in Hanoi stays high".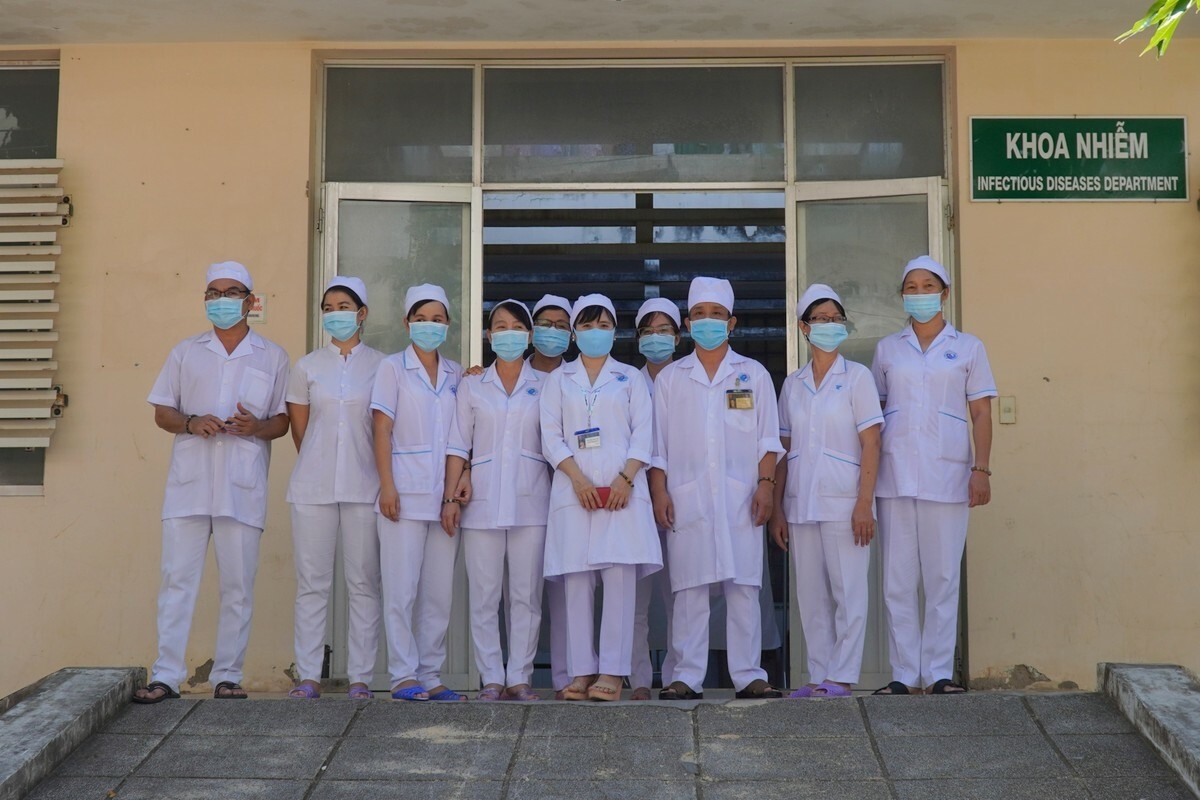 Medical staff at the Infectious Disease Department took photo after the 7th patient in the province discharged from hospital on April 3 (photo: VnExpress)
Even so, the team didn't get discouraged. Doctors in the quarantine area always encouraged each others to overcome difficulties and fulfill their tasks in the front-line battle with the novel coronavirus. "Our patients place their faiths on us, we must do our utmost to help them", the doctor said.
As of April 7, Vietnam has 245 COVID-19 patients in total, in which 105 have been discharged, another 18 are expected to leave hospitals after recovery on Tuesday, no life has been claimed. The country also sees three consecutive days without any new case reported.
VNE