Expats in Ho Chi Minh City Experience Shopping with Market Entrance Tickets
The new procedures are to help HCMC residents safely purchase food and supplies while limiting the spread of the virus.
Expats in Ho Chi Minh city have to get used to new shopping regulations on social distancing days. Photo Zing News
Since late July, HCM city residents have received tickets to go shopping in a certain time frame on given dates to avoid public overcrowds.
The tickets are used to enter local markets on a certain time frame. Photo Zing News
Anderson, an England expat, said "When I lived in Europe and the US, I lined up to buy clothes, shoes, home appliances and electronic devices on big promotion days. But queuing to buy food with entrance tickets is my first-time experience."
Anderson goes shopping on given dates written on the tickets. He often goes to the market in the early morning. After several times of queuing and waiting long, he has withdrawn experience and has been used to the 'new shopping style' during the pandemic.
"On the first day, I went to the market at 10am and had to wait until noon to be allowed to enter. For the second time, I went at 2pm but they closed the market at 3.30pm when I was not even in. From my experience, you should present at 7am," Anderson told Zing News.
A German expat named Pater felt surprised seeing a long queue of customers in front of a small supermarket at district 1 in the morning of July 29.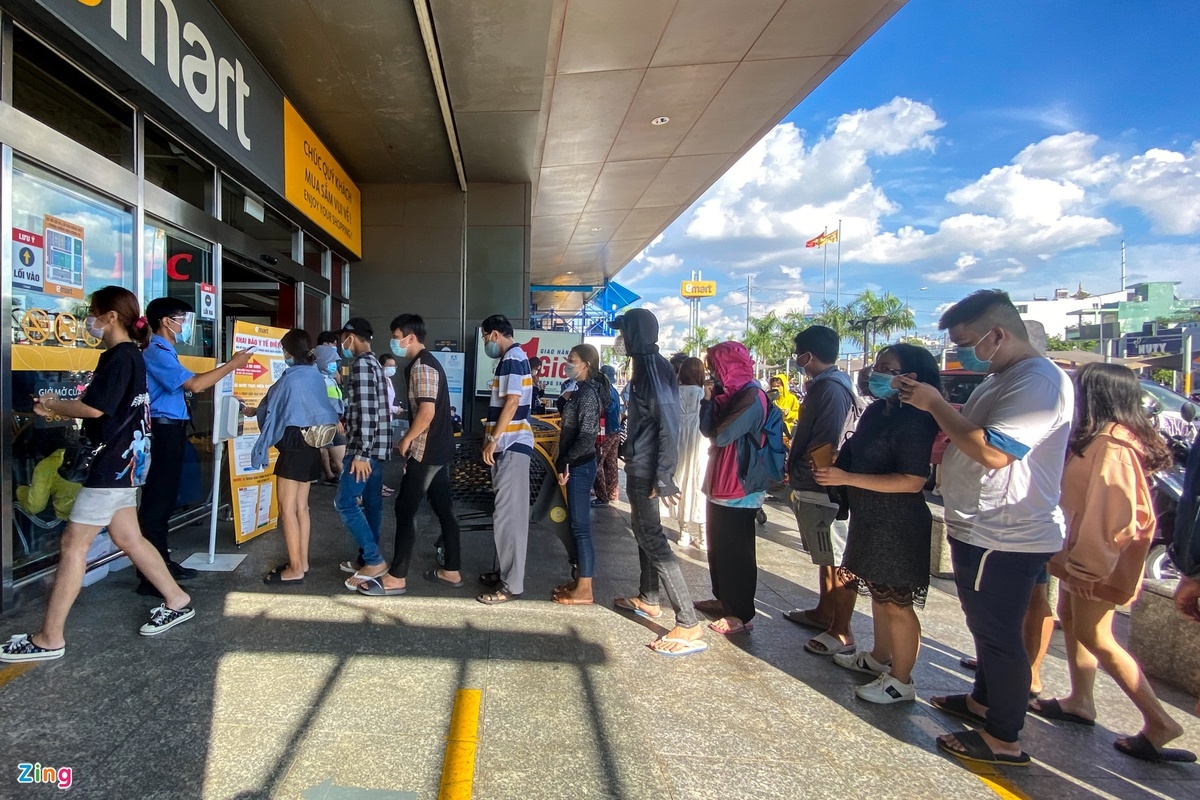 A long queue of customers wait in front of a supermarket in Ho Chi Minh city. Photo Zing News
After asking for help from neighbors, Peter had two tickets.
"These tickets are now more valuable than money. They made me know how to stock up on food for the first time in five years living in Vietnam because I cannot always buy what I want now," he said.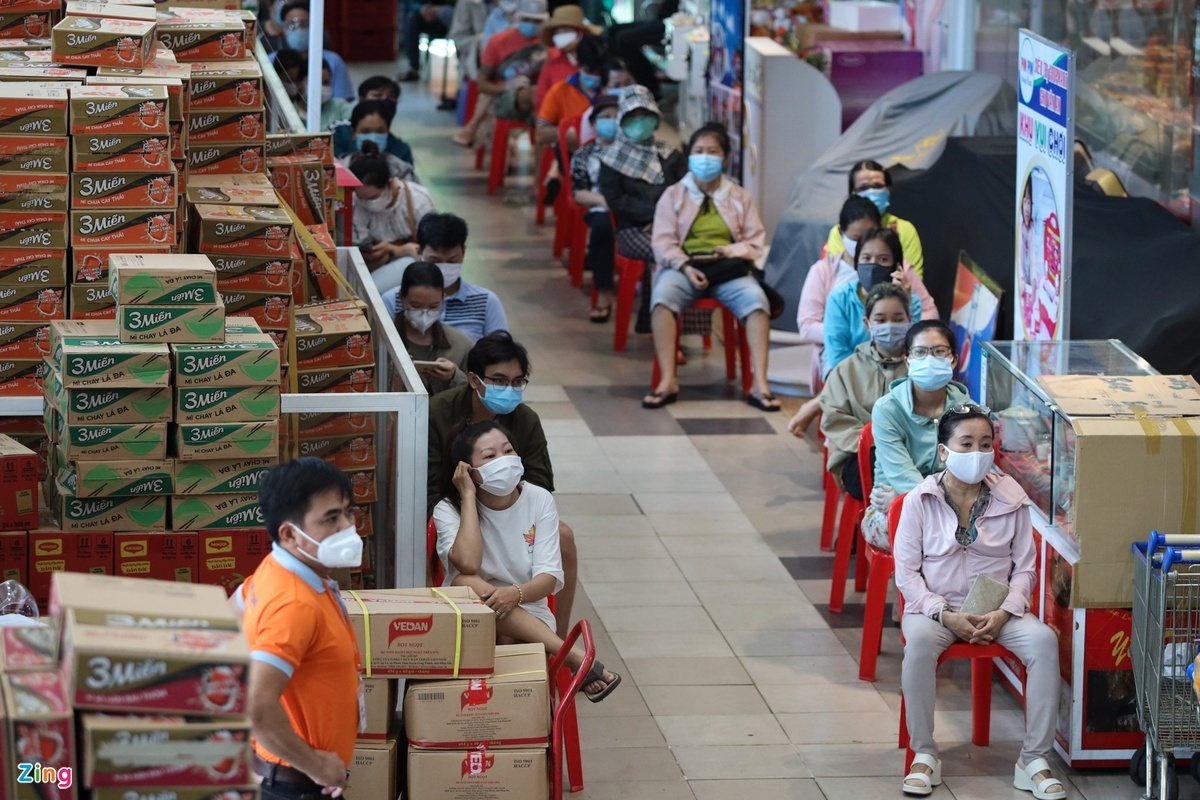 At some places, chairs are available for shoppers to rest while waiting for their turn. Photo Zing News
Lisa, a French expat, has lived in Ho Chi Minh city for three years but has never seen people lining up and using tickets to buy food.
She had to stand in line under the sun for more than an hour to enter a convenience store.
"In the past, if this supermarket was crowded, we could go to another supermarket with full stocks of goods. Now we don't have another choice. I have to accept to get used to it," Lisa said.
Many expats find it difficult to purchase food and neccessary items on social distancing days. Photo Zing News
Eat whatever we have
Amid the stringent social distancing regulations, many expats have difficulty in buying food so they opt for changing their eating habits.
Karriem, a Malaysian living in district 1, is a Muslim and eats Halal food. He does not eat pork.
"Every time I go to the supermarket, there is only pork left. I have to buy canned or vegan food. I use the shopping tickets to buy fresh beef, chicken and fish," Karriem said.
In district 4, where Miller, an American expat is living, there is not any big supermarket. She often went to Lotte supermarket in district 7 to buy foods and ingredients. But now Miller can only buy food at a small supermarket near her house.
"I tried to order food on shopping apps but they are not working. They don't allow me to order because the stores are in a different district, even if it's only one km away. My meals are a bit simpler," Miller said.
Many familiar ingredients in Western meals such as butter, milk, flour, spaghetti, cheese, olives are often not prioritized for supply during this time.
A shipper said for several times, he had to ask someone to send a message in English to notify foreign customers about out-of-stock food or order cancellation.
Niel, a Filipino living in a lockdown area in Thu Duc city, said he had to ask for help from neighbors to buy food or get food aids.
"The neighbors share with me what they get for them. I have no choice," Niel said.
Nguyen Nguyen Phuong, Deputy Director of Ho Chi Minh city Department of Industry and Trade said due to a large number of traditional markets temporarily suspended, residents mainly flocked to supermarkets, leading to crowds in many places.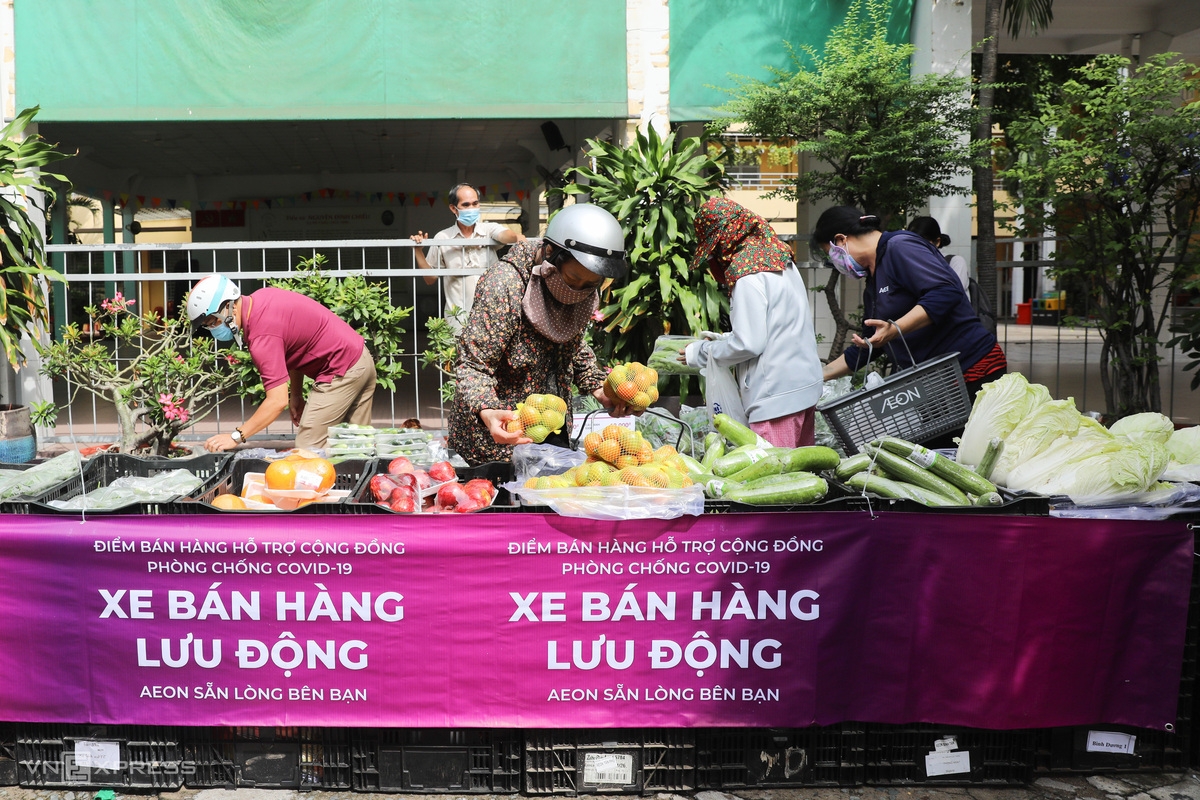 A mobile sales point in Ho Chi Minh city. Photo VnExpress
As of August 3, Ho Chi Minh City has 29 traditional markets in operation, as many as 2,763 convenience stores opened and more than 130 mobile sales points.
The city plans to open 41 more mobile selling points.