Exploring one of the oldest pottery villages in Southeast Asia
Bau Truc pottery village is popularly known by many local tourists as well as foreign ones. It is the oldest pottery village in Southeast Asia and famous for hand-made pottery products and unique way of baking potter.
History of Bau Truc Pottery Village
Bau Truc pottery village is in Phuoc Dan town, Ninh Phuoc district, Ninh Thuan province. It is about 10 kilometers away from Phan Rang city to the South, right on National Highway 1A. Bau Truc pottery village is proud of being one of two the oldest ones in Southeast Asia.
Bau Truc village is over 200 years old. It means that the pottery village was originated from a long time ago. There are more than 400 households in the village. Most of these households are Cham people, of which over 80 percent of households make this traditional craft.
Bau Truc is named after original Cham name Paley HamuTrok, means "Lang Trung"- protruding part of the end of river. Pottery craft is started by Poklong Chan from ancient. He is one of Patriarch of ancient pottery craft and it has been remained by people here up to now.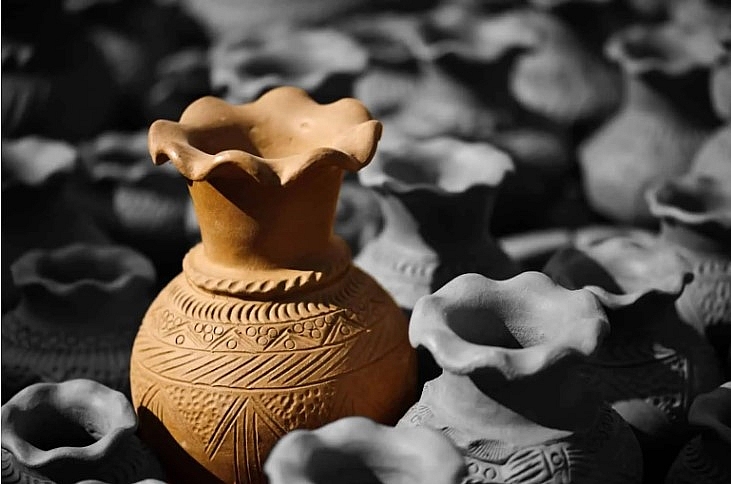 Photo: Vietnam Discovery
Patriarch Poklong Chan helped Bau Truc people to escape from condition of misery and taught them to dig clay to make pottery. Up to present, although Cham Bau Truc pottery village-Ninh Thuan district had experienced a process of changes history, being affected by nature and people, in hearts of Cham people, they has primarily remained the traditional village. Nowadays, Bau Truc Village is planned into town: however, scenes of village and life of people here have not been changed not much.
According to the Cham people in Bau Truc Village, they are the descendants of Po Klong Chang, a great mandarin of the Cham King Po Klong Giarai. He took people from the mountainous areas to the "Hamu Trok" field and taught them to exploit clays from nearby river banks to make pottery. Not only that, Po Klong Chang and his wife also showed the locals how to cultivate foods and catch fish to enhance their living standards.
In 1832, under the reign of King Minh Mang, the name Paley Hamu Trok was changed into a Vietnamese name, which was Vinh Thuan. In 1954, Vinh Thuan Hamlet sometimes was directly under Binh Thuan, Ninh Thuan and Phan Rang Province.
During the war against the US army (1954-1975), a great flood in 1964 swept away all the property of the Cham people in this village. The locals then moved the village to a higher place, where there were many bamboo trees surrounding a large pond. Therefore, the village was named Bau Truc (Bau means pond or lake in Cham language). Since that event, the name Bau Truc has been used to call a famous pottery village of Cham people in the littoral.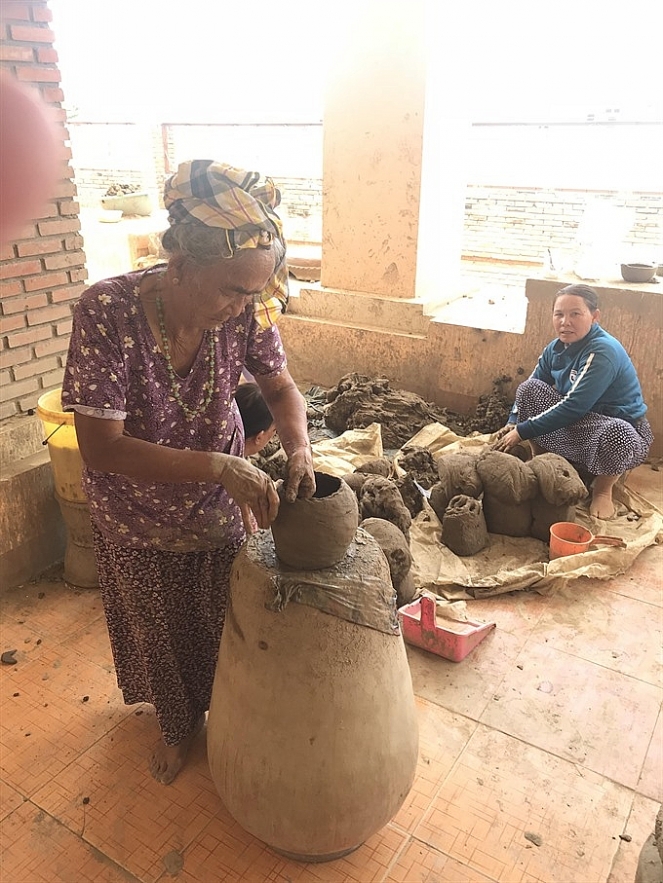 Safe hands: Trưởng Thị Gạch, 82, a Cham artisan, has been making pottery for 70 years in Bàu Trúc Village in Ninh Thuận Province. VNA/VNS Photo Văn Châu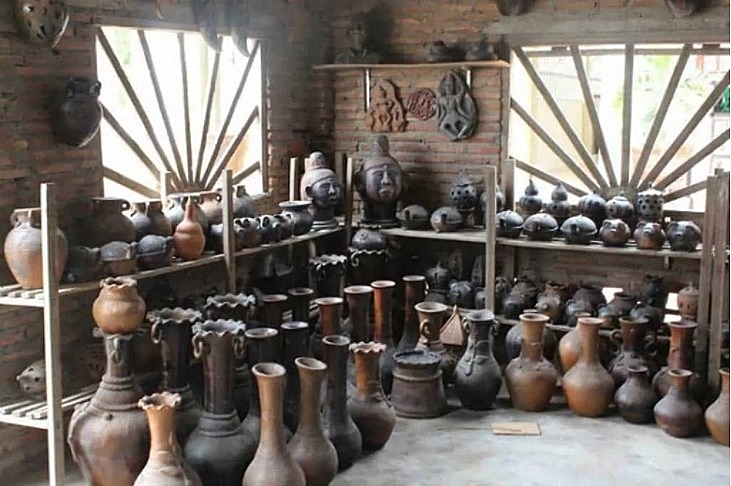 Photo: Vietnam Discovery
Future prospects
The village, which has existed since the reign of Cham King Po Klong Garai (1151-1205), holds a ceremony every year to honour Po Klong Chan, the founder of the village.
Today, however, Bau Truc potters are trying desperately to survive, Vietnam News reported.
Some 85 per cent of the total 400 households in the village earn their living from making pottery. However, the villagers fear they will have to stop working as potters because of the unstable output, low income, and lack of interest from traders.
Though the village has a variety of works in different sizes and colours, as well as fine art works and souvenirs, they have to compete with other craft villages with a long storied history, according to Phú Hựu Minh Thuần, director of the Bau Truc Pottery Village Co-operative.
Many products have simple designs that cannot match the variety and modern style of ceramics made by the famous Bat Trang Pottery and Binh Dương Pottery villages.
"Our monthly production is about 1,000 items, a small number compared with Bat Trang or Binh Duong," Thuan said.
Source: @blovender
The artisans' income is only around VNĐ2.5 million (US$110) per month.
"That's why many households no longer make pottery, even though they still love the traditional work. They have to look for other jobs with better earnings," Thuần said.
To save the village's craft, Thuan has recommended several solutions to provincial authorities, including financial support to register an official village trademark, and more trade promotions at seminars and conferences.
In 2017, the pottery made in Bau Truc Village in Ninh Thuan was recognised as a national intangible cultural heritage by the Ministry of Culture, Sports and Tourism
What to see and how to get Bau Truc Pottery Village
Discovering the Pottery Village
There is a Cham museum in Bau Truc Village where various exclusive pottery items are displayed. In the museum, tourists can find thousands of products that are typical for the pottery style of Bau Truc Village. Bau Truc Pottery contains inspiration about art, nature and life, which for sure will leave a long-lasting impression on every visitor coming to Bau Truc Village, as reported by Vietnam Discovery.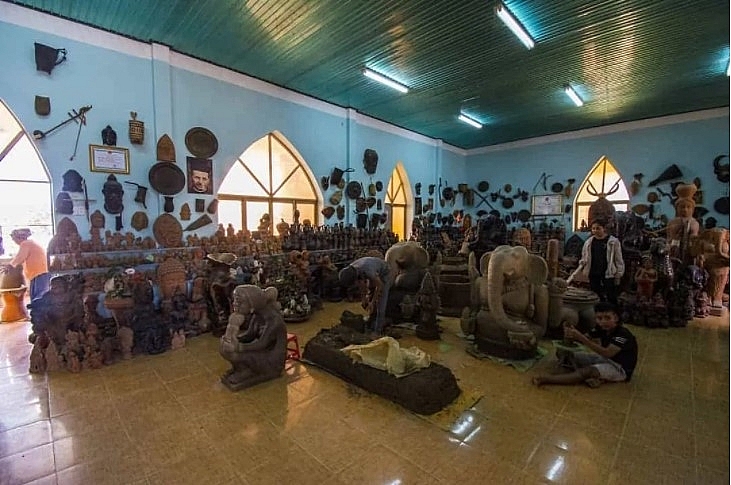 Source: @fofafifl
Experiencing Making Pottery
Coming to Bau Truc Village, you will be given an opportunity to make basic pottery products with the guidance of the craftsmen here. You can keep your initiative to create everything you like, and the locals here will help you to complete your favourite items.
Bringing Home Some Souvenirs
Most products in Bay Truc Village are to serve the daily life of the Cham residents, for decoration and even worshiping. However, there are a wide range of small souvenirs that are specifically made for tourists who want to bring something home. Anywhere in Bau Truc Village, you can find a craftsmen family where souvenirs in many shapes and colors are sold.
Source: lotussia.com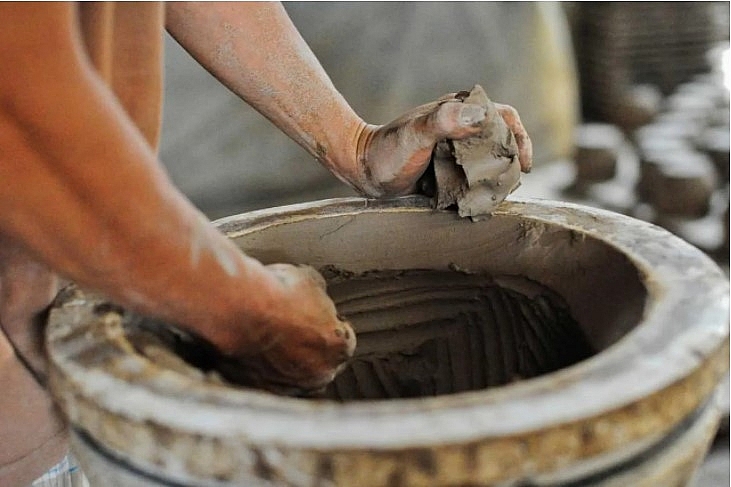 Source: citypassguide.com
How to get
Bau Truc Pottery Village is about 11 kilometers to the Southwest of Phan Rang City. It takes you about 15 minutes to get there by car and 25 minutes to go by motorbike.
At the intersection of Phu Ha, you follow the 1A HighWay to the south in about 8 kilometers, then turn right to Nguyen Hue Street. Continue to move forward about 500 meters the turn right to DT703 road. Keep going until you see the road sign to Bau Truc Cham Village, turn right and you will get to Bau Truc Village.