Former hacker now cyber security expert
Ngo Minh Hieu, once rated in the US as a 'black hat,' one of the most dangerous hackers wordwide, now helps protect the security and safety of national cyberspace in Vietnam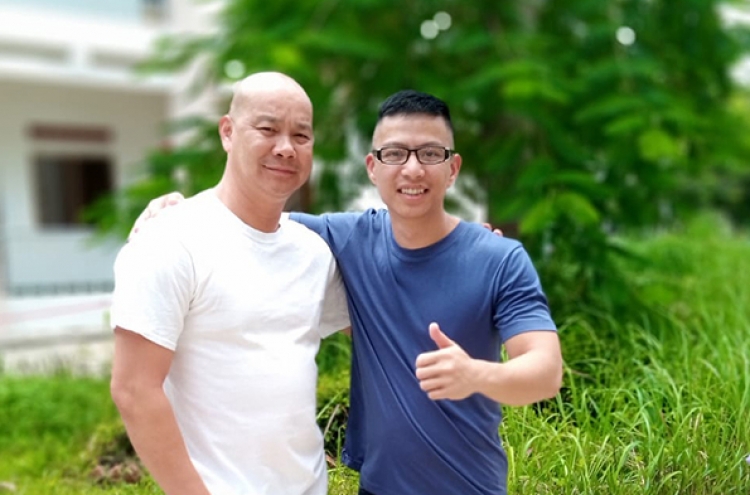 Ngo Minh Hieu (R), one of the most notorious hackers in the US history of information security Photo: Krebs on Security
Vietnamese hacker Ngo Minh Hieu, born the town of Gia Lai, was described by U.S. authorities as "one of the most prolific identity thieves ever to grace a federal prison," according to VnExpress.
He has been likened to the character Frank Abagnale in the movie "Catch Me If You Can," played by Leonardo DiCaprio. Like DiCaprio's character, Hieu performed high-level fraud for years before being caught, then returned to help U.S. agents catch criminals.
Between 2007 and 2013 he stole personal data, including names, birth dates, social security numbers, and bank account information from online marketplaces, according to the U.S. Department of Justice. He sold the information for nearly 2 million U.S. dollars, it said.
Hieu was arrested by the secret cervice when he entered U.S. territory in 2013. In 2015, he was sentenced to 13 years in jail for hacking U.S. business computers, stealing personal identiy information and selling information belonging to 200 million U.S. citizens, the Department of Justice said.
He was released early in 2019. On his release, Hieu said he regretted what had he done and hoped one day to get a cybersecurity job in Vietnam. Now he is an expert at Vietnam's National Cybersecurity Center.
"I'm a selfish person," Hieu said. "In the past, I loved luxury things. It was meaningless. Now, I tell my mother that eating three meals a day at home is better than eating prison food."
Before being arrested, Hieu was "lugged" out of Vietnam. The U.S. Secret Service tried to contact Hieu through an intermediary in the UK - a well-known cybercriminal who was convicted and agreed to cooperate with the investigation agency. In February 2013, special agent Matt O'Neill planned to bring Hieu to the U.S. Pacific territory of Guam. As soon as he stepped off a plane in Guam, Hieu was arrested and brought back to the United States.
"My whole stomach was crazy, I lost all feeling, I felt like my soul was not there," Hieu said, adding that he still gets chills remembering his two-month detention in Guam. "It was a real jail."
Ngo Minh Hieu, nicknamed "Hieupc"
While in prison in the United States, Hieu studied origami, went through group therapy, made onlines to call to his family in Vietnam and helped U.S. officials. He spent time being transported through 15 different prisons, often wearing "clothes like paper" in the cold.
According to Hieu, the U.S. wanted him to "use his criminal mind to catch criminals." From a "black hat" hacker Hieu changed" to "white hat." Giving expert testimony and tips to officers posing, Hieu helped the U.S. Secret Service solve dozens of cases. At least 20 arrests of cybercriminals involving Hieu have been reported, according to reports
Currently, he does the same job in Vietnam. Hieu said he accepted the job at the National Cybersecurity Center with only one condition. "I told the recruiter that I wanted to help the community. The rest I don't know," he said.
But just what does help mean? Hieu pulled out two phones: a Philips feature phone and a Huawei smartphone. "It's not smart, but it protects me," Hieu said of the Philips phone. The other was a Huawei smartphone equipped with an app he developed called Chong Lua Dao (Fight Scams).
The anti-phishing tool is built on the idea of MyWOT - a tool that evaluates the reputation of websites with more than 6 million users around the world. The add-on evaluates the security of a website based on technical analysis, such as IP, URL length and SSL certificate, combined with user ratings, which are combined to create an overall rating of 1 to 5 scale for each site.
If a page is flagged as a phishing or otherwise unsuitable site, the software add-on will block the computer from accessing it.
In addition to his work at the cybersecurity center, Hieu also regularly appears at events or universities and conferences, and gives advice on cybersecurity in his spare time. Such information is also shared on his personal Facebook page with more than 200,000 followers.
"I could have done so many things, used my skills, instead of chasing the devil," he said, adding he's even working on a memoir and has received an offer from a domestic studio that wants to buy the movie rights to his story.