Friendship Association raises USD 21.400 to help Romania's COVID-19 fight
The Vietnam-Romania Friendship Association, on April 13 handed over VND500 million (USD 21.400), to the Romanian Red Cross through the Romanian Embassy in Vietnam and the Vietnamese Embassy in Romania, to support the country's battle against the novel coronavirus (COVID-19) pandemic.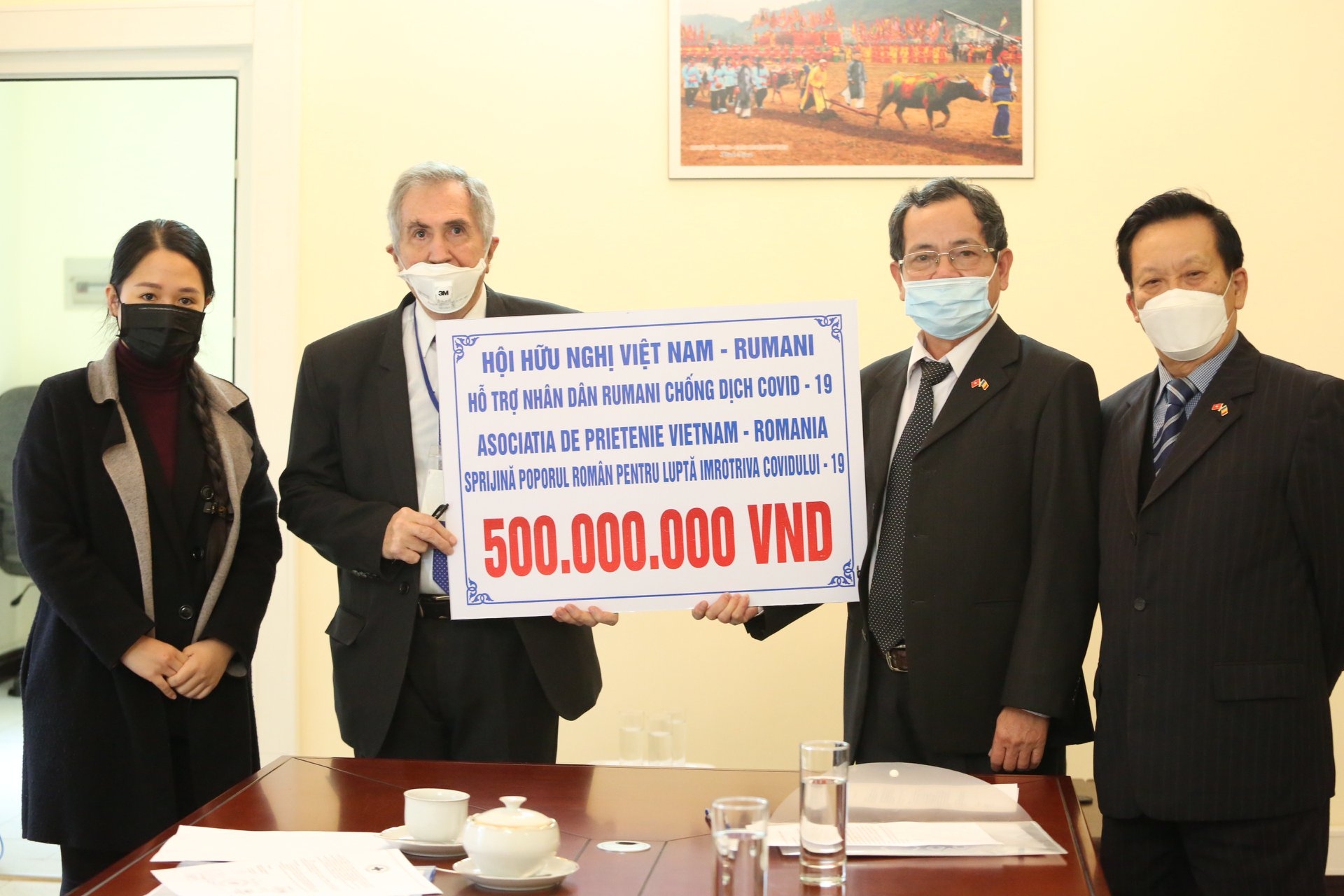 At the cemony in the Romanian Embassy in Vietnam. Photo: VNT
Addressing the handover ceremony, Vice President of the Friendship Association Bui Trong Dinh said the funding was donated by the Association's members and others who love the Eastern European country, and noted the importance of the event in promoting solidarity between people of both nations, whilst also serving to help the Romanian people get through this challenging times and mitigate the negative impact of the COVID-19.
For his part, Romanian Ambassador to Vietnam Emil Ghitulescu expressed his profound gratitude to the nation, its people, and the Vietnam-Romania Friendship Association for their valuable assistance in helping his country.
The diplomat applauded the relentless efforts and measures of the Vietnamese government, Hanoi's authorities, and its people in the fight against deadly virus, expressing his hope that countries around the globe will soon bring the pandemic under control.
On April 13, 6,633 cases of COVID-19 infection were confirmed in Romania. Of the 6,633 infected people, 914 were cured and released from the hospital. So far, a number of 318 deaths was reported. For safety reasons, more than 71,000 people were still kept in the domestic quarantine.
Globally the coronavirus has infected over 1.7 million people and killed over 105,000 people, according to figures from the Johns Hopkins University.
Earlier, Vietnam already provided 550,000 Vietnamese-made anti-bacterial face masks to the UK, France, Germany, Italy and Spain – five European countries considered hardest impacted by the COVID-19 pandemic on a critical shortage of medical supplies suffers.
Several friendship associations under the Vietnam Union of Friendship Organisations (VUFO) have shown solidarity with international friends in combating COVID-19, by mobilizing funds from individials and businesses in Vietnam to purchase medical supplies as well as raising cash donations.
The aid illustrates Vietnam's continued willingness to assist other countries on a bilateral and multilateral basis to the best of its abilities even as it continues to remain cautious about managing its own coronavirus challenge at home.
According to Vice President Dinh, the Vietnam-Romania Friendship Association also will donate a further VND100 million to the Vietnam Fatherland Front Central Committee in order to support the nation fight the COVID-19./.