Friendship association shows solidarity with Armenian friends in combating COVID-19
Aware of mutual-help necessity to tackle the fast-spreading coronavirus pandemic, the Vietnam-Armenia Friendship Association under the Vietnam Union of Friendship Organisations (VUFO) have raised funds and presented the donations to Armenian Ambassador to Vietnam Vahram Kazhoyan on June 17.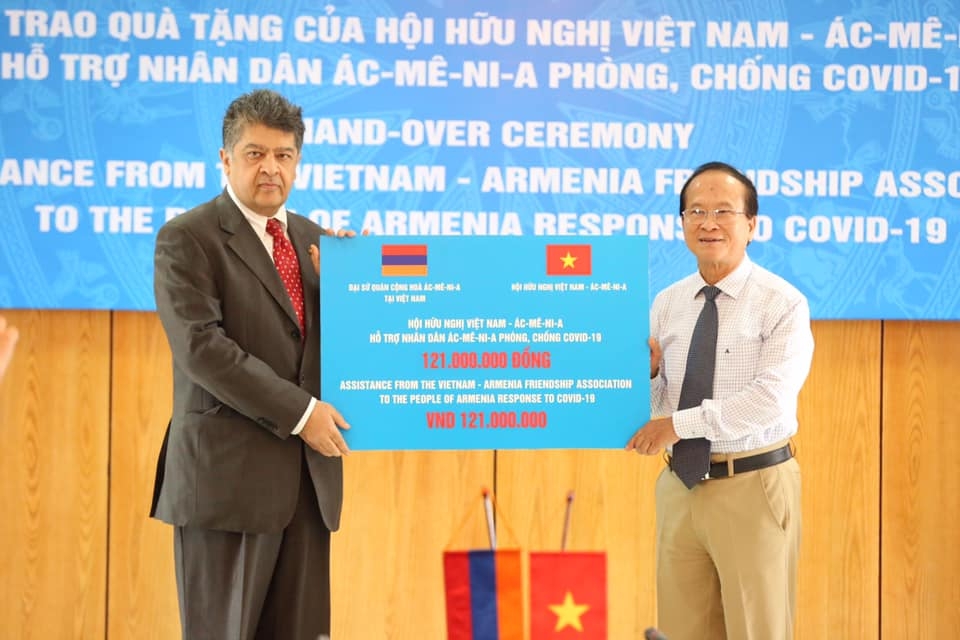 A sum of money raised by the Vietnam-Armenia Friendship Association presented to Armenian Ambassador to Vietnam Vahram Kazhoyan (L). Source: VUFO
New cases of the novel coronavirus (COVID-19) have been registered in Armenia, bringing the total number of confirmed cases to 17,489, the country's National Center for Disease Control and Prevention announced on June 16. 293 deaths was reported as a result of the novel coronavirus.
To date, a total of 971 healthcare workers have been diagnosed with COVID-19 in Armenia, the country's health ministry told news.am.
As true friends are those who join forces at a time of need, member of the Vietnam-Armenia Friendship Association stands ready to help friends fight the spread of the coronavirus.
After over one month of raising fund, the Friendship Association had received enthusiastic response from numerous Vietnamese students once studied in Armenia.
Handing over VND 121 million (over USD 5.200) to Ambassador Kazhoyan, Chairman of the Vietnam-Armenia Friendship Association Nguyen Van Thuan has sent a heartwarming message through the Ambassador to the people of Armenia, wishing the nation to quickly overcome the pandemic to return to normal routine.
This action has shown the heart and tradition of "When drinking water, remember its source" of the Vietnamese people, he said.
Armenia also helped train thousands of Vietnamese students and apprentices, who have now become competent scientists and managers. The precious assistance has contributed significantly to forming an important foundation for the friendship between the two nations.
Established in 2014, the Vietnam-Armenia Friendship Association has taken great efforts to maintain and develop people-to-people exchanges in the context of the growing Vietnam-Armenia relations.
The association has also worked closely with the Embassy of Armenia in Vietnam to promote cooperation among agencies and organizations of the two countries to update information on socio-economic development and promote the images and culture of each nation.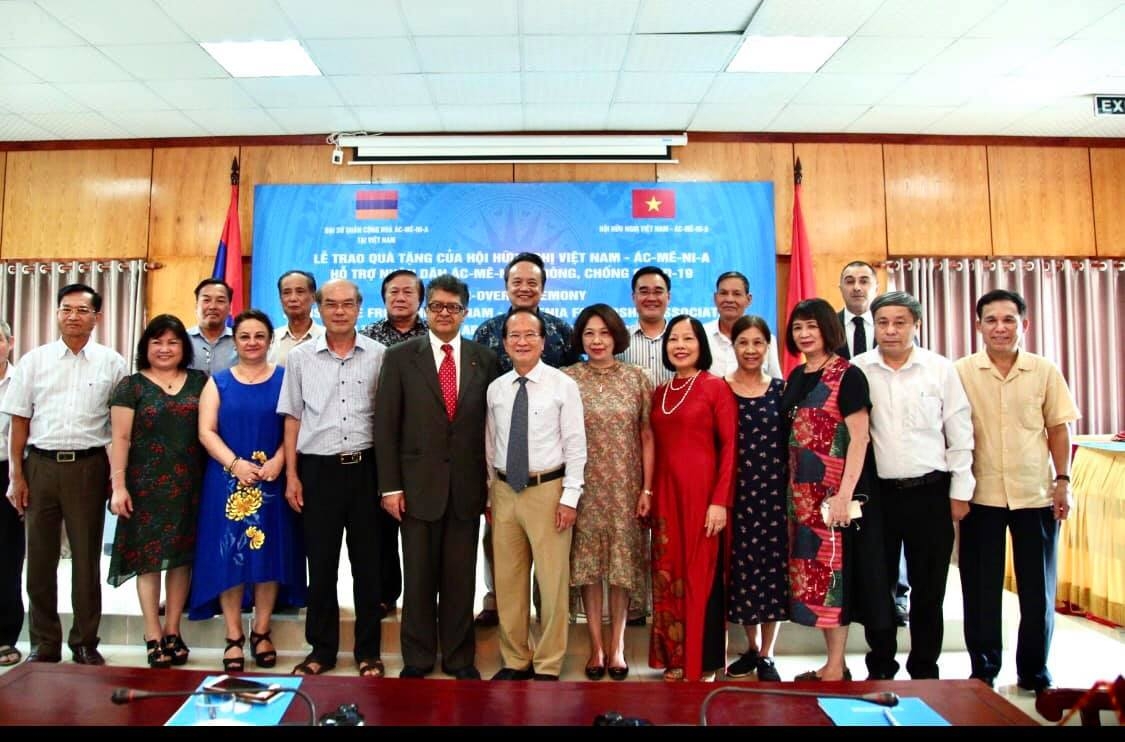 Delegates pose for a group photo.
Receiving the gifts and affection of Vietnamese friends on behalf of Armenian people, Ambassador Kazhoyan praised the achievements of Vietnam for success in the battle against the novel coronavirus pandemic, expressed his admiration for the leadership of the Vietnamese political system and the Vietnamese people.
"Although I have just arrived in Vietnam and began the ambassadorship for a short time, I have become very fond of Vietnam and consider it my second homeland as all of you have loved Armenia as the second home," he shared.
Since the beginning of the pandemic, many friendship associations under VUFO have shown solidarity with international friends in combating COVID-19, by mobilizing funds from individials and businesses in Vietnam to purchase medical supplies as well as raising cash donations.
The aid illustrates Vietnam's continued willingness to assist other countries on a bilateral and multilateral basis to the best of its abilities even as it continues to remain cautious about managing its own coronavirus challenge at home.
Vietnam and Armenia have maintained good political ties since they established diplomatic ties on July 14, 1992. Armenia opened its embassy in Vietnam in August 2013.
The two countries have set up an inter-governmental committee for Economic, Commercial, Scientific and Technological Cooperation, which convened its first meeting in March 2017.
Vietnam signed a free trade agreement with the Eurasian Economic Union (EAEU), to which Armenia is a member, in May 2015. The deal took effect on October 5, 2016.
During a reception for Armenian Ambassador Vahram Kazhoyan in February, Prime Minister Nguyen Xuan Phuc urged both sides to use the free trade agreement between Vietnam and the Eurasian Economic Union to increase bilateral trade and investment.
Phuc proposed holding a second meeting of the Vietnam-Armenia Inter-Government Committee soon. As ASEAN Chair 2020, Vietnam is ready to serve as a bridge between ASEAN and Armenia, he said.