"From Far To Close:" An Introspective Story From Cristina Gonzáles Martín
Cristina Gonzáles Martín's unique perspective and techniques have garnered positive reactions and support from art lovers and friends, making the "From Far to Close" - an abstract exhibition a must-see for those seeking signs of hope and possibility amidst today's tribulations. "It's never before seen in any of her past collections," exhibition visitors expressed on the opening day of the event.
At the beginning of May, the art community congratulates Cristina Gonzáles Martín's 2nd Solo Exhibition "From Far to Close" at Epique, Hanoi. The renowned Spanish artist showcased her unique style of capturing moments, impressions, and emotions from her travels and inner landscapes, inspiring hope and possibility.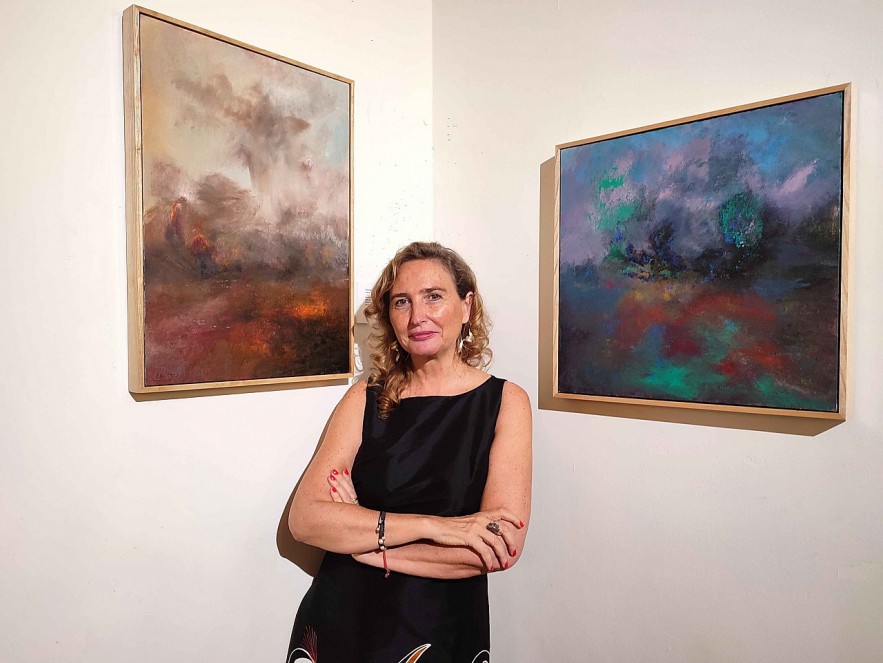 Cristina Gonzáles Martín besides people's favourite artworks. Photo: Ollie Le Nguyen
The artist herself shared that she lived on different continents and traveled a lot, and all these experiences are stored in her mind and heart, like a mental travel notebook. "From Far to Close" portrays conceptual and abstract manifestations of Vietnam and the balance between Yin and Yang in life.
Cristina unfolded the concept during her speech on the opening day, "I couldn't help to get a 'close up' to Vietnam, this time. So, the viewers could recognize Hanoi streets, the famous limestones of Ha Long, and the curves of the rice terraces of Sapa. But I wanted to get the essence of them, sketching, painting some black strokes, and adding the colors that give a sense of the emotion behind the scenes." The title "From Far to Close" reflects the artist's journey of getting closer to her life in Vietnam, using abstract landscapes and vibrant colors to capture the emotion behind each scene.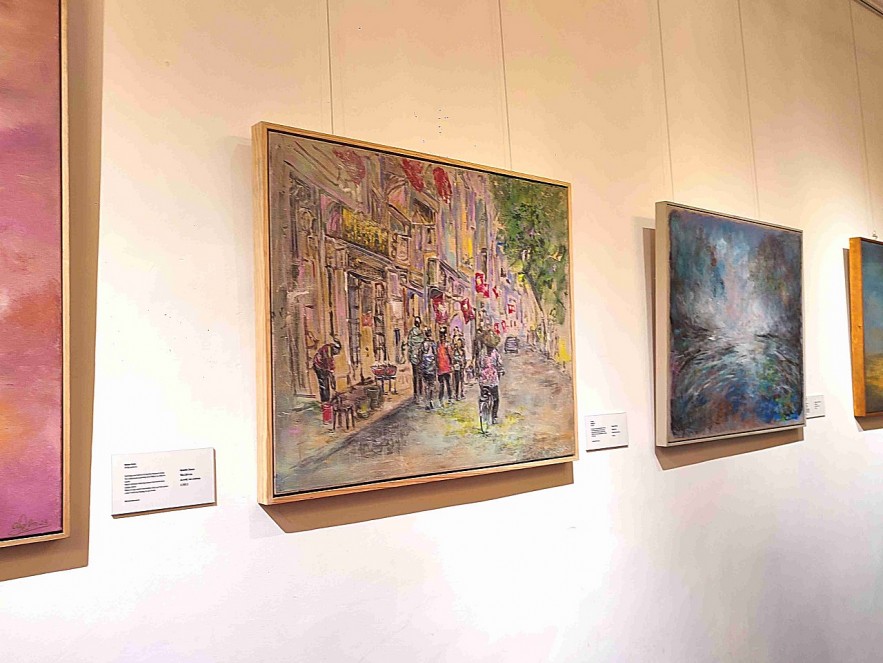 "I don't follow anything; this is all from my imagination. I normally don't paint about Vietnam. But in my point of view, this is worth remembering about Vietnam," Cristina expressed. Photo: Ollie Le Nguyen
In her painting process, Cristina Gonzáles Martín spends as much time layering the painting, and contemplating the work. "Understanding my emotions and my barriers and trying to find a balance between an analytic approach and the freedom of intuition," she stated.
Cristina's artworks depict different motifs, leaving it to the viewers to interpret her art and feel their own emotions while contemplating each artwork. "But What am I painting? A volcano eruption, or maybe passion and a cry to grow, or change? what do you see or what do you feel when contemplating each artwork? Do you feel joy, peace, do you emphasize with it, somehow?", Cristina described as she glanced over the paintings and the guests across the displayed area.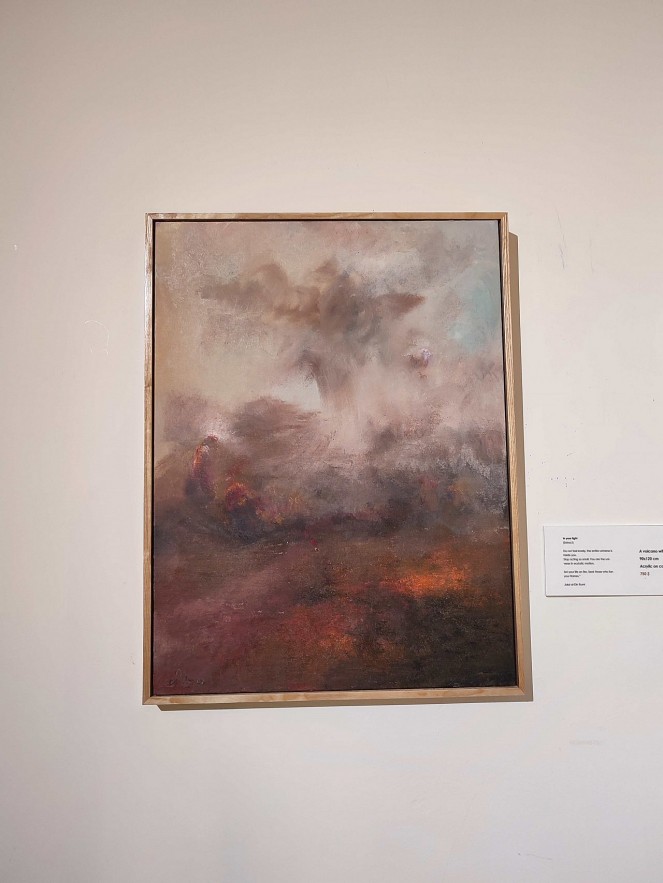 "A volcano within" along with an extract of 'In your light" by Jalal al-Din Rumi. Photo: Ollie Le Nguyen
Vietnam Times reporter Ollie alongside with Cristina Gonzáles Martín. Photo: Tuan
"Upside Down" is one of the finest pieces of art in the collection. The colors are vibrant and bold, and the lines are fluid and lovely. It reminds viewers of the sunset over West Lake in Hanoi. It isn't extremely brilliant or colorful, but it has just the right amount of color to put you at ease when you gaze at it.
The Spanish artist only stops painting a piece when there is nothing bothering her, and it gives her something that enriches her inner self. She adds some paragraphs of poems to help people connect with her artwork and make them dream.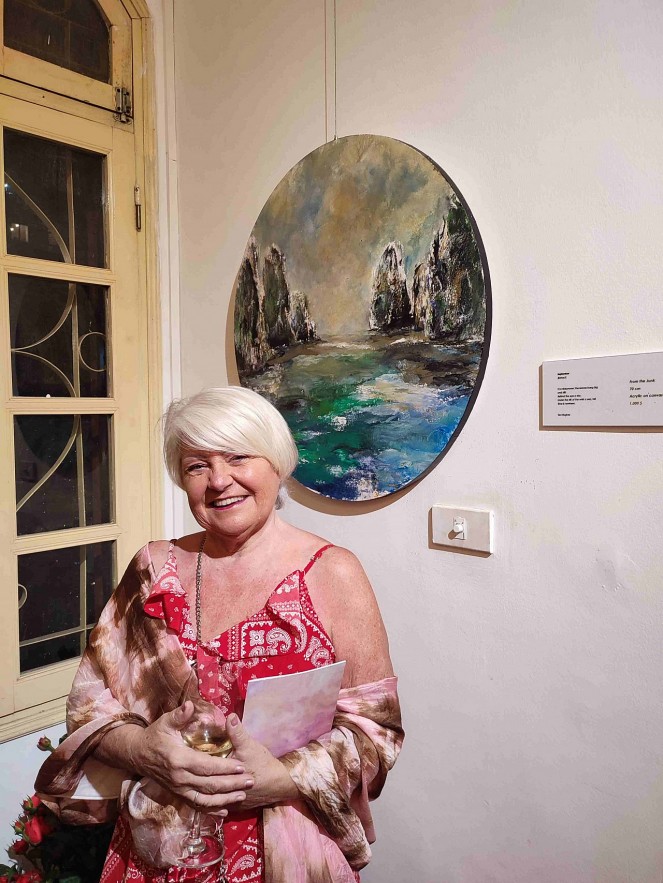 Marion, the UK, standing next to "From the Junk". Photo: Ollie Le Nguyen
Contemplating these far and close scenes are both a means for introspection "Nothing is what it seems" and the emotional experience of contemplating these pieces is still a perceptual experience, including the poetry we read and the music we listen to. Perceiving and being aware of what happens inside us is the tool we need to understand ourselves," Cristina further added.
As a woman artist living almost 3 years in Hanoi, Cristina Gonzáles Martín is amazed by the talent, creativity, and technique of Vietnamese artists, women, and men. Cristina shares with excitement in her eyes, "I decided to do a solo in Epique because it's a very good way to fully express a concept," discussing her enthusiasm towards the 7th Art Connecting Workshop.
The "From Far to Close" exhibition makes an impression on the audience that lasts, and it is evidence of her artistic talent and inventiveness. Tomileka, Russia, shared: "As an artist, I love these paintings. The colors in the paintings are gentle, and the combination and transition are smooth and calm. The colors become still which it's a lovely fantasy to imagine."
Marion, the UK, was hypnotized by the painting called "From the Junk", remarked: "Oh, I love it. I love the painting in round shape but I think that one is the most eye-catching since it's the only round painting. Personally, I think it's an island. I love "Heaven's Terraces" because it reminds me of Sapa. And you can see the gold in the cloud which you don't see a lot in paintings and that's exquisite."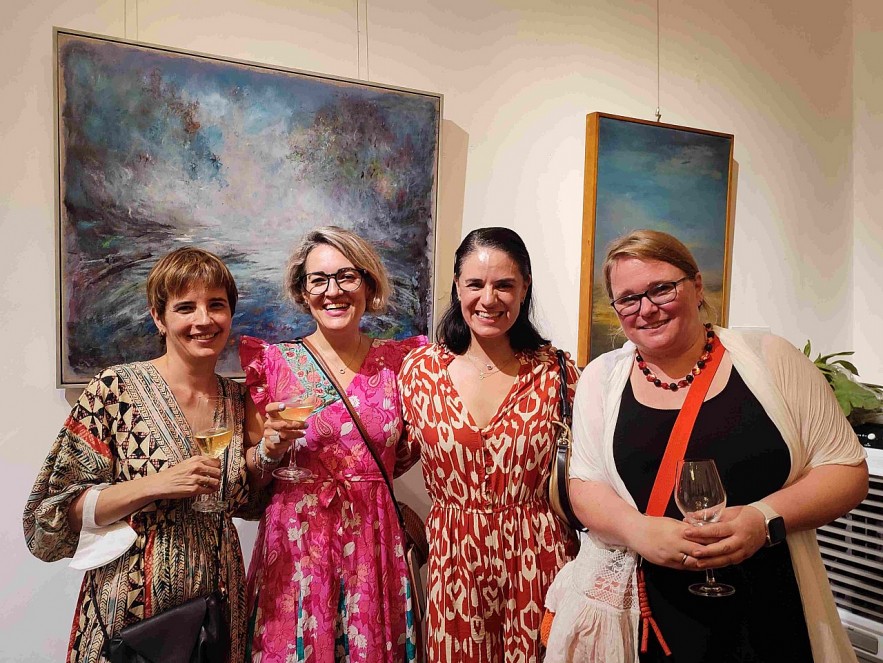 Montse, Natalia, Xochitl and Tina (from left to right) observed the artworks at the exhibition. Photo: Ollie Le Nguyen
When being interviewed, art observer, Tina begins by saying: "It's absolutely amazing, I'm speechless just by looking at the paintings. Seeing the rice field in this big painting, it's unbelievable that she paints everything out of her imagination."
Montse added, "Coming to the abstract exhibition, you can still see the beach, you can also see the movement in the painting, the bicycles, and the people, I see all the special of Hanoi. It's very nice."
Xochitl, continued, "It's impressive. These are happy paintings and they make you speechless. With this type of art, you cannot explain with words."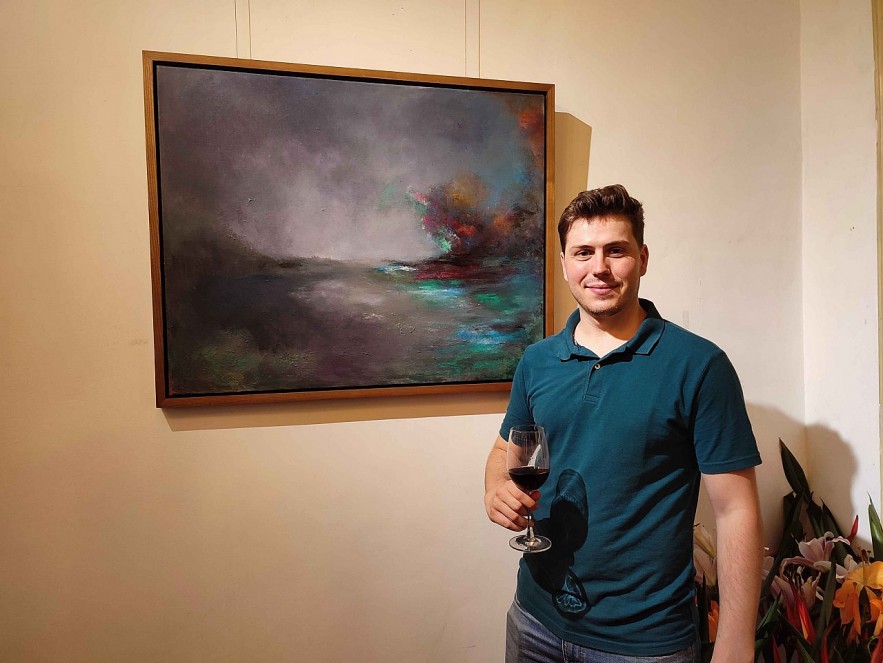 Inigo Lavina, Spain, standing next to one of his favorite from "From Far to Close" exhibition. Photo: Ollie Le Nguyen.
Inigo Lavina, Spain, "I really like 'Vibrant Hanoi', it's different from everything I've seen before in her previous exhibitions. Even though I've been here for six months and am still here as we speak, it still feels amazing to see Hanoi captured in a picture. The little stools and food being cooked on the sidewalks, the bikes, and the flags obviously. There are people riding bikes in Spain but unlike the one you see in Hanoi."
Nguyen Anh Tuan, a Vietnamese architect made his remark about "From Far to Close": "I think the color blend and the proportion of the color display with the context is relatively easy to understand, in terms of color and layout. The layout is not too overwhelming but rather easy to understand and accessible to the public eyes. Even though it is an abstract collection, viewers can still understand what the artist wants to show and that's the most important thing."
Although working solo, Cristina Gonzáles Martín felt very supported by all art lovers and friends coming to the opening of her exhibition. She received positive reactions from everyone who attended the event. Cristina delivered a true message by saying, "I believe that following my instinct, doing what makes me happy is what makes my painting more authentic, and this is the only way I trust," continued expressing that she takes criticism positively, and understands that her paintings are not for all tastes. The artist has succeeded if it generates a reaction from the audience, whether or not the piece is abstract.
The crowd excitement toward Critina's speech at the exhibition. Photo: Ollie Le Nguyen
Cristina feels welcomed as a part of the artist community in Vietnam, thanks to Chau&Co Gallery, where she has permanently some pieces and Chula for launching her first solo exhibition in 2022. She was invited to the 5th Art Connecting Workshop by VCCA, where she made good friends and received some courses in printing from Tiep Le Huy and Thanh Le.
From Far to Close exhibition (27/4 - 27/5/2023)
Épique
Add: 158 Xuân Diệu, Quảng An, Tây Hồ, Hà Nội
Gallery opening time: 5PM - 12 AM every day
Free entrance