Government Leader Himself Scrutinizes Disease Prevention Work in Hotspots
Prime Minister Pham Minh Chinh made a fact-finding trip to southern provinces from August 26 in order to inspect the implementation of COVID-19 prevention measures in the nation's largest COVID-19 hotspots.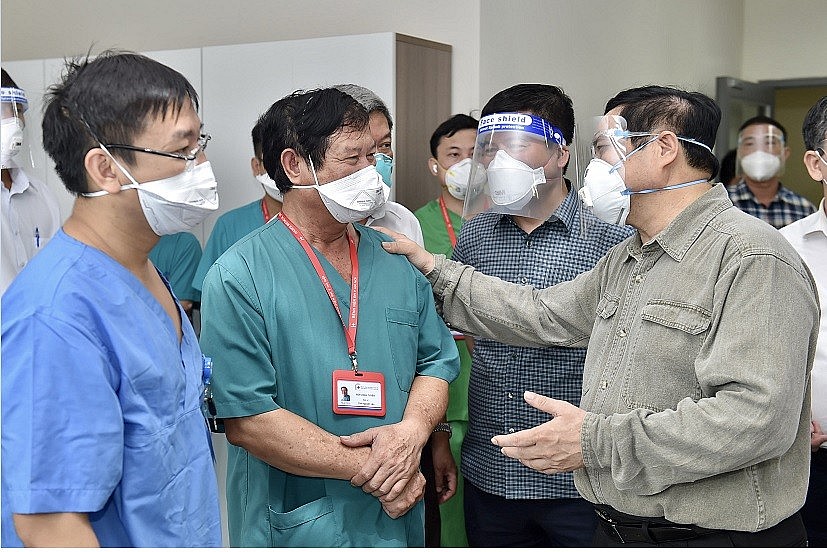 Prime Minister Pham Minh Chinh, who is the new Head of the National Steering Committee for COVID-19 Prevention and Control talks with doctors at Becamex Binh Duong International Hospital - one of the COVID-19 treatment facilities in Binh Duong province. Photo: VGP
Government chief scrutinizes disease prevention work in Binh Duong
Examining hospitals and medical facilities treating COVID-19 patients in Thuan An city, the PM requested the local authorities to bring quicker, friendlier, and closer health services to residents; and expand treatment for patients at wards and communes to reduce the overload at high-level medical facilities.
He said to reduce the number of deaths, it is necessary to make early detection and provide timely treatment of COVID-19 patients.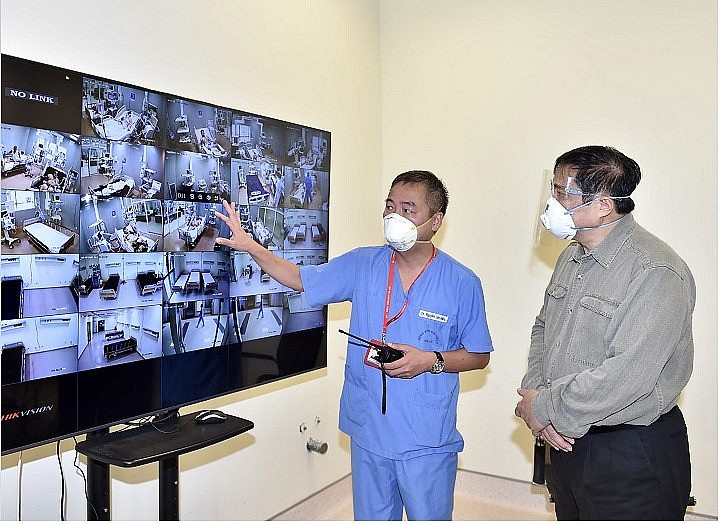 Doctor Nguyen Lan Hieu, Director of the Ha Noi Medical University Hospital briefs about COVID-19 treatment at the hospital through the central monitoring system - Photo: VGP
While in Thuan An, the Government leader toured the Dong Phu market in Thuan Giao ward - where the preparation of food aid packages is underway - and inspected a residential area in Binh Chuan ward, where he asked locals to call the local hotline for food relief to test the response.
Also on August 27, the PM is scheduled to work with leaders of the province regarding its COVID-19 prevention and control activities in the face of forecast that total infections in Binh Duong could reach 150,000, according to Nhandan.
Currently, 15 wards in Thuan An and Di An cities and Tan Uyen town, which house 1.2 million people, are under strict lockdown, with contact tracing urgently conducted in order to find infections in the community.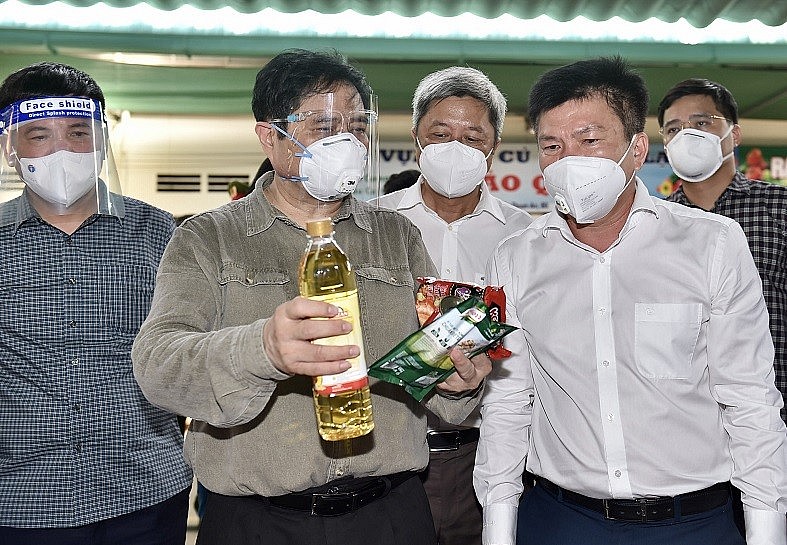 Prime Minister Pham inspects Dong Phu wholesale market specializing in supplying essential commodities for residents in Binh Duong province - Photo: VGP
On August 27 morning, Minister of Health Nguyen Thanh Long inspected the admission and treatment of COVID-19 patients and the operation of mobile medical stations in Tan Uyen town and Thuan An city.
He requested the localities quickly transform 50 quarantine sites into medical facilities with staff and basic equipment as guided by the ministry.
Binh Duong, an industrial hub bordering Ho Chi Minh City, has recorded 86,050 local COVID-19 cases since the fourth coronavirus wave hit Viet Nam in late April. It has the second highest number of coronavirus cases among all localities in Viet Nam, only behind Ho Chi Minh City with 194.100 cases.
The province has ramped up mass testing to detect infected cases early and its COVID-19 patient tally is expected to reach 120,000 by early September, the provincial People's Committee said.
Binh Duong has already prepared enough infrastructure and equipment to treat symptomatic COVID-19 cases but it still has asked the Ministry of Health to provide more assistance in terms of health workforce, drugs and vaccines.
Earlier on August 26, Prime Minister Phạm Minh Chinh visited Ho Chi Minh City to check COVID-19 prevention efforts in what is now the country's biggest COVID-19 hotspot
Government leader urges social welfare support for disadvantaged people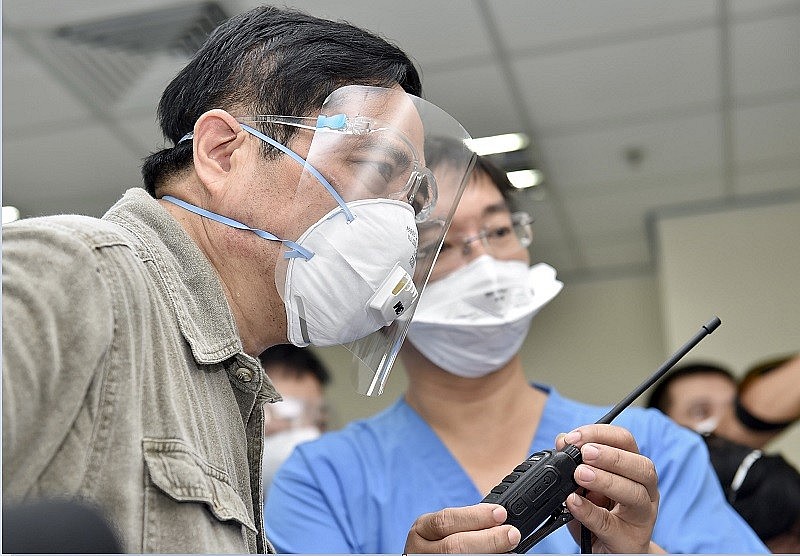 Prime Minister Pham Minh Chinh encourages doctors who race against the clock to treat COVID-19 patients - Photo: VGP
In line with the dispatch, the Vietnamese Government chief requested that chairs of municipal and provincial People's Committees direct local police forces and competent agencies to create the best possible conditions for COVID-19 treatment among disadvantaged people. This should be done whilst implementing social welfare and COVID-19 prevention and control policies as regulated.
During the course of a working session held one day earlier with authorities of Ho Chi Minh City, currently the largest COVID-19 hotspot, the PM required the southern metropolis to continue implementing its drastic prevention and control measures whilst devising a plan to relocate locals from densely-populated areas.
He urged the city to ensure a sufficient supply of food, social welfare, and health care services for residents during the lockdown period as a means of slowing the spread of the COVID-19 pandemic.
PM Chinh also noted the importance of communication activities aimed at raising public awareness of citizens' rights, obligations, and responsibility for themselves and the wider community
Authorities of the city and its districts must strive to enhance inspection and help lower-level administrations fulfill the set targets in fighting the pandemic, while the army, public security, and medical forces should respond to the southern city's request, he stressed.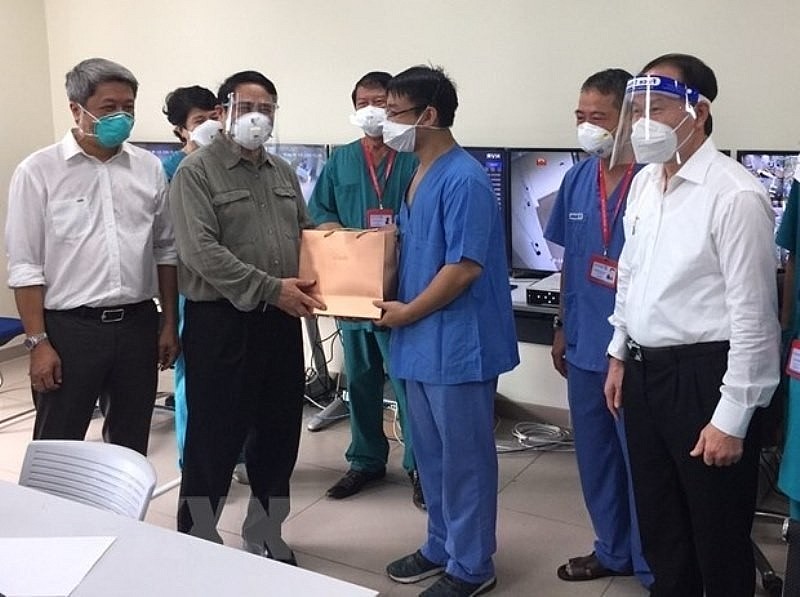 Prime Minister Pham Minh Chinh visits and presents gifts to doctors and nurses who are treating Covid-19 patients at Becamex Field Hospital, Binh Duong province. Photo: Nhandan
Various ministries and agencies are also required to help the city at this peak time in the ongoing fight against the pandemic, with priority being given to the region in terms of vaccine supplies.
Phan Van Mai, chairman of the municipal People's Committee, said the traffic in the city has dropped by 90% compared to the early days of social distancing measures being enforced. As many as 5.6 million vaccine doses have so far been injected throughout the southern city, said the VOV.
The municipal authorities have also worked alongside suppliers to bring goods to communes and townships, thereby ensuring that the basic needs of residents are met while striving to maintain production and prevent supply disruption, he said.
Mai also suggested that the Health Ministry, localities, and agencies assist the city in personnel and equipment for pandemic prevention and control work.