Hanoi proposes to buy 15 million doses of Covid-19 vaccine for the locals
Deputy Director of Hanoi Department of Health Hoang Duc Hanh said that the local health department has proposed to buy around 15 million doses of Covid-19 vaccine for the locals over 18 years.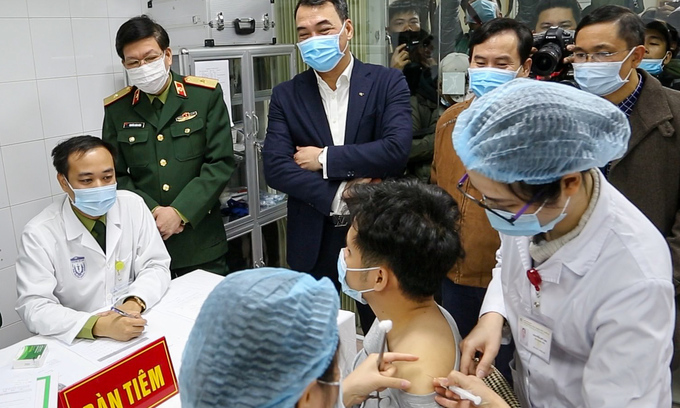 A man is injected with Covid-19 vaccine Nanocovax in Hanoi as part of human trials on December 17, 2020. Photo by VnExpress/Huy Manh.
The information was made during a meeting of Hanoi authorities regarding COVID-19 prevention in the local districts and wards.
Reporting at the meeting, Hanh said that the department proposed Hanoi People's Committee send an official letter to the Ministry of Health on support to purchase COVID-19 vaccine for people.
With the current pandemic situation, Hanh reported that the Covid-19 pandemic is basically under control with no community cases reported over one week, however, the risk of transmission is still high as some dishonest people from other Covid-19 hotspot provinces return to Hanoi without fully health declaration.
According to the vice director of the Department of Health, the competent authorities will strictly accompany the Covid-19 situation across the city. Next week, Hanoi may ease some preventive measures regarding social distancing, in which students may be allowed to return to schools and festivals would be allowed to take place.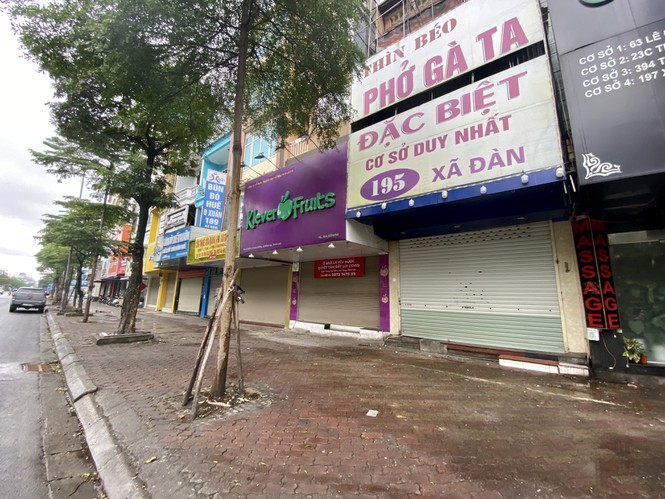 Series of food stalls and businesses forced to shut down when social distancing was adopted in Hanoi in April 2020. Photo: Tienphong.
Earlier, at the meeting of the Hanoi Standing Party Committee on the COVID-19 epidemic prevention situation chaired by Secretary of Hanoi Party Committee Vuong Dinh Hue, Director of the Hanoi Department Health Nguyen Khac Hien reported that 51,595 people from Hai Duong returning to Hanoi have been checked, in which the samples of 40,672 people show a negative result, the remains have yet to produce results.
However, Hien also said that the number of people reporting coming from the epidemic area could increase in the coming days.
On behalf of the Hanoi Standing Party Committee, Hue acknowledged that the epidemic control has been implemented well, so the production and business activities and the daily life of the people are basically maintained.
The Standing Party Committee of Hanoi also agreed with the consideration of easing business operation and the reopening of schools.
The source of the infection of the Japanese patient is still unknown
The director of the Hanoi Department of Health said that the Central Institute of Hygiene and Epidemiology is in charge of sequencing the COVID-19 strain on the Japanese patient- patient 2229, but there are no final results to determine the source of infection.
However, the Hanoi Standing Party Committee asked city agencies to continue to speed up coordination with authorities to assess risks from this patient.