Hanoi tightens anti-pandemic measures
The capital is placing more hefty fines on violators, closing down sports facilities and golf course to contain the coronavirus surge.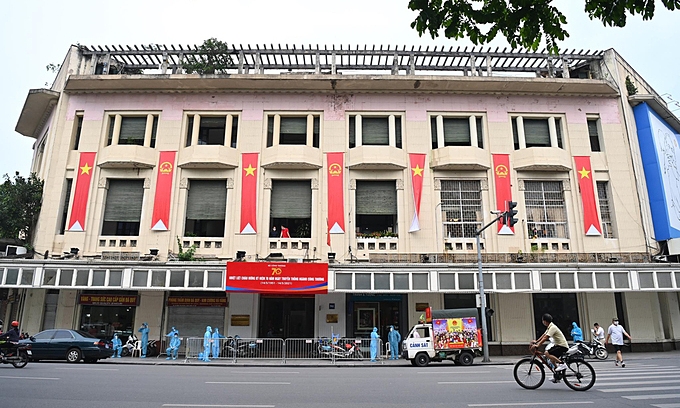 A building on Dinh Tien Hoang Street, Hanoi, has been isolated as visited by a businessman infected with Covid-19, May 13, 2021. (Photo: VNE)
City authorities on May 13 ordered to probe into two Covid-19 patients for failing to file health declaration upon returning Hanoi from Da Nang epicenter on May 2. The dual, who are husband and wife, have since visited different locations across the city and got in-person contact with many people.
On May 12, the couple visited Vietnam – Soviet Friendship Hospital in Hanoi's Hai Ba Trung District for a health check following suspected Covid-19 symptoms. Both test results returned positive.
According to the hospital, it was not until their rapid test returned positive that they admitted to having visited Da Nang.
Yet Nguyen Van Thanh, who is director of the state-owned construction firm Handico, told VnExpress he and his wife had already filed declaration forms stating they had returned from Da Nang, along with flight information on arriving at the hospital.
The emergency department at the hospital, along with the couple's home and workplaces, has been isolated since Wednesday noon while health authorities are tracking those that had come into close contact with them.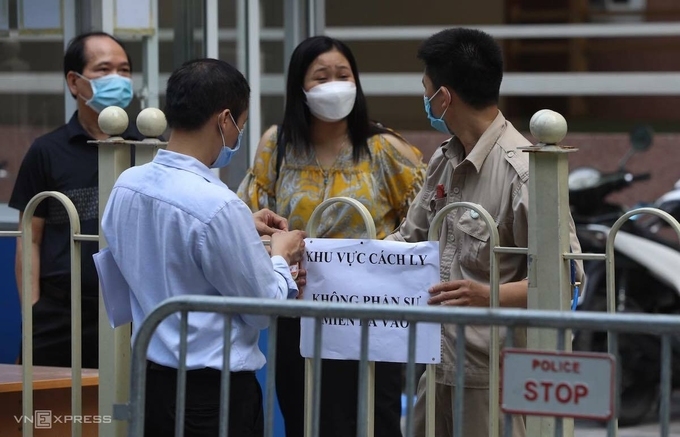 The patient's residential area is put under lockdown Thursday afternoon (Photo: VNE)
Handico on Thursday proposed dismissing Thanh from his position.
Thanh failed to implement self-isolation measures after visiting high-risk pandemic areas, and on the other hand, had visited way too many places from the time he returned to Hanoi until May 12, which is against all regulations on Covid-19 prevention, it stated.
Hanoi People's Committee on Thursday also called for the suspension of all golf courses, training facilities and sports events. The city will set up inspection teams for pandemic prevention and control to oversee related businesses in the city, as reported by VNE.
The golf course closure order came after one of three new patients confirmed in the city Thursday morning was found to have visited a golf course in Son Tay District on Tuesday.
Municipal authorities on May 12 also requested all private clinics and drug stores to inform the Health Station of any people having high fever, sore throat or breathing difficulties. Report paper must include the individuals' personal information and the time they visit the facility. Any clinic or drug stores fail to follow the new order will face heavy punishment.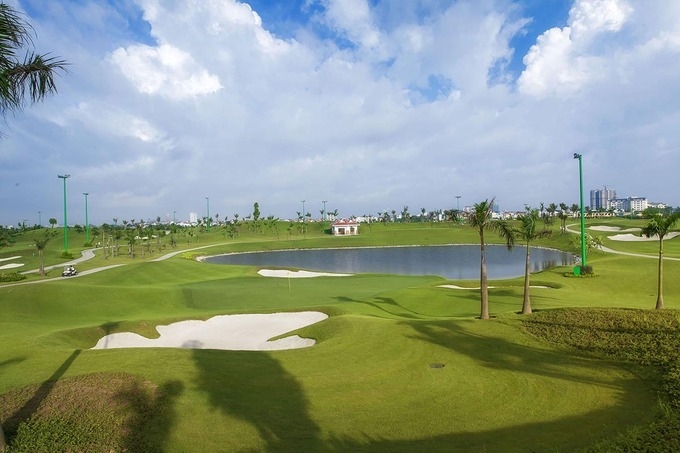 Long Bien golf course (Photo: VNE)
Hanoi has deployed various measures to contain the spread.
On Tuesday, the city banned gatherings of over 10 people, except in offices, hospitals, schools and locations for election purposes, shutting down food-beverage businesses, convenience stores, along with apartments for rent in areas around hospitals with coronavirus cases.
Last week, the capital ordered people to stop physical exercises and sports activities in parks and public gardens. People are required to limit gatherings and keep a distance of at least one meter in public.
The capital has already suspended non-essential services like bars, dance clubs and karaoke parlors, as well as outdoor food stalls and cafes, to curb the spread of the pandemic.
Vietnam is grappling with the fourth wave of the novel coronavirus, which started on April 27 and has been the country's most challenging by far. To date, 644 infections have been recorded in 26 cities and provinces.
The domestic Covid-19 tally was up by 33 on Thursday morning, including 30 who have been quarantined following contact tracing.
Since the new outbreak, Hanoi has recorded 169 caes including over 100 in two locked down hospitals.
Since the disease appeared in the country early last year, Vietnam has had 3,658 Covid-19 cases, including 2,213 domestic cases and the rest imported.
More than 942,000 people, or 1% of the country's population, have been vaccinated against Covid-19.