Hanoi's Noi Bai International Airport proposes to test Covid-19 for 3200 staff
Noi Bai International Airport has sent the official dispatch to the Ministry of Health, the Ministry of Transport, and the Hanoi Municipal Steering Committee for Covid-19 Prevention and Control proposing to test COVID-19 for its all 3200 staff.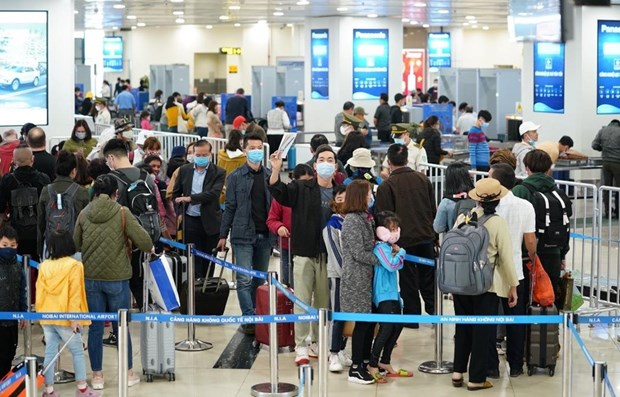 Passengers check-in at Noi Bai International Airport. Photo: Vietnamplus
Acting Director of Noi Bai International Airport To Tu Ha said that though it has strictly implemented anti-pandemic measures, the risk of infection for the airport's officials and staff is very high as the Covid-19 situation has complicatedly developed
To date, 16 employees at Noi Bai International Airport are confirmed to be F1 cases linked to a patient who tested positive for the virus upon arriving in Japan and a worker at Van Don International Airport in Quang Ninh Province. Hundreds of others are F2 cases, according to Vietnamplus.
"In case there is staff contracting the virus, the risk of closing the airport is very high. Hence, the airport has put forth the Health Ministry, Transportation Ministry, and Hanoi municipal Steering Committee for Covid-19 Prevention and Control to test Covid-19 all staff", Ha said, adding that testing is extremely essential and urgent as it makes passengers feel more secure.
According to statistics of Noi Bai International Airport, during the peak time before Tet holiday (expected 26th December of Lunar Calendar), the number of flights taking off and landing may reach 506 with a total of 72,556 passengers. Whereas, during the peak time after Tet holiday (expected 5th January of Lunar Calendar), the number of flights may reach 508 with a total of 74.004 passengers.
Earlier, all 410 staff at Tan Son Nhat International Airport also had their samples for Covid-19 testing. The move came after Ho Chi Minh City recorded a community transmission case, a 28-year-old man landing at Tan Son Nhat Airport on a flight from Hanoi. He had been to a wedding in Hai Duong, Vietnam's Covid-19 epicenter, together with a cousin, who was later confirmed a Covid-19 patient, said VNExpress.
Tan Son Nhat and Noi Bai, the country's biggest airports, have received hundreds of repatriation flights from abroad and special flights carrying foreign experts since the government imposed travel restrictions in March last year. Vietnam closed its borders but allows a limited number of flights to bring back its citizens from overseas or carry foreign experts but all have to be quarantined for 14 days.
As of Tuesday morning, Hanoi has reported 20 Covid-19 cases related to hotspots in Quang Ninh and Hai Duong.
The national tally so far hit 1,851 cases, including 964 domestically infected. Meanwhile, 1,460 cases have been given the all-clear. The death toll remains at 35. A total of 26,861 people who had close contact with COVID-19 patients or arrived from pandemic-affected areas are under quarantine across the country.